Tiffany Soleste Engagement Rings: A Guide for Buyers and Sellers
---
Tiffany Soleste Engagement Rings are one of the brand's most well-known collections, embodying the perfect balance of classic elegance and modern sophistication. 
In this article, we delve into the world of Tiffany Soleste Engagement Rings and explore where best to buy or sell these iconic rings.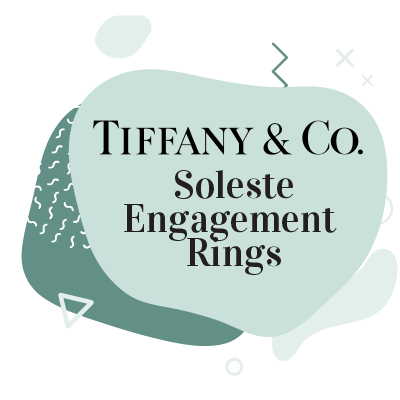 Tiffany Soleste Engagement Ring Styles
Soleste comes from the word 'sol', the Spanish word for sun. And like the sun, the collection shines with a dazzling display of radiant diamonds. The engagement rings feature a center stone surrounded by a halo or double halo of sparkling diamonds.
There are 8 main styles of the Tiffany Soleste Engagement Rings that you are likely to come across, with some shapes have the option of a white or yellow diamond.
Single halo with a diamond center stone, these rings come in:

Round Brilliant Cut
Emerald Cut
Oval Cut
Cushion Cut
Pear Cut
Heart-shaped Cut
Double halo with a diamond center stone, these rings come in:
The single halo rings are mostly set in Platinum and are excellent cut, and you can choose the specs of the center diamond.
The specs available vary from shape to shape, but the more popular shapes like the round, cushion and oval cut have the following ranges of diamond size and quality available:
Carat: 0.38 – 2.5 carats
Colour: I – D
Clarity: VS2 – IF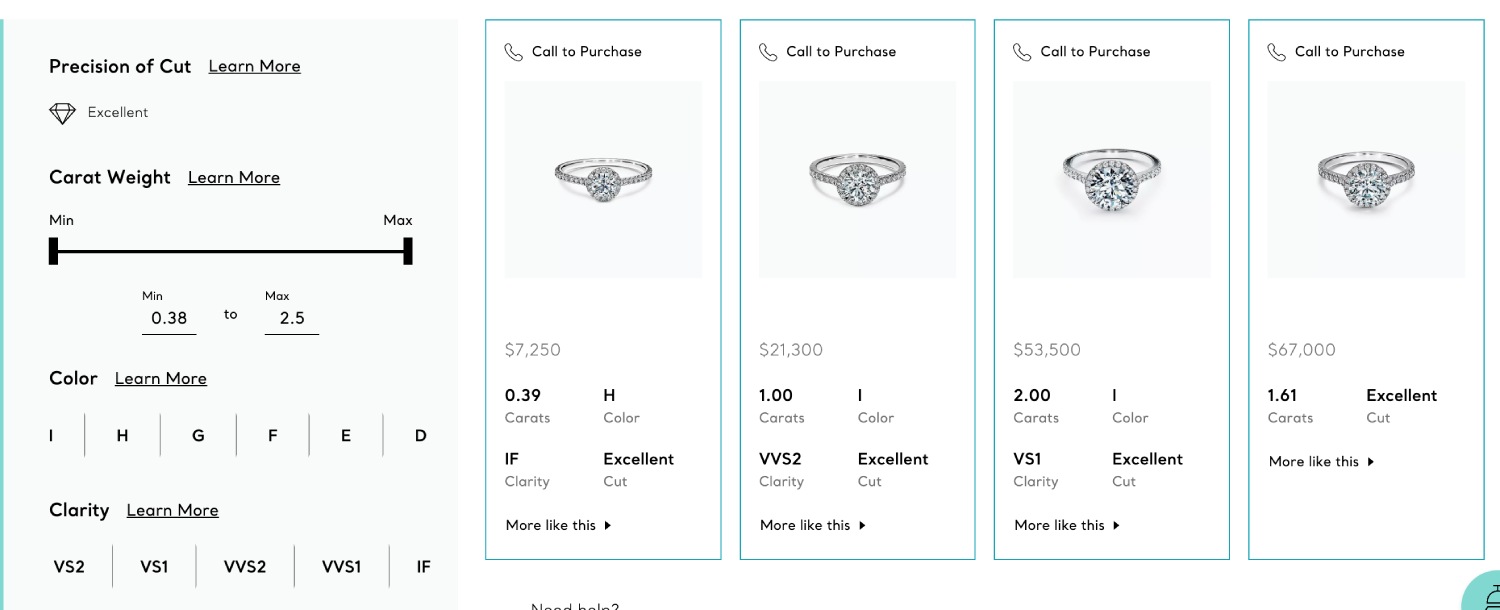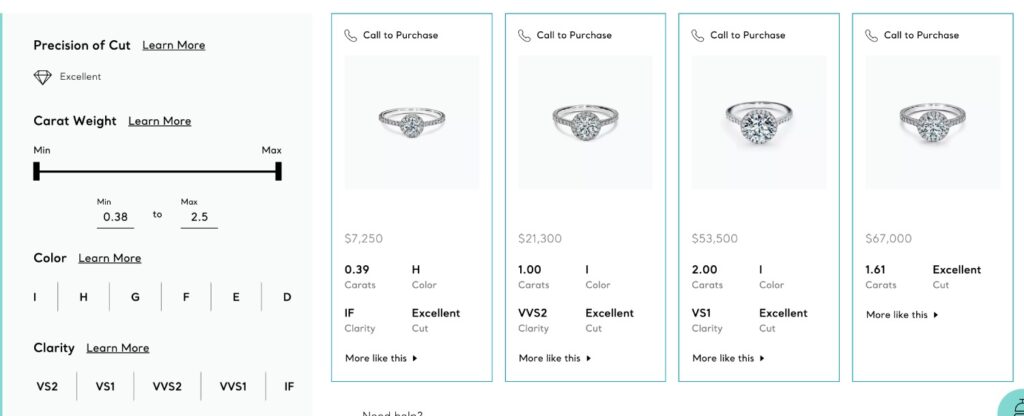 The less common shapes like heart and pear have a more limited selection of specs available.
For example Soleste engagement rings with heart shaped diamonds only offer the following ranges to choose from:
Carat: 0.51 – 2.09 carats
Colour: H – D
Clarity: VS1 – VVS1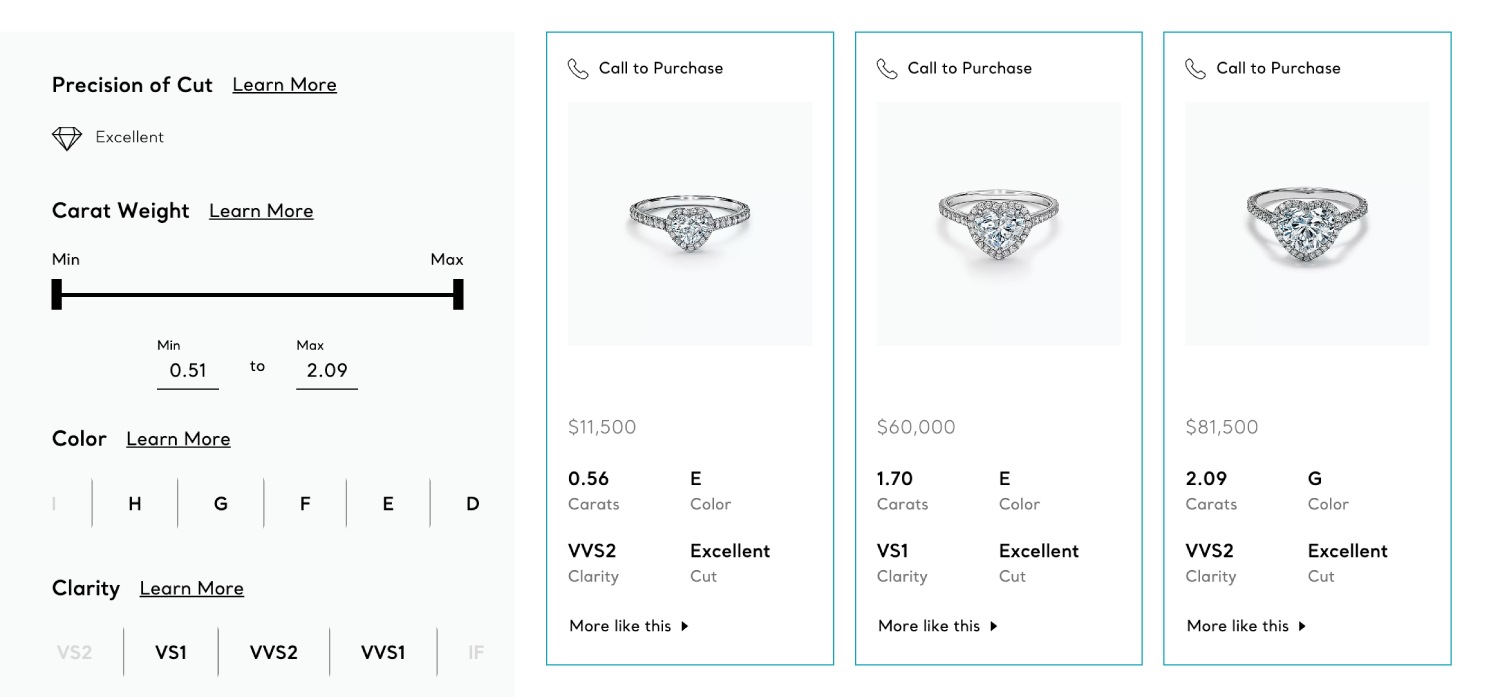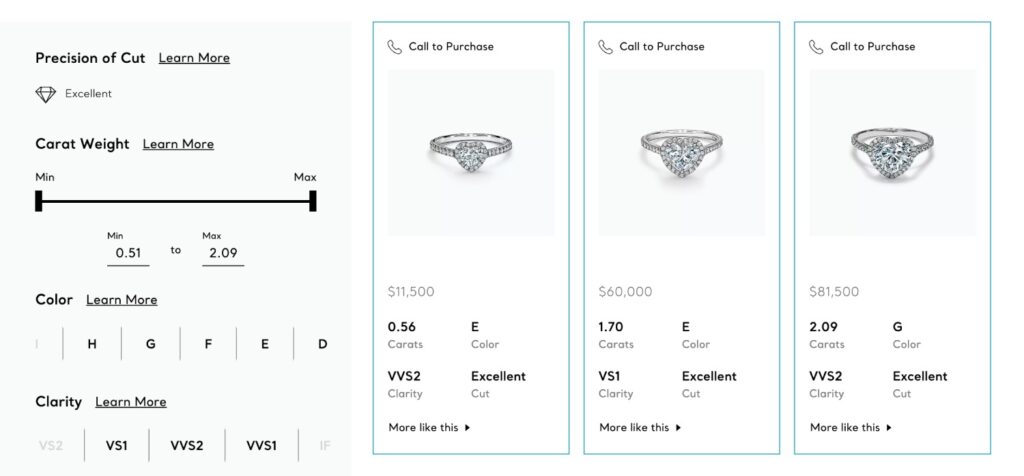 The available selection depends on the inventory at the time – it's worth checking on the Tiffany website at the time you are looking.
Double halo Soleste rings are available in a cushion cut in a white or yellow diamond and an oval yellow diamond: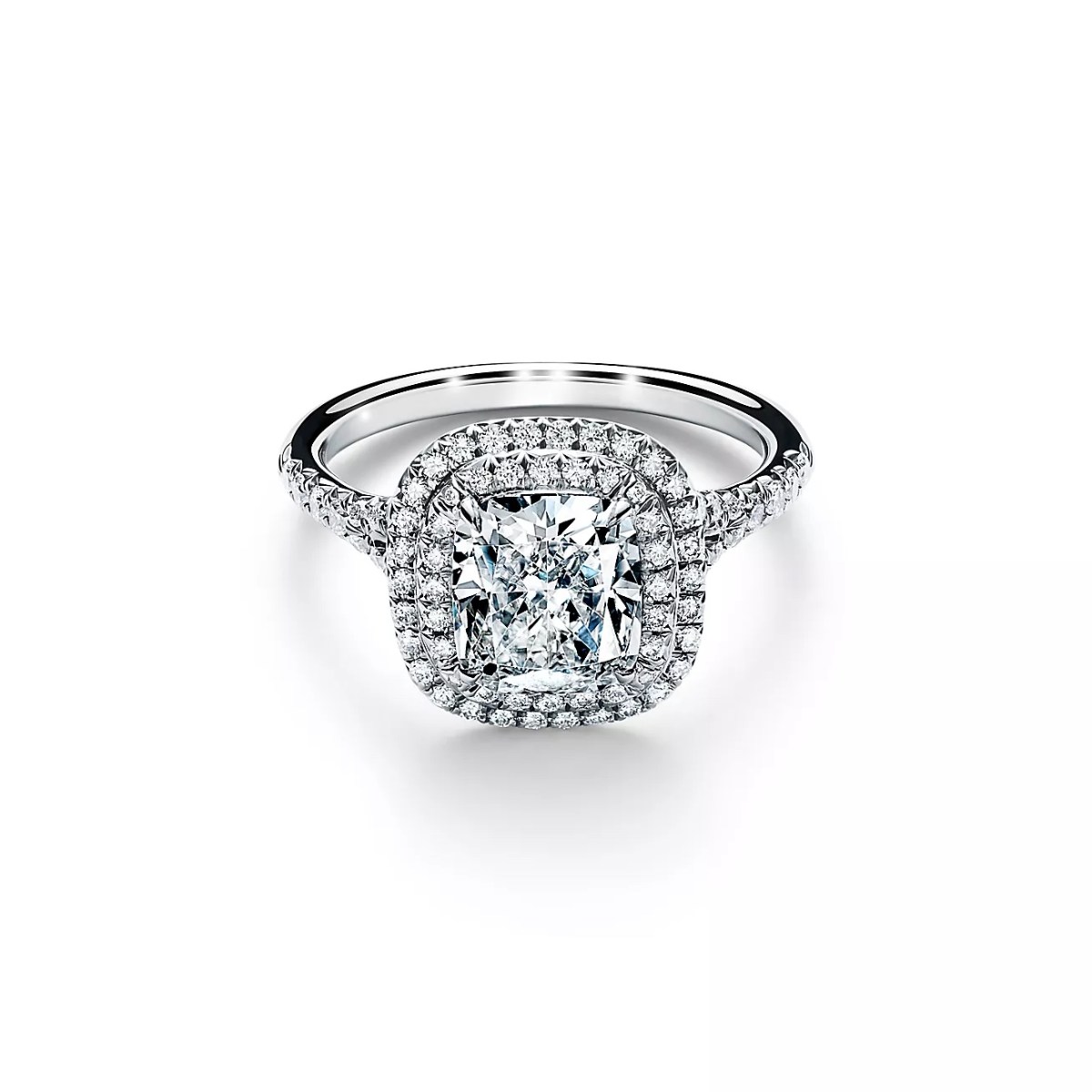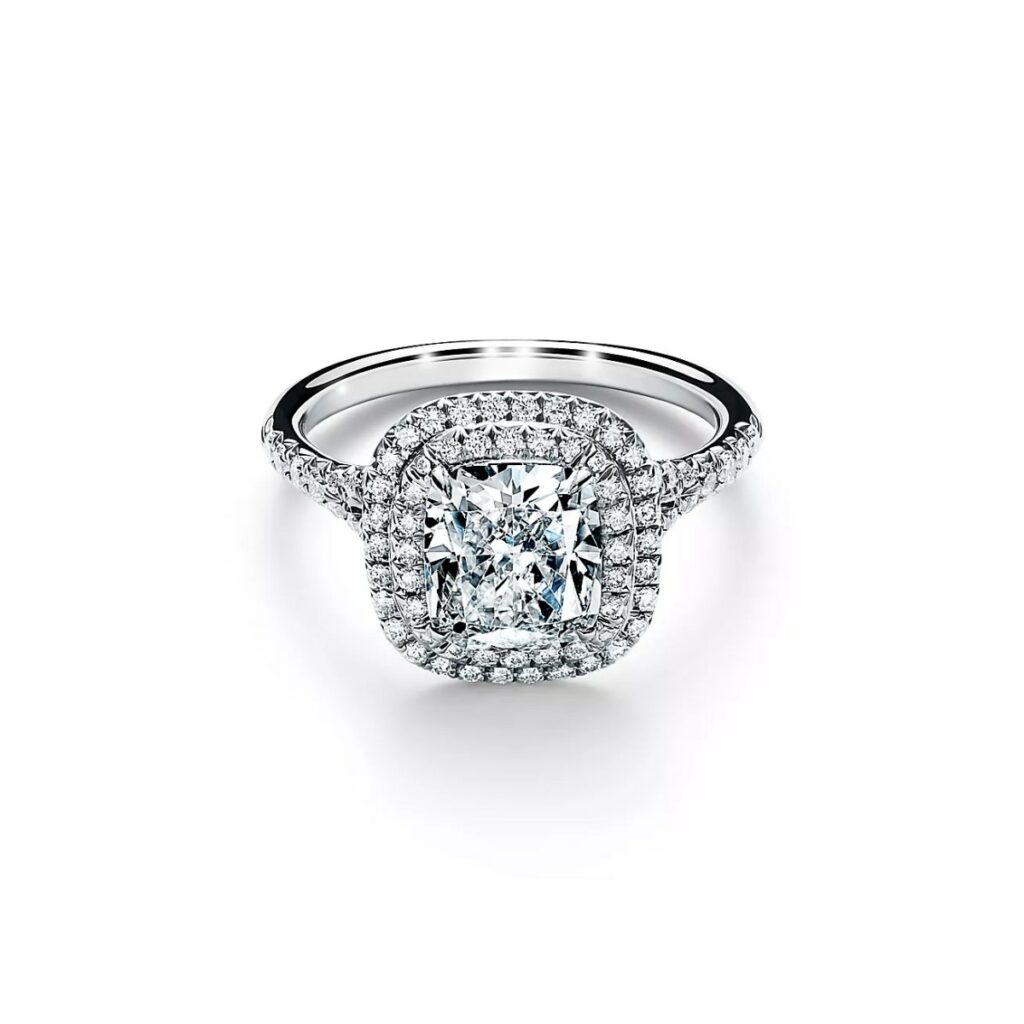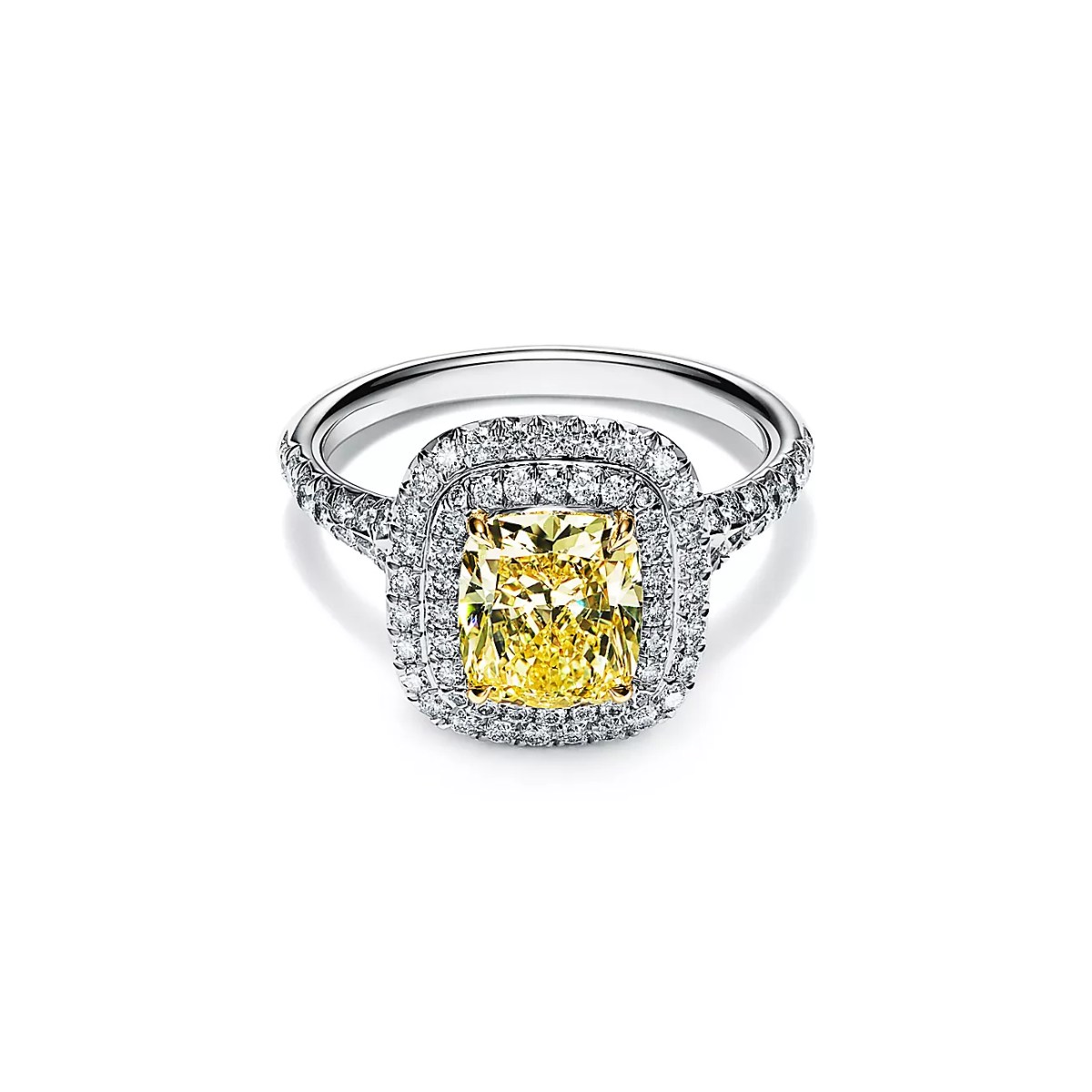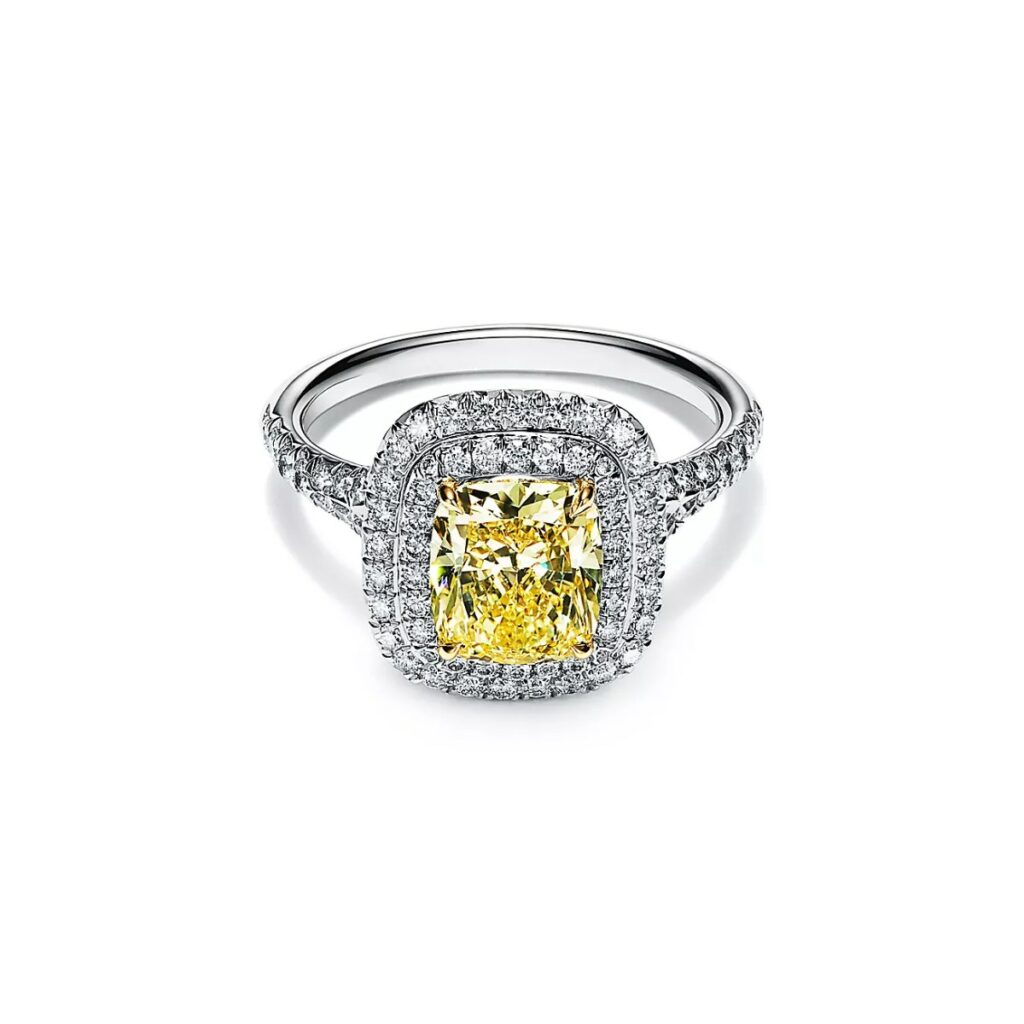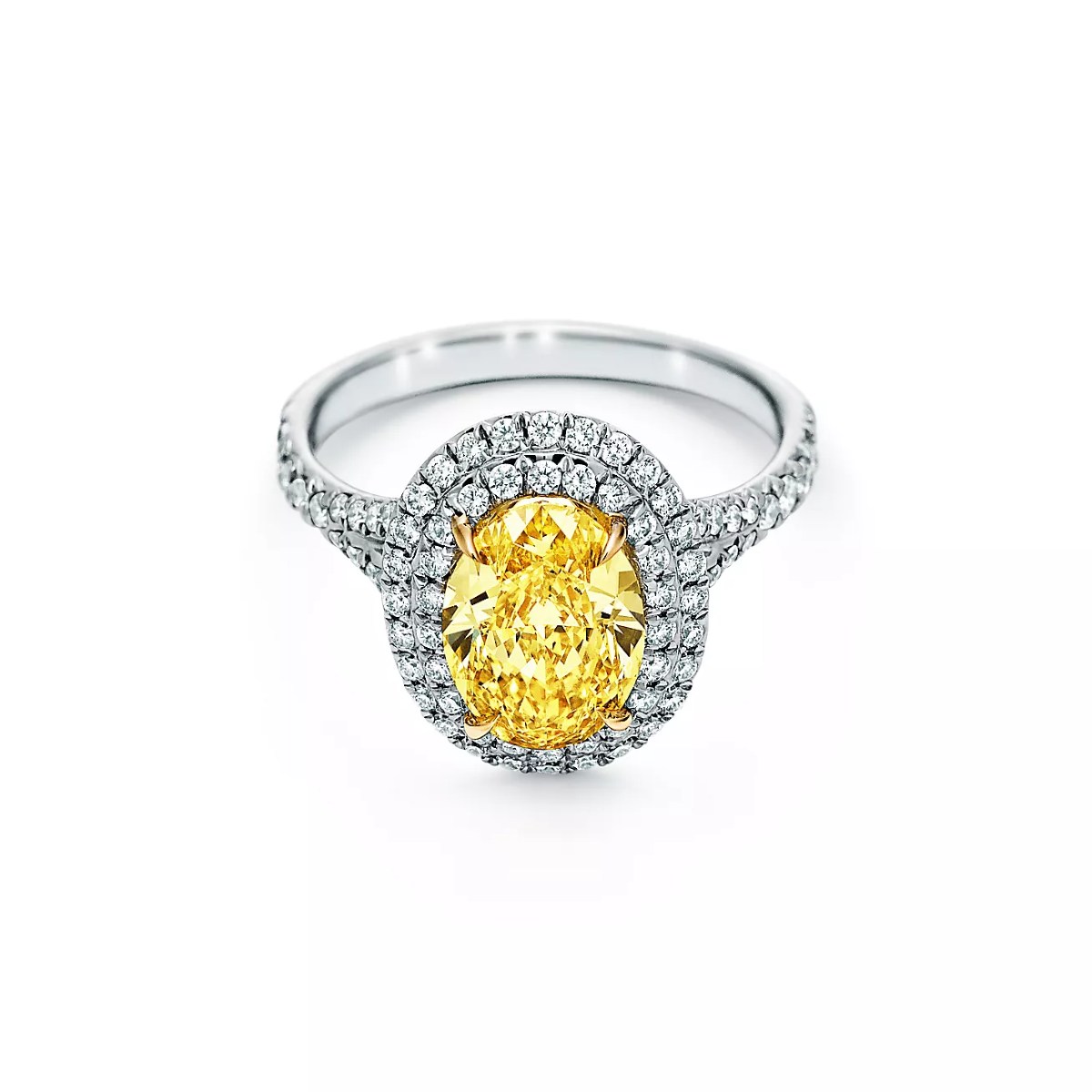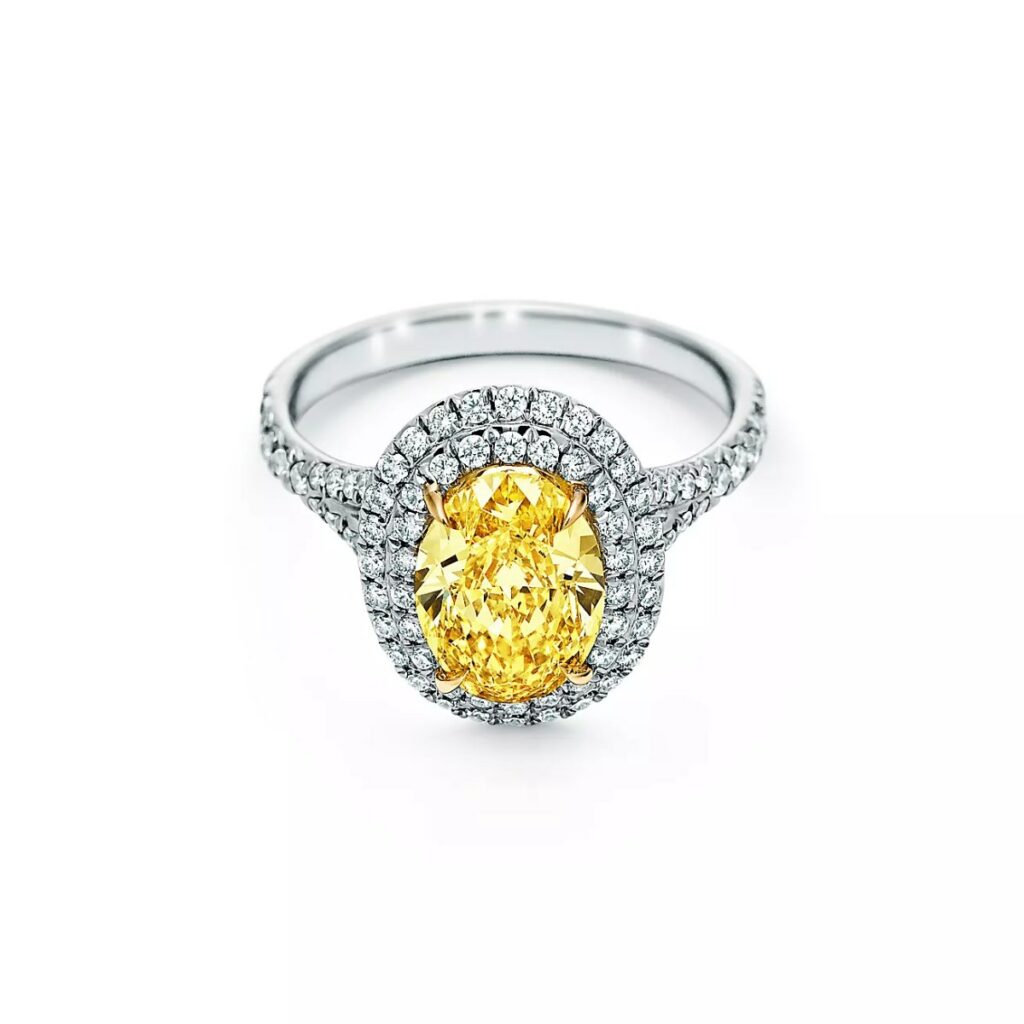 Again you can play with the specs of carat, color and clarity, to get something that suits your style and budget.
We've written articles about the Tiffany Soleste Earrings and Tiffany Soleste Pendant Necklaces if you want to read more.
Tiffany Soleste Engagement Ring Cost
Due to the variety of cuts and gemstones used in the Soleste engagement ring collection, the price of Tiffany Soleste engagement ring will depend on the shape and specifications you choose. This can vary greatly, but some prices as an example are:
A single halo Soleste engagement ring with an emerald cut diamond center stone can range from $7,650 (0.51 Carat, I color, VS1 clarity) to $75,000 (2.24 carat, F color, VS1 Clarity)
A double halo Soleste engagement ring with a white cushion cut center diamond can range from $8,100 – $70,000
A double halo Soleste ring with a yellow diamond cushion cut center stone can range from $5,450 – $81,000
Buying Tiffany Engagement Soleste Engagement Rings
There are many options to purchase a Tiffany Soleste Engagement Ring, whether that's directly from a Tiffany & Co., one of their many stockists across the country or even a pre-owned ring from a Tiffany specialist.
We'll take you through the different choices below.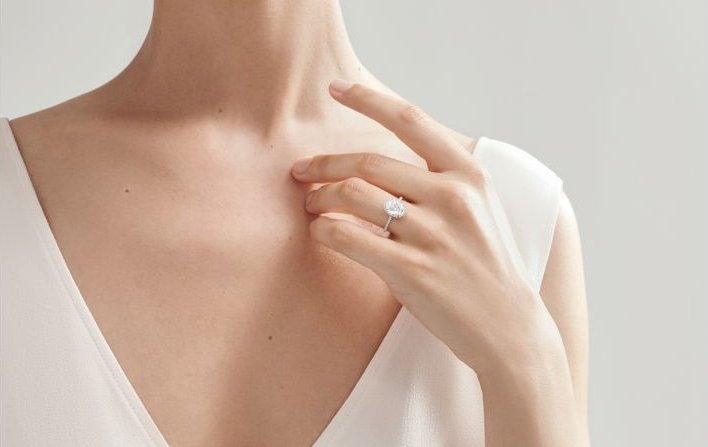 Tiffany & Co has 94 official stores across the US, in 80 cities, which allow you to view and try on a pair of Soleste earrings yourself.
Part of the pleasure of owning Tiffany & Co. jewelry is the in-store experience, and you can find the closest Tiffany store to you using the store locator on the Tiffany website.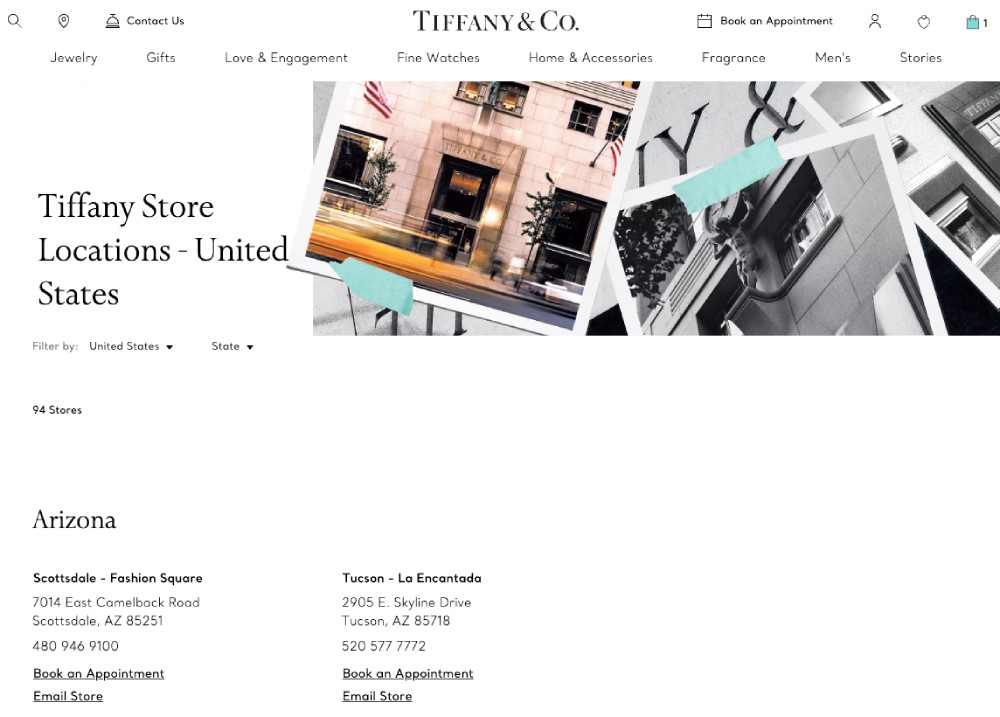 The Tiffany website itself is also an excellent option to buy a Soleste Engagement Ring, if there is no physical store within a convenient distance.
Online offers the full range of current collections with the ability to choose from the currently available , with complimentary postage within the continental US and a 30 day return policy.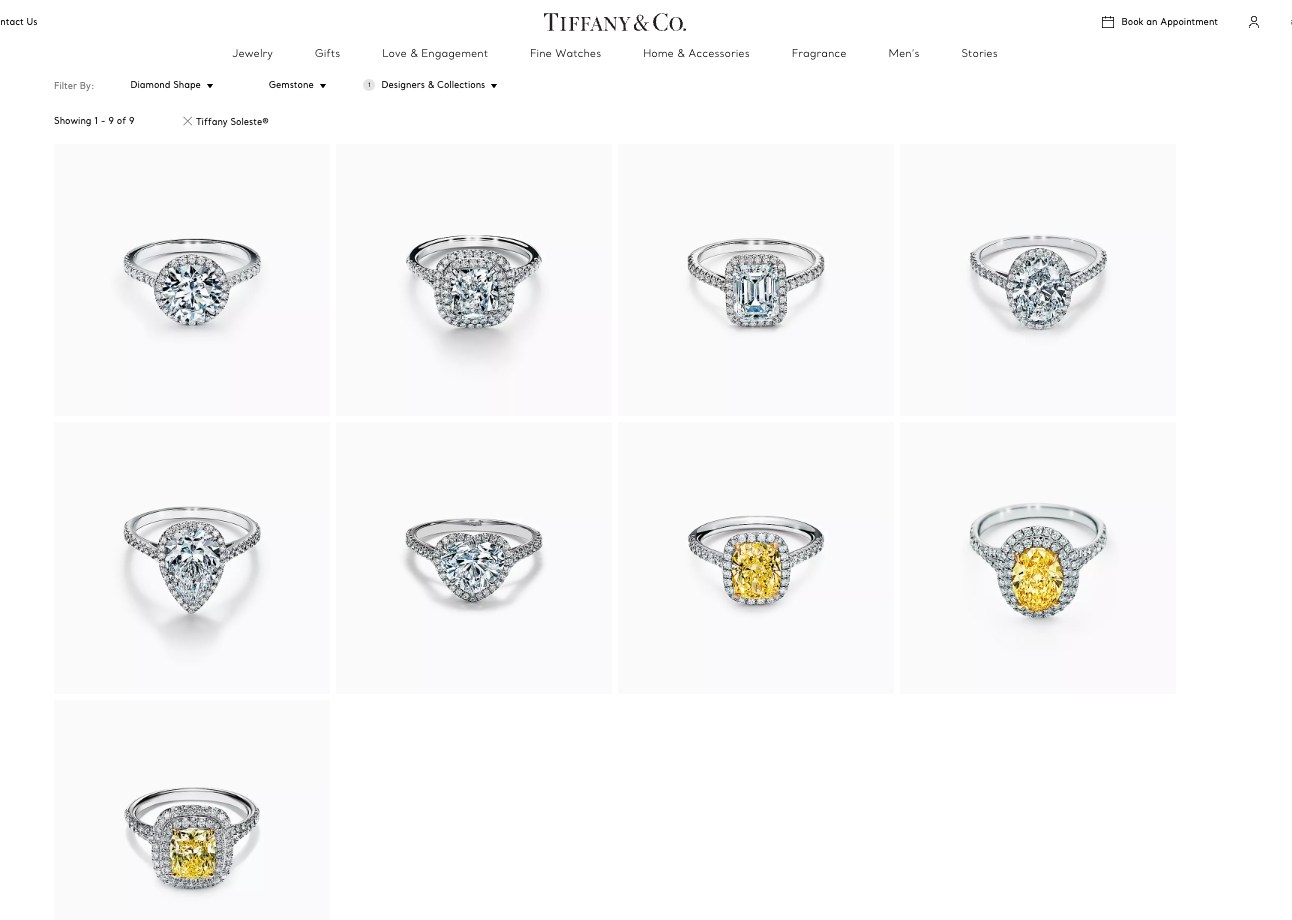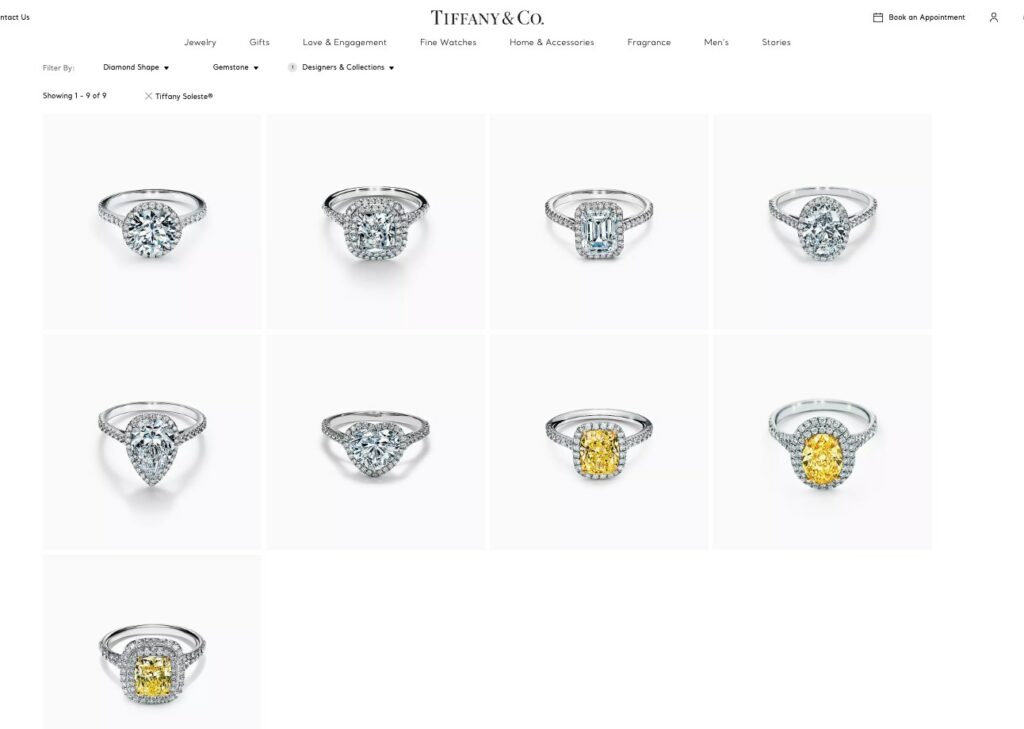 Another option is to buy from a specialist in pre-owned Tiffany jewelry.
Jewelers like The Diamond Oak can offer significant savings over buying new. For example, this Tiffany Soleste Double Halo Engagement Ring was sold for $17,500: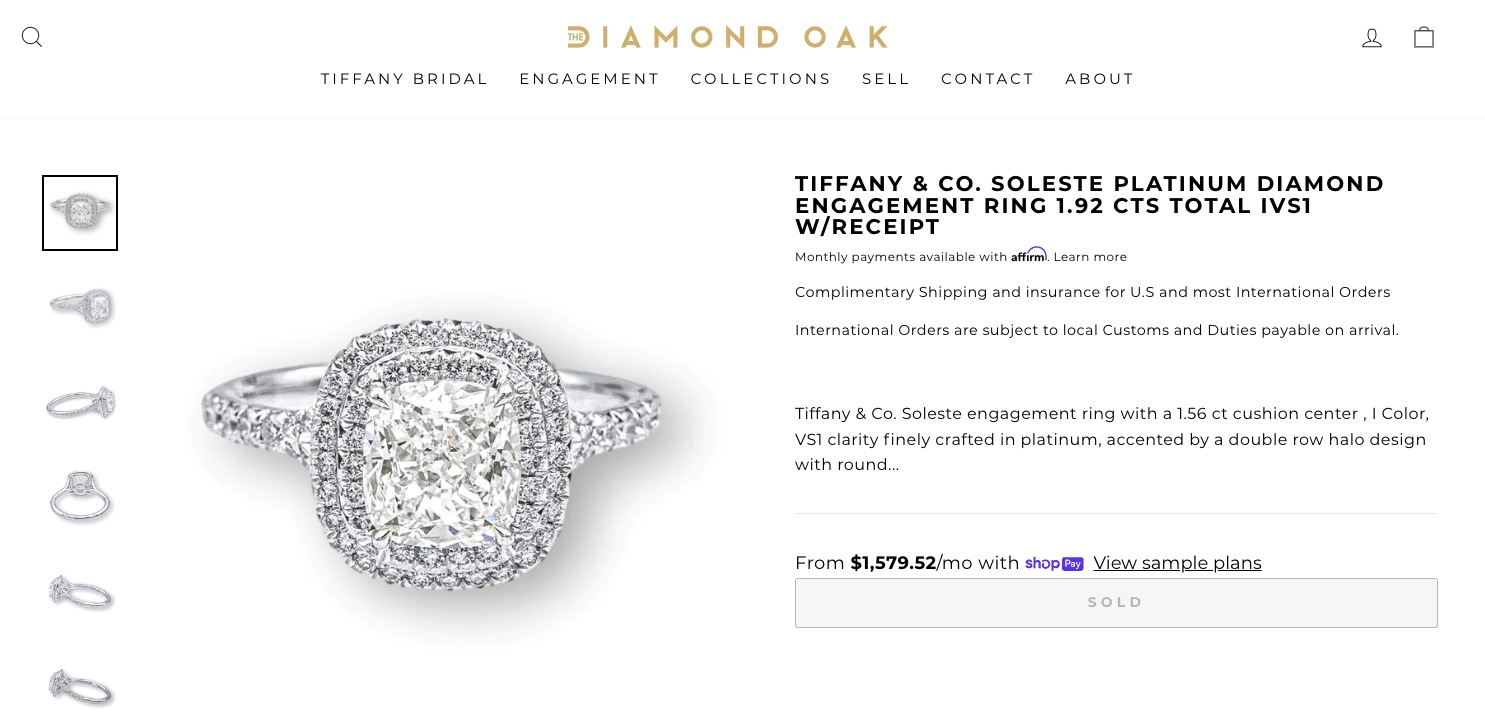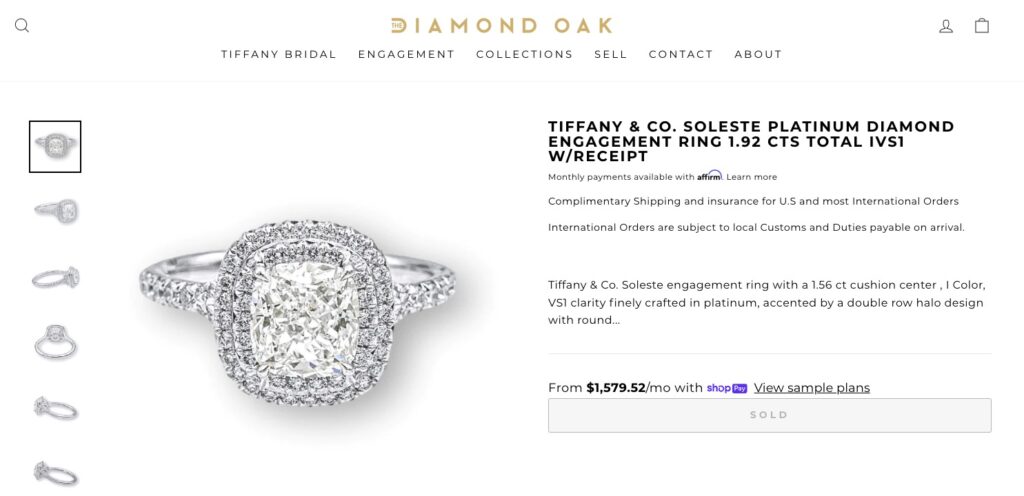 A ring with very similar specs from the Tiffany website is being sold for $29,800.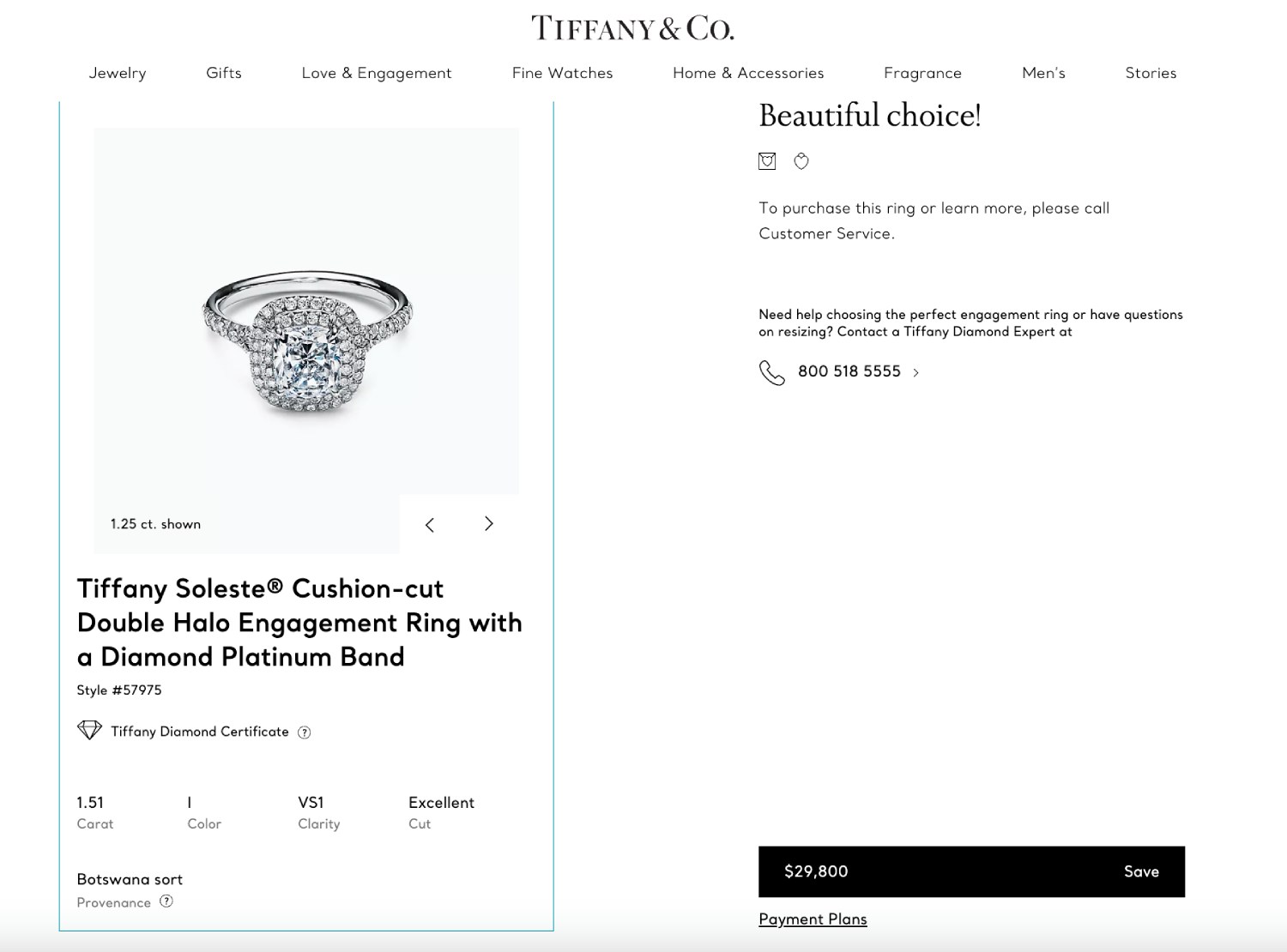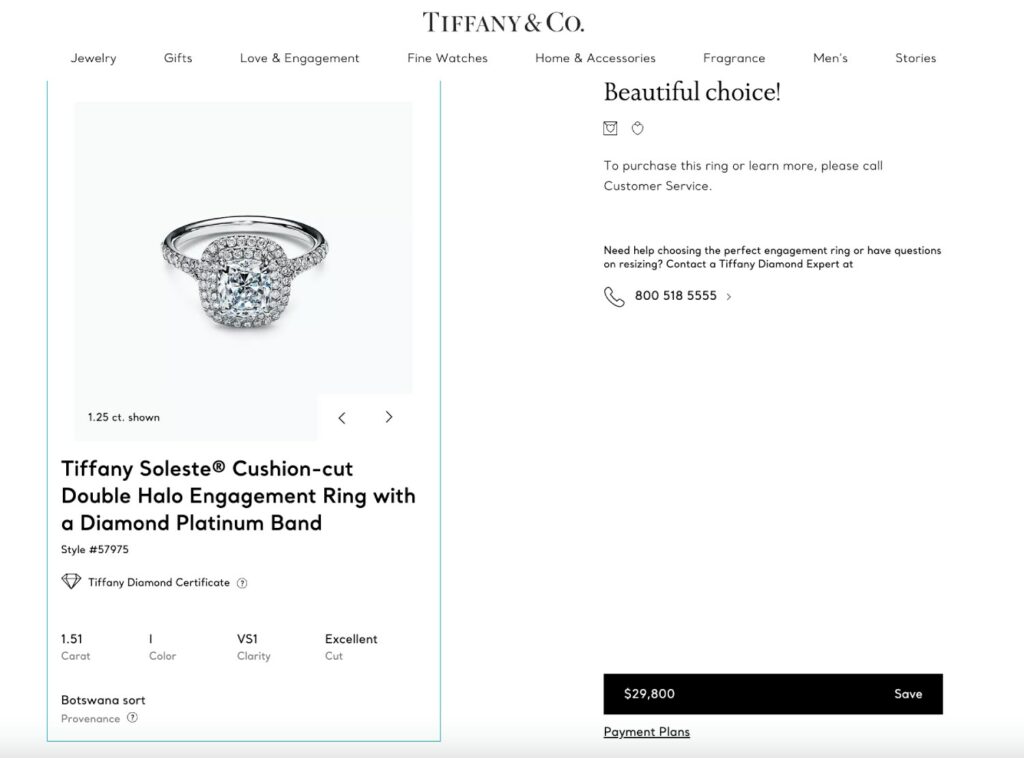 This could be a potential saving of around $12,300 over buying new, for a ring that has been reconditioned to 'as new' condition.
Selling a Tiffany Soleste Engagement Ring
There can be numerous reasons for deciding to sell a Tiffany Soleste engagement ring. You might need quick access to cash, be considering an upgrade to a different ring, or perhaps the ring represents a past relationship and it's time to move on. Regardless of the reason, selling your Tiffany ring can provide you with financial flexibility while ensuring your ring finds a new home.
We've written a detailed article on selling Tiffany Jewelry here if you want to read more.
Before selling your Tiffany Soleste ring, it's important to prepare it adequately. First, have the ring professionally cleaned to ensure it looks its best. Next, get the ring professionally appraised.
A professional appraisal provides you with a detailed assessment of the ring's current market value, taking into account factors like the diamond's 4Cs, the ring's condition, and current market trends.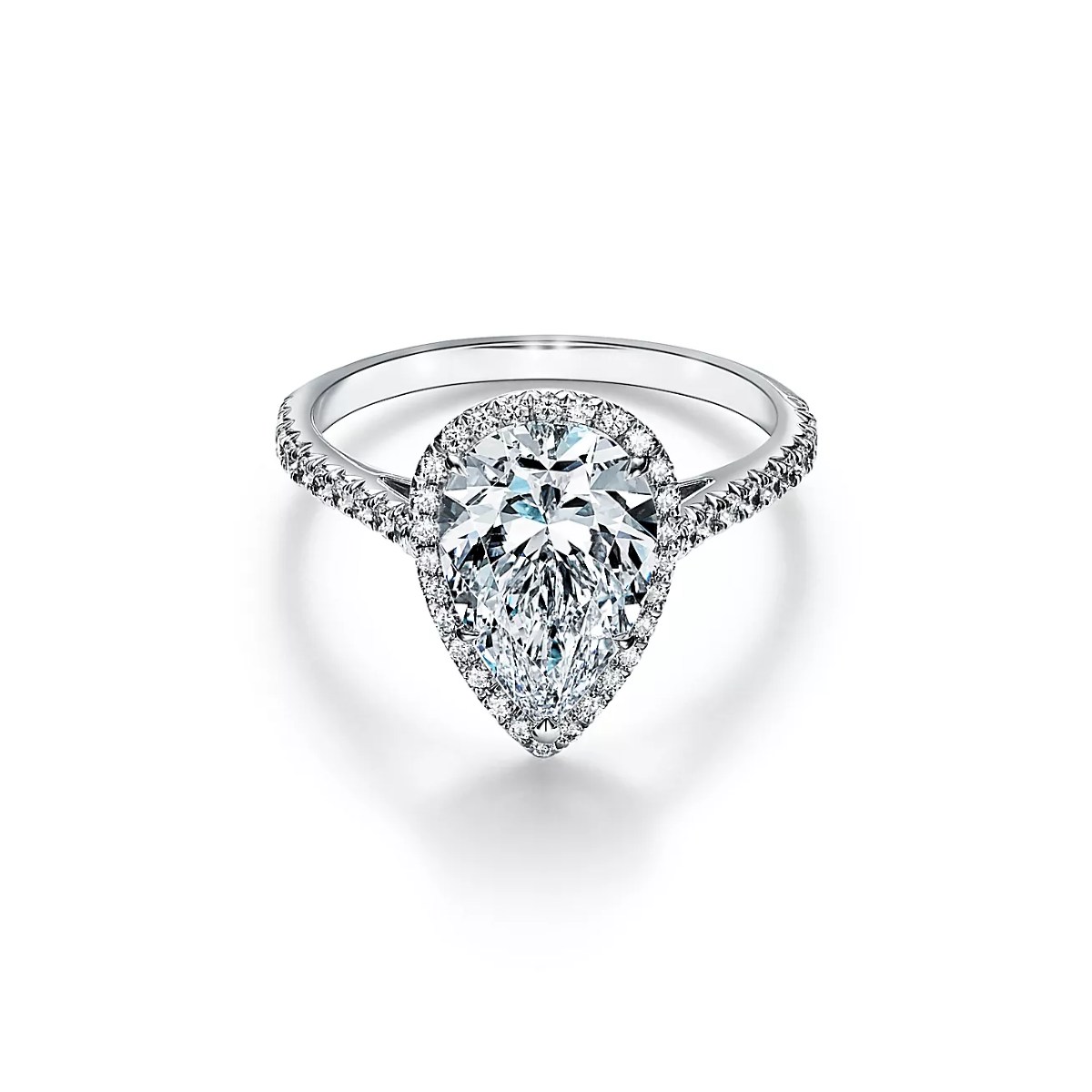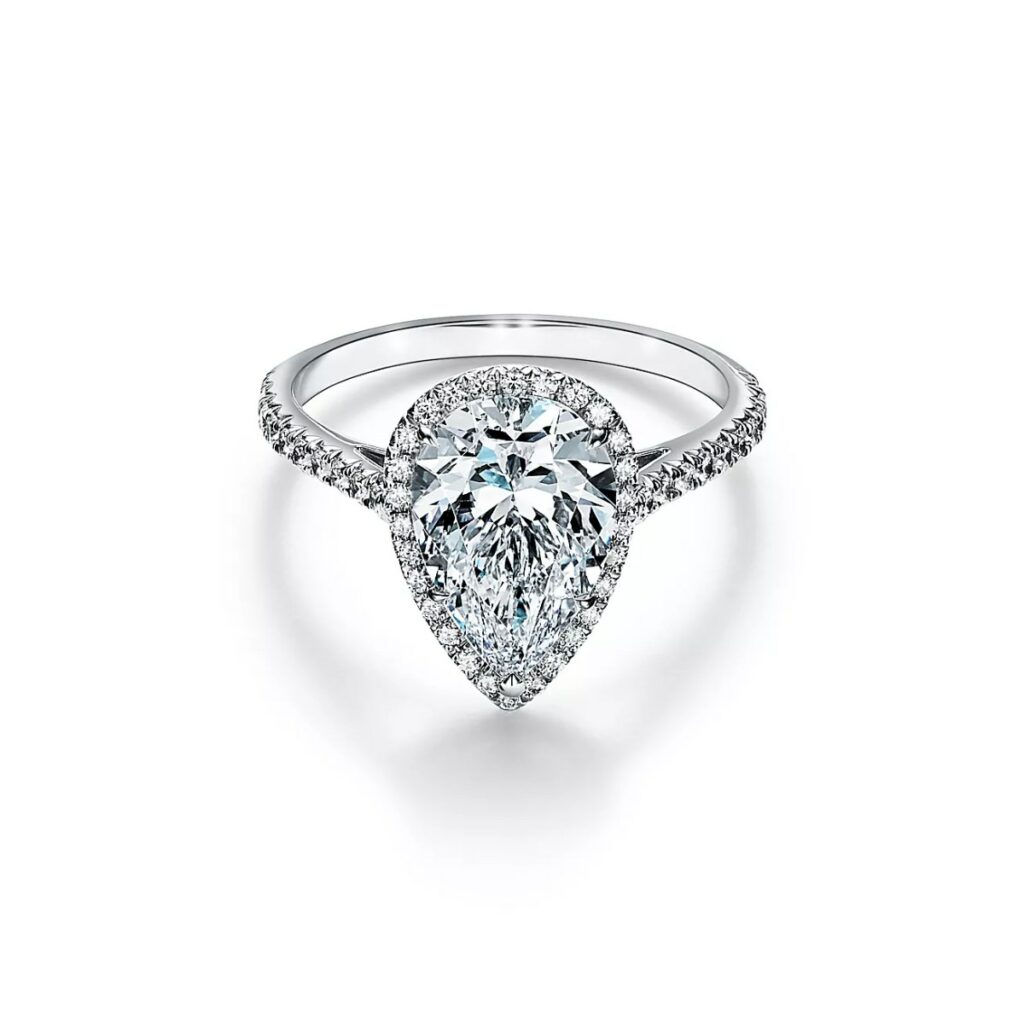 This information is crucial in setting a fair price for your ring. Also, gather all the original documentation for the ring, including the diamond's certificate and the ring's purchase receipt, as these documents can enhance the ring's value to potential buyers.
Finding the best place to sell your Tiffany Soleste engagement ring involves some research. Options include online buyers, local jewelry buyers, and auction houses. Each has its pros and cons.
Online buyers, such as The Diamond Oak, can often provide competitive offers and the convenience of a simple selling process, fast payment, and free shipping. Local buyers can provide the advantage of face-to-face interaction, which some sellers prefer. Auction houses, while typically associated with higher fees, can offer exposure to a wide audience of potential buyers.
Remember, it's important to compare different buyers to find the one that offers the best price and terms for your ring. Don't rush the process – take your time to ensure you get the best possible return on your Tiffany Soleste engagement ring.
Caring for Your Tiffany Soleste Engagement Ring
Proper care and maintenance are essential to preserving the beauty of your Tiffany Soleste Engagement Ring. Regular cleaning and periodic inspections by a Tiffany & Co. professional will help maintain the ring's brilliance and ensure its longevity. The brand also offers warranty and repair services to address any potential issues.
These experts can check for any signs of wear or damage, such as loose diamonds or bent prongs, and perform any necessary repairs to keep your ring in pristine condition. It's generally recommended to have your ring inspected at least once a year, or more frequently if you notice any issues.
To keep your Tiffany Soleste Engagement Ring looking its best, it is recommended to clean it regularly using a soft brush and a solution of warm water and mild dish soap. This will gently remove any dirt or oils that may have built up on the surface of the ring. It's important to avoid using harsh chemicals or abrasive materials, as these can damage the metal and gemstones.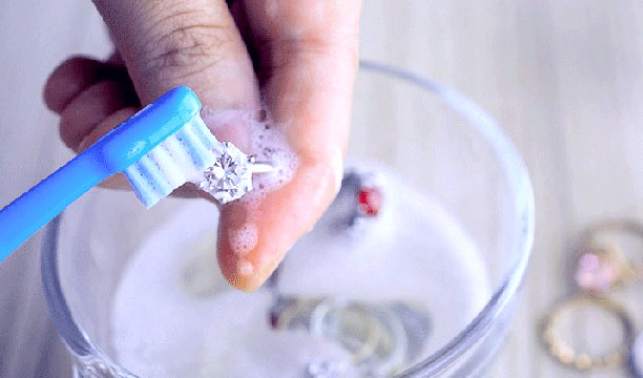 To protect your Tiffany Soleste Engagement Ring from damage, it's a good idea to remove it during activities that may expose it to harsh chemicals, excessive force, or abrasive materials. This includes swimming in chlorinated pools, gardening, and participating in sports or other high-impact activities. Storing your ring in a soft, lined jewelry box when not in use will also help prevent scratches and damage from other jewelry items.
Tiffany & Co. offers a warranty and repair service for their jewelry, giving customers peace of mind knowing that their investment is protected. In the event that your Tiffany Soleste Engagement Ring requires repair or maintenance, Tiffany's skilled artisans will work to restore your ring to its original beauty, ensuring that it remains a cherished symbol of your love for years to come
The Tiffany Soleste Engagement Ring collection offers an array of spectacular designs that exude both classic elegance and modern sophistication. With a variety of styles, diamond sizes, and cuts, there is a Soleste ring to match every style and budget.
Buyers have the flexibility to purchase these engagement rings from Tiffany's physical stores, its official website, or from specialists in pre-owned Tiffany jewelry, with potential significant savings. For sellers, due diligence in appraisal and selecting a selling platform is essential to get the best returns.
As your final takeaway, remember that industry professionals like Alon at Diamond Oak are available to provide further help or guidance in your journey. Don't hesitate to reach out and get in touch with Alon here.
Visit Diamond Oak here