Van Cleef & Arpels Alhambra Necklace: A Guide for Buyers and Sellers
---
The Van Cleef & Arpels Alhambra Necklace is immediately recognizable due to its distinctive four-leaf clover motif.
Available in a range of materials, colors, sizes, and styles, the Alhambra range democratizes access to one of the most creative jewelry brands in the world.
This article is a comprehensive guide for people interested in buying or selling a necklace from the Van Cleef Alhambra Collection
We'll cover the collection's history, design, quality, price, and practical tips for both buyers and sellers.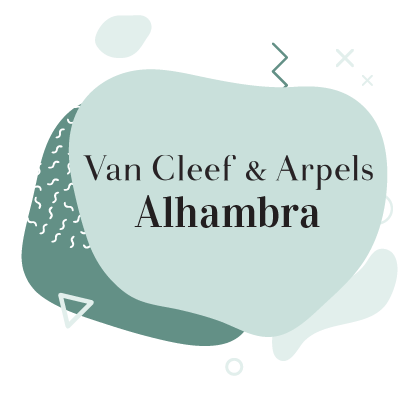 History of Van Cleef Alhambra Collection
The Van Cleef Alhambra Collection was introduced to the world of fine jewelry in 1968 by Van Cleef & Arpels. The design, inspired by the four-leaf clover, embodied the concept of luck. The collection was named after the Alhambra palace in Spain, which is known for its ornate designs and intricate detail work, reflecting the craftsmanship inherent in each piece of this jewelry collection.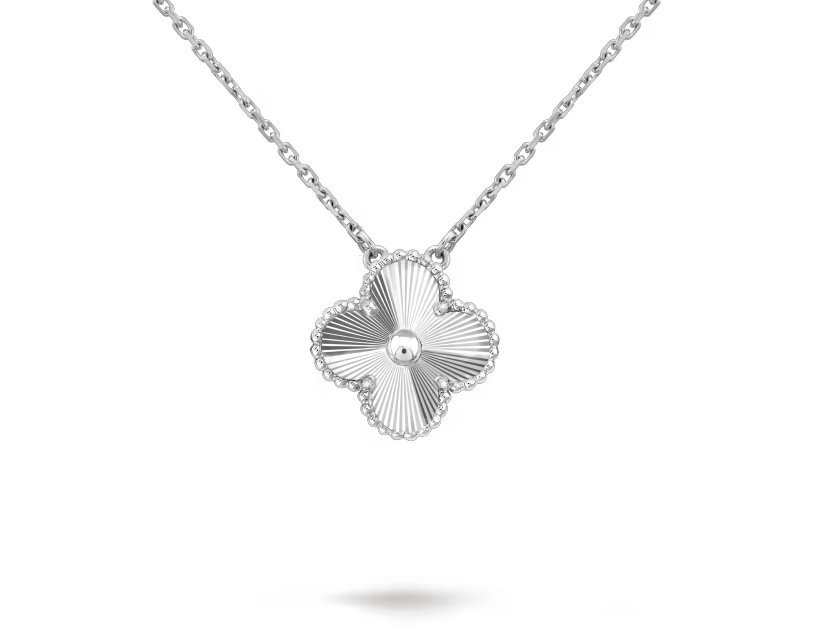 The Alhambra collection has evolved significantly over the years. New variations, each with its unique aesthetic appeal, were gradually added to the original collection.
The Van Cleef Alhambra Collection has found its place in the spotlight, adorning several well-known personalities over the decades. Icons like Princess Grace of Monaco and actress Romy Schneider were early adopters of the collection. Contemporary celebrities such as Reese Witherspoon and Blake Lively have also been spotted wearing pieces from the collection, solidifying its timeless appeal.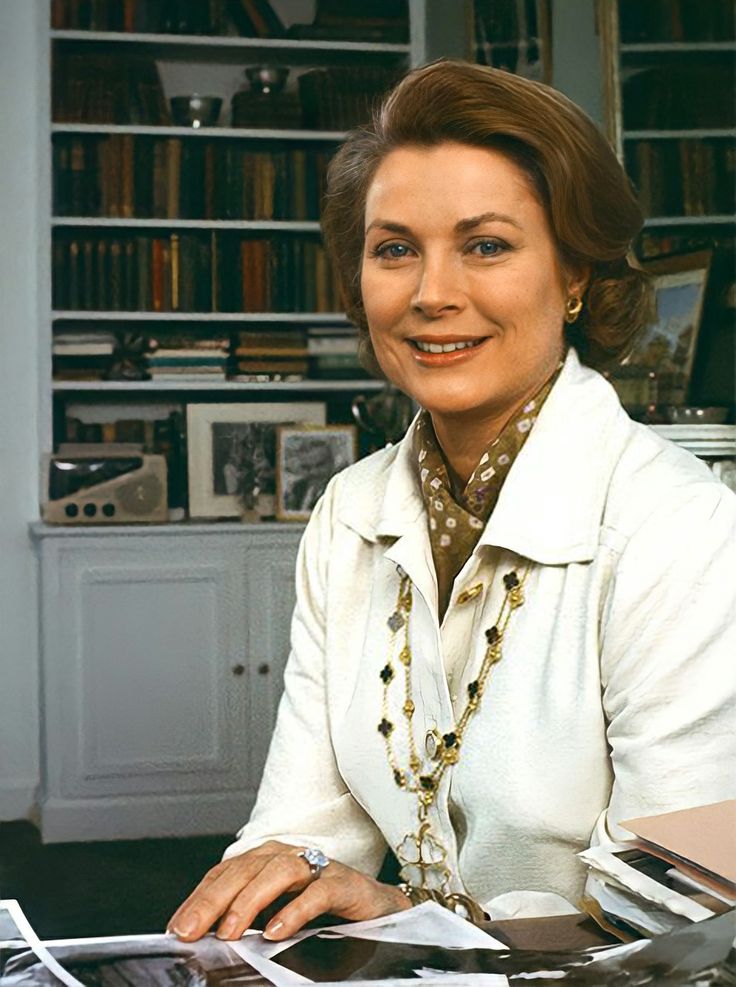 Design of Van Cleef Alhambra Collection
The Van Cleef Alhambra Collection embodies the craftsmanship and creativity that define Van Cleef & Arpels. Every piece showcases the brand's signature attention to detail and artistry.
The cornerstone of the collection is the four-leaf clover motif, a symbol of luck. Each clover is delicately edged with golden beads, adding to its unique charm. These motifs are then inlaid with an array of natural and refined materials. Van Cleef & Arpels utilize a myriad of materials, from mother-of-pearl, onyx, and carnelian to turquoise and malachite, creating vibrant color variations across the collection.
As the collection expanded, so did the diversity of the motifs. The Vintage Alhambra pieces maintain identical sizes, preserving the traditional charm. The Magic Alhambra takes a playful approach, with asymmetrical designs. Sweet Alhambra boasts miniature and graceful motifs, while Lucky Alhambra incorporates other symbols of good fortune like hearts, butterflies, leaves, and stars. Pure Alhambra showcases motifs in smooth gold and diamonds, and Byzantine Alhambra presents a blend of solid and openwork structures, reminiscent of Byzantine architecture.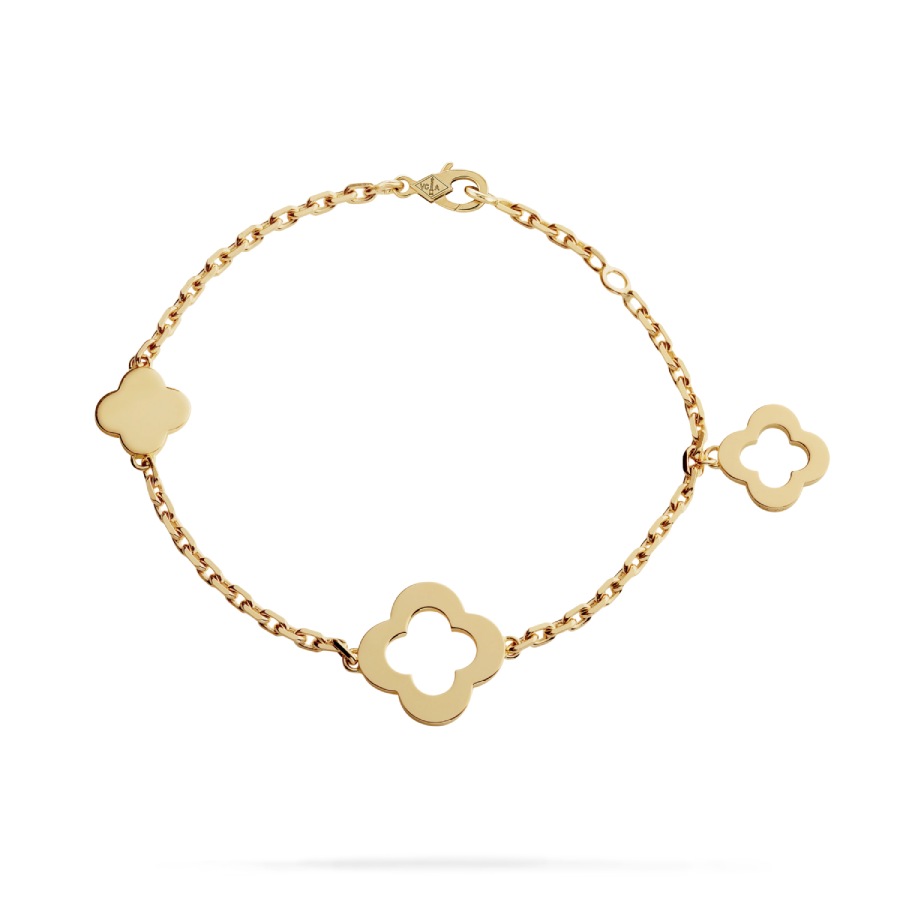 The Alhambra motifs are found across a wide spectrum of jewelry types. These include necklaces, bracelets, earrings, rings, and even watches, each capturing the Alhambra's essence.
We've written an article on Van Cleef & Arpels bracelets here, if you want to read more.
Van Cleef Alhambra Necklaces
Alhambra necklaces are available in a range of precious metals with a wide variety of precious metals used in the pendant itself.
At the most accessible end of the range is this 18k rose gold 'Sweet Alhanbra' pendant which features carnelian at the center, priced at $1,680 excluding taxes: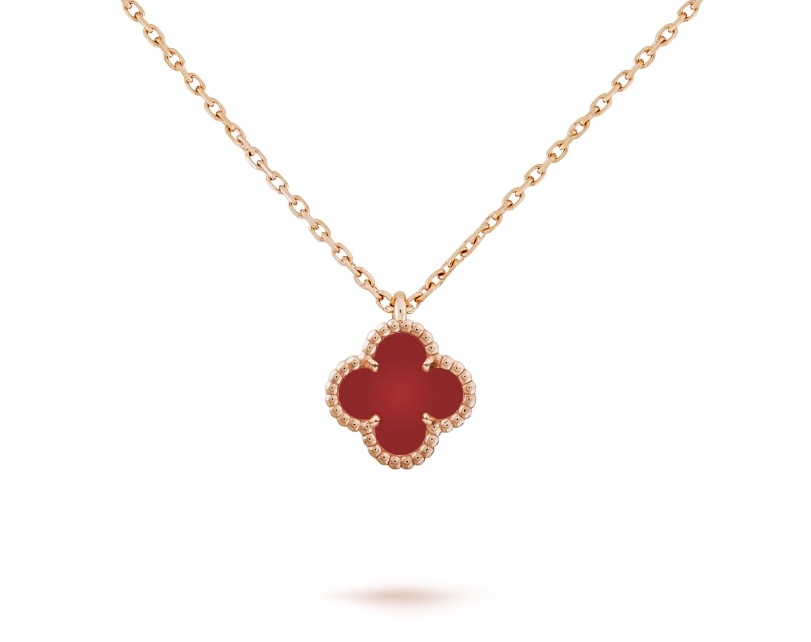 Changing the stone used in the clover can make a significant difference to the price asked. This 18k yellow gold Magic Alhambra long necklace features malachite and is priced significantly higher at $7,000 excluding taxes.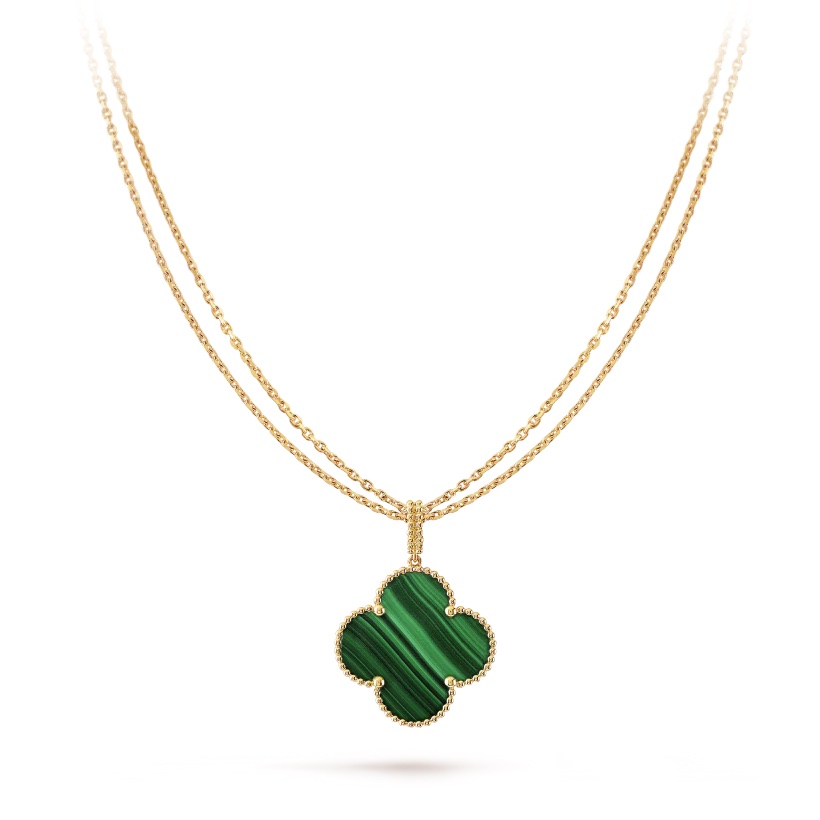 Increasing the number of clover leaf Alhambra motifs to the necklace can increase the price significantly. The example below features mother of pearl in each of the 10 clovers and is priced at $8,400, excluding taxes.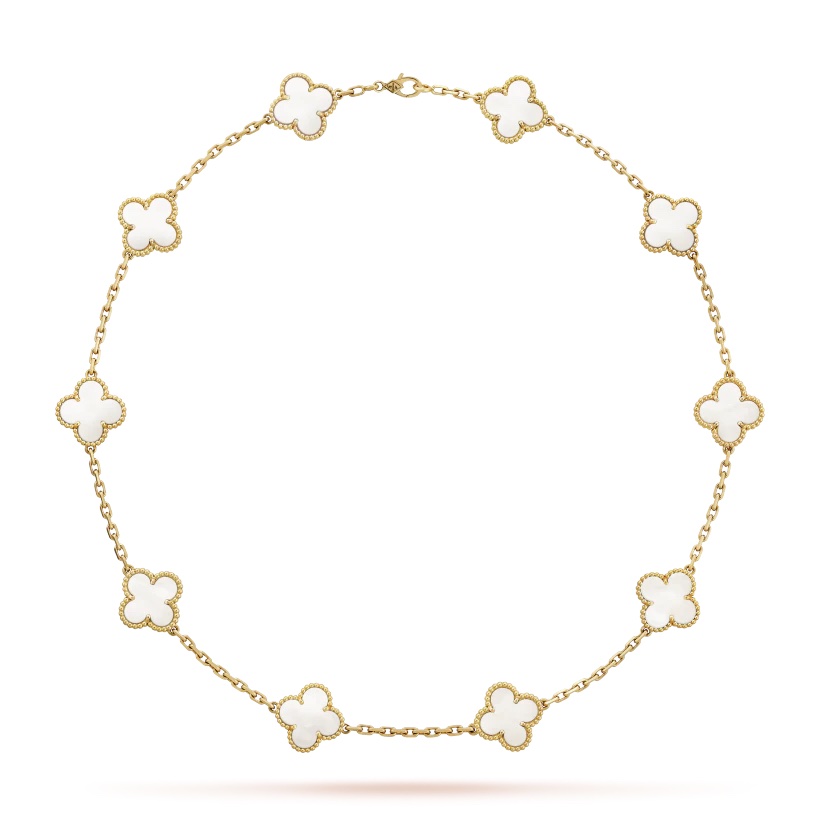 The 10 clover Alhambra design is available with a wide range of interesting stones, including chalcedony, agate, malachite and more, each of which have their own individual price.
The last Alhambra necklace we'll look at is the vintage Alhambra pendant, which features 12 diamonds for a total carat weight of 0.48 carat.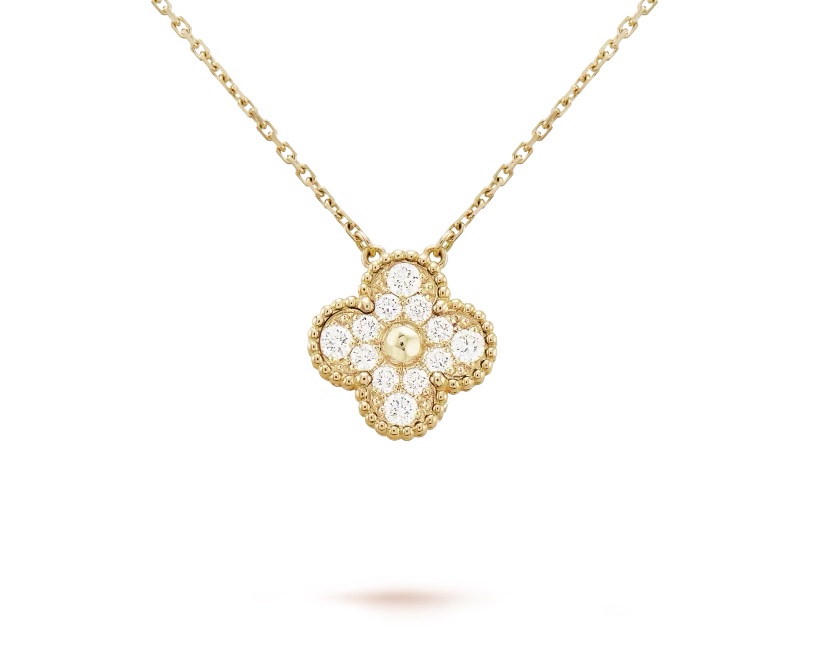 Available in yellow gold, white gold and rose gold, this vintage Alhambra pendant is priced at $7,950 excluding taxes.
Where to buy Van Cleef Alhambra Necklaces
There are many options to purchase a Van Cleef Alhambra Necklace, whether that's directly from Van Cleef & Arpels, or another jeweller in store or online, and there's also the option to buy a pre-owned necklace if you don't have the budget for a new one.
We'll take you through the different choices below.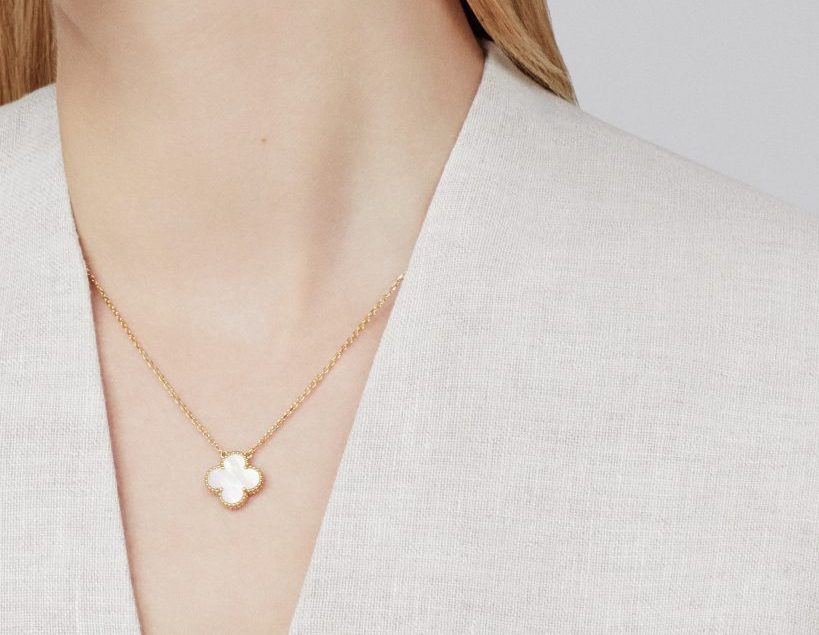 Van Cleef & Arpels has over 21 standalone stores and over 7 approved retailers across the US.
If you'd like to find the physical location close to you, you can use the store locator on the Van Cleef & Arpels website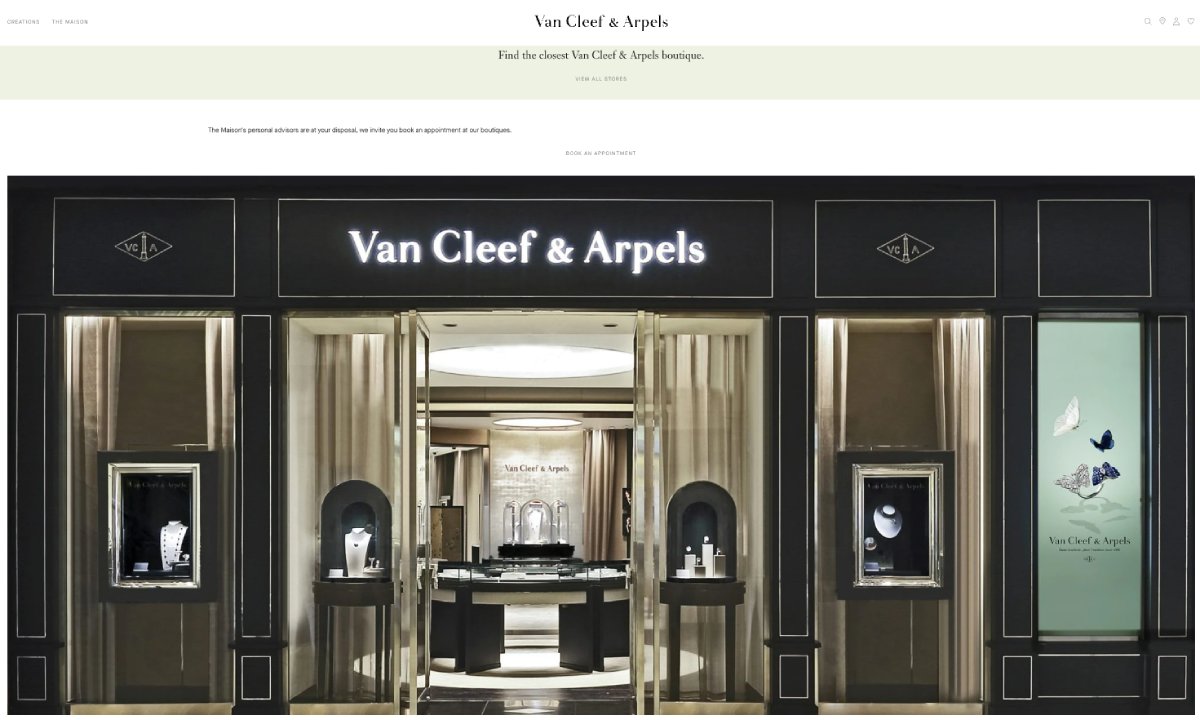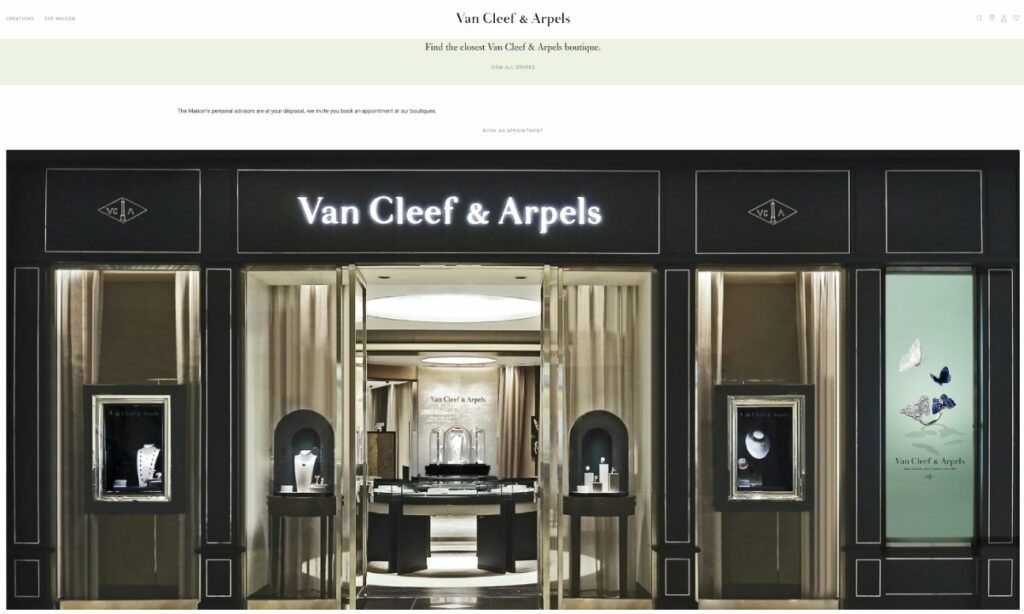 If you can't make it to a physical store, the Van Cleef & Arpels website has every piece from the current collections available and offers complementary shipping for every order.
For pre-owned Van Cleef & Arpels necklaces, we recommend Diamond Oak in New York, a fine jewelry specialist offering competitive prices by eliminating middlemen and additional fees.
Pricing for Van Cleef & Arpels necklaces varies widely depending on the design, the precious metal used and the gemstones featured.
Jewelers like The Diamond Oak can offer significant savings over buying new. For example, this Van Cleef & Arpels Vintage Alhambra Onyx necklace was sold for $2,475.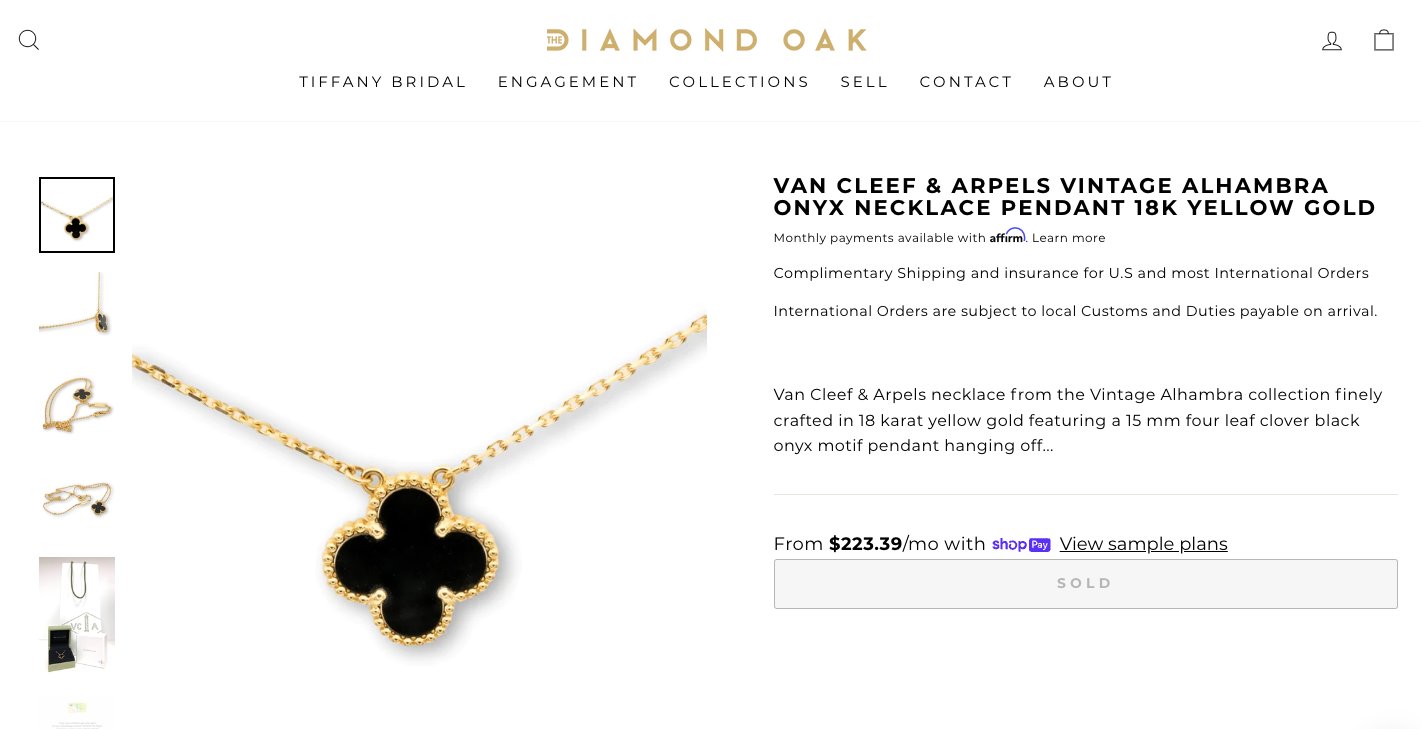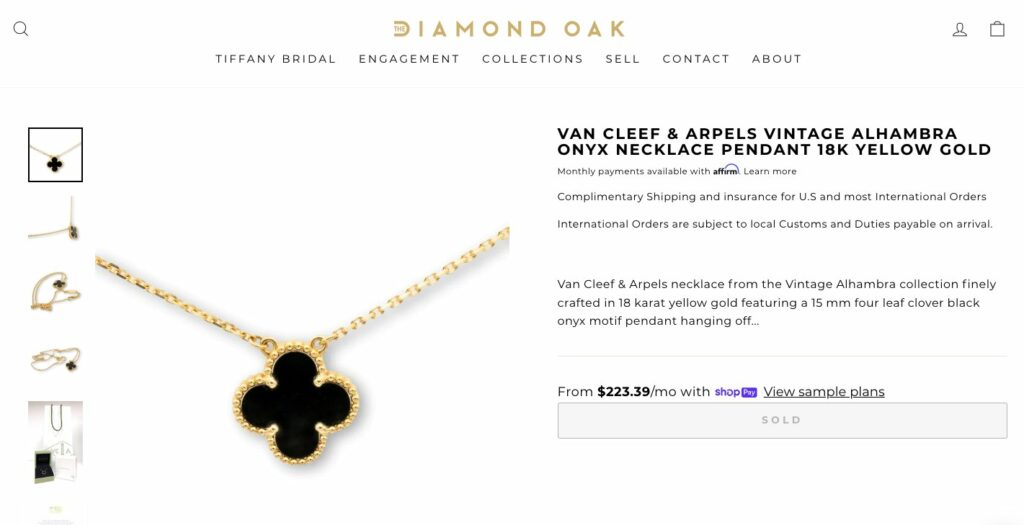 The same necklace is being sold on the Van Cleef website for $2,750 excluding taxes.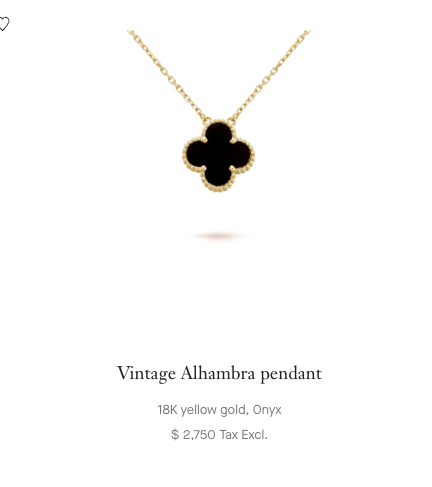 This could be a potential saving of around $275 over buying new, for a necklace that has been reconditioned to 'as new' condition.
How to Sell Van Cleef & Arpels necklaces: Tips and Advice
We have a whole post on selling Van Cleef & Arpels jewelry, but as an overview, there are several factors can influence its value and price. Here's what you need to consider:
Condition: The necklace's condition, especially its care and maintenance over time, plays a significant role in determining its value.
Rarity: If the necklace is a hard-to-find item, it can command a higher price.
Demand: The current market demand for the specific bracelet style can also affect its value.
Authenticity: A genuine Van Cleef & Arpels necklace, verified by its materials, design, and craftsmanship, is more valuable.
When preparing a Van Cleef & Arpels necklace for sale:
Clean and Polish: Make sure the necklace is cleaned and polished to bring out its original shine and luster.
Documentation: Gather any original documents, receipts, certificates, or boxes that came with the bracelet to prove its authenticity.
Photography: Take clear, high-quality photos from different angles to give potential buyers a complete view of the item.
Description: Write a detailed and accurate description of the necklace, including its style, collection, size, metal type, gemstone, and condition.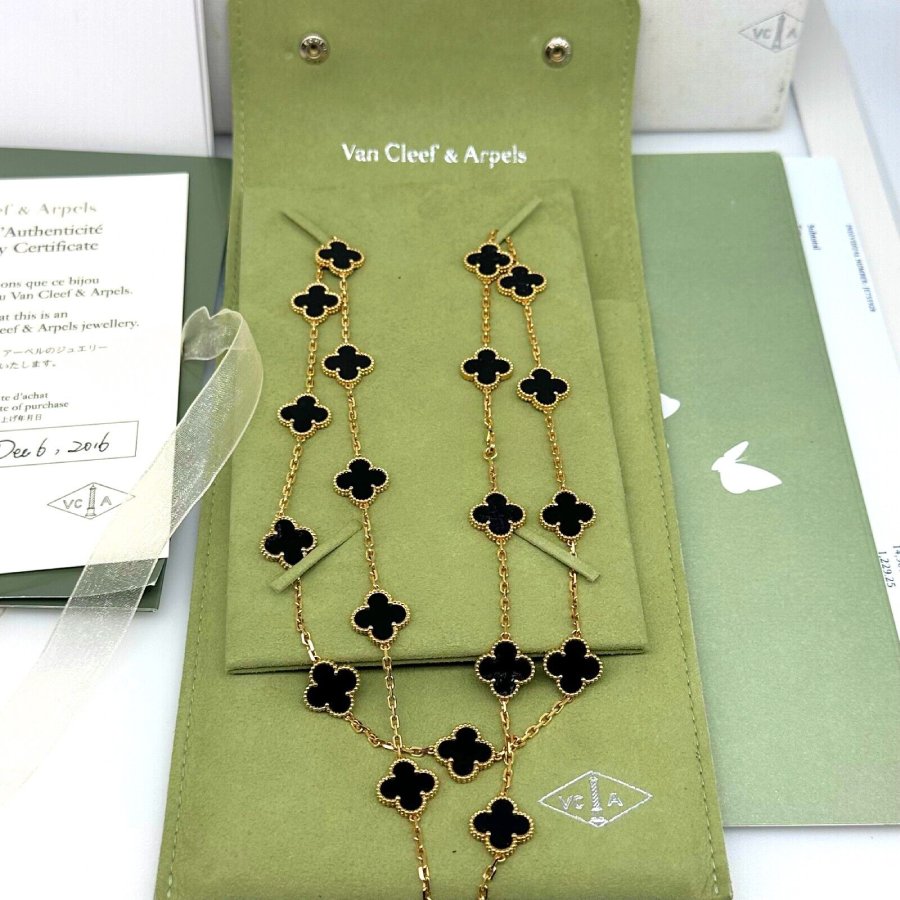 There are several platforms available for selling your Van Cleef & Arpels necklace:
Online Marketplaces: Websites like eBay offer a large audience of potential buyers. One thing to consider is the competition on these platforms can mean that your auction can get lost in the 'noise'.
Online Auction Houses: Auction houses like Sotheby's can potentially help you fetch a higher price if your necklace is of note. Many traditional auction houses have restrictions on what they will buy, so if your necklace is not high value enough this might not work.
Local Jewelers or Pawn Shops: These may offer immediate payment, though they might not provide the best price.
Pre-owned Jewelry Specialists: Jewelers who specialize in pre-owned jewelry often offering competitive prices due to their deep understanding of the market and extensive network of interested buyers. Our recommendation here is The Diamond Oak which offers high prices for pre-owned Van Cleef & Arpels necklaces and a seamless interaction.
Tips for Buying or Selling a Van Cleef Alhambra Necklace
If you're considering buying or selling a Van Cleef Alhambra necklace, making an informed decision can ensure you get the most out of your investment. Here are some practical tips:
General Tips:
Choose the Right Piece: Consider your style, budget, and occasion. The Alhambra Collection offers an array of designs, sizes, and materials to choose from.
Find a Trustworthy Dealer: Not all dealers are created equal. A reputable jeweler, such as Diamond Oak, can provide a pre-owned Van Cleef Alhambra necklace at competitive prices.
Negotiate: Be prepared to negotiate to secure the best deal possible. Be aware of scams or fakes, always verify the authenticity of the jewelry.
Proper Care and Storage: Preserve the value of your jewelry with proper care and storage. Keep your pieces in a cool, dry place, preferably in their original cases.
Specific Tips:
For Buyers:
Verify Authenticity: Look for the Van Cleef & Arpels signature and the French assay mark. If in doubt, seek an expert opinion.
Check Quality: Inspect the piece for any damages or inconsistencies. Each cloverleaf motif should be edged with golden beads, and the material of the motif should feel solid and smooth to the touch.
Buying pre-owned jewelry offers numerous benefits. Not only can you save money compared to purchasing new, but you also contribute to a sustainable model that reduces environmental impact. Plus, pre-owned jewelry often offers a wider selection of styles and designs that may no longer be available in stores. Owning a piece of pre-owned jewelry is like owning a piece of history, a unique story embodied in a timeless design.
For Sellers:
Pricing: Understand the market value of your piece. Consider factors such as condition, age, rarity, and demand.
Presentation: Quality photos and detailed descriptions can highlight the beauty and condition of your jewelry, helping it stand out in online listings.
This article covered the Van Cleef & Arpels Alhambra necklaces, their history, design, quality, and buying or selling tips. Born in 1968 and taking its inspiration from the four-leaf clover, this collection has evolved into various styles, offering a diverse range of necklaces marked by quality and craftsmanship.
If you're interested in buying or selling Van Cleef & Aprels Alhambra jewelry, get in touch with The Diamond Oak. They're a third-generation business located in New York's Diamond District, with a focus on buying and selling pre-owned and vintage Van Cleef & Arpels Alhambra pieces. Their specialization and network mean they can offer more for Van Cleef & Arpels Alhambra jewelry, knowing they'll always find a buyer.
Start your Van Cleef & Arpels Alhambra necklace journey with The Diamond Oak.
Visit Diamond Oak here