Van Cleef & Arpels Alhambra Bracelet: A Guide for Buyers and Sellers
---
The Van Cleef & Arpels Alhambra Bracelet is immediately recognizable due to its iconic four-leaf clover motif.
Named after the Alhambra palace in Spain, which is known for its ornate designs, each piece in the collection show intricate detail work.
If you're thinking about buying or selling an Alhambra Bracelet, this guide provides the necessary information to make an informed decision to get the best possible result.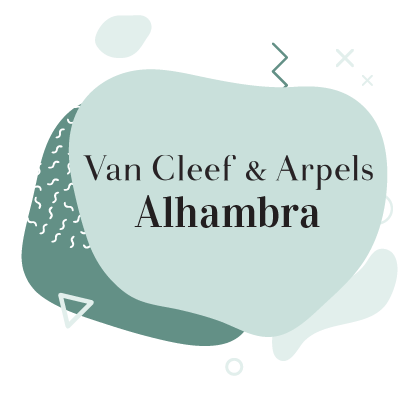 Design of the Van Cleef & Arpels Alhambra Collection
The Van Cleef Alhambra Collection embodies the craftsmanship and creativity that define Van Cleef & Arpels.
The cornerstone of the collection is the four-leaf clover motif, a symbol of luck. Each clover is delicately edged with golden beads, adding to its unique charm. These motifs are then inlaid with an array of natural and refined materials. Van Cleef & Arpels utilize a myriad of unusual and unique materials, from mother-of-pearl, onyx, and carnelian to turquoise and malachite, creating vibrant color variations across the collection.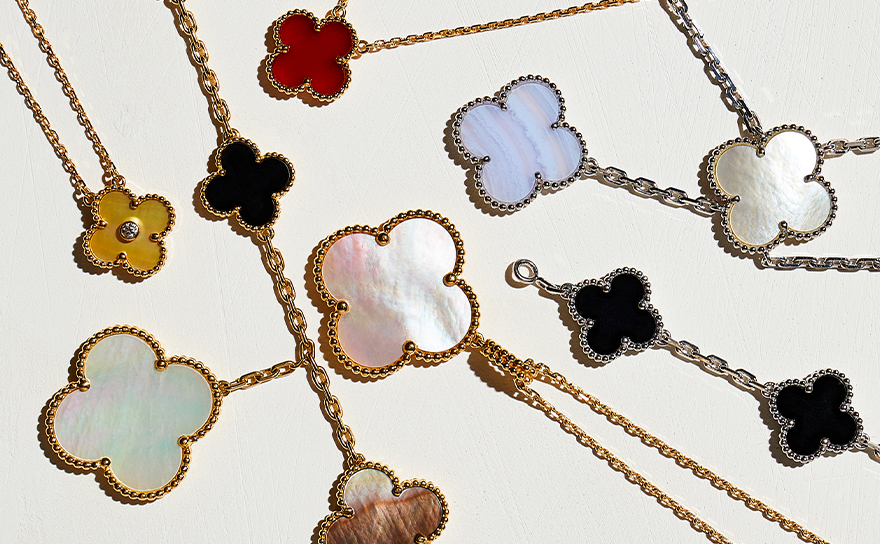 The Alhambra collection has evolved significantly over the years. New variations, each with its unique aesthetic appeal, were gradually added to the original collection.
The Alhambra motifs are found across a wide spectrum of jewelry types. These include necklaces, bracelets, earrings, rings, and even watches, each capturing the Alhambra's essence.
We've written an article about the Van Cleef & Arpels Alhambra necklaces, if you wanted some further reading.
Quality of Van Cleef Alhambra Collection
The quality of the Van Cleef Alhambra Collection reflects the high standards and expertise Van Cleef & Arpels is renowned for. From the selection of materials to the final finishing touch, every detail is meticulously curated and executed.
The materials used for the motifs are chosen for both their aesthetic appeal and durability. Whether it's mother-of-pearl or turquoise, each material is carefully treated to enhance its natural beauty and ensure longevity.
Every piece of jewelry from the Alhambra Collection comes with a signature and hallmark. These marks certify the authenticity and origin of the item, further cementing the brand's commitment to quality.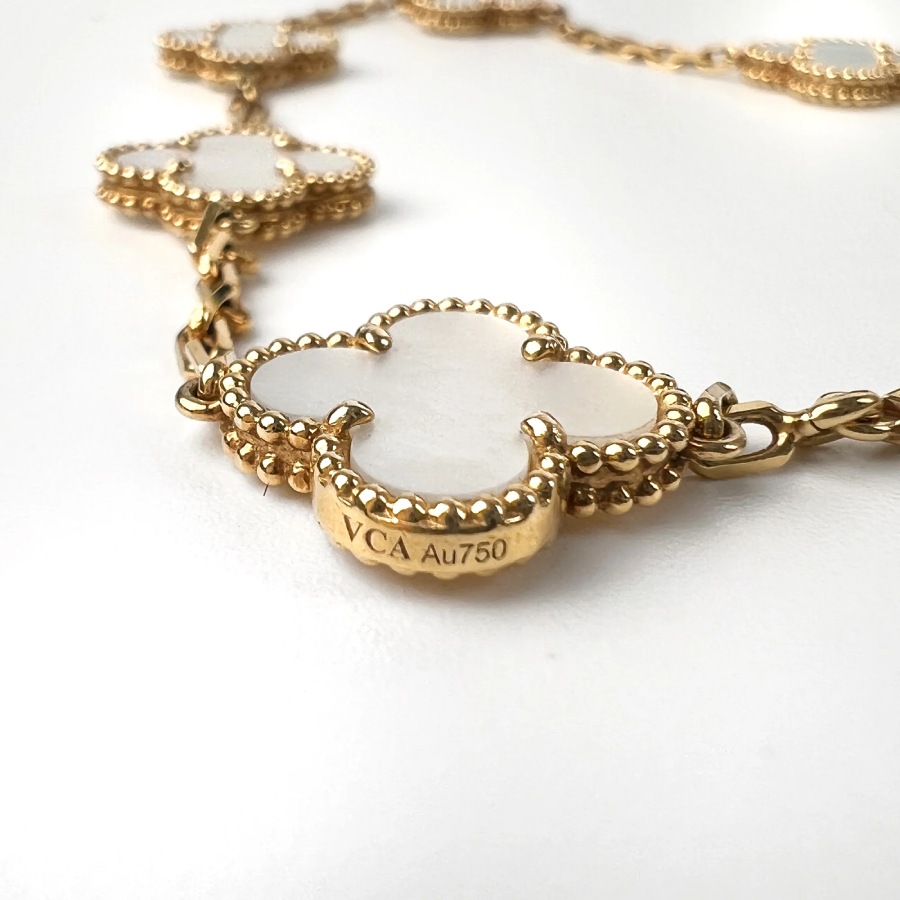 Van Cleef & Arpels Alhambra Bracelets
There are many different types of Van Cleef & Arpels Alhambra Bracelets:
Vintage Alhambra bracelet – available in a variety of colours, materials and finishes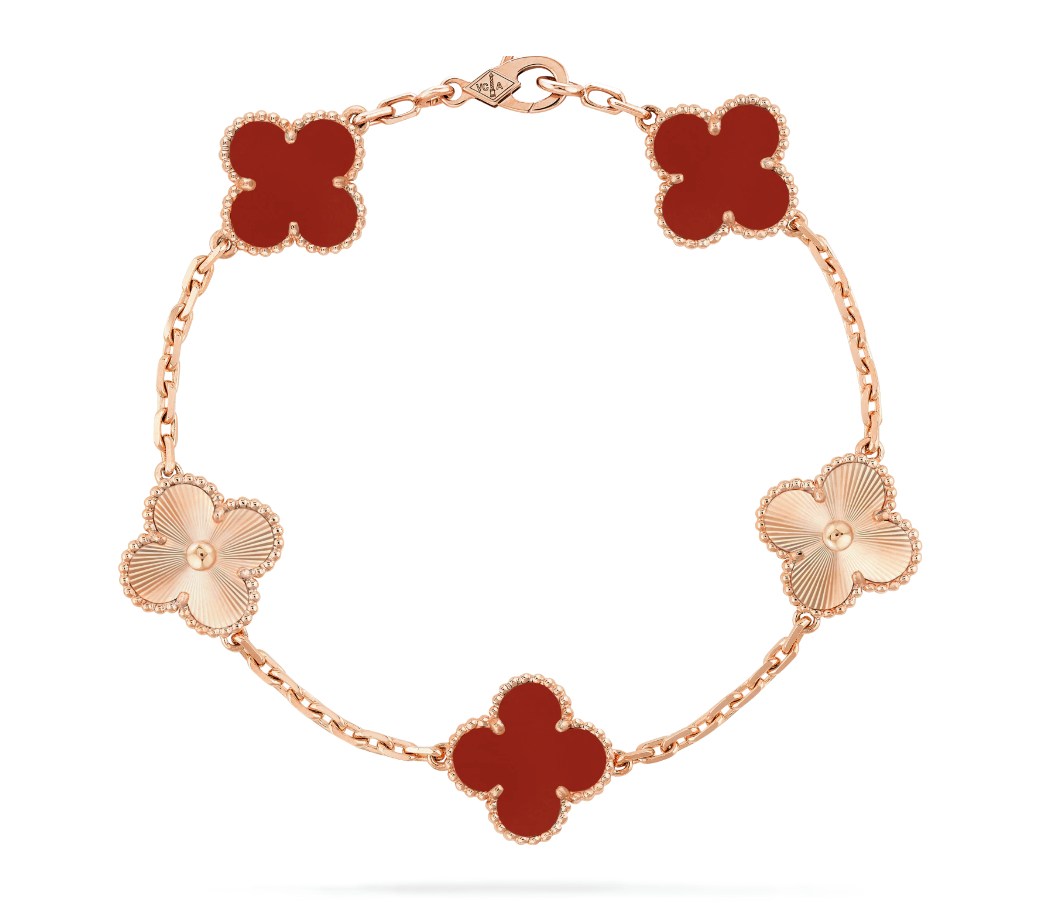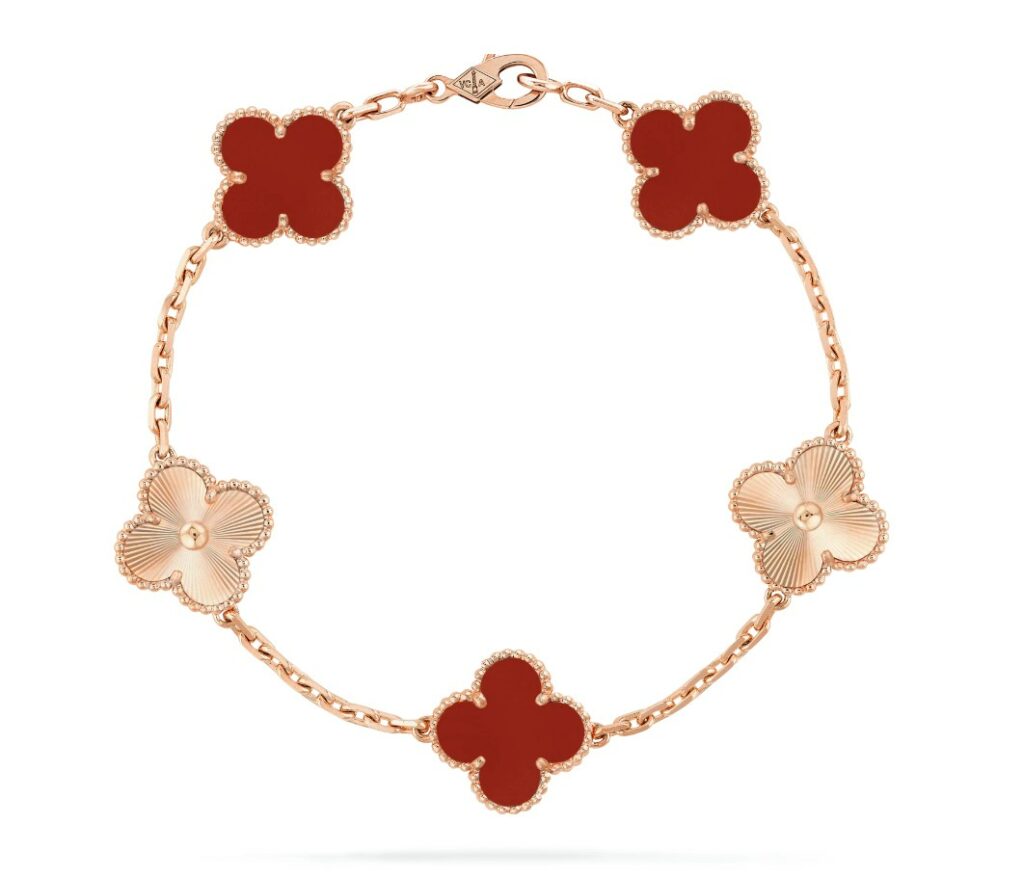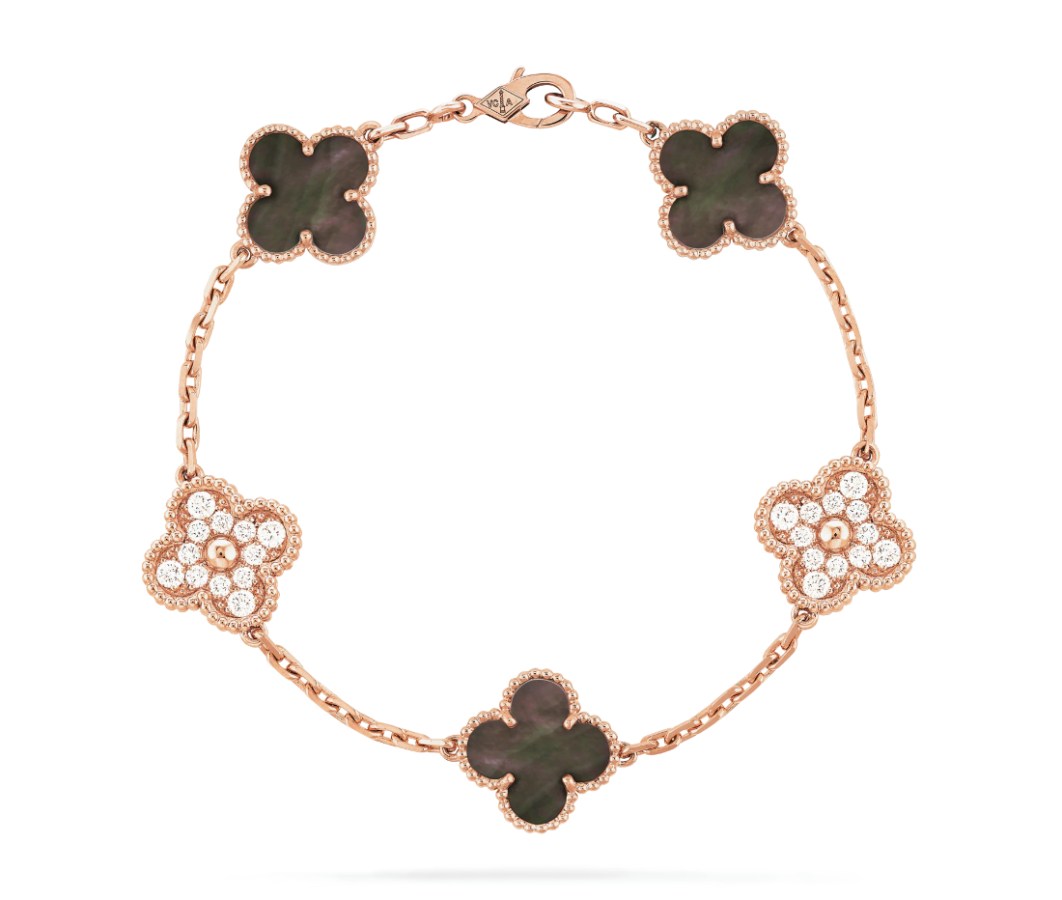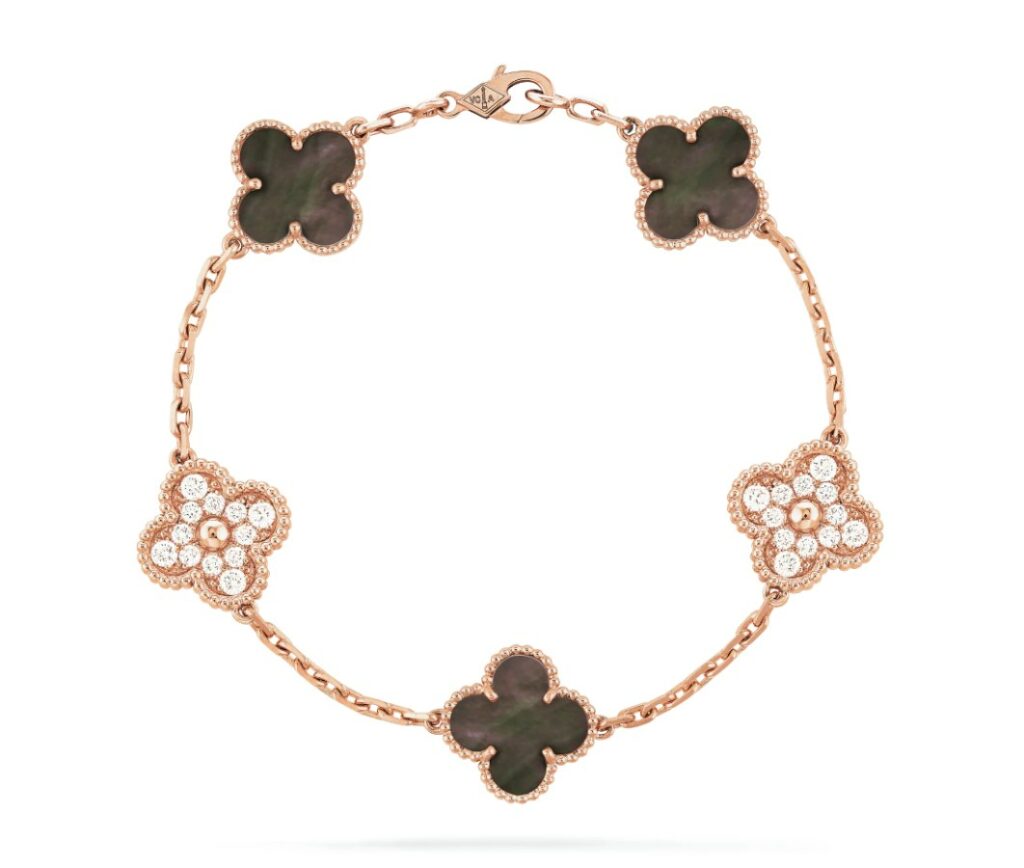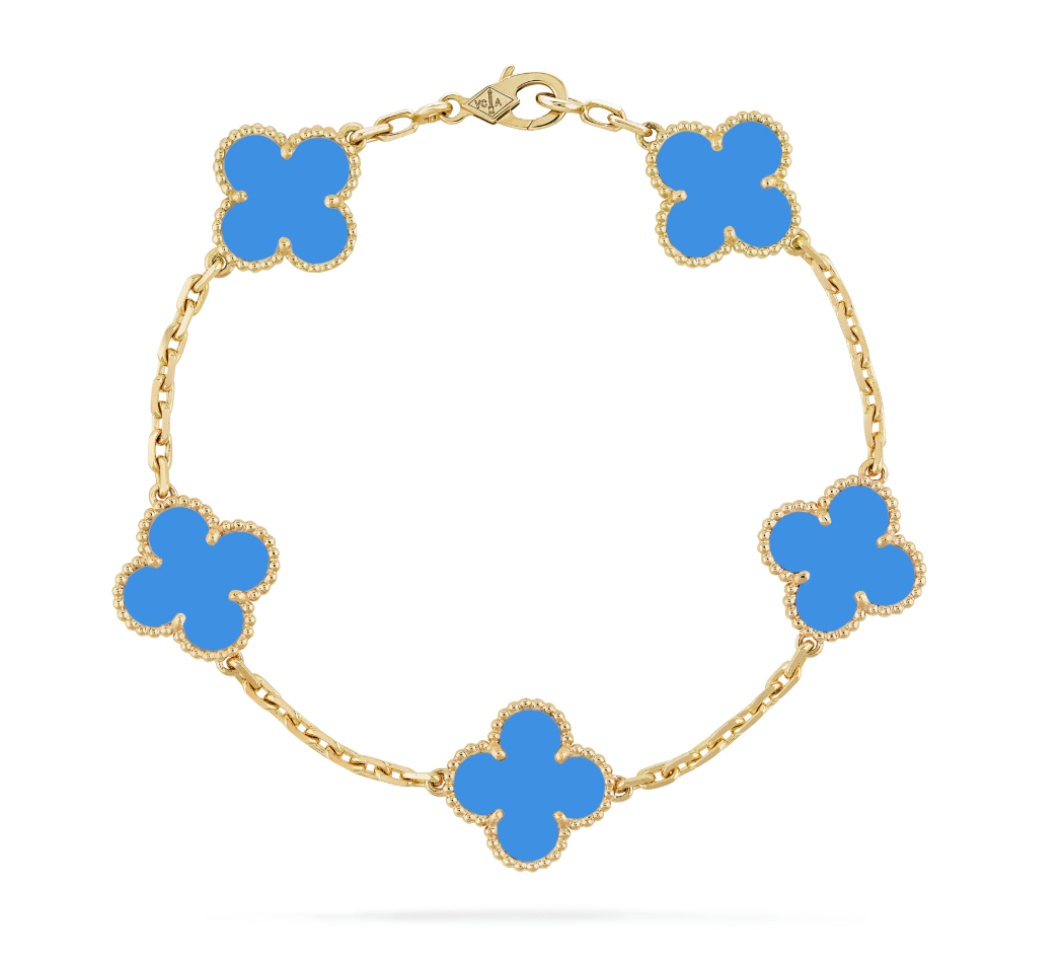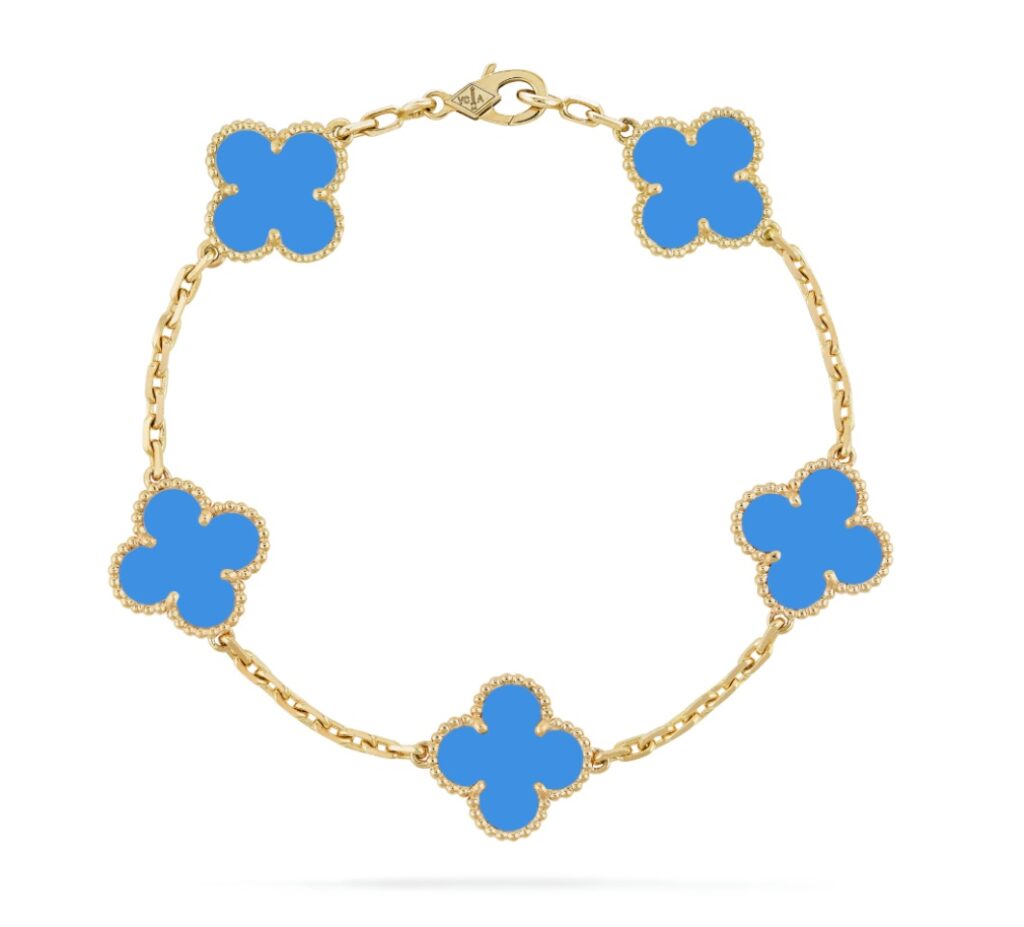 2. Magic Alhambra Bracelet – featuring an asymmetrical design of motifs in different sizes. It incorporates interesting stones like Blue chalcedony and mother of pearl.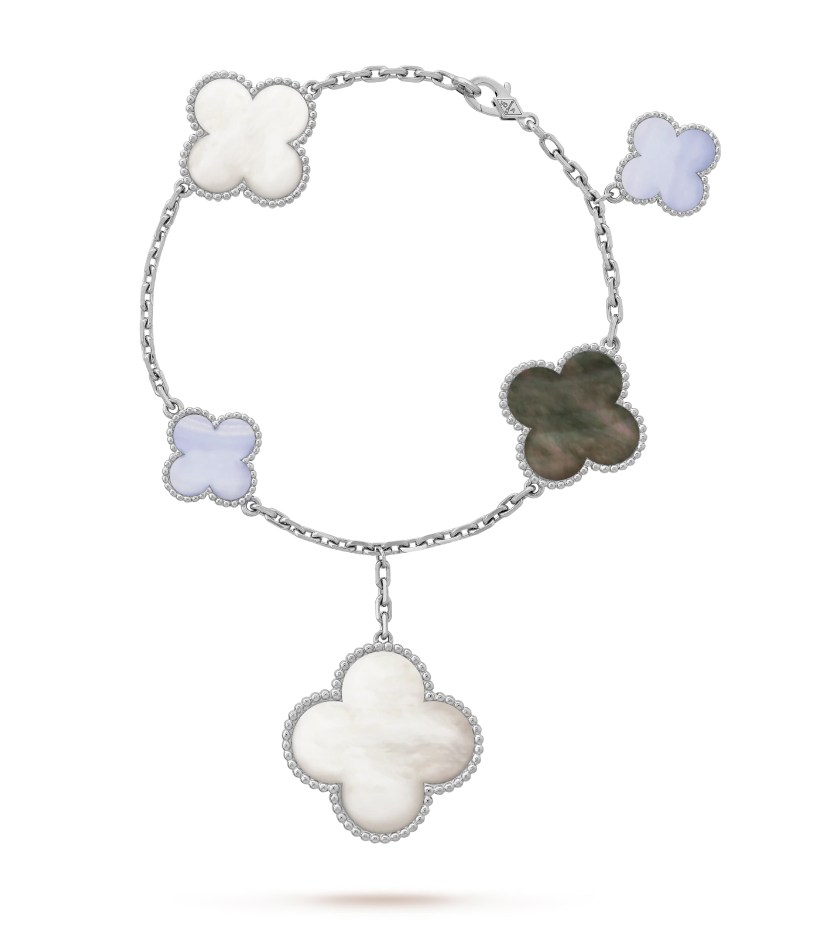 3. Sweet Alhambra Bracelet – A delicate bracelet with various shapes and materials, typically featuring only 1 or 6 motifs.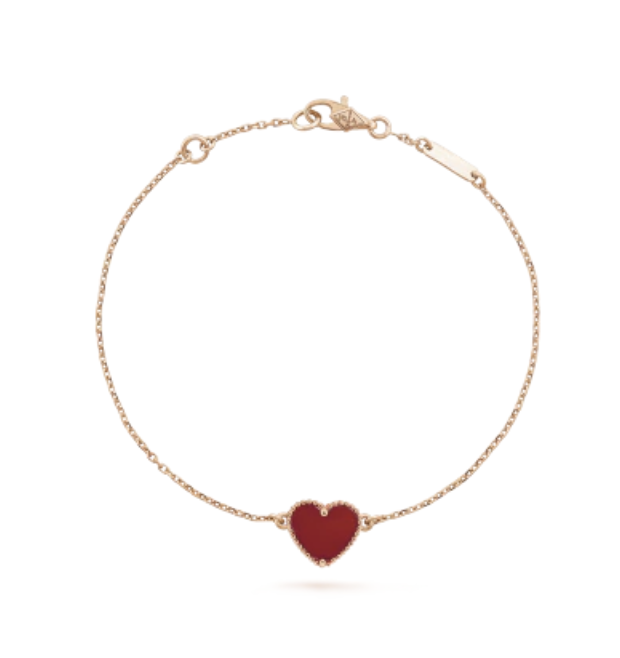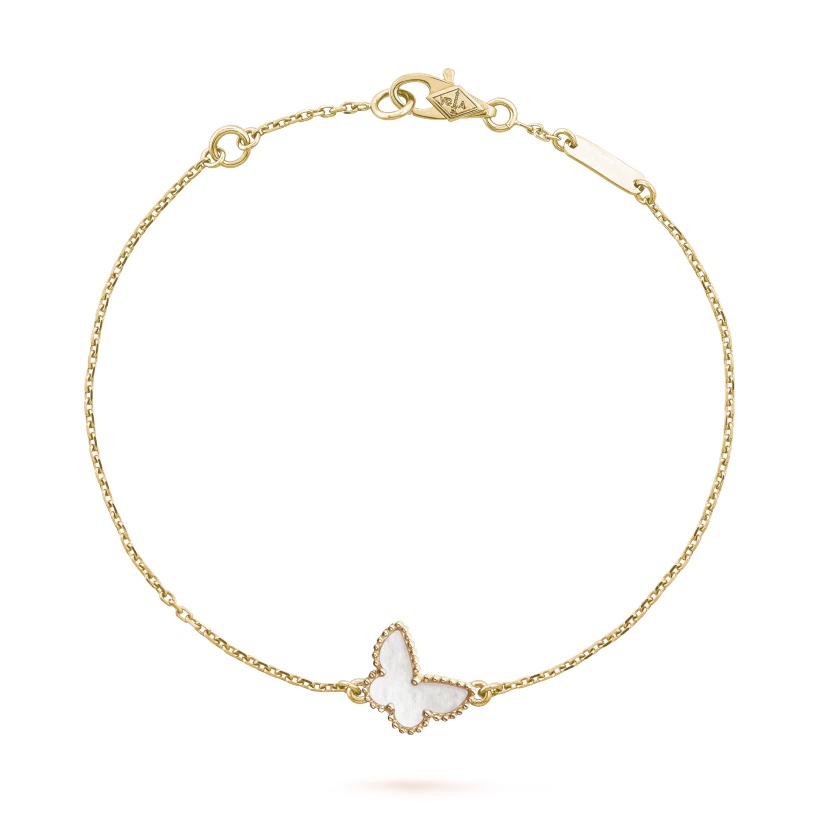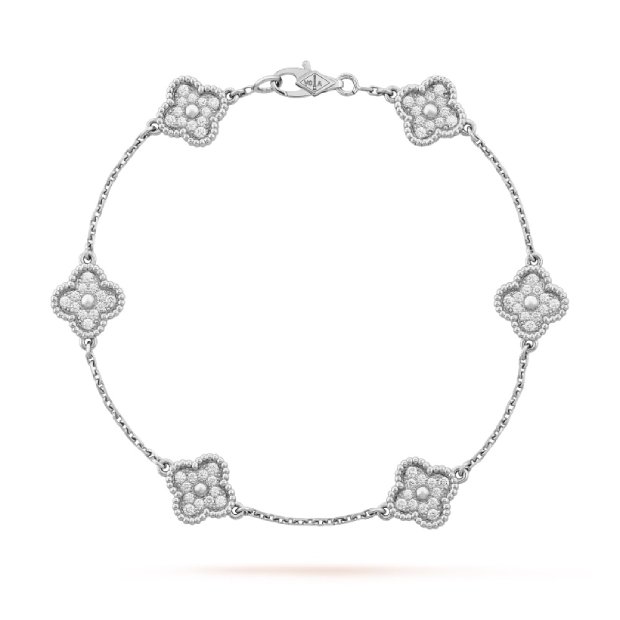 4. Lucky Alhambra Bracelet – A pendant with a butterfly motif, symbolizing transformation. Incorporating unusual stones likes Carnelian, Malachite, Mother-of-pearl, and Tiger Eye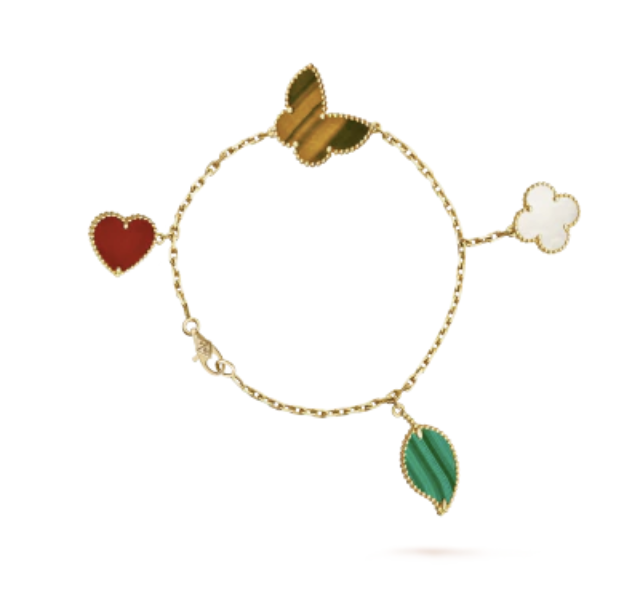 5. Byzantine Alhambra bracelet – blend of solid and openwork structures, reminiscent of Byzantine architecture.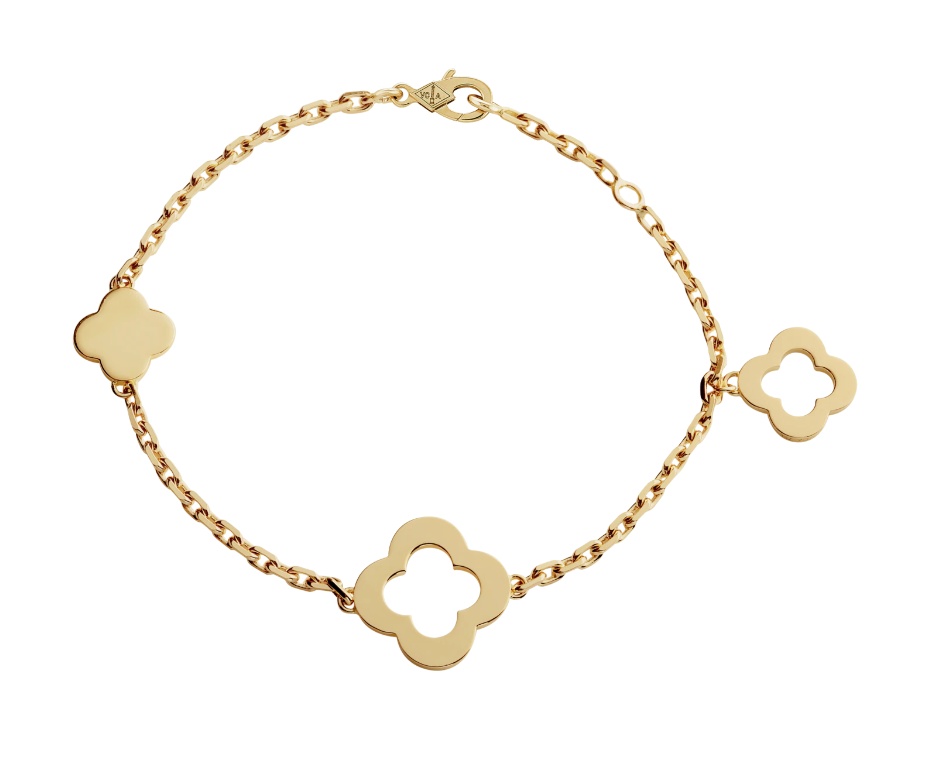 Van Cleef Alhambra Bracelet Cost
Van Cleef Alhambra bracelets can cost anywhere from $1,380 to $29,600.
At the lowest end of the price range, you can get the Sweet Alhambra Bracelet for $1,380.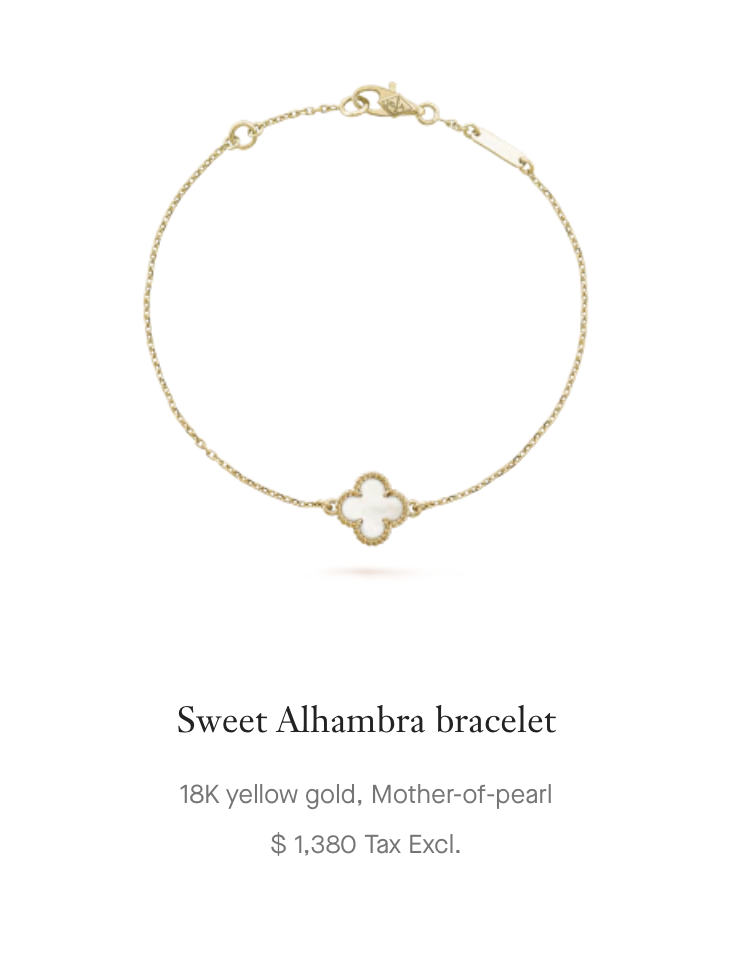 Adding motifs and details increases the cost, and at the other end of the range, we have the intricately detailed Vintage Alhambra bracelet adorned with diamonds for $29,600.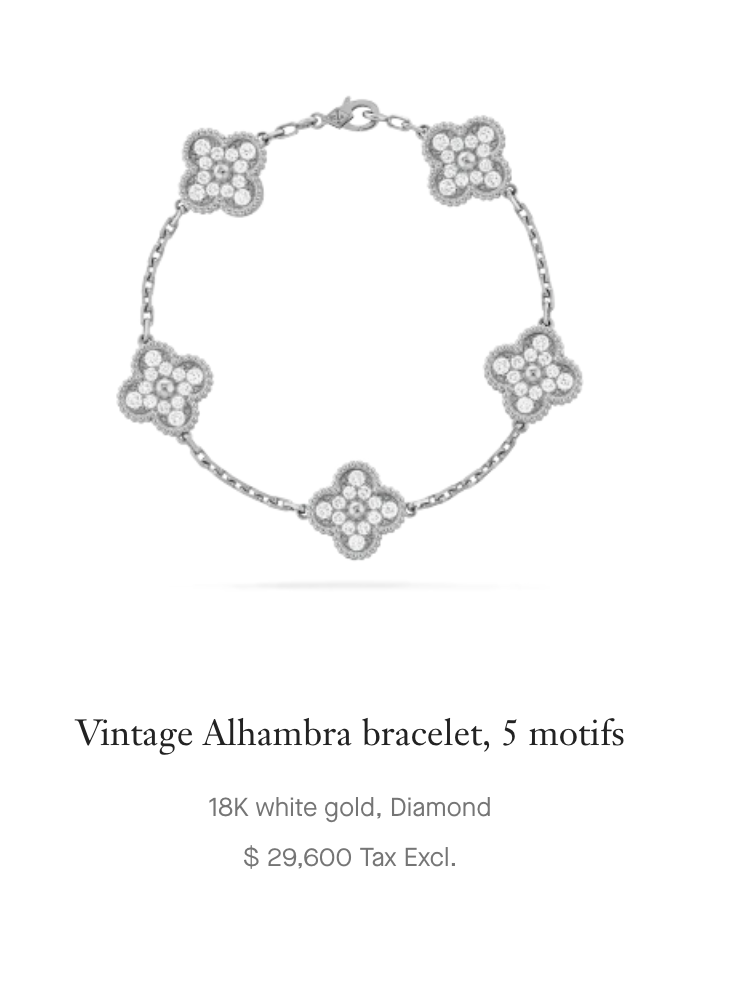 Where to buy a Van Cleef & Arpels Alhambra Bracelet
There are many options to purchase a Van Cleef Alhambra Bracelet, whether that's directly from Van Cleef & Arpels, or another jeweller in store or online, and there's also the option to buy a pre-owned bracelet if you don't have the budget for a new one.
We'll take you through the different choices below.
Van Cleef & Arpels has over 21 standalone stores and over 7 approved retailers across the US.
If you'd like to find the physical location close to you, you can use the store locator on the Van Cleef & Arpels website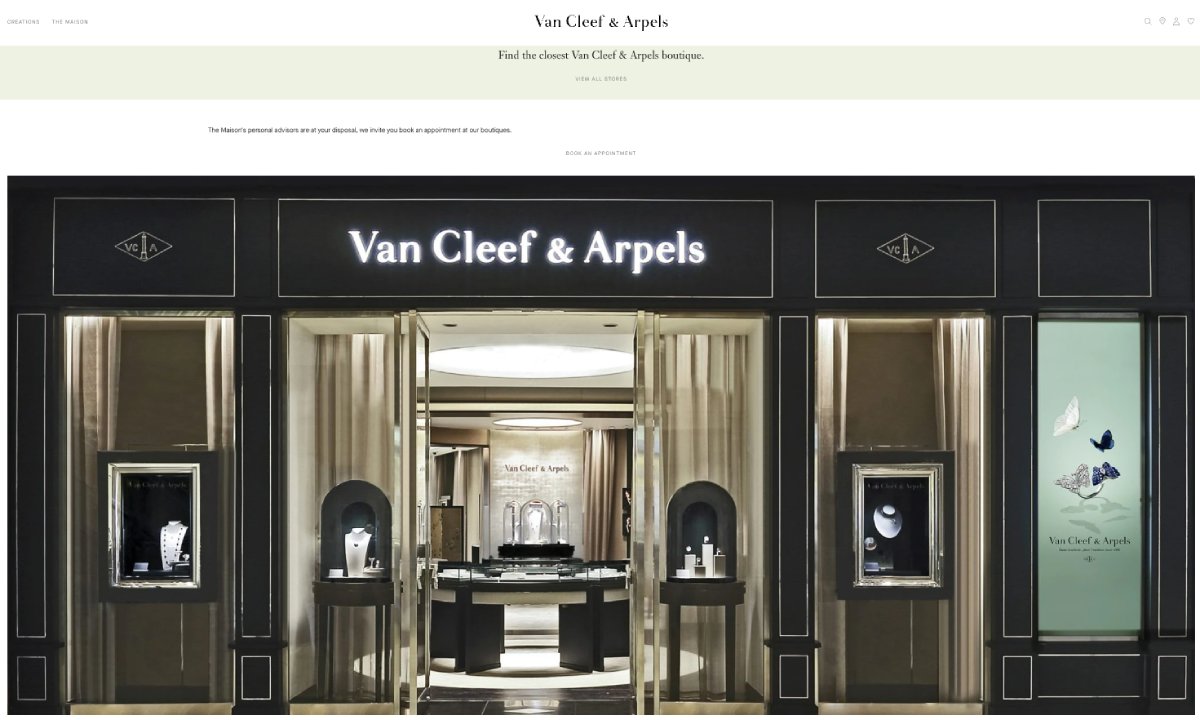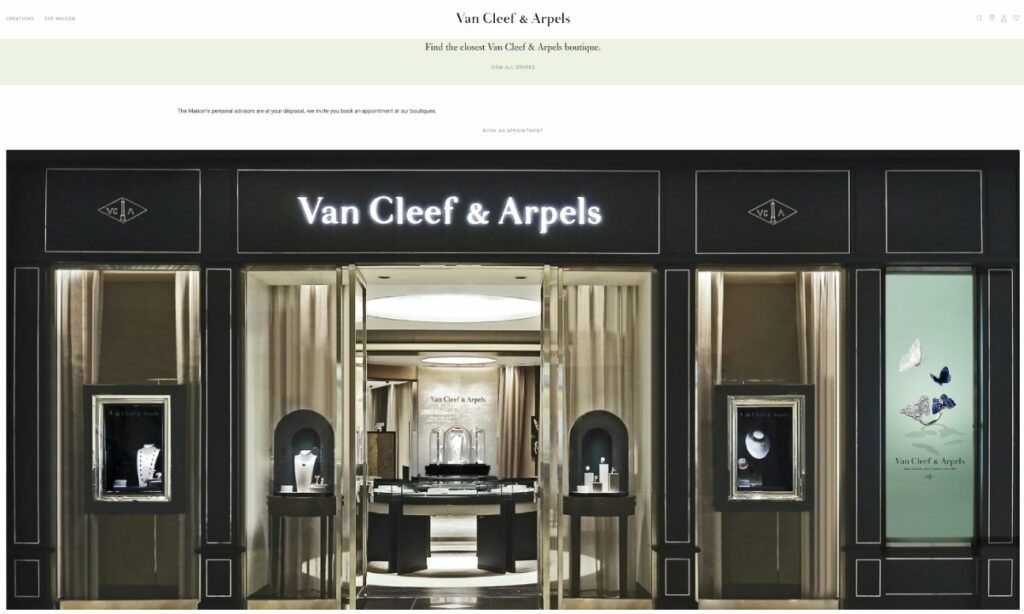 If you can't make it to a physical store, the Van Cleef & Arpels website has every piece from the current collections available and offers complementary shipping for every order.
For pre-owned Van Cleef & Arpels bracelet, we recommend Diamond Oak in New York, a fine jewelry specialist offering competitive prices by eliminating middlemen and additional fees.
Pricing for Van Cleef & Arpels bracelets varies widely depending on the design, the precious metal used and the gemstones featured.
Jewelers like The Diamond Oak can offer significant savings over buying new. Click here to see the Van Cleef & Arpel bracelets they offer.
Buying pre-owned jewelry offers numerous benefits. Not only can you save money compared to purchasing new, but you also contribute to a sustainable model that reduces environmental impact. Plus, pre-owned jewelry often offers a wider selection of styles and designs that may no longer be available in stores. Owning a piece of pre-owned jewelry is like owning a piece of history, a unique story embodied in a timeless design.
How to Sell Van Cleef & Arpels Bracelets: Tips and Advice
We have a whole post on selling Van Cleef & Arpels jewelry, but as an overview, there are several factors can influence its value and price. Here's what you need to consider:
Condition: The necklace's condition, especially its care and maintenance over time, plays a significant role in determining its value.
Rarity: If the necklace is a hard-to-find item, it can command a higher price.
Demand: The current market demand for the specific bracelet style can also affect its value.
Authenticity: A genuine Van Cleef & Arpels necklace, verified by its materials, design, and craftsmanship, is more valuable.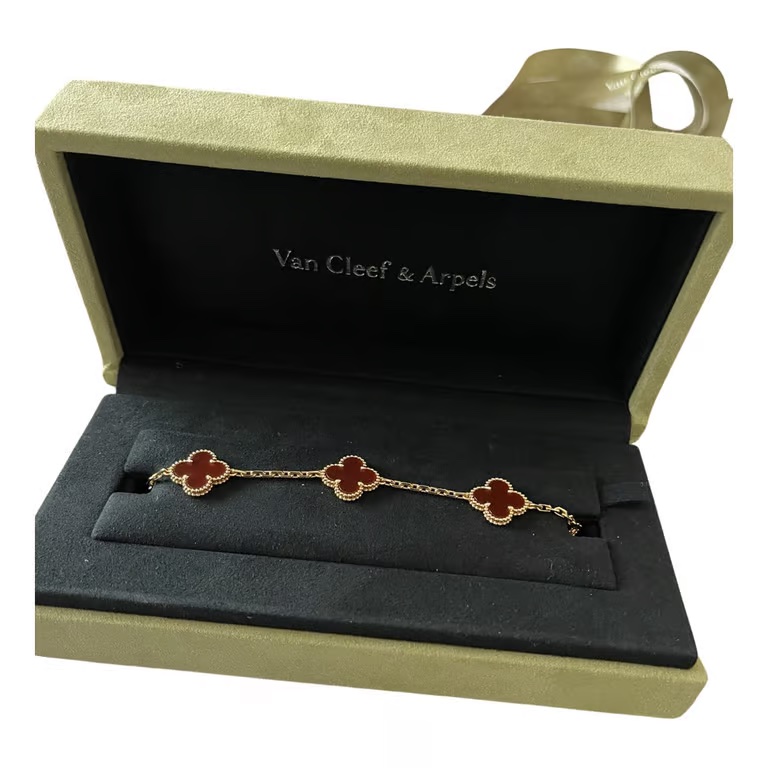 When preparing a Van Cleef & Arpels necklace for sale:
Clean and Polish: Make sure the bracelet is cleaned and polished to bring out its original shine and luster.
Documentation: Gather any original documents, receipts, certificates, or boxes that came with the bracelet to prove its authenticity.
Photography: Take clear, high-quality photos from different angles to give potential buyers a complete view of the item.
Description: Write a detailed and accurate description of the necklace, including its style, collection, size, metal type, gemstone, and condition.
There are several platforms available for selling your Van Cleef & Arpels bracelet:
Online Marketplaces: Websites like eBay offer a large audience of potential buyers. One thing to consider is the competition on these platforms can mean that your auction can get lost in the 'noise'.
Online Auction Houses: Auction houses like Sotheby's can potentially help you fetch a higher price if your necklace is of note. Many traditional auction houses have restrictions on what they will buy, so if your necklace is not high value enough this might not work.
Local Jewelers or Pawn Shops: These may offer immediate payment, though they might not provide the best price.
Pre-owned Jewelry Specialists: Jewelers who specialize in pre-owned jewelry often offering competitive prices due to their deep understanding of the market and extensive network of interested buyers. Our recommendation here is The Diamond Oak which offers high prices for pre-owned Van Cleef & Arpels necklaces and a seamless interaction.
To maintain the quality of your Van Cleef & Arpels Alhambra Bracelet
Clean it gently with a soft cloth to maintain its shine.
Store it separately in its original case to avoid scratches.
Have it inspected by a professional annually for any potential damage or wear.
Remember, while the Van Cleef & Arpels Alhambra Bracelets represents exceptional craftsmanship and quality, it's essential to handle and maintain these pieces with care to preserve their beauty and value.
This article covered Van Cleef Alhambra Bracelets, its design, quality, and buying or selling tips. Understanding the details of the collection's design, the materials used, and the markers of its quality is crucial if you're looking to buy or sell these pieces.
Choosing to buy pre-owned jewelry from this collection not only saves you money but may also gives you access to a wider range of designs and styles. It's a sustainable choice too.
If you're interested in buying or selling Van Cleef & Arpels Alhambra jewelry, get in touch with The Diamond Oak. They're a third-generation business located in New York's Diamond District, with a focus on buying and selling pre-owned and vintage Van Cleef & Arpels Alhambra pieces. Their specialization and network mean they can offer more for Van Cleef & Arpels Alhambra jewelry, knowing they'll always find a buyer.
Start your Van Cleef & Arpels Alhambra bracelet journey with The Diamond Oak.
Visit Diamond Oak here