Custom Engagement Rings
How To Design Your Own Engagement Ring
Ringspo is reader-supported, which means we may receive a commission if you click a link to a retailer & subsequently make a purchase.
We feature links to several retailers to help readers find the one that is the best fit for them. Find out more about how Ringspo works here.
If you've been looking at engagement rings but can't find the perfect ring for you, or if you've always known exactly what you want but just need someone to help you bring it to reality then a custom engagement ring could be the answer.
One of the best things about making the decision to design your own engagement ring is the complete control over the whole process that you have. You can decide exactly what you want and where you want to spend your budget.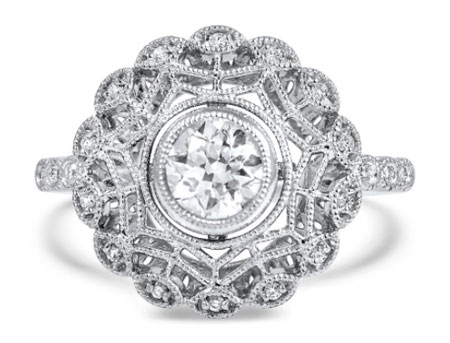 This means that you can combine parts from several different rings that you like, take inspiration from an antique ring that you found in a vintage copy of Vogue or if you want your ring to be a in the shape of a dragon cradling a blood red ruby to signify the depths of your flaming passion, well you can do that too.
And advancements in design and technology meant that bespoke engagement rings are no longer unattainably expensive. If you choose the right jeweler, you can get your dream engagement ring, designed completely from scratch for a price that is comparable to an off-the-shelf design.
In this guide, we're going to look at:
The custom-made process
How long it will take to make a custom ring
How much a bespoke engagement ring should cost
The process of creating a custom engagement ring
Traditionally, custom engagement rings were significantly more expensive than off the shelf designs.
A customer would work with a jewelry designer to create the design, which would then be handmade by a master 'bench jeweler' who would start with raw gold bar and hammer and bend it into shape and create a ring using just his tools, his hands and his skill.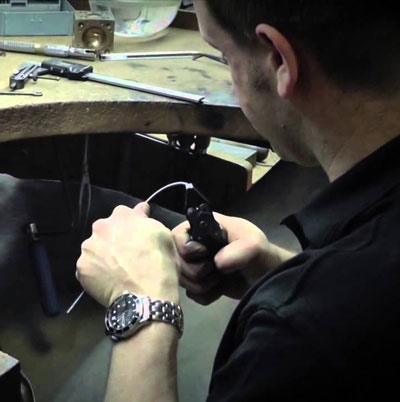 Hand-making a bespoke engagement ring takes a lot of skill, and is a slow, time-consuming process. The result is an artisan-produced work of art, with all of the potential imperfections that can come with that. The buyer is totally dependant that the jeweler has the skill to turn their dream ring design into reality.
Some custom rings are still made this way, but the vast majority or custom jewelers have embraced technology to increase the speed of producing the rings, allow more delicate and intricate settings to be created and increase the consistency of the workmanship.
How custom engagement rings are created now
In this section, we'll look at the eight steps it takes to creating your dream custom engagement ring, starting with the first (and some would say the most important!)
Research
Find a jeweler
Design the ring
Choose the stones
3D print
Production
1. Research your custom engagement ring
The first stage in creating a custom engagement ring is to know what you're looking for.
While you will be working with an expert ring designer, it's far easier for them to produce the ring that is right for you if you can give them some guidance on what you want.
There are three ways you can do this:
Look at real engagement rings and select parts that you would like to take inspiration from
Find a general style that you like
Think about what you want the ring to symbolise
1. Look at real engagement rings
If you have been looking at engagement rings, you may have seen some that you like part of, without finding the one that you like all of. If this is the case, then saving images that you like and having them available to share with your designer will make things.
The more specific you can be here, the better, and it can be just as important to know what you don't like when it comes to engagement ring design, as what you do like.
For example, if you are looking for a halo ring, there are many variations on just the halo part of the ring: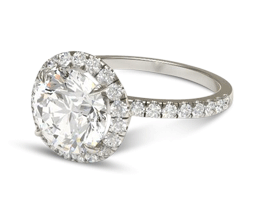 Petit halo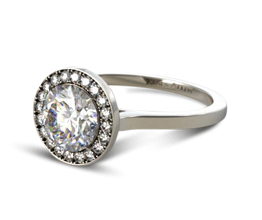 Bezel halo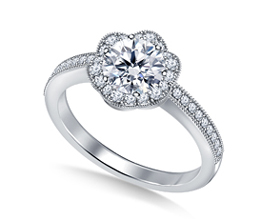 Floral halo
If you haven't got this far then it's a good idea to spend some time looking online at rings. You can look at online galleries of engagement ring retailers like James Allen, or at inspiration galleries such as Taylor & Hart's.
One thing to know is that while you can show your jeweler photos of rings that you like, they can't replicate existing styles from other brands – that would be breaching copyright on the original design. It must be a completely original design.
2. Find a style you like
Looking at individual rings and picking out details your like may be too far along the path for you, or you may not feel comfortable making such detailed decisions.
In that case, you can give the ring designer a general area to work with e.g.
You may know that you want an art deco ring with a blue sapphire: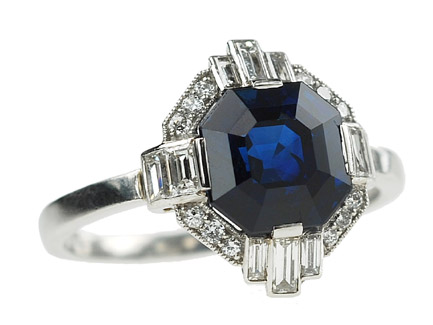 Or, you may want a modern ring with an unusual center stone shape: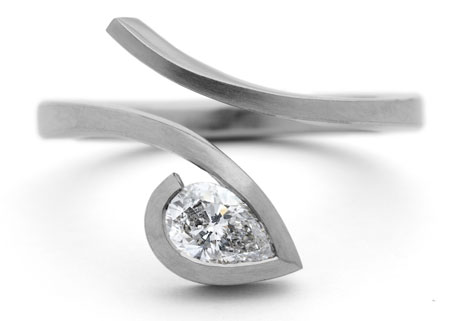 If you can give your jeweler a starting point and talk to them about what you like or don't like, they can then work give you guidance from there.
3. Think about what you want the ring to symbolise
If you aren't sure that you are ready to start with an actual ring, then you can begin your custom engagement ring hunt by thinking about what you want the ring to say. While it can be difficult for most people to turn abstract thoughts or emotions into a tangible object, most jewelry designers will be able to interpret your description to guide you and will relish the challenge of doing so.
Find the medium which works best for you – whether that's writing a paragraph about how your partner makes you feel, a list of adjectives or even finding pictures and images that you feel encapsulates them. A good jewelry designer will be able to work with you to turn this into a ring that will convey the emotion you want.
2. Find a jeweler for your custom engagement ring
The key to finding a jeweler to create your custom ring is to be confident that they have the collaborative nature to work with you to turn your idea into reality, and then the skills to actually deliver it.
When talking to a jeweler, they should actively guide you towards the result, rather than overwhelming you with options and choices. There are an infinite number of combinations of precious stone and setting styles that you could choose, so it is their task to help you find the ones that are right for you.
You should also look for a jeweler who is prepared to stick by their product and who offers excellent post-sales service.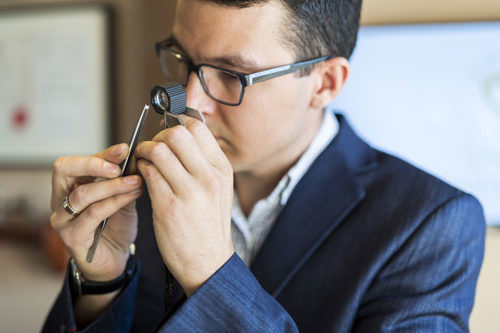 Post-sale service
Your ring should come with a warranty of at least one year to guard against any defects in workmanship. If a prong that is holding a precious stone comes loose due to poor workmanship and the stone is lost, it should be covered by your jewellers warranty.
Finally, the jeweler should have a returns policy, in case you change your mind or there are any unexpected circumstances that arise. Many custom jewelers don't offer this, viewing a custom engagement ring sale as final.
My recommendation for custom jeweler to a bespoke engagement ring is Taylor & Hart, who offer an incredible customer-focused experience to help bespoke engagement ring buyers find their dream ring, and also extremely fair warranty and returns periods.
You can read my review of Taylor & Hart here.
3. Designing the custom engagement ring
Custom jewelry designers are there to turn your ideas into reality. But they are also there to guide you. Your designer will know what will and will not work on a ring, so while it's good to stand by your ideas, you should also listen to their feedback and take it into consideration.
Remember what happened when Homer was let loose to design his own car? You don't want to create "The Homer" of engagement rings!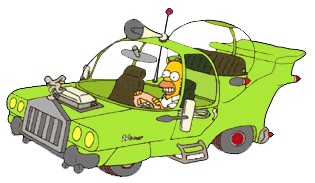 Traditionally, the first stage of a bespoke engagement ring design was drawn in pen and paper. This is where the designer takes your idea and turns it into a visual concept. At these early stages, it's easy to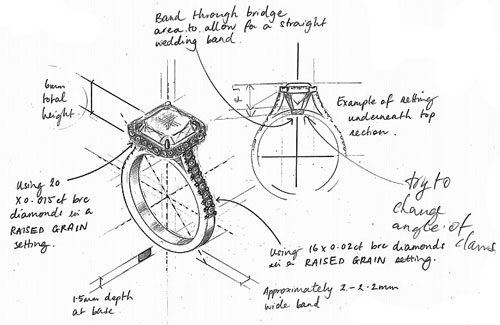 This has now widely been replaced by a CAD version version, which allows you to make faster changes to the design and ensure that your.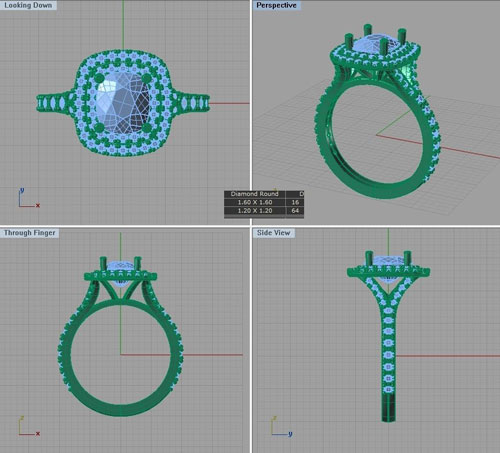 Once the 2D CAD drawing is agreed, you may get a 3D CAD version, which allows you to spin the ring around and to see it from any angle.
Revisions to your custom engagement ring
Most jewelry designers should allow you at least two rounds of feedback to your ring design, at no extra cost. More than this may incur an additional charge.
4. Choosing the stones for the ring
The best thing about creating a custom engagement ring is that you can specify every piece of it, including the center stone. While a lot of the content on www.ringspo.com is all about how to find the best diamond possible, diamonds definitely aren't the only choice for the center stone for an engagement ring. You can choose anything you like!
If you do decide to choose a diamond for your center stone, then many custom jewelers offer a wider range of diamond shapes, to allow you to differentiate your ring further from off-the-shelf designs. This page on the Taylor & Hart website includes several uncommon diamond shapes that will set your engagement ring apart, including the vintage style old mine cut and old european cut.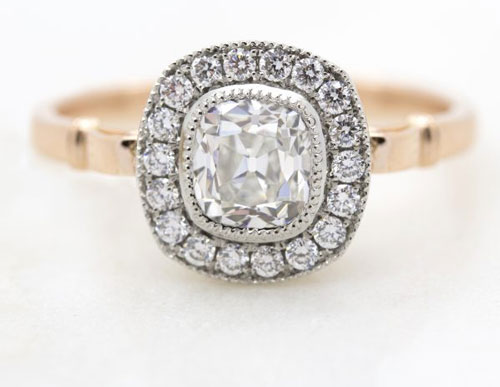 Old mine cut diamond engagement ring
If you're looking for a diamond, your jeweler should only offer diamonds that have been graded by a reputable independent laboratory. My recommendation is to stick to GIA and AGS. This page gives a thorough introduction, and if you have any question about diamond selection then please don't hesitate to drop me a line.
Or, if you would like to go with an alternative stone to diamonds then sapphire, ruby or emerald are the most common choices. They are all significantly less hard than diamond, which does mean that more needs to be taken with them if they are going to be worn every day.
5. 3D printing of your custom engagement ring
Once you have agreed the CAD design of your custom engagement ring, and decided on the shape and size of your stone, the next stage is for the jeweler to 3D print a model of it.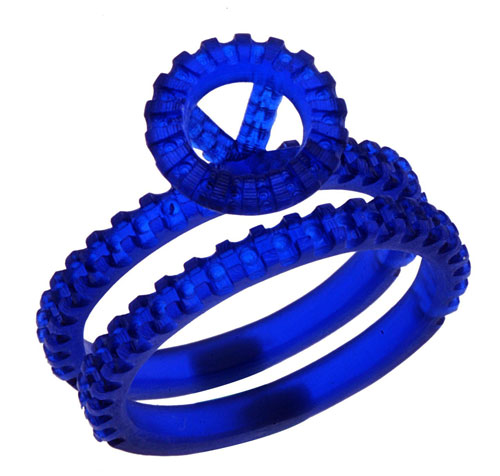 This often uses a technology called 'stereo lithography' and the ring is printed in wax. The technology allows the jewellers to create intricate details, and achieve absolute perfection.
If you want, and time allows, you can often inspect this 3D model in person, which will allow you to give any final feedback on the design and make tweaks.
6. Production
Once the 3D model is agreed and finalised, it is used to make a cast. This cast exactly replicates the 3D model, and molten precious metal is then poured into it to create the final ring.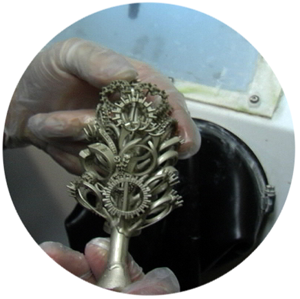 Lastly, craftsmen will finalise the ring, which involves setting the stones, and polishing the ring to ensure that it arrives looking perfect and ready to make your proposal incredible!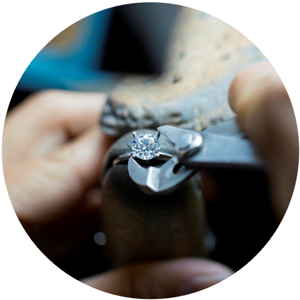 How long does it take to make a custom engagement ring?
The time taken to produce a completely custom engagement ring will depend on many factors, including how complex the ring is, how clearly you can communicate what you want and how many changes to the design you request.
However, as a guide, Taylor & Hart, can deliver a completely custom engagement ring, designed from scratch, in 4 weeks.
If you are considering a custom ring and have a proposal date in mind then I would recommend that you start the process at least 6 weeks before you are planning to propose, to be safe. This will mean that you have enough time to request changes to the ring design and work with the designer to get the ring perfect.
How long does it take to make a custom engagement ring?
As with anything, the amount that you spend on a bespoke engagement ring can vary hugely, depending on what you want.
To give you an idea of the average amount that people spend on their engagement ring, in the most recent Ringspo Engagement Ring Survey the average cost of an engagement ring was $5,325. However, this varied from $10 (the ring was free inside a scented candle) to over $50,000.
Bespoke, handmade, made-to-order rings used to be considerably more expensive than off-the-shelf rings. Thankfully, they are no longer the only option for custom engagement rings, so a completely unique ring can be yours for a much lower cost than you probably think.
At Taylor & Hart, custom rings start at $2,000 (£1,500) including a 0.3 carat diamond (which would usually cost around $700 (£500) on its own. From there, the price depends entirely on your budget.
If you have an idea for a custom ring and you're not sure how much it would cost to create it, then I'd recommend clicking through to the Taylor & Hart website and using their live chat function to talk directly to their jewelry designers. They will be able to give you a ballpark figure of how much your idea would cost to make a reality.
Recommended retailer for your custom engagement ring
If you are looking for a jeweler that will listen to your ideas, give you guidance, deliver incredible workmanship and stand behind their product with incredible after-sales service then my recommendation is Taylor & Hart.
Taylor & Hart are headquartered in the UK, but work with customers all over the world. They deliver a level of customer-service that I have rarely encountered in any arena. Their single-minded focus on creating beautiful custom engagement rings means that they should be your first port of call.
If you visit their site through the link below, you will also receive a Ringspo-exclusive discount on your custom ring: