Princess Eugenie's engagement ring
The ultimate guide to Eugenie's engagement ring
Ringspo is reader-supported, which means we may receive a commission if you click a link to a retailer & subsequently make a purchase.
We feature links to several retailers to help readers find the one that is the best fit for them. Find out more about how Ringspo works here.
The public first got a glimpse of Princess Eugenie's engagement ring when the new future royal couple posed for a series of stunning engagement portraits at Buckingham Palace. Princess Eugenie will be wedding successful wine merchant Jack Brooksbank in a two-day affair beginning October 12th, 2018.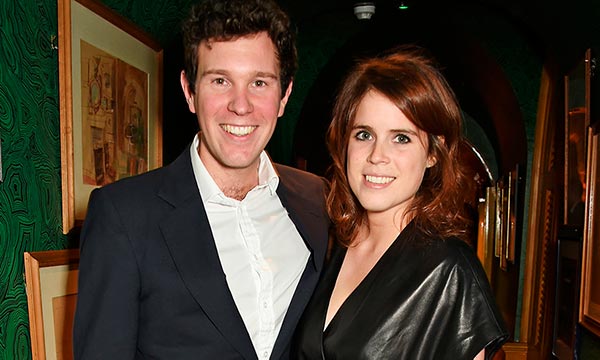 This fabulous event will feature a reception hosted by the Queen, and even a full-fledged funfair complete with games and rides on the second day!
Eugenie and Jack first met via friends in the picturesque village of Verbier in 2010 during a skiing holiday, whilst Jack was working as a waiter. It was "love at first sight", the two gushed in an interview with The Express. The lovebirds have been dating ever since, and even living together in a three-bedroom house called Ivvy Cottage on royal property; quite unconventional for the royals.
If you are looking for all the details about Princess Eugenie's engagement ring, you've come to the right place!
You'll find out:
What style Princess Eugenie's engagement ring is
What size the stones on Princess Eugenie's engagement ring are
How much Princess Eugenie's engagement ring is worth
Princess Eugenie's engagement ring pictures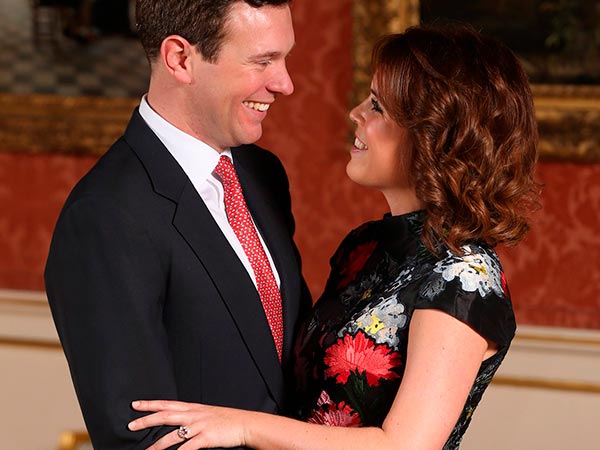 In January of 2018 we got our first peek at Princess Eugenie's engagement ring in this lovely official couple's portrait taken at the historic Buckingham Palace. We can clearly make out that the ring features a stunning halo, and the center stone is a charming shade of light pink.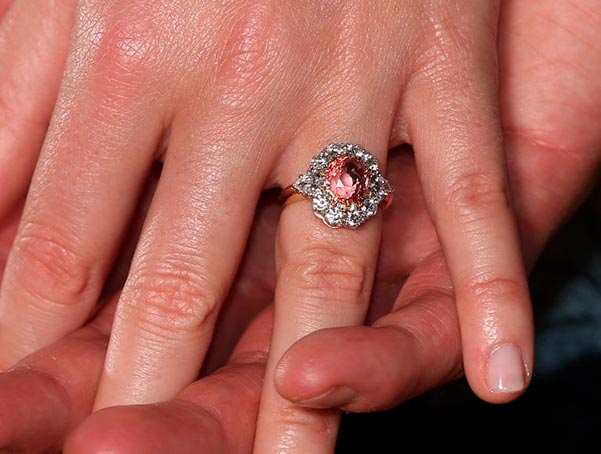 In this candid close-up we get our clearest view of Princess Eugenie's engagement ring. We see that the lovely pink center stone is on oval cut, and the setting of the ring appears to be yellow gold.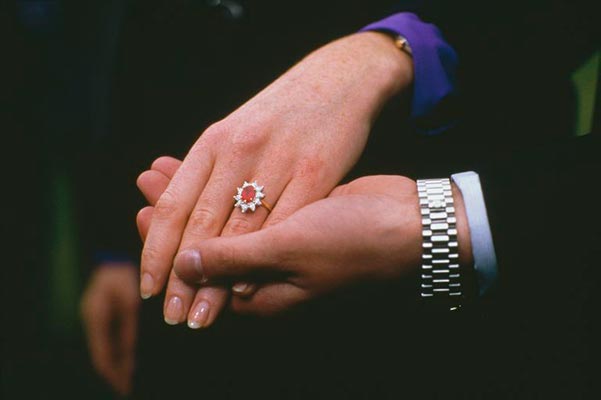 When Princess Eugenie first debuted the stunning sparkler it instantly drew a lot of comparisons to the engagement ring her mother Sarah Ferguson, Duchess of York, received from her father Prince Andrew in 1986. The ring featured a gorgeous Burmese ruby as its center stone, surrounded by a flower shaped halo of ten diamonds, on a yellow gold band.
What style setting is Princess Eugenie's engagement ring?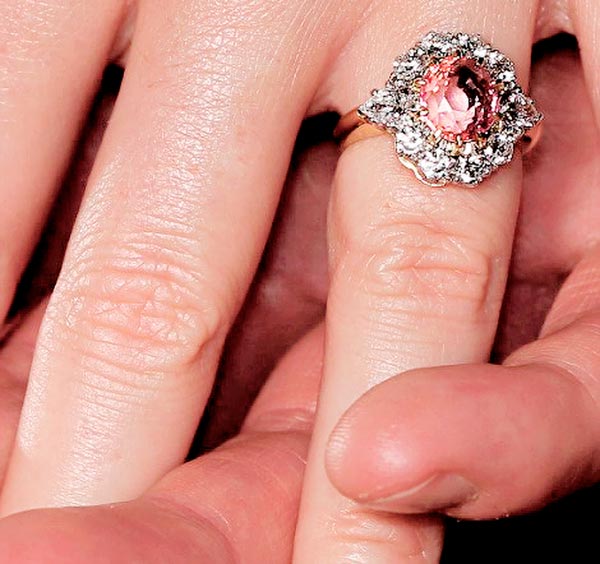 Similar to her mother's Princess Eugenie's engagement ring is a yellow gold halo setting, with a plain band. Unlike her mother's however, Princess Eugenie's ring features two 1.5 carat pear-shaped diamonds at the shoulders of the yellow gold band shank.
The halo engagement ring first hit the scene in the 1920s, when the Art Deco style was prominent. Their current resurgence has rocketed them into second place popularity, just behind the classic solitaire. A shiny halo around your center stone makes it look much bigger, while saving your budget!
What shape is Princess Eugenie's engagement ring center stone?
Princess Eugenie's center stone is an oval-cut Padparadscha Sapphire.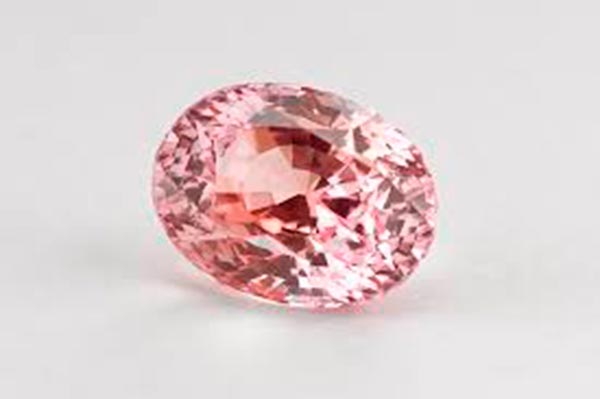 Oval cuts present with an elliptical shape that can be described as a hybrid between a round and marquise shape. It offers the wearer the brilliance and fire of a round cut gemstone, but with some unique flair. Its elongated shape even creates the illusion of a larger stone, and makes the finger look longer and slimmer as well.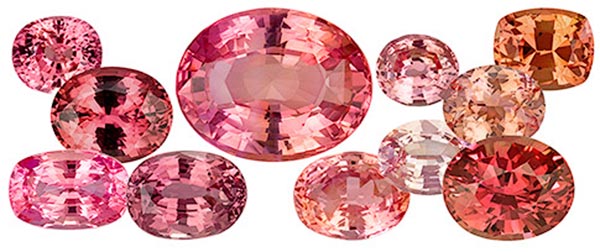 Now let's talk about Padparadscha's. A Padparadscha sapphire is one of the rarest types of sapphires in the world. The word itself comes from a Sinhalese term for "aquatic lotus blossom", and is known for its orangey-pinkish hue. These rare gemstones are usually found in Sri Lanka, but they can also turn up in Madagascar and Tanzania.
How many carats is Princess Eugenie's engagement ring?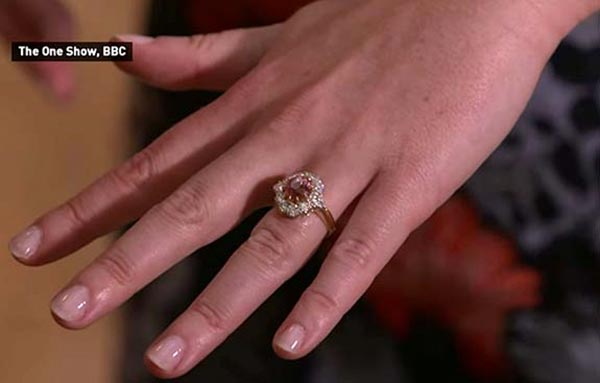 Princess Eugenie's Padparadscha sapphire is between 2.5- 3 carats, and its surrounding halo of 10 round and 2 pear cut diamonds weighs in at 2.5.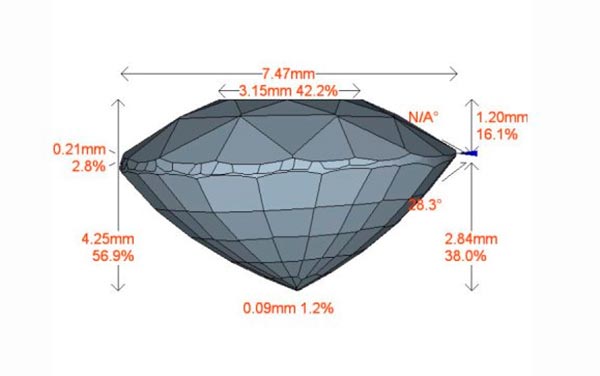 What were the purchasing circumstances of Princess Eugenie's engagement ring?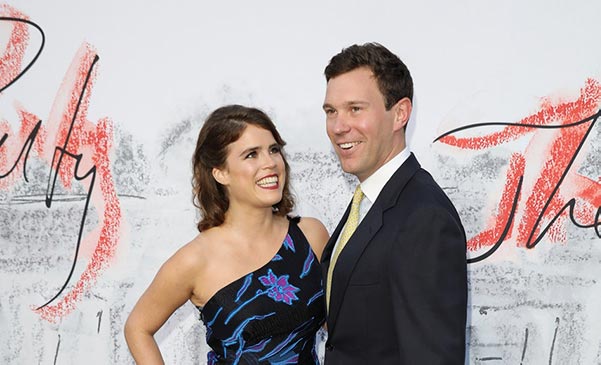 Although Jack admits that he popped the question to Princess Eugenie in Nicaragua without a ring, he did explain to the BBC how the couple worked to design the perfect ring together, and what the Padparadscha means to him. He stated, "I went and found an amazing Padparadscha sapphire but then didn't want to do anything until Eugenie had signed off on it… And what's amazing about it is that it changes color from every different angle that you look at it, which is what I think of Eugenie, that she changes color, and is just so amazing."
How much did Princess Eugenie's engagement ring cost? And what's it really worth?!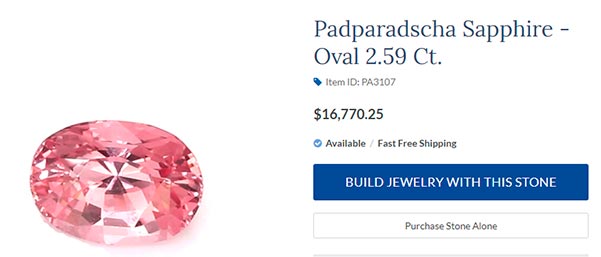 It bas been estimated that Princess Eugenie's engagement ring cost between $80,000 and $86,000.
Although judging by a search around the internet, Jack might have overpaid for the stone…
To receive the designation of Padparadscha a sapphire must be a very specific range of pink and orange, and very few qualify. Gem quality Padparadschas-ones without heat treatments- can fetch a price anywhere from $10,000 to $50,000 a carat. This can mean that Padparadschas can be much more expensive than most fine diamonds.
Princess Eugenie's Engagement Ring Copy
If you're looking to imitate the Princess's unique ring style, don't worry, you can do it for much less. Pink and orange shades have become increasingly popular for engagement rings lately, and the look can easily be achieved by using morganite, pink sapphire, or other beautiful look-alike gems. Here are three stellar options to do just that:
First up we have a similar halo setting, with a few unique twists. In place of a super rare Padparadscha, this ring features an equally stunning oval pink sapphire, surrounded by a multidimensional ring of round and pear cut melee diamonds to make it shine. The sides of the band even feature some delicate pavé, to add an extra pop of sparkle. Click here to find out more about this 18k Rose Gold Pink Sapphire And Diamond Fancy Cluster Ring from my recommended retailer James Allen.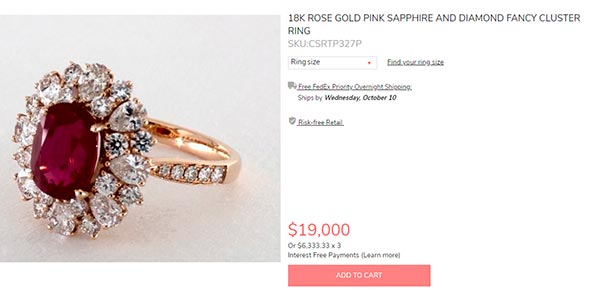 For option we have a contemporary favorite, morganite, to capture that orangey glow of Princess Eugenie's Padparadscha. This ring features an oval cut morganite surrounded by a halo of brilliant diamonds, and extra bling in the form of a split pavé band. The rose gold setting complements the beautiful morganite tones perfectly, and lends a romantic and feminine vibe. Best of all, opting for a morganite in place of a Padparadscha costs a whole lot less! Click here to learn more about this Morganite and Diamond Halo Ring from my recommended retailer Blue Nile.