Paris Hilton's engagement ring
The ultimate guide to Paris Hilton's diamond ring
Ringspo is reader-supported, which means we may receive a commission if you click a link to a retailer & subsequently make a purchase.
We feature links to several retailers to help readers find the one that is the best fit for them. Find out more about how Ringspo works here.
Thanks to Paris Hilton's new engagement ring she's about to go from Simple Life to heiress wife! Paris Hilton is officially engaged again, this time around to entrepreneur Carter Reum.
He popped the big question on February 13th, 2021, just a day before the socialite's 40th birthday.
Hilton and Reum first started dating in 2020 and have had a whirlwind romance ever since. They met through mutual friends and made their red-carpet debut at the Golden Globes at the start of 2021. The two have since tied the knot with a lavish and celebrity filled wedding in November of 2021 where the Paris dazzled in no less than four designer dresses. Now that's hot!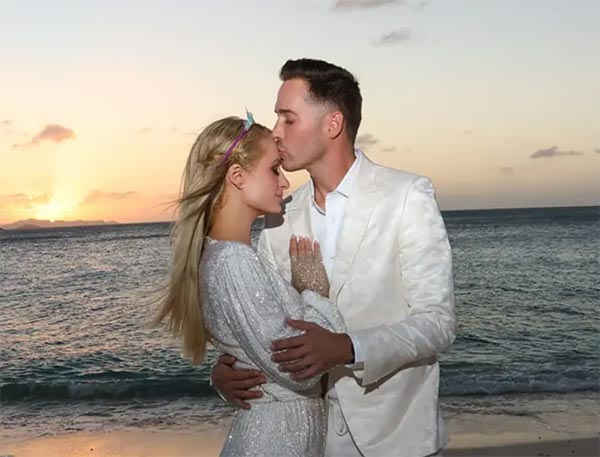 If you are looking for all the details about Paris Hilton's engagement ring, you've come to the right place!
You'll find out:
What style Paris Hilton's engagement ring is
What size the diamond on Paris Hilton's engagement ring is
How much Paris Hilton's engagement ring is worth
Paris Hilton's engagement ring pictures
Paris Hilton certainly didn't disappoint when it came to debuting her new engagement ring.
From this perfectly coordinated photo we can clearly identify that her center stone is an emerald cut diamond, framed smaller step cuts on each side. The band appears to be white gold or more likely, platinum.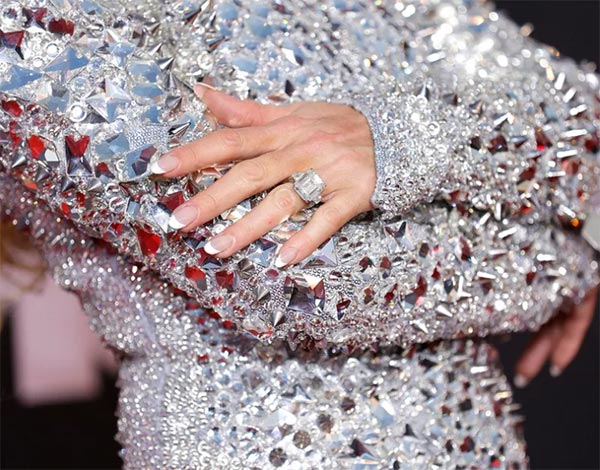 Here we get a great side-view of the ring, verifying that white gold/platinum color.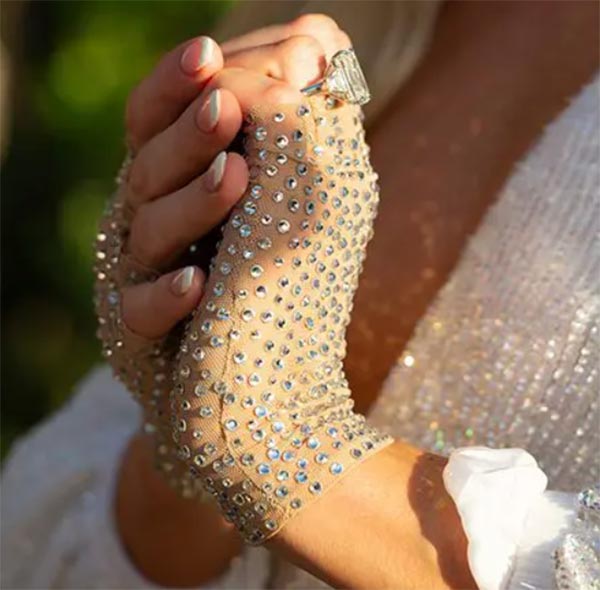 What style setting is Paris Hilton's engagement ring?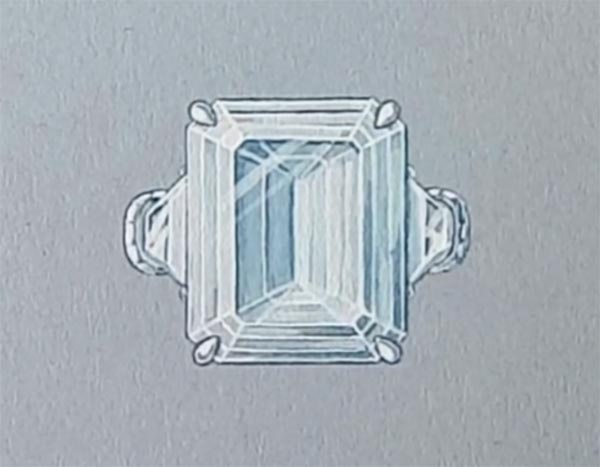 Paris' ring, named "The Paris", was custom designed by jeweler Jean Dousset, the great-great-grandson of Louis-Francois Cartier. It is a three-stone setting with an emerald-cut center stone, featuring baguette-cut and trapezoid accent diamonds. The geometric shapes of this ring are meant to resemble the structure of the Grand Palais in Paris.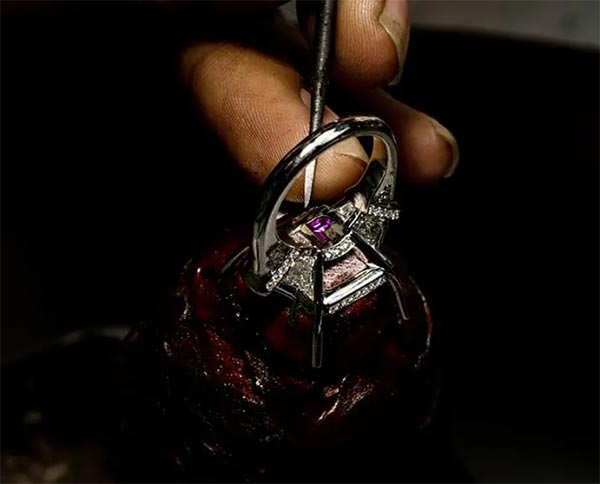 A custom P-shaped pink sapphire Signature Stone is included on the underside of Paris Hilton's engagement ring, created for her eyes only. It's such a sweet and sentimental touch.
What shape is Paris Hilton's engagement ring?
The center stone of Paris Hilton's engagement ring is a striking emerald cut diamond. Emerald cut diamond engagement rings make a slightly unusual, but very elegant and classy alternative. With a look that complements vintage-style ring settings, the emerald cut diamond is perfect for someone who values old-school glamour, rather than flashy bling.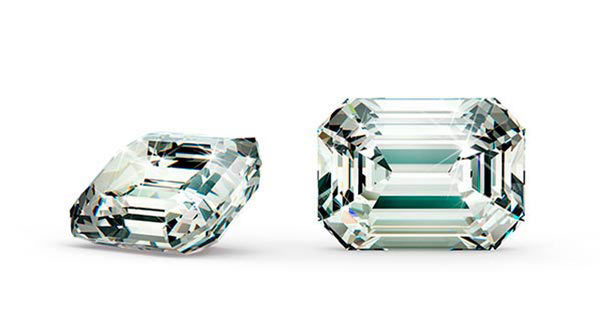 When interviewed about the creation of the ring, Jean had the following to say: "The gorgeous thing about an emerald cut diamond is that because it's a step cut, it has a certain look to it. Imagine mirrors lined against each other—and together, they reflect light in the diamond through long, large facets. The appearance of step cuts has always reminded me of glass, and it's very architectural in that sense."
How many carats is Paris Hilton's engagement ring?
Paris' center stone is reported to be a 20-carat emerald cut diamond.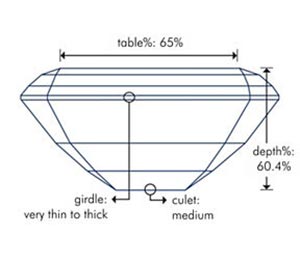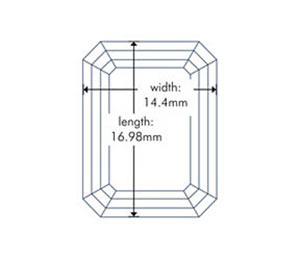 How does this ring stack up to engagement rings of the past?
This isn't the first time Hilton has rocked an engagement ring on her finger. In fact, she has been engaged three times before, with each ring just as envious as the last. Now that she's finally made it down the aisle, let's take a look at rings past!
Paris Hilton's Engagement Ring From Jason Shaw (2002)
Paris first said yes to model Jason Shaw in 2002 while she was 21 years old. It was a brief engagement, but we do know that the model proposed with a large pear cut diamond set on a yellow gold band.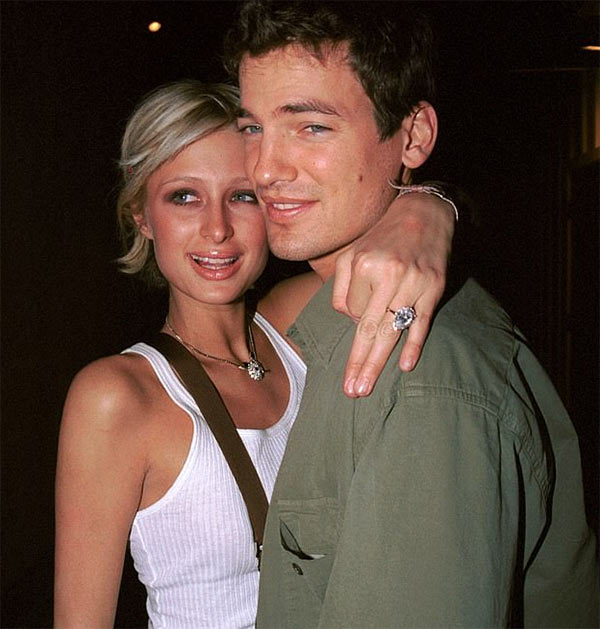 Paris Hilton's Engagement Ring From Paris Latsis (2005)
In 2005 Paris got engaged for a second time, this time to Greek shipping heir and fellow "Paris", Paris Latsis.
The proposal came just eight months into their whirlwind relationship, and he reportedly presented the hotel heiress with 15 different rings to choose from. This engagement ring, from Paris to Paris, was definitely the largest, coming in at 24-carats and supposedly cost $5 million. Like her current engagement ring, it was a large emerald cut framed by smaller stones and set on a white gold or platinum band.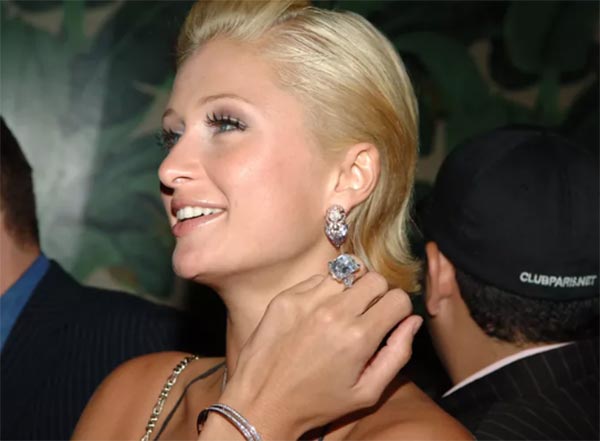 Paris Hilton's Engagement Ring from Chris Zylka (2018)
There was a bit of a gap until Paris' next engagement in 2018, to actor Chris Zylka. He dropped to one knee on a scenic mountaintop in Aspen and gifted her a gorgeous 20-carat pear shaped engagement ring. It featured a halo of tiny diamonds and was set on a double diamond pave band.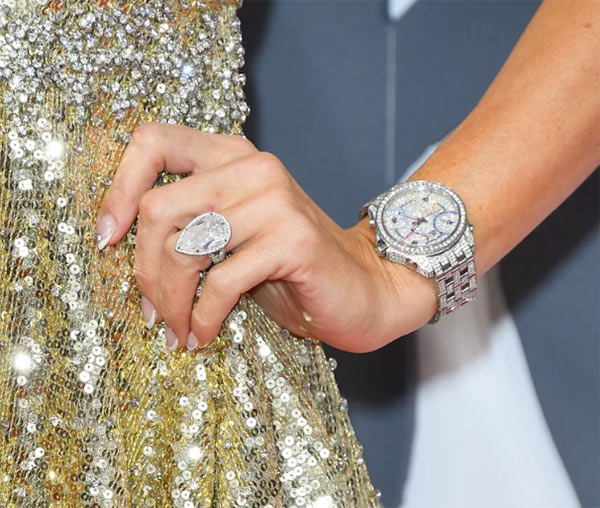 How much did Paris Hilton's engagement ring cost? And what's it really worth?!
It is reported that Carter Reum paid $1 million for the dazzling art deco engagement ring. The vast majority of the cost of the ring would be comprised of the diamond, with the setting making up a much smaller part of the total cost.
Of course, a 20-carat diamond will always set you back no matter the cut, it is possible to get a very similar center stone for far less money. By choosing lower clarity and color grades, the ring could be just as impressive for significantly less money: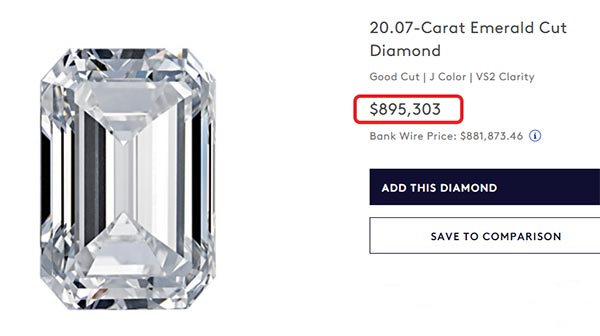 Paris Hilton's Engagement Ring Copy
Due to the classic elegance of Paris Hilton's engagement ring, it is actually pretty easy to copy the look for yourself, if not the carat-size. Here are two great options to have a ring that is so hot!
The first is a very close match – an 18K white gold three stone setting with trapezoid side diamonds and pave shank. It even has a secret, colored stone of its own!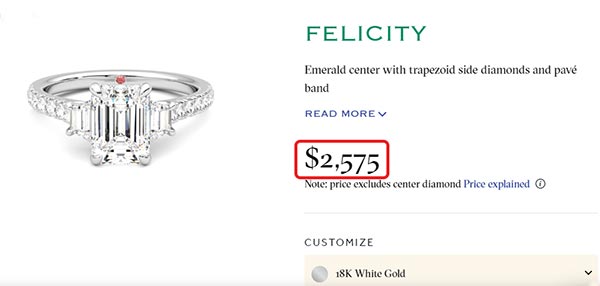 Click here to find out more information about this Felicity ring from my recommended retailer Taylor & Hart.
Next up we have a more minimal and sleeker take on Paris' ring! This setting features a plain solitaire band and two tapered baguettes framing an emerald center stone.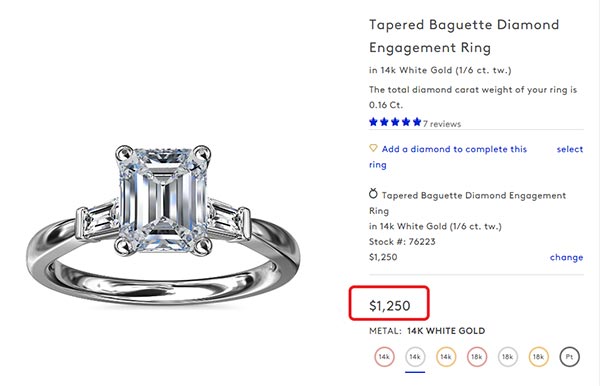 Click here to learn more about this Tapered Baguette Diamond Engagement Ring from my recommended retailer Blue Nile.