Jennifer Lopez's engagement ring
The ultimate guide to Jennifer Lopez's diamond ring
Ringspo is reader-supported, which means we may receive a commission if you click a link to a retailer & subsequently make a purchase.
We feature links to several retailers to help readers find the one that is the best fit for them. Find out more about how Ringspo works here.
Jennifer Lopez's new engagement ring from Ben Affleck somehow managed to do the unthinkable and upstage the original!
After "Bennifer" rekindled the romance in 2021, Jenny from the Block was spotted wearing a ring on that oh-so-special finger. After sparking tons of rumors, she took to her website to announce that yes, the two were engaged for the second time.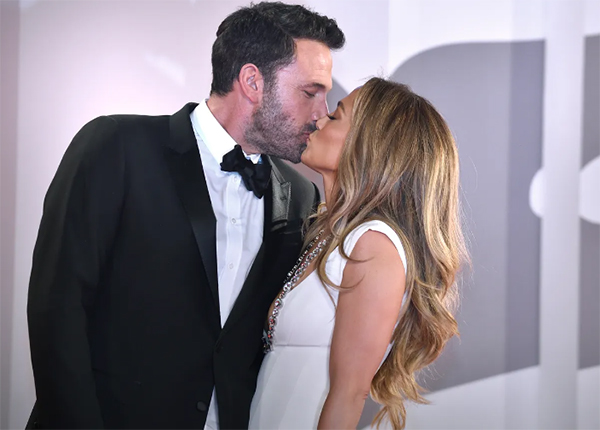 The phrase "If you love someone let them go. If they come back, it was meant to be.", certainly seems to apply to this couple. The power duo first ruled Hollywood back in the early 2000s but broke off their engagement in 2004. Now a little older and wiser, the couple has found their way back together.
Nine months after they went public with their rekindled romance, Affleck proposed with a custom engagement ring that's nothing short of breathtaking! He actually popped the question while the songstress was indulging in a bubble bath, how romantic.
The happy couple finally sealed the deal and got hitched in a small low-key ceremony in Las Vegas. They are having a bigger 3 day wedding celebration in August at Affleck's Georgian ranch.
If you are looking for all the details about Jennifer Lopez's engagement ring, you've come to the right place!
You'll find out:
What style Jennifer Lopez's engagement ring is
What size the diamond on Jennifer Lopez's engagement ring is
How much Jennifer Lopez's engagement ring is worth
Jennifer Lopez's engagement ring pictures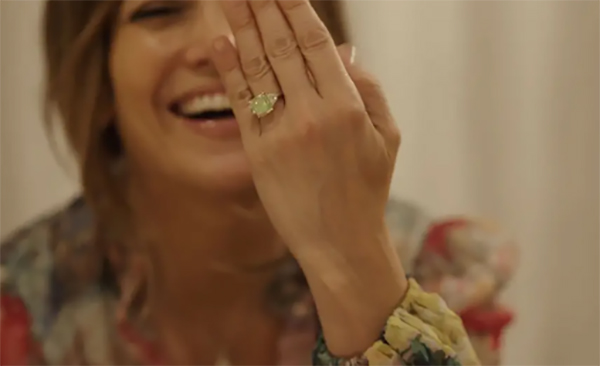 Yes, that's a green diamond, and a large one at that! That's a clear fact from looking at this cute promotional photo. It's a little hard to make out all the fine details, but it looks like the center diamond is flanked by some white diamond side stones and has yellow gold prongs.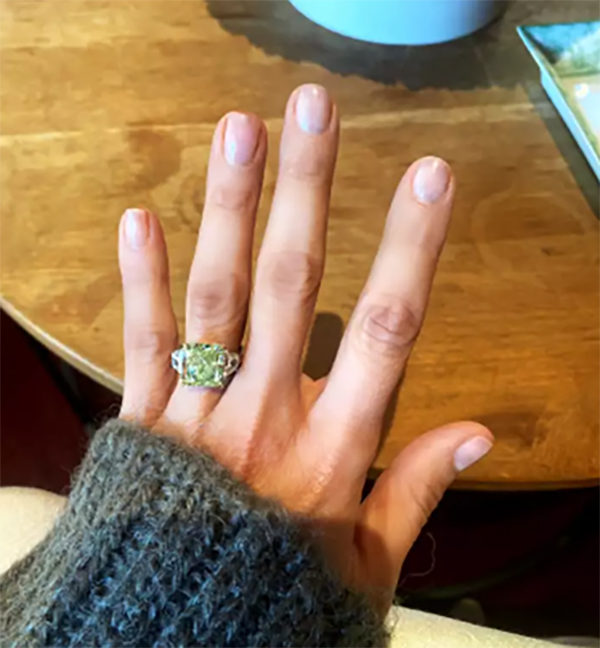 From this more close-up photo we can see that the side stones appear to be trapezoid in shape, and that the center diamond itself is a cushion cut.
What style setting is Jennifer Lopez's engagement ring?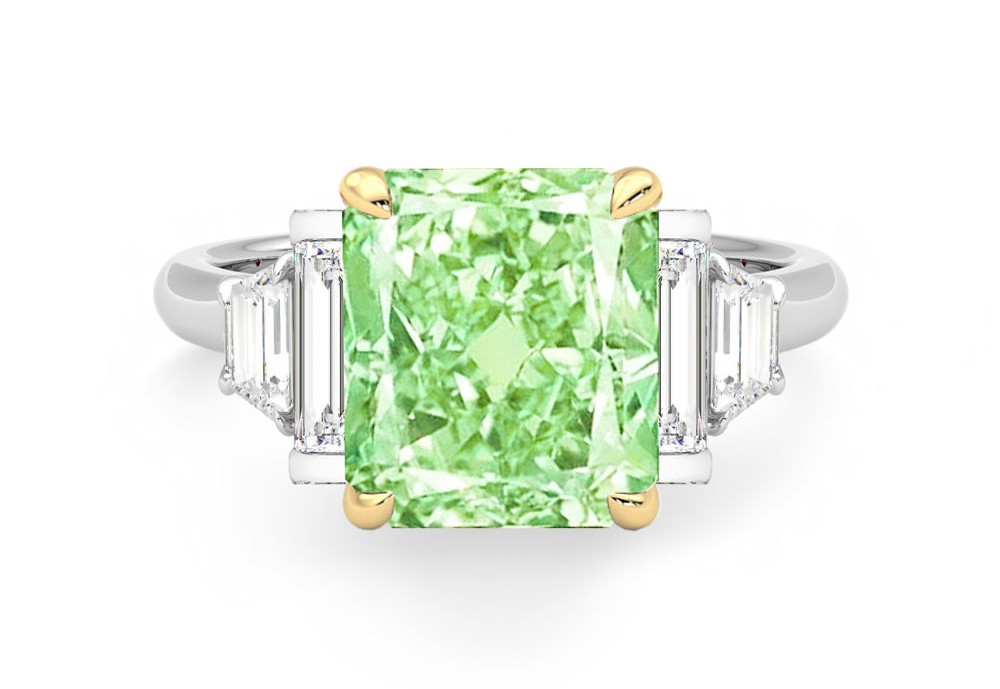 This gorgeous Art Deco inspired ring features a green diamond center stone held by yellow gold prongs, flanked by shimmering baguette-cut diamonds, on a platinum plain band. The gold prongs set against the platinum base, make the rare colored diamond pop even more.
What shape is Jennifer Lopez's engagement ring?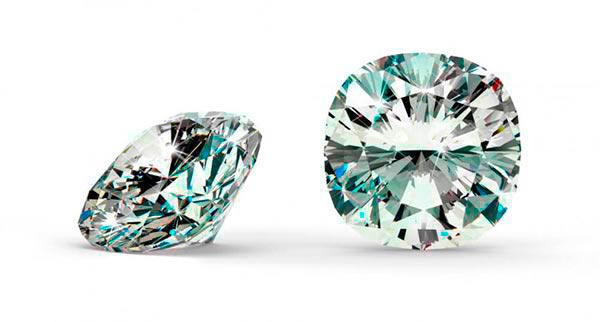 The center stone of Jennifer Lopez's engagement ring is a rare green cushion-cut diamond.
Cushion cut engagement rings are a classic shape that are making a comeback, as more people realize that they offer a great combo of elegant style, incredible sparkle and great value.
As for the color, a green diamond is the second rarest color of them all! It is second only to red. For their second engagement, Ben certainly pulled out all the stops! The diamond was personally sourced by Ilan Portugali of Beverly Hills Diamonds.
Green diamonds are so rare because they first have to meet all the criteria of being a gem quality rare diamond, and then you know, they have to be a striking green! As green diamonds get their signature color from Uranium exposure, this is a rare feat indeed.
How many carats is Jennifer Lopez's engagement ring?
Bennifer's center stone is an 8.5-carat natural green cushion-cut diamond. This rock will certainly turn heads!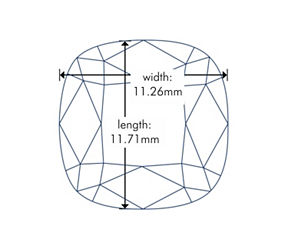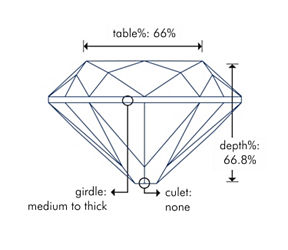 How does this ring stack up to engagement rings of the past?
Jennifer Lopez has officially been engaged six times! Let's take a look at the ghosts of engagement rings past and see how this new beauty stacks up!
J. Lo's engagement Ring From Ojani Noa (1997)
Prior to her first trip down the aisle in 1997, Lopez received a $100,000 diamond ring from restaurateur Ojani Noa. They divorced a year after their marriage. Not much info on this ring is known, but it appeared to be a multi-stone ring with a yellow gold setting.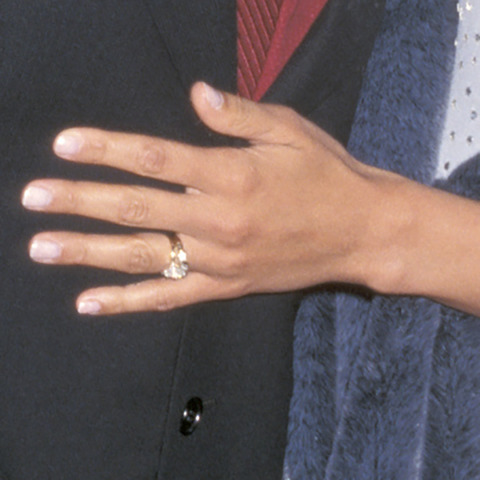 Engagement Ring From Cris Judd (2001)
J.Lo married her backup dancer Cris Judd (who she met on the set of her "Love Don't Cost a Thing" music video) in 2001 after she received an emerald cut solitaire ring worth six-figures. Their marriage lasted just over a year.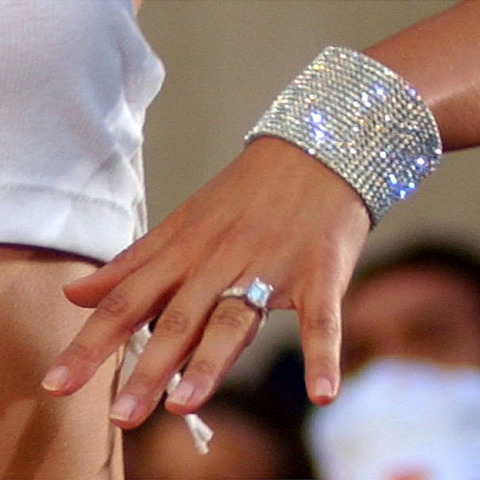 Engagement Ring From Ben Affleck #1 (2002)
When J.Lo received a 6.10 carat radiant-cut pink Harry Winston diamond when she became engaged to Affleck (for the first time) back in 2002, it set off a trend toward colored diamonds, and dramatically increased the value of pink diamonds. Let's see if green follows suit!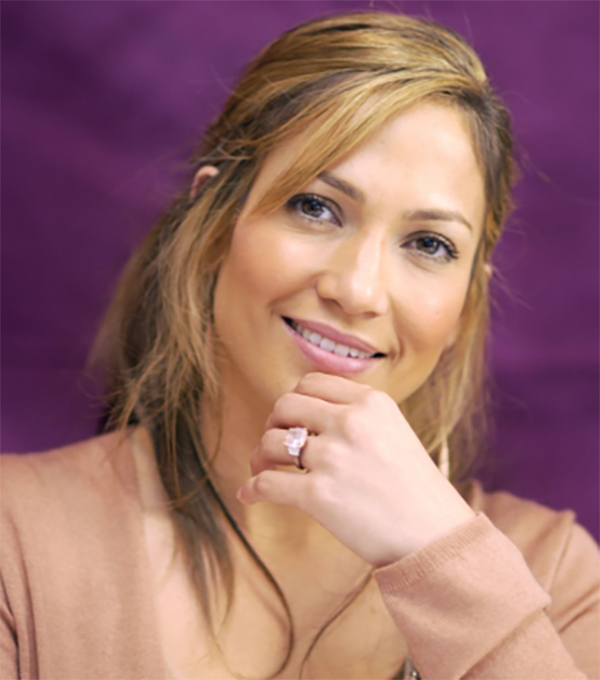 Engagement Ring From Marc Anthony (2003)
Shortly after breaking up with Affleck, Lopez started a relationship with singer Marc Anthony, who would propose with an 8.5 carat blue diamond ring from Harry Winston. The couple married in 2003 and announced their separation in 2011. They finalized their divorce in 2015. Jlo certainly has a thing for colored diamonds.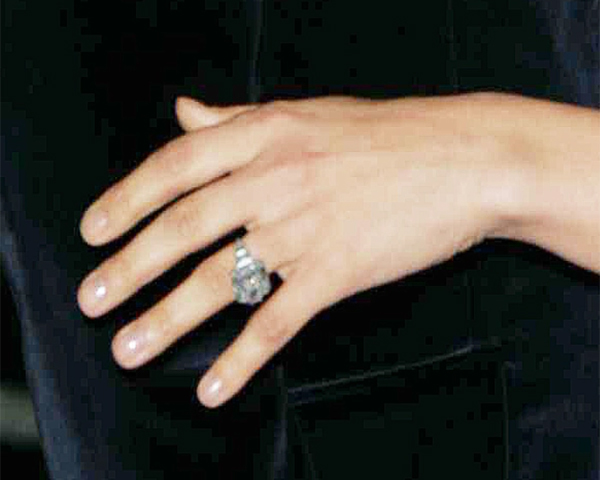 Engagement Ring From A-Rod (2017)
J.Lo and A-Rod began dating in 2017. He popped the question in March 2019 with a massive emerald cut sparkler that is estimated to be between 10 and 15 carats and worth in the range of $1 and $5 million. The couple broke off their engagement in early 2021.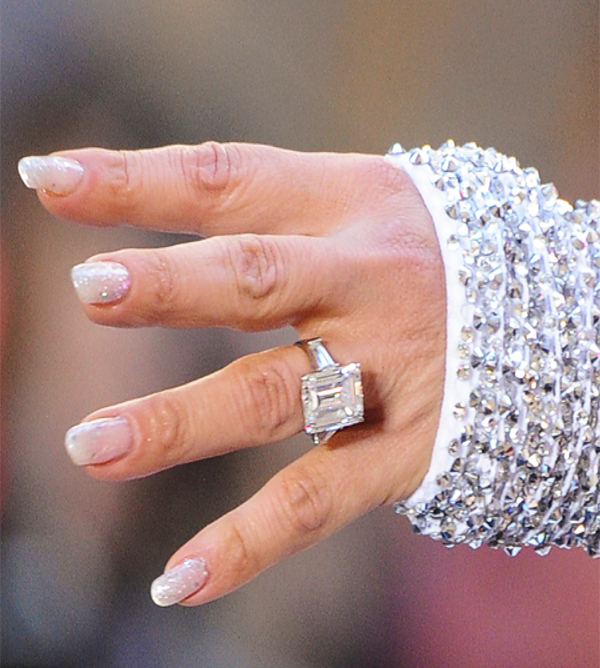 How much did Jennifer Lopez's engagement ring cost? And what's it really worth?!
It is reported by numerous sources that Jennifer Lopez's engagement ring cost between $5 million to $10 million, which given the rarity of her center stone is entirely likely.
The vast majority of the cost would be comprised of the diamond, with the setting making up a much smaller part of the total cost.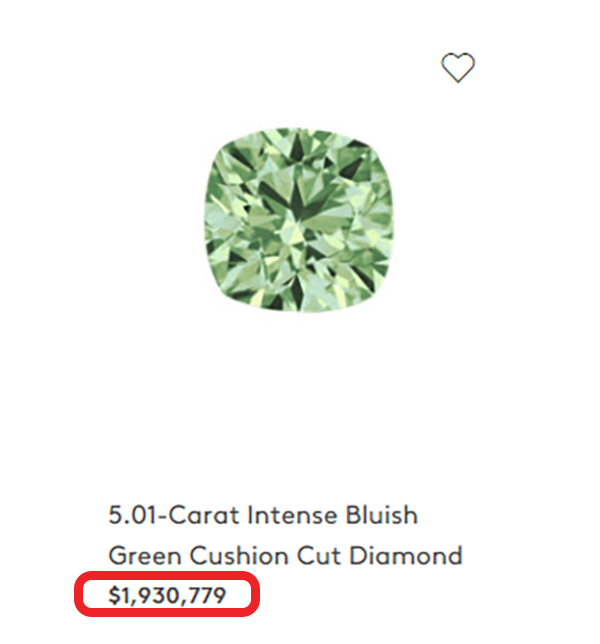 For reference, a 5-carat green cushion-cut diamond from one of my recommended retailers is currently going for almost $2 million!
Jennifer Lopez's Engagement Ring Copy
Okay I'll level with you, it's probably not possible to nab an 8.5 carat natural green diamond for yourself, but that doesn't mean you can't steal the style, and for a much lower price! Here are two creative options to get the look!
The first is a very close match setting-wise – a white gold setting for a cushion-cut diamond, flanked by baguettes. It features a delicate pave band for a little added visual interest. Paired with a green cushion-cut diamond, you're good to go!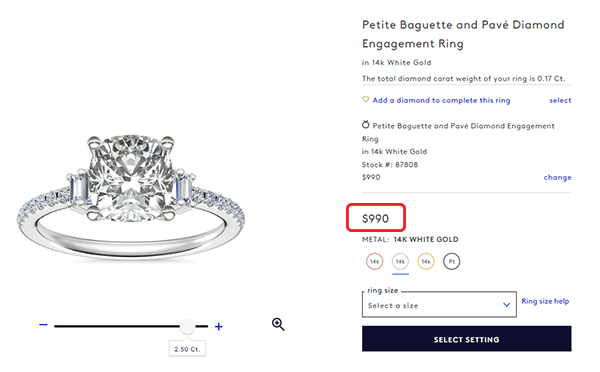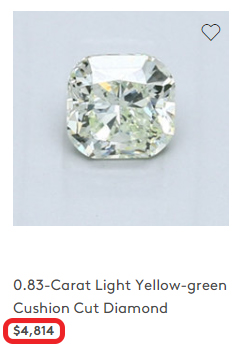 Click here to find out more information about this Petite Baguette and Pave Diamond Engagement Ring from my recommended retailer Blue Nile.
Next up we have an added touch of sparkle in the form of a double halo to achieve the visual impact of Jennifer Lopez's ring without the huge price tag. This setting also features some side baguettes, as well as showcasing a lovely natural green cushion-cut diamond.

Click here to learn more about this Fancy Light Green Cushion Double Halo Diamond Ring from my recommended retailer Leibish.