Avril Lavigne's engagement ring
The ultimate guide to Avril Lavigne's diamond ring
Ringspo is reader-supported, which means we may receive a commission if you click a link to a retailer & subsequently make a purchase.
We feature links to several retailers to help readers find the one that is the best fit for them. Find out more about how Ringspo works here.
Avril Lavigne's engagement ring is certainly fitting of pop-punk royalty!
The Sk8er Boi singer took to Instagram to announce her new engagement to fellow artist mod Sun on April 7th, 2022. Mod popped the question while the two were on vacation in Paris, a place Avril has always felt a special affinity for.
The couple have been together since 2021, when they first collaborated on the song "Flames." To prove his love, Mod Sun then tattooed Lavigne's name on the back of his neck shortly after. They have been going strong ever since and are frequently seen double-dating with Megan Fox and Machine Gun Kelly.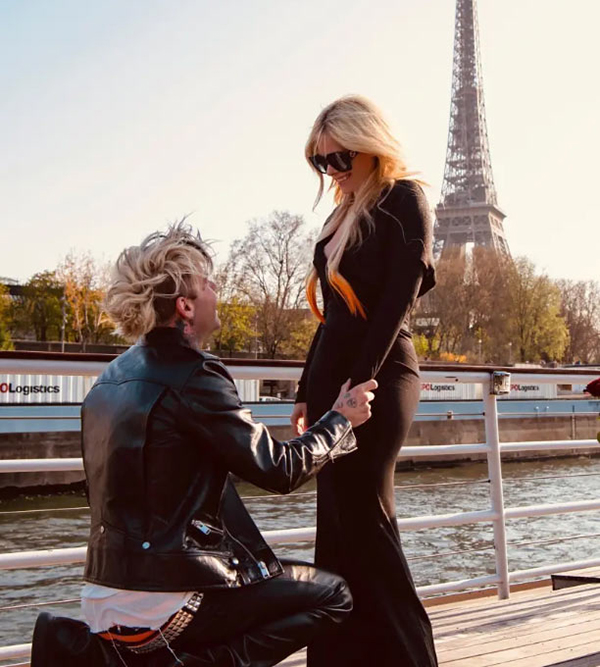 If you are looking for all the details about Avril Lavigne's engagement ring, you've come to the right place!
You'll find out:
What style Avril Lavigne's engagement ring is
What size the diamond on Avril Lavigne's engagement ring is
How much Avril Lavigne's engagement ring is worth
Avril Lavigne's engagement ring pictures
Thank you, Avril! With so many celebrities it can be a real challenge to hunt down any photos of their engagement rings, let alone high quality. But Avril Lavigne did her fans a real solid and had a big bling photoshoot, posting great images of her new ring from just about every angle.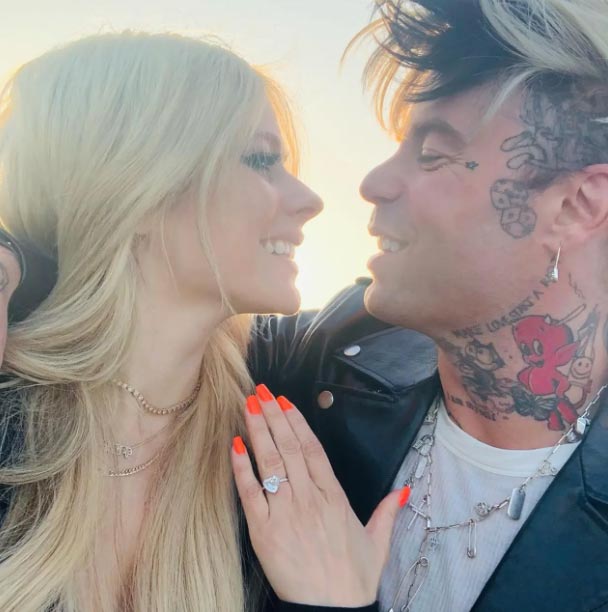 It's plain to see that Avril is now rocking a heart-shaped center stone set on a white gold or platinum pave solitaire band.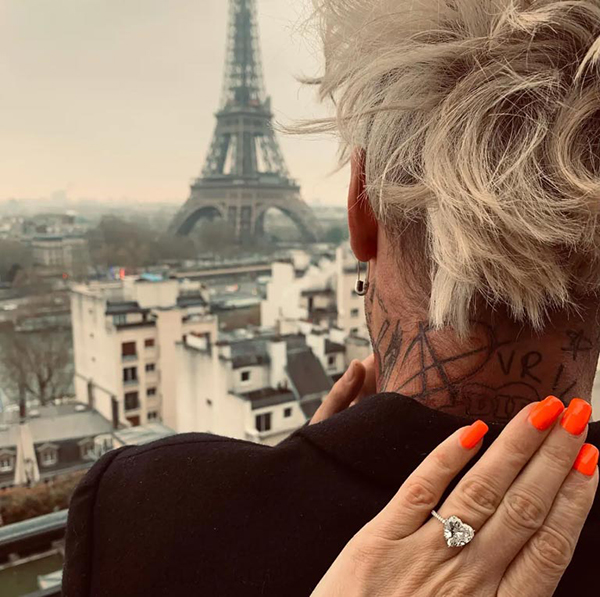 Here's a nice and romantic close-up of that aforementioned pave band, complete Eiffel tower and Mod Sun's "Avril" neck tattoo.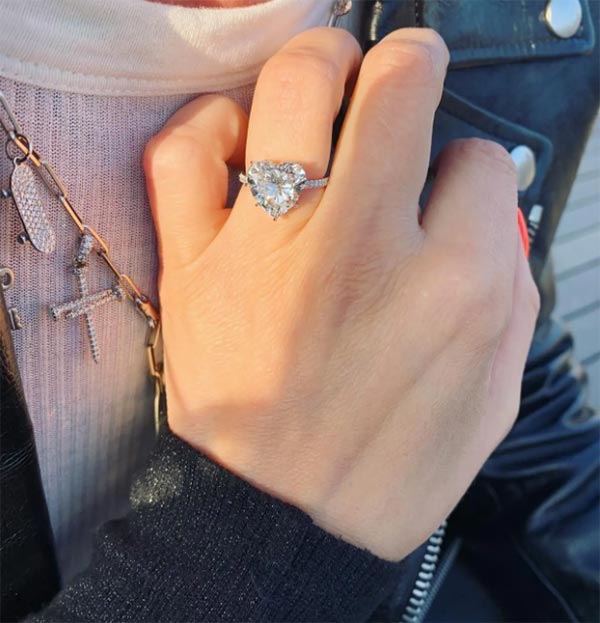 And finally, we have a stunning close-up of that gorgeous heart-shaped diamond.
What style setting is Avril Lavigne's engagement ring?
Avril's "heart" is set on a French micropavé setting bearing the words "Hi Icon" engraved inside, the first words Mod ever said to her. It also features their names, adding a more intimate touch.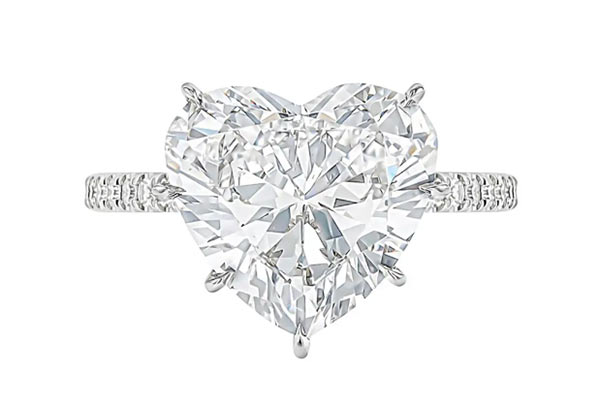 Pavé diamond rings (pronounced 'pah-vay') can broadly be thought of as a ring setting 'paved' with diamonds – lots of small diamonds covering the whole ring, including sometimes the underside of the band. To create the effect, a jeweler will drill a series of holes into the ring setting, place the diamonds into the holes and then create tiny prongs, or just beads of metal, over the edges of the diamonds, securing the stones in place.
The main reason for choosing a pavé setting is the huge bump in sparkle and beauty you get by adding pavé to the ring! By placing a large number of tiny diamonds very close together, you make sure that your ring will catch the light from any angle and sparkle brilliantly
What shape is Avril Lavigne's engagement ring?
The center stone of Avril Lavigne's engagement ring is a heart cut diamond. Mod Sun collaborated with jeweler XIV Karats to find the perfect stone. "He really knew what he wanted," the jeweler said when interviewed "And we were able to find him a really beautiful selection and he just chose the biggest, prettiest one of all of them, and he was really, really clear."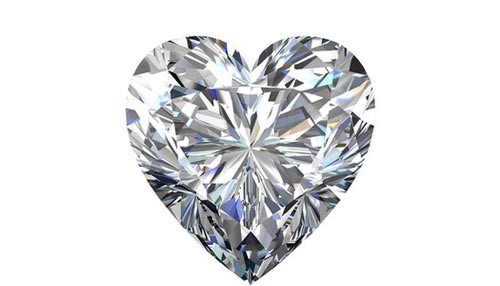 Avril Lavigne has a long-running friendship with XIV Karats, and in fact both she and Mod Sun had separately purchased heart-shaped pave rings from her before they had even met and have worn them every day since.
Heart shaped engagement rings are a less common choice, but they can be one of the most beautiful shapes of diamond out of any. However, because there is so much skill needed to cut a heart diamond well, and so much variety in the quality of the diamonds, they can be tricky to buy.
Diamonds that aren't the traditional round shape are known as 'fancy' shapes, and the heart is probably the fanciest of them all. As with all fancy shapes, there's a huge plus that the heart offers over round brilliant shaped stones and that's the price.
The other big positive is the uniqueness of heart engagement rings. They make up just 0.5% of all rings sold, so you can be sure that you won't see a similar ring on every left hand or in every 'he asked, I said yes' Instagram post.
How many carats is Avril Lavigne's engagement ring?
Avril Lavigne's center stone is a 5 carat heart shaped diamond, and is GIA certified.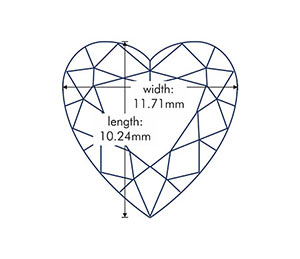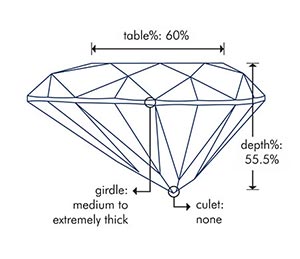 The designer shared that the rock is as crystal clear as Mod's vision for the ring, flawless.
How much did Avril Lavigne's engagement ring cost? And what's it really worth?!
While we don't know the official price, we can definitely speculate as to what a similar ring might cost.
The vast majority of the cost of the ring would be comprised of the diamond, with the setting making up a much smaller part of the total cost.
We know that heart shapes are among the hardest cuts to perfect in a diamond and Avril's stone is flawless, so let's take a look at some similar quality stones from one of my recommended retailers.
Avril Lavigne's ring cost with top quality diamonds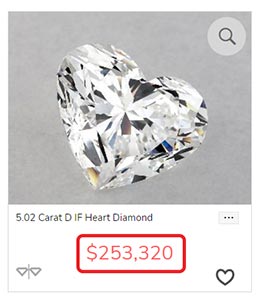 This 5-carat heart shaped diamond is IF, or Internally Flawless and is going for roughly $250,00.
Celebrity Name's ring with 'regular' quality diamonds
But Mod Sun could have made the same big statement without spending that much to get such a showy center stone. By choosing lower quality and color grades, the ring could be just as impressive for significantly less money: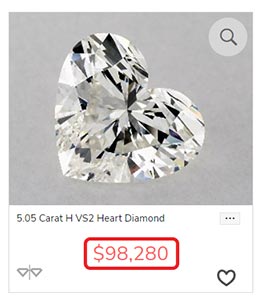 Avril Lavigne's Engagement Ring Copy
Avril Lavigne's ring is fun yet classic, and it is actually pretty easy to dupe the look for yourself. Here are two great options to have your own happy ending!
The first is a very close match – a white gold solitaire setting with a pave shank.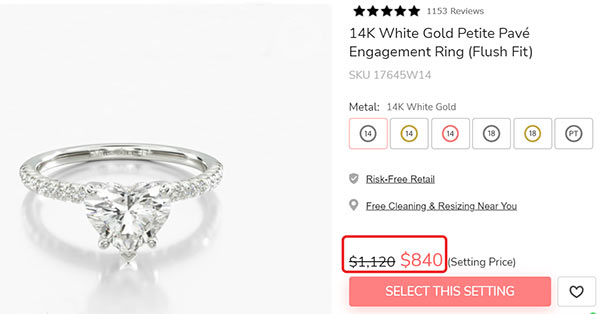 Click here to find out more information about this 14K White Gold Petite Pave Engagement Ring from my recommended retailer James Allen.
Next up we have a little twist on Avril's pave band, literally! This setting features a twisted band of pave and plain white gold.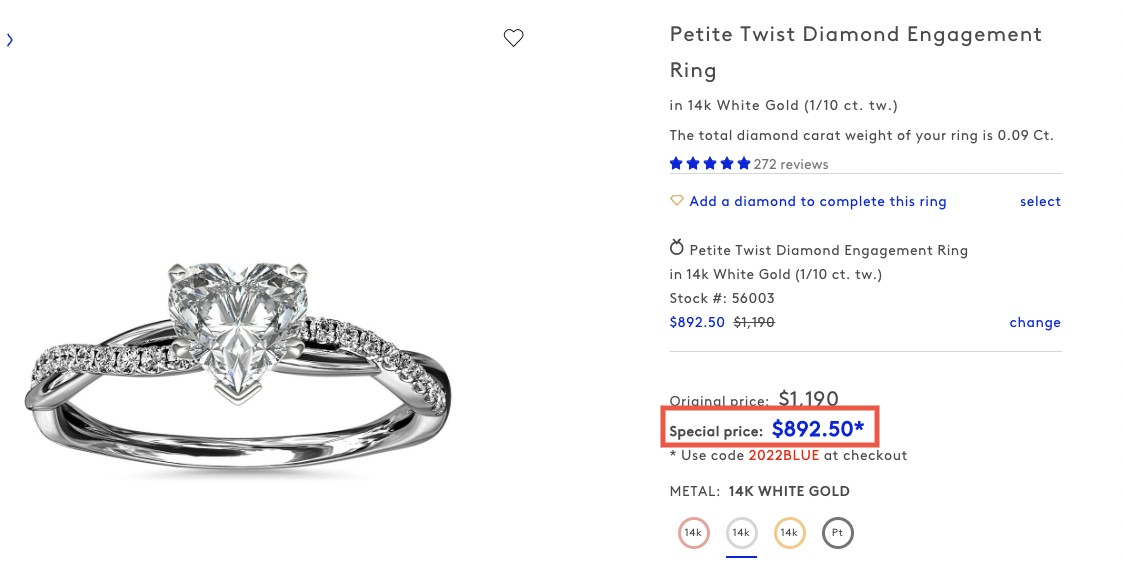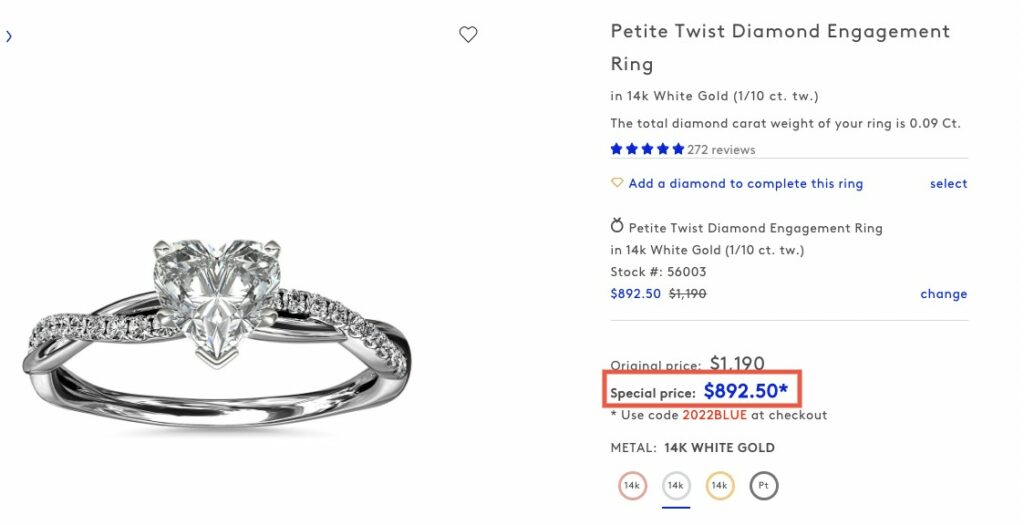 Click here to learn more about this Petite Twist Diamond Engagement Ring from my recommended retailer Blue Nile.