2022 Engagement Ring Trends
Find out what's trending this year
---
2022 has been a year jam-packed with uncertainty.
The ongoing effects of COVID-19 has affected all of our lives and may well have thrown a spanner in plans to propose.
Anything that can reduce uncertainty is welcome at the moment, so we canvassed opinions from jewelers across the USA to understand what trends they are seeing in 2022.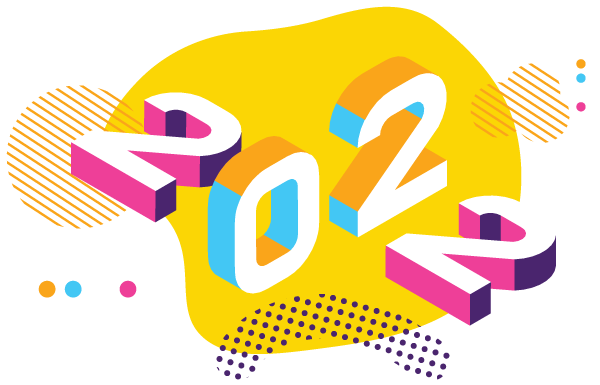 Ringspo is reader-supported, which means we may receive a commission if you click a link to a retailer & subsequently make a purchase.
We feature links to several retailers to help readers find the one that is the best fit for them. Find out more about how Ringspo works here.
To make sure that we didn't limit the answers that we were given, we didn't run a 'survey', where jewelers could only choose from a pre-defined closed options when answering questions.
Instead, we asked open ended questions to give jewelry experts the chance to give us their unfiltered opinions so that we could get as clear a picture of what is happening as possible.
Three big engagement ring trends for 2022
There were three big trends that came out:
The resurgence of yellow gold for ring settings
Oval diamond center stones
The desire for individuality and custom rings
There were also lots of smaller trends that were mentioned too, and many of these depended on the precise specialism of the individual jeweler.
2022 engagement ring trend 1: The resurgence of yellow gold
Yellow gold has long been known as the more 'traditional' color for diamond ring settings, and really it was last truly fashionable back in the 80s.
Since then, the majority of rings have been white hold or platinum, although rose gold did become extremely fashionable from 2010 onwards.
Looking at our responses, 60% of jewelers mentioned the resurgence of yellow gold as a key trend they are seeing: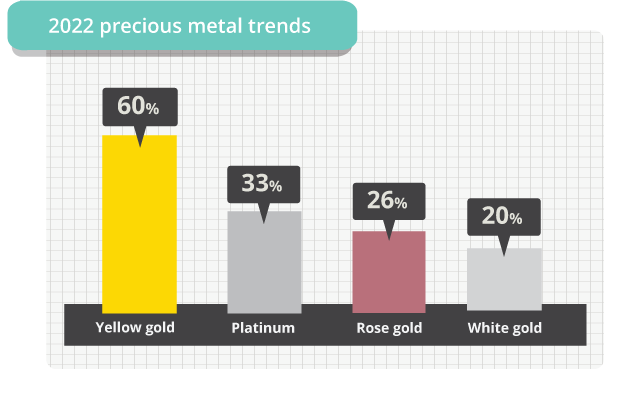 The resurgence of yellow gold could have an interesting effect on diamonds, specifically the color chosen.
As yellow gold settings can be paired with diamonds lower on the color scale, we may see an increase in demand for 'warmer' colored diamonds.
2022 trend 2: Oval diamond center stones
Many jewelers reported an increase in demand for elongated diamonds – pears, emerald cuts and most of all the oval.
Elongated fancy shapes are a great choice because they look large for their carat weight while usually being priced considerably lower on a per carat basis than round brilliants.
This means they can deliver significantly more visual impact for a lower price.
Win-win!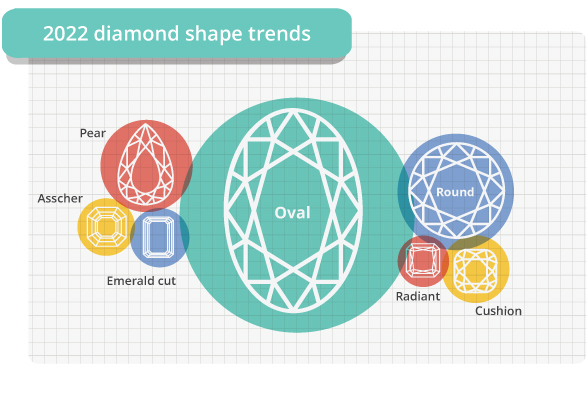 It should be noted that round diamonds do continue to be the most popular choice for center stones, but ovals are the shape that are currently trending upwards.
2022 trend 3: individuality and custom rings
When asked about what setting styles they were seeing a lot of, the most commonly given answer were custom or bespoke designs.
There may be some sample bias here, in that the jewelers I contacted were all GIA-aligned, and those stores may be more likely to have the expertise and facilities to create custom rings.
However, as a deeply personal symbol of commitment, it's understandable that people are looking for a ring that reflects them. As one of our respondents answered:
"A lot of brides are seeking something unique and looking for a ring with as much personality as its wearer."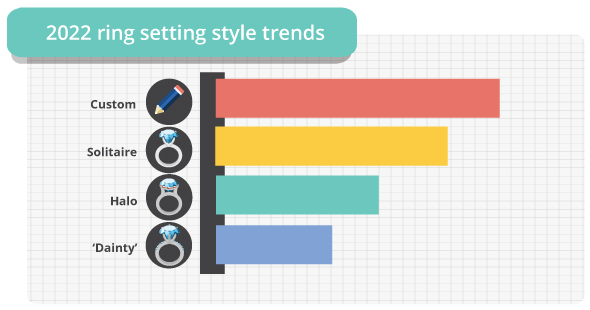 Another interesting term that was mentioned by several of our respondents was the trend towards 'dainty' settings, with ring buyers choosing delicate settings that allow their center stones to really stand out.
What would the ultimate ring of 2022 look like?
Combining our trends, the ring of 2022 would be a dainty yellow gold setting, an oval center stone and interesting custom details that reflects the wearers personality.
We think it would look something like this, from custom specialists Taylor & Hart: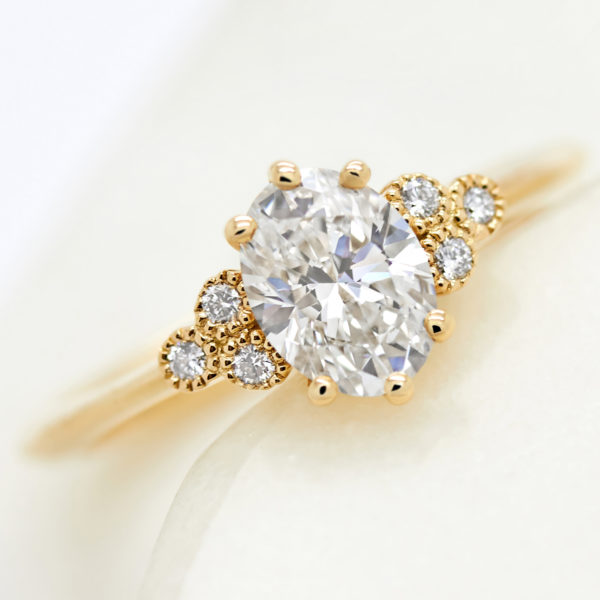 Asking our experts
---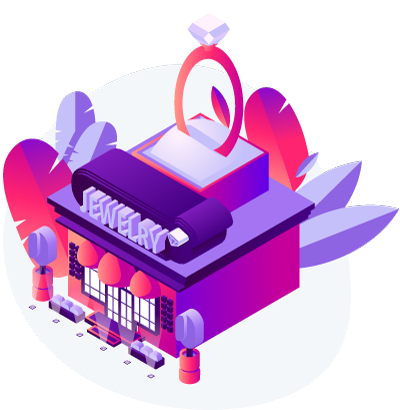 We consulted a range of jewelry experts from across the US.
The one constant was that they all sold GIA-graded diamonds. We wanted to ensure that we were obtaining opinions from those who demonstrated that they cared about the quality of the merchandise they were selling and the products that they were providing to their customers.
While the styles of rings they produce may vary, their dedication to quality and customer service does not.
Where our jewelers were from
Our jewelers are located across the USA, so we got a huge variety of regional trends, rather than just relying on insights from one area: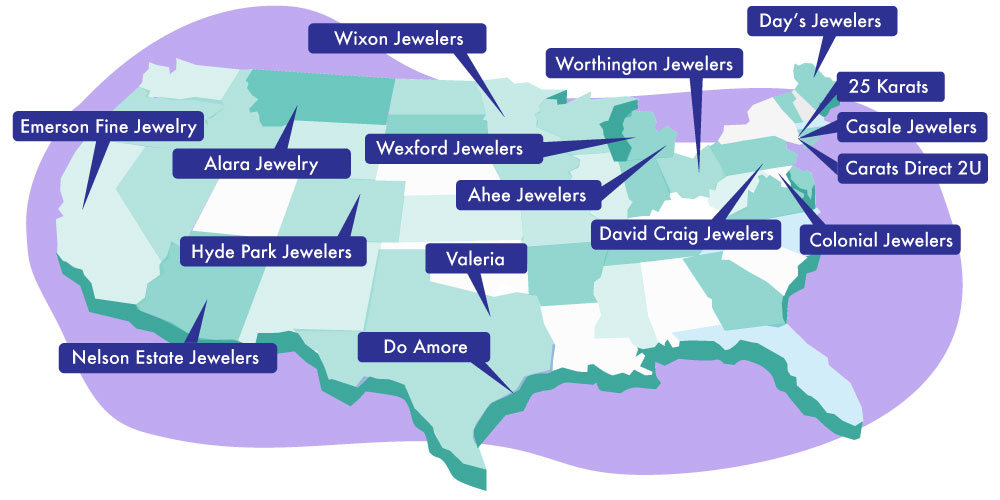 The broad spread of respondents is reflected in the examples they gave as rings that typify the trends they are seeing this year.

Without further ado, we also wanted to present each jeweler's answer in its entirety, so you can see exactly what each respondent told us is trending this year:
Naz Aksu, Managing Partner at 25karats.com
"Halo diamond engagement rings are still popular with their elegant looks. A halo makes the center diamond appear bigger and adds an additional sparkle to the ring.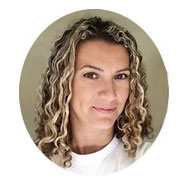 Classic and timeless solitaire engagement rings with hidden details underneath the center stone complement the sleek and stunning designs. They are perfect for stacking with other rings and we expect this trend to grow in 2022.
Moreover, yellow gold engagement rings replaced the popularity of last year's rose gold rings."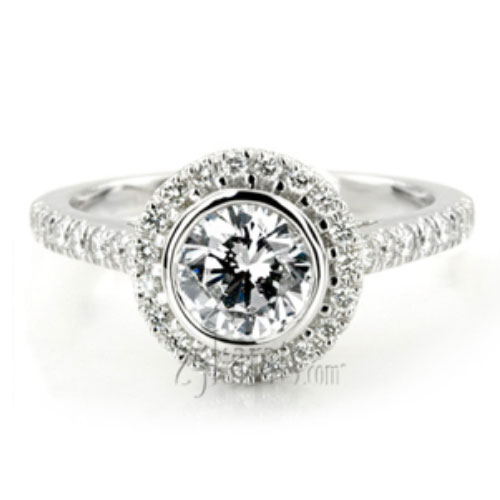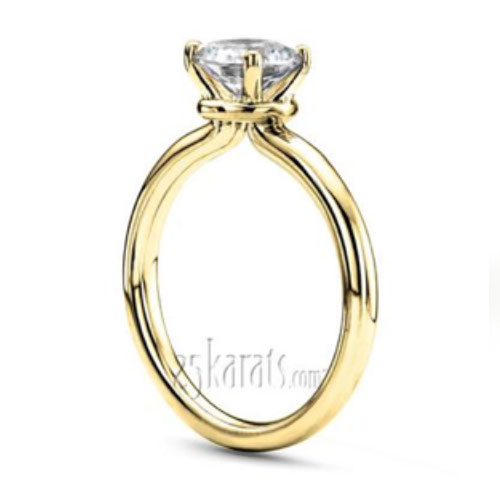 Stefan Ahee, VP, Jewelry & Timepiece Specialist
"If spending most of the last several weeks at home has taught me anything, it's that quality is far superior than quantity in the things we choose to surround ourselves with. That mentality also pervades in current engagement ring buying habits.
Couples are opting for higher quality diamonds that are a physical representation of their rare and eternal love. With temporary restrictions on face-to-face interactions being lifted, customers are returning back to brick-and-mortars to shop for stones in person where they can ensure the beauty of the stone measures up to its grading report.
What goes up must come down, and the pendulum is swinging from white metals back to yellow gold. While white gold and platinum bridal jewelry is not going anywhere anytime soon, we have seen a huge increase in yellow gold bridal sales.
My favorite (and most paradoxical) trend is the disregard of current trends. A lot of brides are seeking something unique, rejecting mass produced or common designs, seeking a ring with as much personality as its wearer. It has certainly been keeping our workshop busy with custom orders."
Babs Noelle, ringleader
"We have seen a noticeable uptick in interest in oval diamonds and Montana sapphires, particularly in 1-½ carats and larger.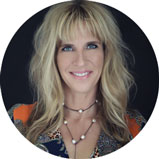 Montana sapphires in general are very popular engagement gems this season, with the celery-to-teal range being especially requested, in both faceted and rough. Organic styling is trending heavily, with brides seeking out shanks that resemble branches, feathers, and pebbles–with or without the detailing at the texture level.
And finally, we have yet to see a slow-down in engagement styles that exhibit a quality that can be best described as "How do they do that?" whether a patented setting technique that unlocks the optical potential of the diamond held in it, to ones that trap the diamond in borosilicate glass, making it visible from all angles, all the time."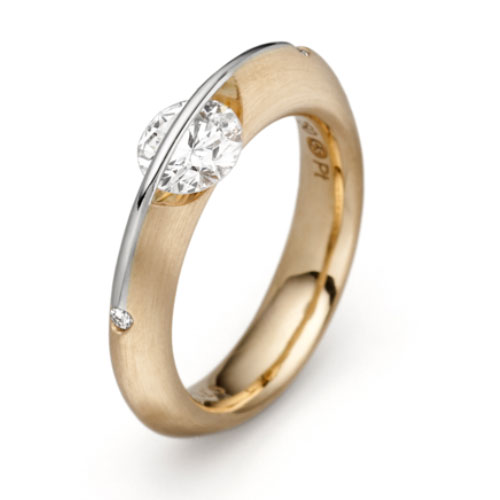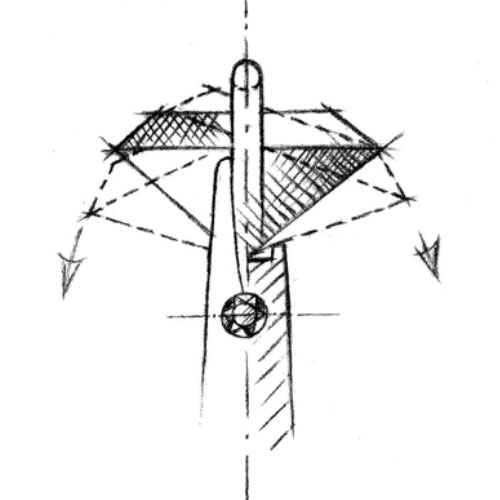 Eli Lev
"We see a big move away from the traditional round diamond engagement ring. We are noticing a high demand for fancy shape diamonds, especially Oval and Emerald cuts.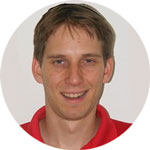 Many of our customers are purchasing loose diamonds and are asking us to custom design a setting for them. They are also requesting high quality videos of the diamonds prior to purchase. We have a high end photography station in our office and our staff is trained to take high quality photos and videos which we then send to our customers."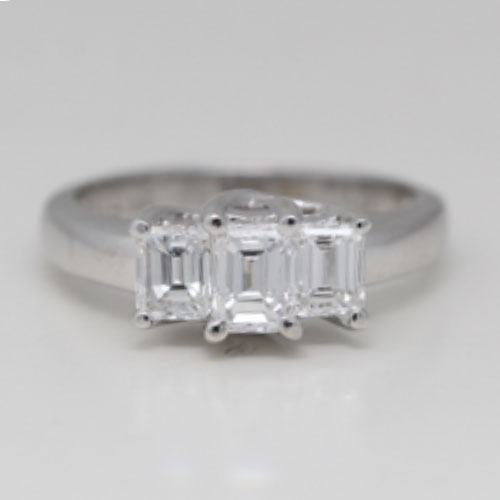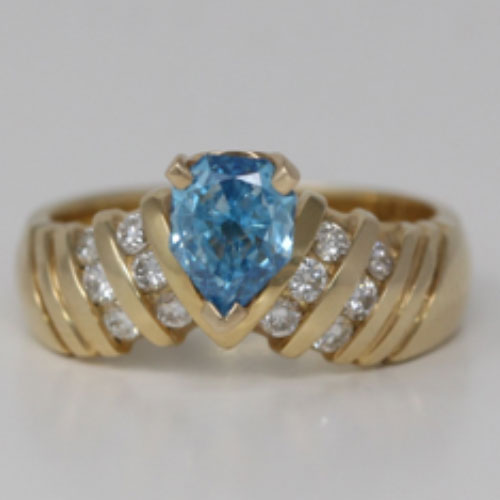 Cory Schifter, Owner
"The biggest trend in engagement rings right now is daintier style rings with cushion and oval center diamonds. Round brilliant is still the fan favorite but the sleek elongated style of diamond like the Oval and Cushion have been very popular.
We have also seen an upward trend towards Rose gold settings or a mix of White and Rose.
It's a fun process to work with a couple to design and create the perfect ring to match their taste and budget. Most come in with a photo, idea or style that they like and we are able to design and bring it to a reality.
The industry has changed as back in the 80's when my parents started in the business, you looked at 5 styles and picked one. We have over 500 styles to choose from, a large selection of loose diamonds and work in a 2 step process. You can pick or design the ring and then you get to find the perfect diamond to match with it. It's a fun way of doing things and allows us to get creative and help our customers get the best they can for their budget."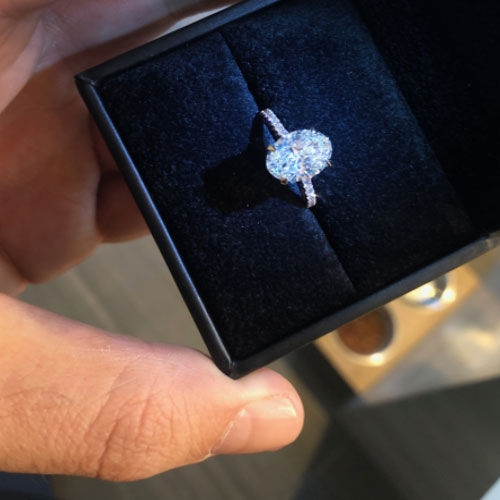 Megan Connolly – Marketing and Inventory Specialist
"More yellow gold, ovals and round shape diamonds are the most asked for, solitaires are the big trend we're currently seeing."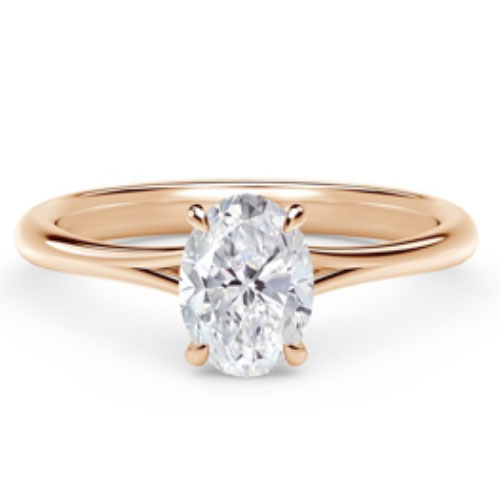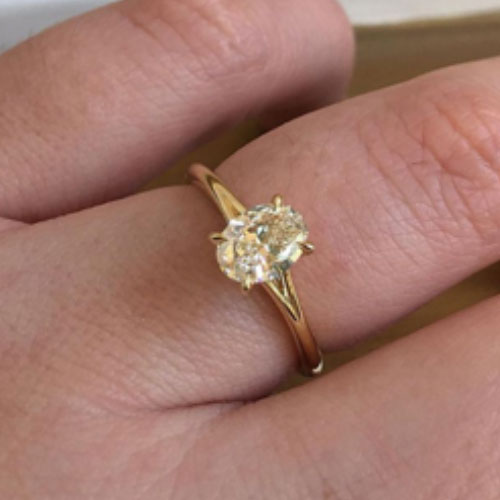 David Craig Rotenberg, President
"The brilliant cut (round) shape in around one carat is still our most popular engagement ring. It's always been the benchmark of our business.
While heirloom designs were especially popular a few years ago, we see more modern, contemporary designs today with a bit of heirloom influence. The Forevermark halo "center of my universe" introduced about five years ago continues to be very popular today. We've created gorgeous variations of this concept with center diamonds surrounded by a halo of diamonds or gemstones like sapphires, rubies and alexandrites.
Times change but, like the saying goes, a diamond is forever. We help our customers pick the one that speaks to their hearts."
Amelia Tuttle
"One of the biggest trends we've seen is halo rings. Ovals, rounds, pears – the stone changes but the halo trend is huge for us! A classic solitaire has also been a big seller for us, especially in rose gold. That pretty pink metal is such an unusual and feminine touch to an engagement ring.
We also sell loose diamonds and settings so our customers can create a custom-designed ring, and we've seen a lot of interest in custom rings this year."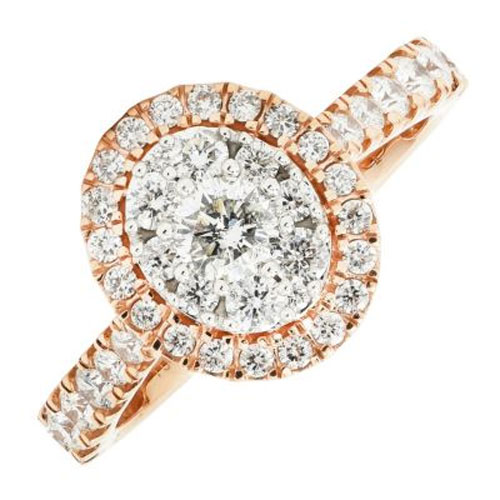 Alyson Corda
"A few engagement ring trends we have noticed in 2022 are pear-shaped stones and simple, delicate solitaire settings! We have also been receiving lots of requests for tiara bands, and we've noticed an interest in mismatched styles as well.
We have also noticed a pretty dramatic increase in the average carat weight purchased, which we can definitely attribute to the increased popularity of lab created diamonds which are almost 40% less expensive than natural diamonds, and allow for people to get more for their budget. We are seeing pretty consistent metal choices, and yellow gold has definitely increased in popularity over the last 12 months.
One of the biggest trends is definitely delicate and dainty engagement rings. More than ever, we are seeing our most delicate and dainty rings being chosen, and even when making custom rings for customers, we are being sent delicate ring inspiration."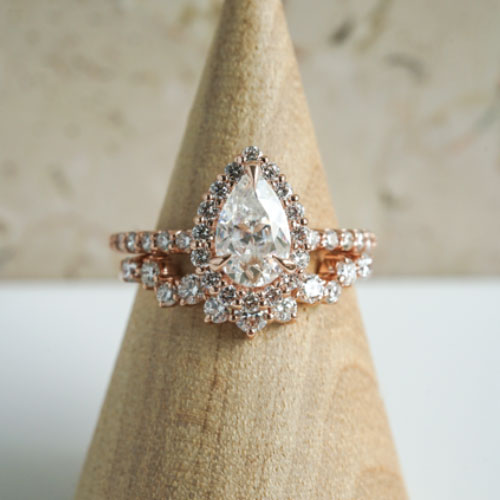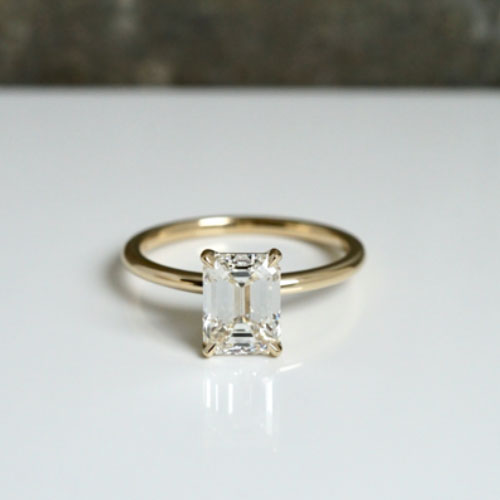 Megan Rainville
"The latest trends Emerson Fine Jewelry is seeing lay on two different ends of the spectrum. The first being very simple, delicate and modest. This ranges from round brilliant cut diamonds sitting atop a plain yellow gold band or a large oval diamond on a platinum pave band.
The second style being an ornate butterfly setting we are calling our gatsby collection. These gorgeous rings have a vintage yet timeless sense to them that leave you absolutely in love! However, we are also noticing an increase in popularity in stacking taira bands amongst plain engagement rings. It has the simple elegance that is popular among millennials right now with that vintage flair most are in finding gorgeous as well!"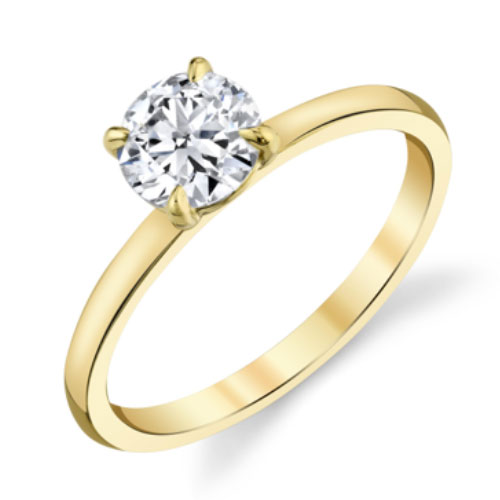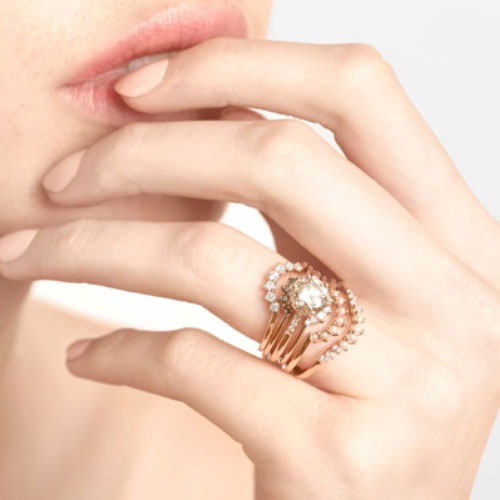 Hyde Park Jewelers
Molly Blum
"We have seen several shifts in wedding and bridal trends in the last year.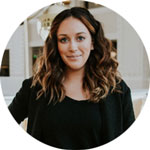 The most-noticeable of these is the increase in demand for yellow gold settings and lab grown diamonds, as well as a resurgency in the oval, pear and emerald cut stones for more-traditional diamond engagement rings.
Non-traditional shapes paired with alternative bands and center-stones has set the millennial shopper apart in their search for unique styles with a traditional flair."
Visit Hyde Park Jewelers here.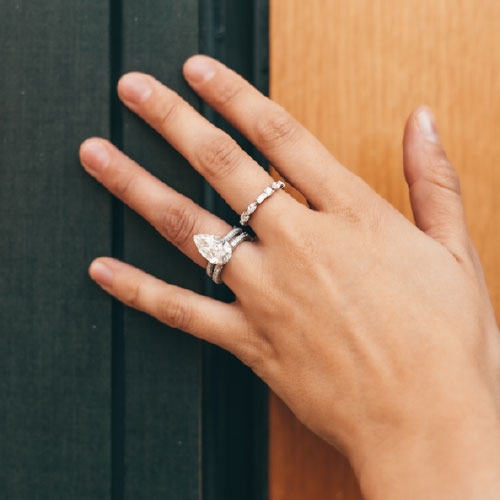 Nelson Estate Jewelers
Aubrey Nelson, Owner
"Engagement ring trends seem to be shifting more toward one-of-a-kind designs and unique, non-traditional looks lately.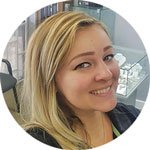 Fancy colored diamonds are in high demand as pops of color are both unique and daring in the engagement ring world. A fancy yellow diamond looks incredible in a white gold or platinum setting with yellow gold prongs. Champagne colored diamonds are dazzling in rose gold! Colored diamonds allow for the look of an alternative stone without abandoning the durability of a diamond, and in most cases tend to be a little less expensive than white diamonds, which is always a plus!
While white gold is always a classic option and rose gold has had its time in the spotlight, yellow gold engagement rings seem to be making a comeback in a big way!
Yellow gold looks great on various skin tones and since white and rose gold were all the rage for so long, yellow gold is once again considered a unique option. Vintage inspired engagement rings in yellow gold are simply to die for!
Full custom designs pave the way to a true one-of-a-kind engagement ring, and the desire for that extra special personalization is strong right now. Whether it starts with a simple sketch or combining certain aspects of multiple rings, custom designing an engagement ring is one of the most sought after ways to ensure that the engagement ring is not only what was envisioned, but also a compliment to the wearer's personality and style."
Visit Nelson Estate Jewelers here.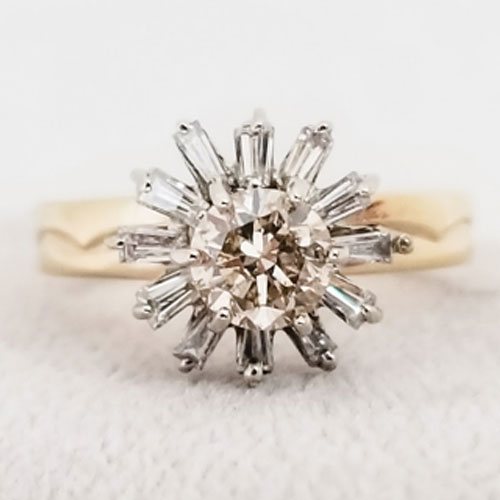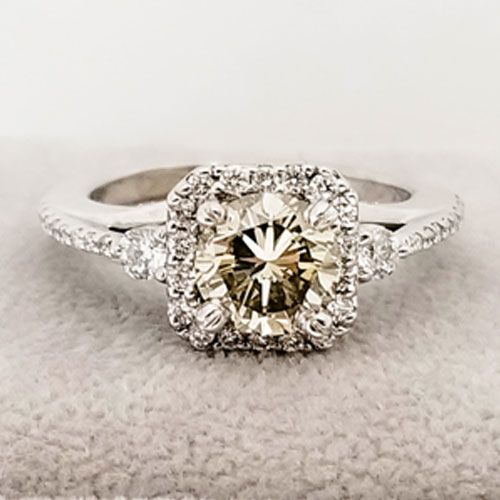 Lucas Horton
"The biggest trend we have seen in the last year is the rise in popularity of lab grown diamonds. With DeBeers recently getting into the lab market, prices have dropped sharply and lab stones have gained a legitimacy they were lacking. Many young engagement ring customers love the idea of a diamond that is eco-friendly, more ethical and less expensive. Expect to see many more lab grown diamonds in the coming years….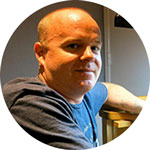 The second trend, which is a continuing one, is colored gemstones. Many customers attach a special meaning to a stone type or color and if it can be found, we can put it in a custom ring. We have made a lot of rings lately that mix diamond with a colored stone such as Sapphire, Ruby, or even less common stones like Tourmaline . Not only do these stones give the ring some beautiful color to contrast with the diamonds, but they also add another layer of meaning to an already special piece of jewelry."
Cuts: rose cuts, kite shapes, trapezoids, unique shapes. Rose cuts are hot hot hot! Ovals and Asscher cuts for "clean" diamonds.
Gems: Salt and pepper diamonds, other rustic diamonds that would have never been considered a decade ago. We had a blue kite shape rustic that sold almost as soon as it was finished.
Lab created diamonds, which are approximately ⅓ the cost of earth-mined diamonds and have less environmental and human impact.
Colored gemstone bridal! Very hot for the past decade but still increasing in visibility as well as popularity. Various color sapphires seem to be the most popular.
Rough (unfaceted) gemstones are not as popular as they were five years ago, but still are chosen as bridal.
We're seeing a lot of moonstone and opal bridal from other designers, but we discourage these because of the stone durability.
Mountings: Slender, dainty settings with unique shapes like a half moon curve around an engagement ring. A mix of colored gems and diamonds in these settings.
Organic pieces such as leaf and blossom motifs.
Tiny diamond accents wherever they can fit.
Estate reproductions
Metal: 14k yellow for the slender ones, the ones with salt and pepper, etc. 14k white or platinum for the more estate looking pieces.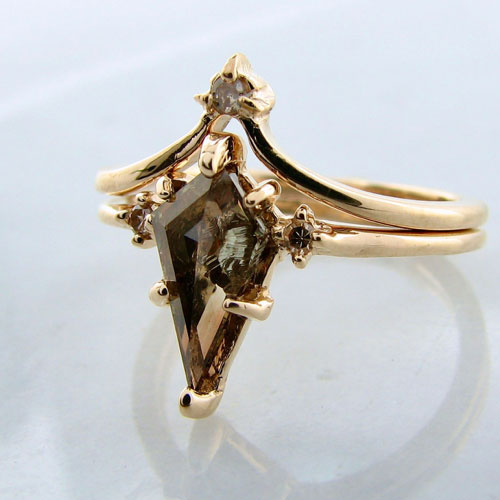 Bob Worthington
Halos are still hot
Rose gold is hot
Ovals and to a lesser extend pairs and cushions!
Jessica Gylsen, Store Manager
"We have seen a big recent resurgence in radiant and pear shape diamonds.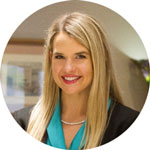 Radiants specifically have started strong this year. The preferred shape is elongated, and it's guaranteed to be the next big bridal trend.
We are also seeing the halo trend start to dissipate, and in its place a return to simplicity. Gorgeous solitaires, and single row diamond accent, with centers beautifully set in a classic four prong style. Yellow gold, rose gold and platinum all seem to be getting equal play."