Megan Fox's engagement ring
The ultimate guide to Megan Fox's diamond ring
Ringspo is reader-supported, which means we may receive a commission if you click a link to a retailer & subsequently make a purchase.
We feature links to several retailers to help readers find the one that is the best fit for them. Find out more about how Ringspo works here.
Megan Fox's engagement ring has transformed her into one lovestruck lady! On January 11th, 2022, rapper and punk-pop enthusiast Machine Gun Kelly (real name Colson Baker), proposed to Fox under the same banyan tree where they first began their relationship two years ago.
Fox and Kelly first met in March of 2020, while filming "Midnight in the Switchgrass" in Puerto Rico confirming their relationship on June 16th, 2020, when Kelly tweeted out a meaningful lyric from his song "Bloody Valentine."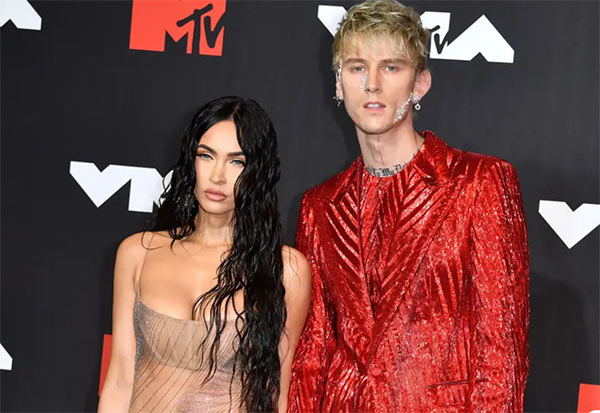 Fox poetically responded to his proposal stating: "And just as in every lifetime before this one, and as in every lifetime that will follow it, I said yes…and then we drank each other's blood."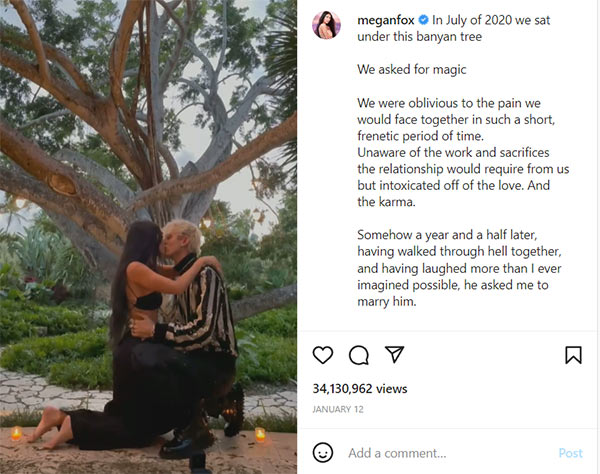 If you are looking for all the details about Megan Fox's engagement ring, you've come to the right place!
You'll find out:
What style Megan Fox's engagement ring is
What size the diamond on Megan Fox's engagement ring is
How much Megan Fox's engagement ring is worth
Megan Fox's engagement ring pictures
Megan Fox and Machine Gun Kelly announced their engagement in dual posts shared to Instagram in January. Kelly posted a video of Megan's hand wearing the ring, and from a screenshot we can tell a lot!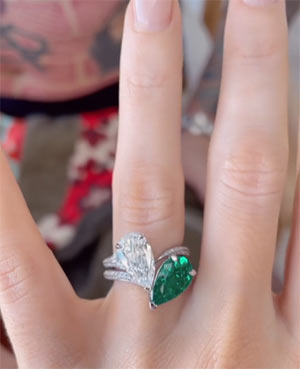 From this still we can clearly see that the ring features a pear cut diamond as well as a pear cut emerald, set on either a white gold or platinum band.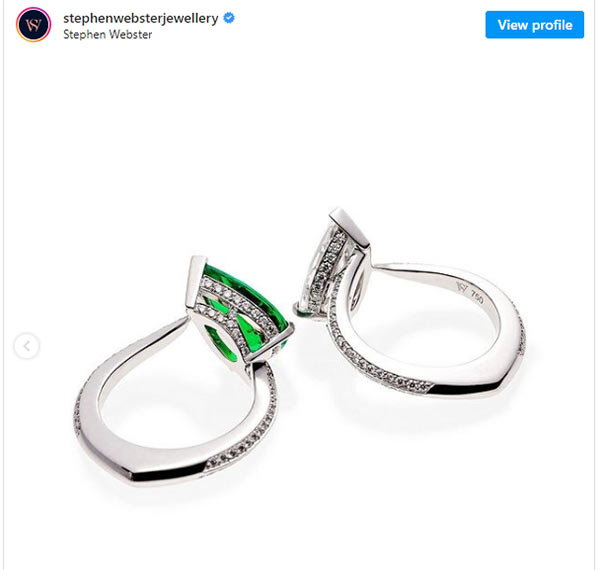 This next promotional image posted by the jeweler himself, reveals even more! The ring is actually two separate rings, that split apart! They also feature tiny diamond pave along the band.
What style setting is Megan Fox's engagement ring?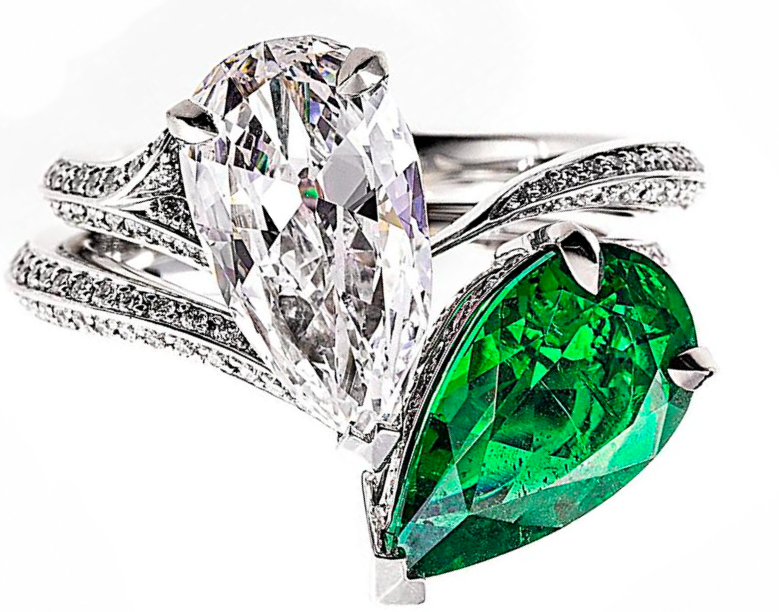 Megan Fox's engagement ring is what as known as a "Toi et Moi, or You and Me" style, where two gemstones are set side by side, designed to symbolize two souls becoming one. British jeweler Stephen Webster was enlisted to work alongside Machine Gun Kelly to craft such a unique bespoke piece.
The engagement ring, which is now part of Webster's "Thorn Embrace Collection", features both Megan's and MGK's birthstones and is an intricate and personal design with two interlocking thorn bands embedded together with hidden magnets.
Webster has gone on the record stating the ring was created in 18-carat white gold, with colorless diamond pave, and a pair of perfectly matched pear-shaped gems. The diamond is a D-color, and the emerald is an extraordinary untreated Colombian gem.
Supposedly, the ring was designed to hurt Megan with prickly thorns if she ever took it off, with Kelly claiming "love is pain." However, as we have clear images of the rings from all angles, and there doesn't appear to be any such painful thorns, we can probably debunk this as just an edgy claim.
What shape is Megan Fox's engagement ring?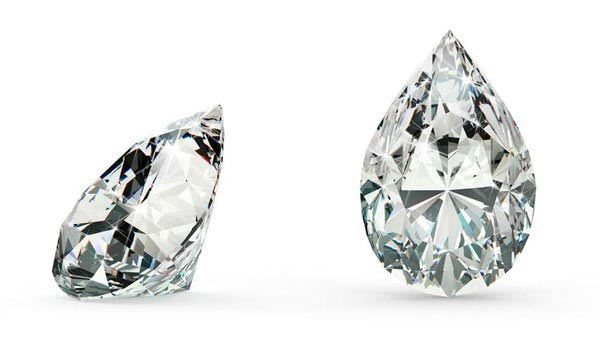 The center stone of Megan Fox's ring is a sleek pear cut diamond. The pear is the most brilliant of all fancy cuts, consisting of 58 facets, just like a brilliant round cut. It is the ultimate option for style without sacrificing sparkle. It suits a woman who is confident, and not afraid to stand out.
A traditional name for pear shaped diamonds was 'teardrop diamonds', due to their shape. This name has fallen out of favor somewhat, and most retailers and jewelers now refer to them as pear diamonds. However, this traditionally romantic symbolism probably appeals to the dramatic couple.
Women who choose or wear pear shaped diamonds are said to be strong individuals, due to pears being an uncommon shape
How many carats is Megan Fox's engagement ring?
Each gemstone on Megan Fox's engagement ring is an approximately three carat pear-cut. Machine Gun Kelly did an excellent job selecting a diamond and emerald that compliment each other so perfectly, and that together form an abstract heart!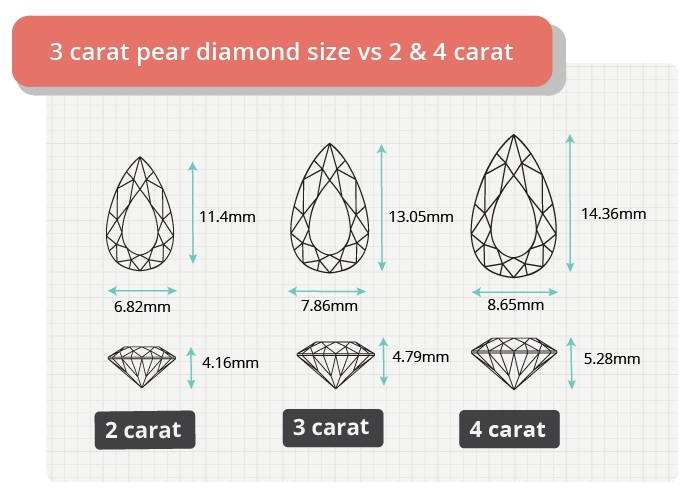 How much did Megan Fox's engagement ring cost? And what's it really worth?!
Megan Fox's engagement ring is valued at between $50,000 and $75,000. While we don't know the official price, we can definitely speculate as to what a similar ring might cost.
The vast majority of the cost of the ring would be comprised of the diamond and emerald, with the setting making up a much smaller part of the total cost.
A top quality 3 carat pear shaped diamond with exceptional cut quality, color, and clarity costs around $50,000.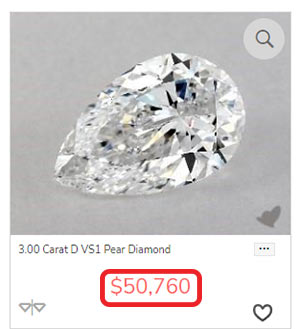 A top quality roughly 3 carat pear shaped emerald with exceptional cut quality, color, and clarity costs around $18,000.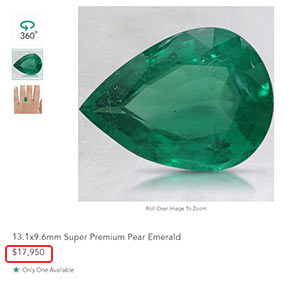 This gives us an approximate cost of $69,000
But MGK didn't necessarily need to spend that much to get some beautiful stones. By choosing lower clarity and color grades, the ring could be just as impressive for significantly less money: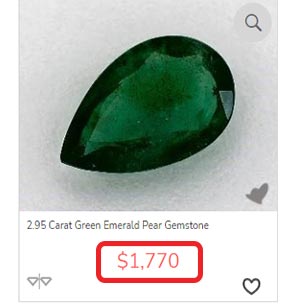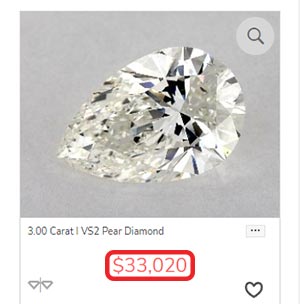 Megan Fox's Engagement Ring Copy
Due to its unique flair Megan Fox's engagement ring is a bit tricky to copy, but we've got you covered! Here are two great options to explore, if you're feeling a little foxy!
The first is a very close match – a yellow gold Toi et Moi setting with a pear-cut diamond and an emerald-cut emerald.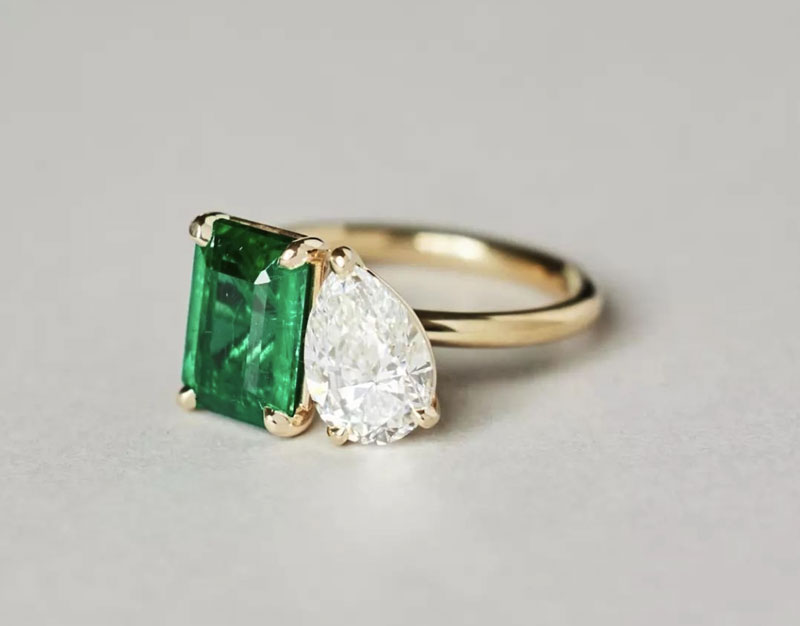 Click here to find out more information about this Toi et Moi ring from my recommended retailer Wove. They offer this as a ready made setting, but you can customise it and choose whatever combination of gems or diamonds you'd like to use.
Next up we have a more understated, all diamond twist on Megan Fox's engagement ring. This setting mimics the viny quality of her ring, but features one focal pear-cut diamond, instead of sharing the stage with a second stone.

Click here to learn more about this Sweeping Ivy Diamond Engagement Ring from my recommended retailer Brilliant Earth.