Miranda Kerr's engagement ring
A ring fit for an angel
Ringspo is reader-supported, which means we may receive a commission if you click a link to a retailer & subsequently make a purchase.
We feature links to several retailers to help readers find the one that is the best fit for them. Find out more about how Ringspo works here.
The first time we spotted supermodel Miranda Kerr's engagement ring was when she announced her engagement to Snapchat CEO Evan Spiegel on Instagram, on June 20th, 2016.
The highest paid CEO in America popped the question to the first Australian Victoria's Secret Angel on August 12th, 2016 in Paris, after a whirlwind six months of dating.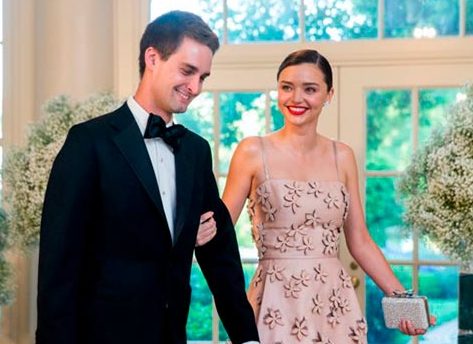 The two first met at a dinner for Louis Vuitton in LA in 2015. That very first night, Harper's Bazaar editor-in-chief- Glenda Bailey confided to Kerr, "I bet you two are going to get married."
In May 2017 the couple was wed in an intimate ceremony with only 40 guests, at Spiegel's LA home.
If you're looking for all the details about Miranda Kerr's engagement ring, you've come to the right place!
You'll find out:
What style Miranda Kerr's engagement ring is
What size the diamonds on Miranda Kerr's engagement ring are
How much Miranda Kerr's engagement ring is worth
Miranda Kerr's engagement ring pictures
Miranda Kerr took to social media to post the first ever photo of her engagement ring, on June 20th, 2016. The photo of course was topped by Bitmojis of the happy couple, a company recently bought by Snapchat.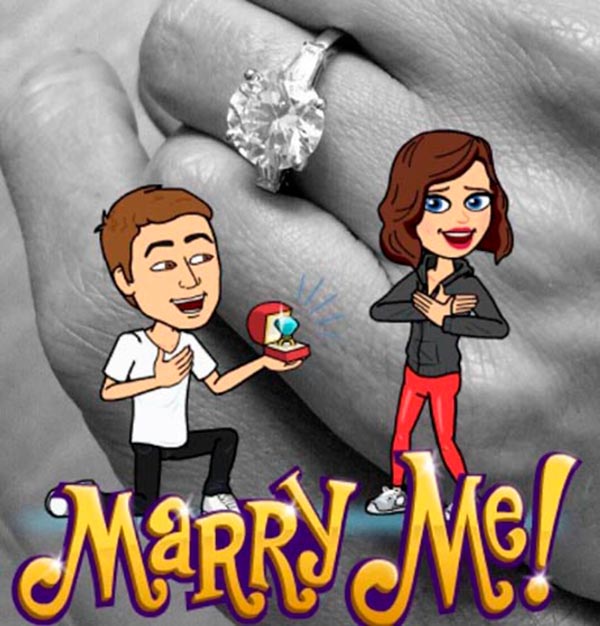 Although it's in black and white, the image is very clear, and we can make out the details of the ring; namely: a plain band, round center stone, and baguettes on the side.
Here's a picture of Miranda Kerr's engagement ring in color, snapped at a Moschino fashion show. What a timeless look!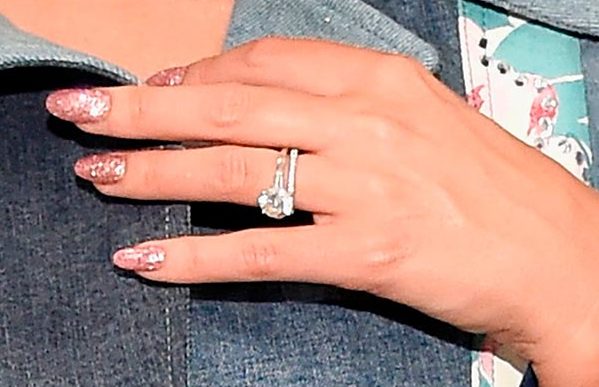 What style setting is Miranda Kerr's engagement ring?
Miranda's ring is a three stone setting featuring a tapered baguette side stone on either side. The setting itself is platinum, and has a plain, thin band.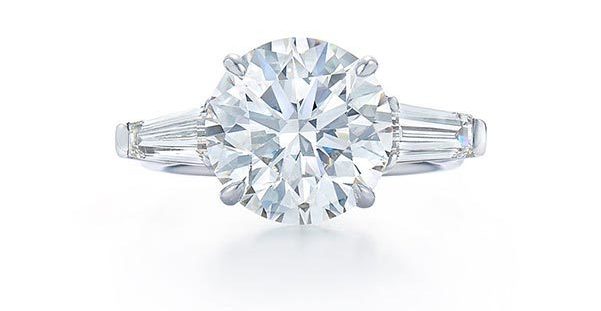 What's so special about this ring, is in fact how understated it is. In an age of 10 carat, multi-colored, blinged out celebrity engagement rings, the simplicity and class of Evan Spiegel's choice stands out.
Three stone engagements rings are innately elegant without being overtly flashy. This setting offers the most variety out of all engagement ring styles due to the huge number of shapes and combinations available. This means that you have the freedom to really create a personalized ring that is truly individual.
What shape is Miranda Kerr's engagement ring?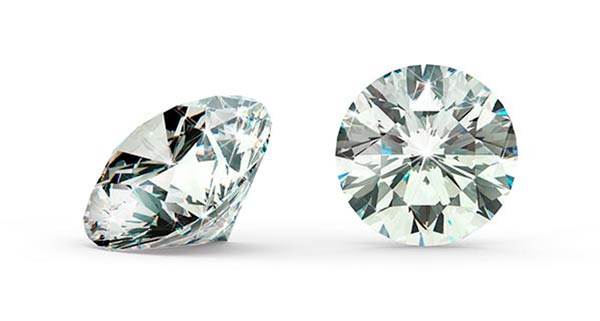 The center stone of Miranda's ring is a classic round brilliant. This shape is by far the most traditional way to go.
Engagement rings with round diamonds are still the most popular, and account for about 75% of all diamond engagement rings sold.
Round brilliant diamonds are the sparkliest stones out there, and that's just a fact. No other shape can compete with its fire, brilliance, and scintillation. A well cut round brilliant can look larger, appear to have better color, and hide flaws and imperfections that would stand out in other diamond cuts.
How many carats is Miranda Kerr's engagement ring?

Miranda Kerr's center stone is approximately 2.5 carats. The tapered baguette side stones featured on her ring have a combined total diamond weight of around 0.22. This gives us a grand total of 2.72 carats. It's classy, but definitely noticeable.
How much did Miranda Kerr's engagement ring cost? And what's it really worth?!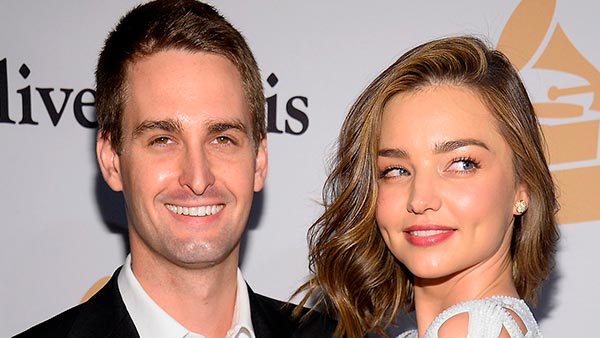 We may not know where the engagement ring was purchased, but we do know that billionaire Evan Spiegel paid approximately $55,000 for it. Now she needs the stud earrings to match.
Miranda Kerr's Engagement Ring Copy
Miranda Kerr's engagement ring is chic, understated, and fortunately, very easy to replicate yourself!
This ring is a near perfect match, with a slim 18k white gold band, and tapered baguettes on each side of a round brilliant diamond, just like Miranda's setting:

The best thing about this site is that if you click through, you can see what different carat weight look like in the setting.
I also wanted to share with you a bridal set with a wedding ring created specifically to pair with this setting:
'

The band has three baguette diamonds (two tapered, one not) to perfectly frame and complement the center stone. Take a closer look here.