Miley Cyrus's engagement ring
The ultimate guide to Miley's diamond ring
Ringspo is reader-supported, which means we may receive a commission if you click a link to a retailer & subsequently make a purchase.
We feature links to several retailers to help readers find the one that is the best fit for them. Find out more about how Ringspo works here.
The notoriously on-again-off-again couple is officially set to wed once more, and Miley Cyrus' engagement ring confirms it!
The Happy Hippie and Liam Hemsworth first met on the set of their movie The Last Song in 2009. They started dating covertly shortly after, but officially confirmed the new relationship by attending Elton John's AIDS Foundation Oscar Viewing Party together in March 2010.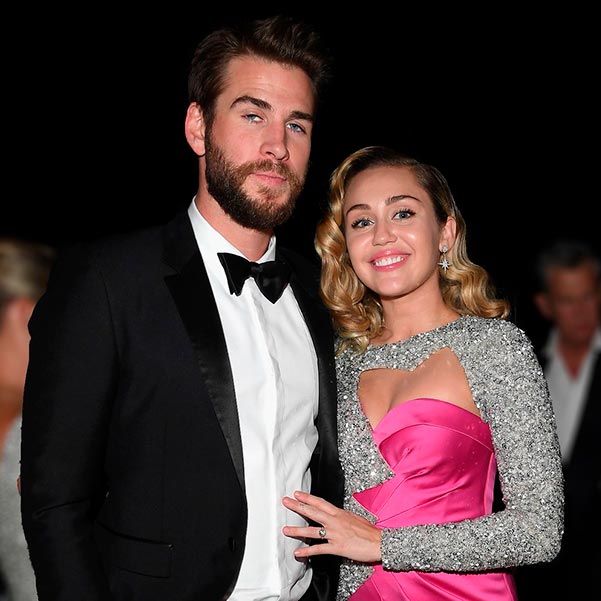 The two went through a series of ups and downs, initially getting engaged in 2013, before calling it off. Things were back on in 2016, and Miley announced on the Ellen DeGeneres Show that they were engaged again. Miley is even sporting the same engagement ring the second time around.
The popstar's ring is a vintage-inspired stunner, but she jokes that she doesn't wear it often as it really isn't "her aesthetic."
If you're looking for all of the details about Miley Cyrus' engagement ring, you've come to the right place!
You'll find out:
What style Miley Cyrus' engagement ring is
What size the diamond on Miley Cyrus' engagement ring is
How much Miley Cyrus' engagement ring is worth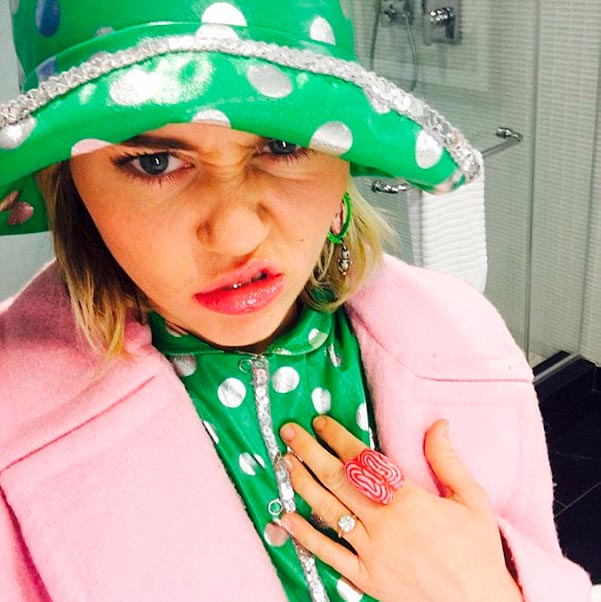 Miley posted the above picture on Instagram in 2016 and it immediately sparked a fire of rumors that the couple was back together. Shortly after, Miley was grilled by Ellen DeGeneres for all of the juicy details. The details we can make out from this image are:
It's a yellow gold solitaire setting.
The center stone is a massive cushion cut.
From this sneaky red carpet snap we get a much clearer view of Miley's engagement ring, including its side, which is definitely covered in pavé: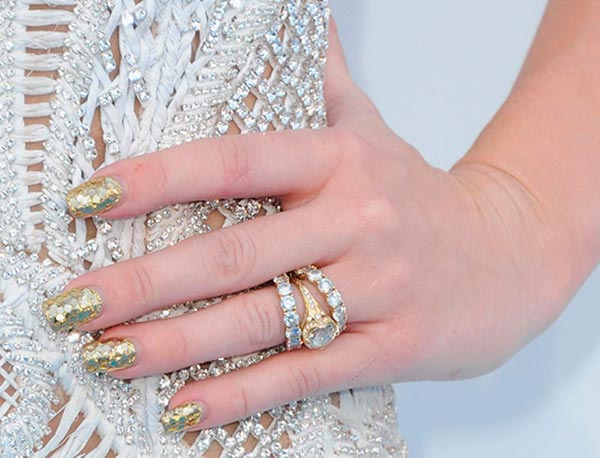 Tah-dah! Finally, we get a celebrity engagement ring that has an official photo release. From this crystal-clear image we can make out lots of vintage side detail, and four prongs.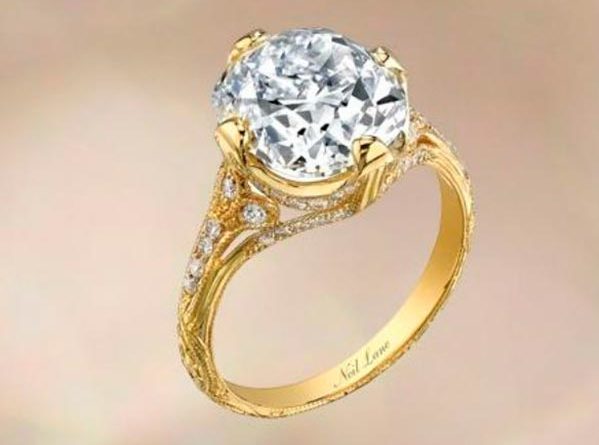 What style setting is Miley Cyrus' engagement ring?
Miley's engagement ring is a solitaire setting with an 18k gold pavé band.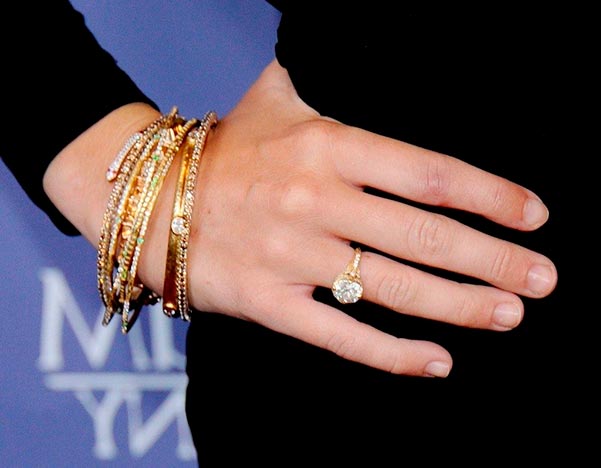 Solitaire settings are definitely the most popular and enduring style of ring out there. They are the "round brilliants" of the setting world.
Solitaire rings are popular for a couple of good reasons. The first is that it's classic, classy and elegant design, which lets the center stone take pride of place with no distractions.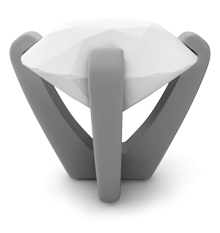 These versatile settings are also easy to clean and maintain. With a solitaire setting you just need to check the prongs very occasionally to ensure that they are holding the center stone safe. This laid-back, low maintenance definitely seems to go with Miley's carefree vibe.
What shape is Miley Cyrus' engagement ring diamond?
The center stone of Miley Cyrus' engagement ring is an actual 19th century vintage old mine cut diamond, which is most similar in shape to a modern cushion cut.
Liam loved the idea of the uniqueness of a vintage stone, stating "It was cool and chic and different, and with Miley, you want to find something really special."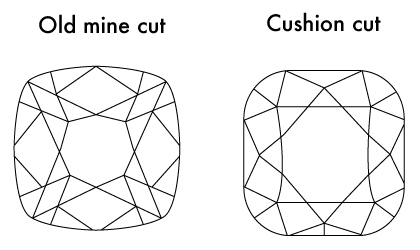 Old mine cut diamonds used to be the most common shape of diamond, untill the round brilliant came on the scene in the early 1900s. A large number of vintage rings will therefore have a cushion cut stone as their center stone: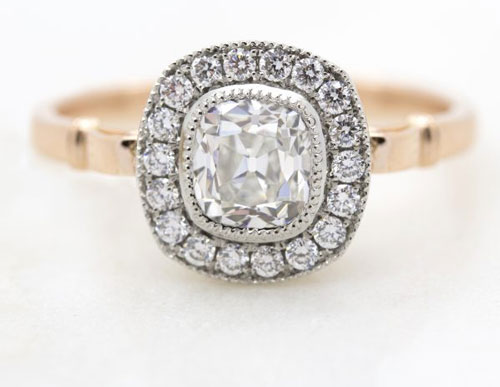 They fell out of favor when the round brilliant shape was created and people chose it for its superior sparkle.
If you can't find a genuine antique old mine cut diamond, then a cushion cut diamond is a great substitute.
As with many square-shaped diamonds, a big tick in the box for cushion cuts for engagement rings is their lower price than the much more common 'round brilliant' shape.
Cushion cut diamonds are in lower demand, but also result in less wastage of the original rough diamond in their manufacture, so a larger finished gem can be created from a piece of rough stone.
How many carats is Miley Cyrus' engagement ring?
Miley Cyrus' engagement ring is (in Hollywood terms) a relatively modest 3.5 carats.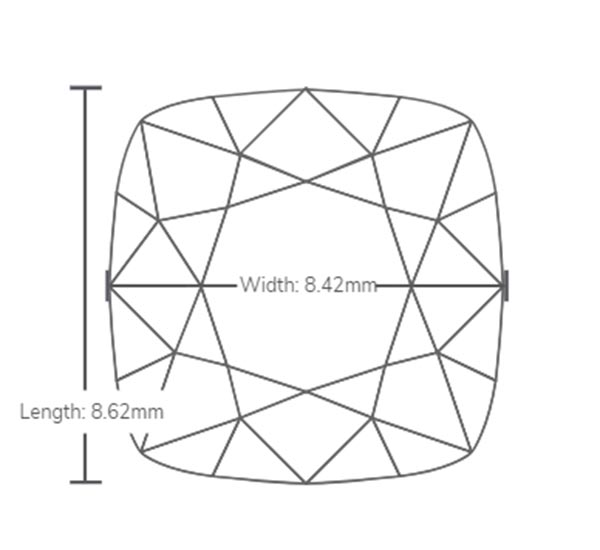 It was hand selected by Liam with the help of celebrity favorite, jeweler Neil Lane.
Where is Miley Cyrus' engagement ring from?
Liam Hemsworth worked closely with renowned vintage inspired jewelry designer Neil Lane to create a piece that has as much character as Miley Cyrus herself.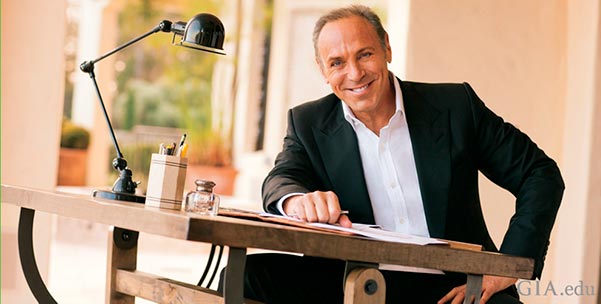 Neil Lane commented, "I'm not sure I could ever recreate the magic that went into that ring. I used this beautiful 19th-century stone, cushion cut. It took a while to come up with the perfect setting—I didn't want it to be contemporary-looking, it had to have a vintage vibe."
How much did Miley Cyrus' engagement ring cost? And what's it really worth?!
Liam spent a reported $250,000 on this unique ring for his proudly unique fiancé.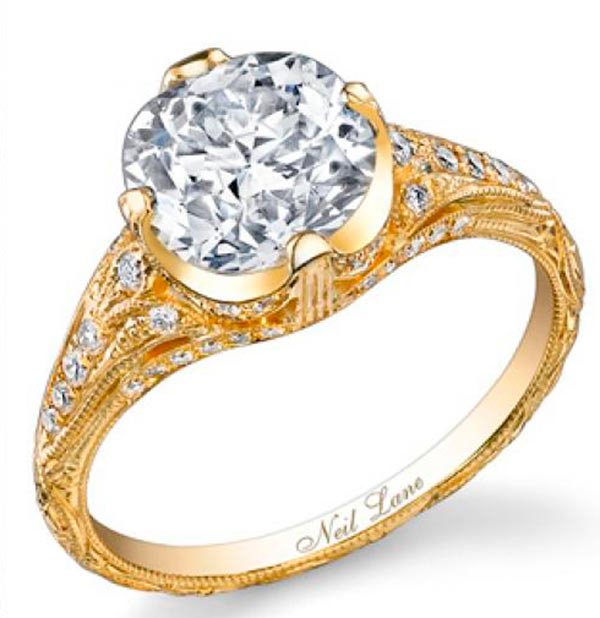 Miley Cyrus' Engagement Ring Copy
Don't worry you too can snag a vintage inspired ring just like Miley's, but at a fraction of the price. Here are a few options to consider when looking to capture that old Hollywood style romance.
The first up mimics the pavé sides of Miley's ring and features vintage detailing. The setting is a stunning 14k yellow gold, and makes use of white gold prongs to hold the center stone, so as not to reflect a tinge of yellow. Click here to learn more about this Cushion Cut Vintage Engagement Ring in 14k Yellow Gold from my recommended retailer James Allen.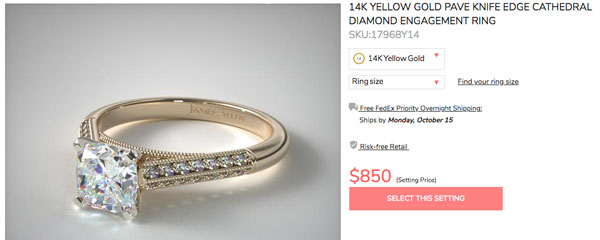 Next up we have an option for those wanting romantic vintage style without the added bling of a pavé band. This is a more understated, timeless option in 18k yellow gold. Click here to learn more information about this elegant Hand-Engraved Solitaire Engagement Ring from my recommended retailer Blue Nile.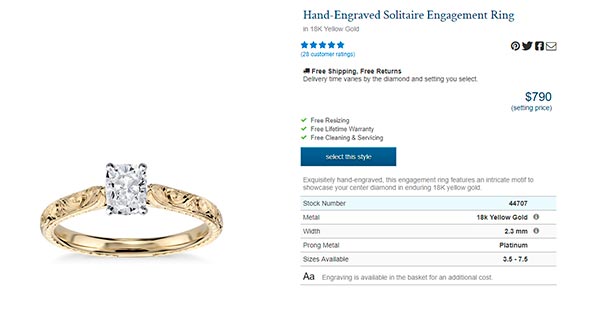 For our third option I present this stunning vintage inspired, 18k yellow gold halo setting.
If you want to rock Miley's style but up the glam factor, this ring has the added sparkle of a halo, and beaded detailing along the sides of the setting. Click here to learn more about this Beaded Cushion 4 Prong Halo Diamond Engagement Ring from my recommended retailer Whiteflash.