Meghan Trainor's engagement ring
The ultimate guide to Meghan's diamond ring
Ringspo is reader-supported, which means we may receive a commission if you click a link to a retailer & subsequently make a purchase.
We feature links to several retailers to help readers find the one that is the best fit for them. Find out more about how Ringspo works here.
Meghan Trainor's engagement ring made its debut when the "hopeless romantic" songstress posted a video on her Instagram of Spy Kids star Daryl Sabara dropping down on one knee, and popping that big question.
The goal-worthy couple began their relationship in July of 2016, after being introduced by mutual friend Chloé Grace Moretz.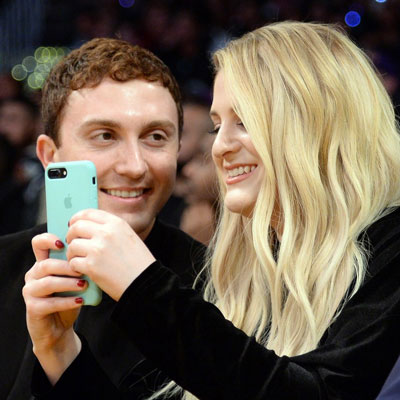 They dated for a year and a half before getting engaged, during which time Meghan wrote a touching song called "Marry Me", and played it on ukulele for her soon-to-be fiancé.
For his proposal, Sabara created a magical winter wonderland with a tunnel of Christmas lights, and orchestrated a giant surprise ambush of family and friends to be part of the big moment. A big moment that he said took him months to plan!
If you are looking for all the juicy details about Meghan Trainor's ring, you've come to the right place!
You'll find out:
What style Meghan Trainor's engagement ring is
What size the diamond on Meghan Trainor's engagement ring is
How much Meghan Trainor's engagement ring is worth
Meghan Trainor's engagement ring pictures
Meghan Trainor debuted her ring in an adorable proposal video on her Instagram on December 22, 2017, which was also her birthday!
While the video concentrated on the magical moment, rather than the ring, it was enough to see that the setting appears to be white gold or platinum, and the ring definitely has a halo.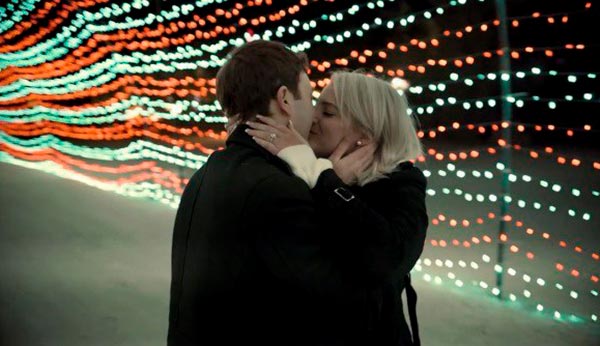 We get our best view of Meghan's engagement ring from this close-up snapped while she was appearing on a talk show. Now we can tell that the center stone is a lovely cushion cut, and the ring's setting features a pavé band. Not bad spy work.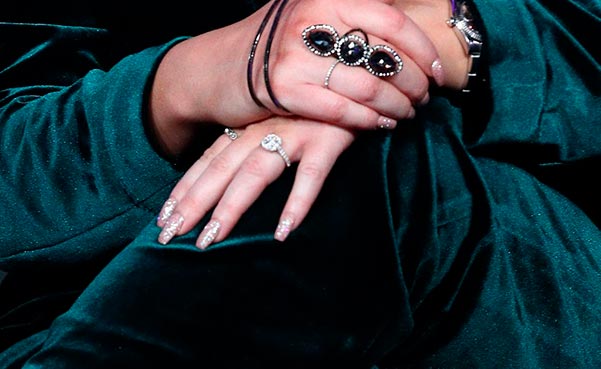 What style setting is Meghan Trainor's engagement ring?
Meghan's ring is a cushion cut halo setting with a dazzling platinum pavé band.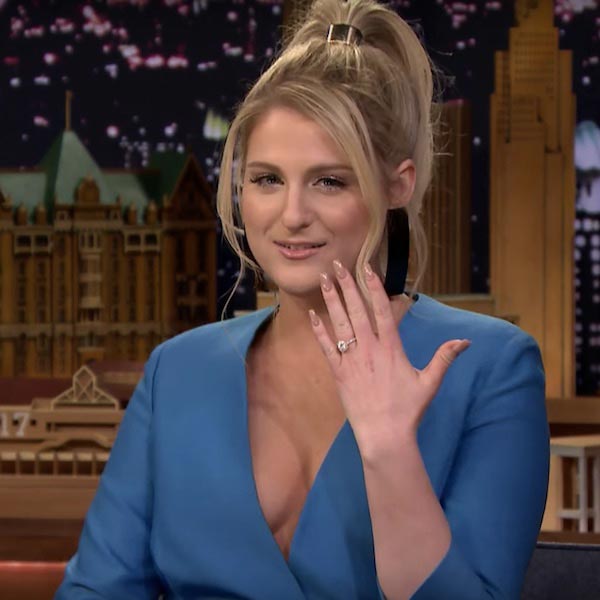 Halo settings continue to be among the most popular styles at the moment, with a range of different looks available, each of which excel at catching the light making them really shimmer and shine.
Going with a halo is a great way to make a center stone look larger than it really is without the costs involved in splurging on a larger stone.
What shape is Meghan Trainor's engagement ring?
The center stone of Meghan Trainor's ring is a classic cushion cut diamond.
This vintage-inspired shape is making a serious comeback recently, as more people realize the incredible combo of elegance, brilliant sparkle, and exceptional value that a cushion cut has to offer.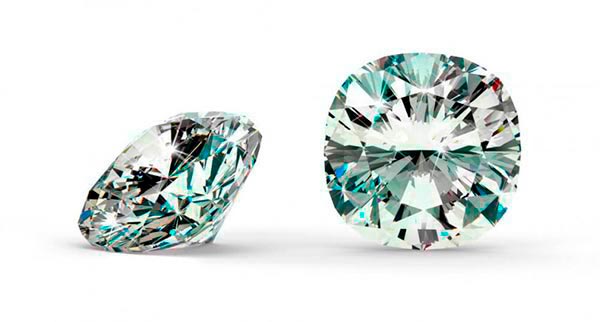 Cushion cut diamonds are in lower demand than their much more common 'round brilliant', or even princess shape counterparts, resulting in lower prices. They also require a lot less wastage of the original rough diamond in their manufacture, so a larger finished gem can be created from a piece of rough stone,
A cushion cut is a shape that definitely evokes old time glamour, and romantic Hollywood starlets. It is the perfect selection for a singer "dreaming in silver and gold."
How many carats is Meghan Trainor's engagement ring?
For a star who likes to place the emphasis on being larger than life, her center stone weighs in at a modest 2.5 carats.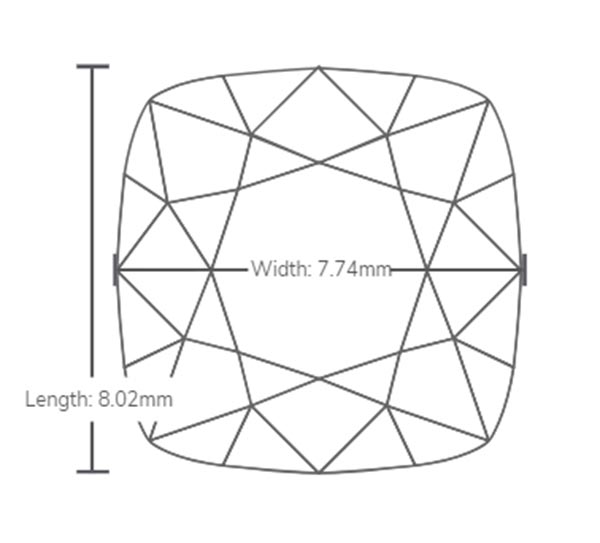 We can estimate the total carat weight of Meghan's ring based on the minimum carat total weight of a very similar halo pavé setting, which measures in at 0.34.
This gives us 2.84 as Meghan Trainor's engagement ring's approximate total carat weight.
How much did Meghan Trainor's engagement ring cost? And what's it really worth?!
Remember that "very similar setting" we just talked about? Well, we can use its price, along with the price of a 2.50 cushion cut diamond with good specifications, to calculate roughly how much Spy Kid Sabara spent to purchase Meghan Trainor's engagement ring.
In this case the cushion cut center stone is an F color and VVS2 quality and goes for $35, 140. A similar platinum setting costs $1,850, giving us a total ring cost of $36,990.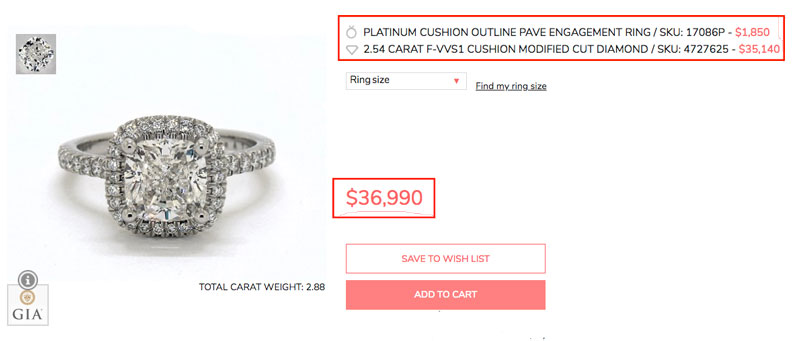 Meghan Trainor's Engagement Ring Copy
If you're all about that Meghan Trainor style, don't be afraid, the timeless simplicity of her engagement ring is actually very easy to duplicate. Here are three different options for your own fairytale proposal.
First up is the closet match, with a pavé band in platinum just like Meghan's, and a glittering halo as well. The setting has a total carat weight of .34, and can also be set with a round brilliant. Click here to learn more about this Platinum Cushion Outline Pave Engagement Ring from my recommended retailer James Allen.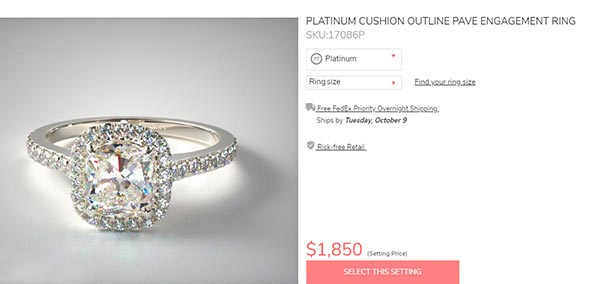 If you want to ramp up the glam factor, as well as the sparkle, then this double halo option is the ring for you. In this setting the center stone is brilliantly showcased by two pavé set halos in 18k white gold. The minimum total carat weight of this dazzling ring is 0.57. Click here to find out more about this Duet Halo Diamond Engagement Ring from my recommended retailer Blue Nile.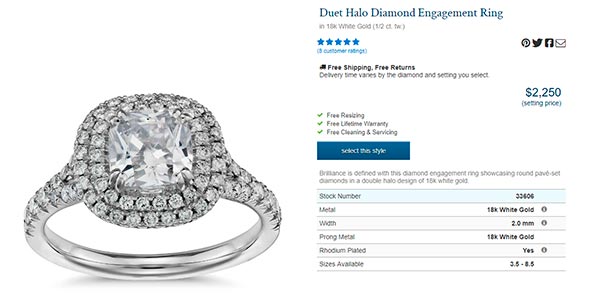 Last but definitely not least we have an option for those wanting the classic style of Meghan's ring without the added bling of a halo. This is a more understated option in platinum, with a total carat weight of 0.15 for its pavé band. Click here to learn more about this Riviera Pavé Diamond Engagement Ring from my recommended retailer Blue Nile.