Margot Robbie's engagement ring
The ultimate guide to Margot's diamond ring
Ringspo is reader-supported, which means we may receive a commission if you click a link to a retailer & subsequently make a purchase.
We feature links to several retailers to help readers find the one that is the best fit for them. Find out more about how Ringspo works here.
We first caught a glimpse of recent Oscar nominee and Aussie stunner Margot Robbie's engagement ring when she announced both her engagement and subsequent top-secret wedding with an Instagram on December 19th, 2016.
The self-proclaimed "ultimate single girl" fell head-over-heels for "the best-looking guy in London", Tom Ackerley during shooting for her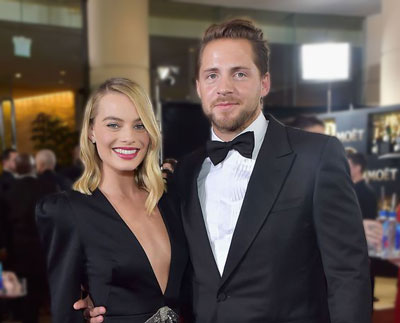 2013 film suite Francaise. Robbie formed such a strong bond with the production's London-based cast and crew (including Tom!) that they all decided to move in together in Clapham, South London. Five assistant directors, Robbie's friend-turned-assistant, and the actress herself all squeezed into a three-bedroom house.
A year into the house-share she struck up a magnetic romance with housemate and assistant director Tom Ackerley, and the two have been inseparable ever since. If you are looking for all the details about Margot Robbie's engagement ring, you've come to the right place!
You'll find out:
What style Margot Robbie's engagement ring is
What size the diamonds on Margot Robbie's engagement ring are
How much Margot Robbie's engagement ring is worth
Margot Robbie engagement ring pictures
Margot Robbie first flashed her engagement ring in a rather cheeky photo posted on her Instagram, along with a wedding band, confirming months of speculation that the two had tied the knot. While this wasn't the best quality image of the engagement ring, it broadcast one important detail; Margot Robbie's center stone is the uncommon, but extremely elegant pear cut.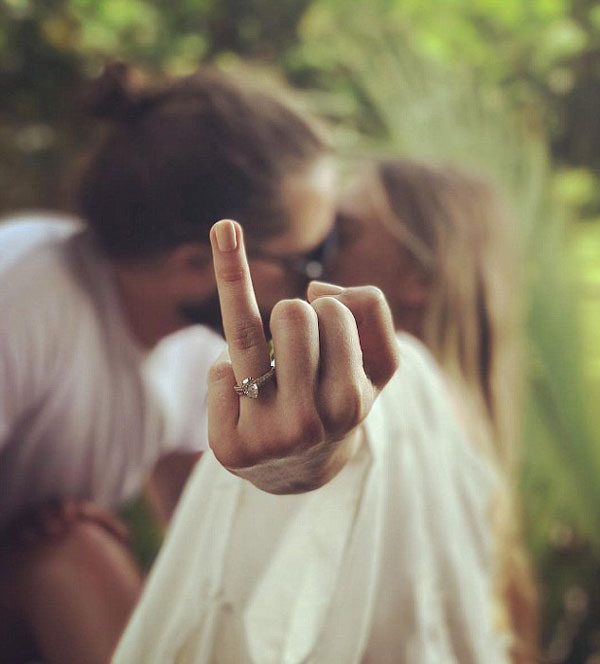 But what about the fine details? From a choice photo snapped at Margot Robbie's first post-wedding appearance at the Marie Claire Image Maker Awards, we can glean all of the important features.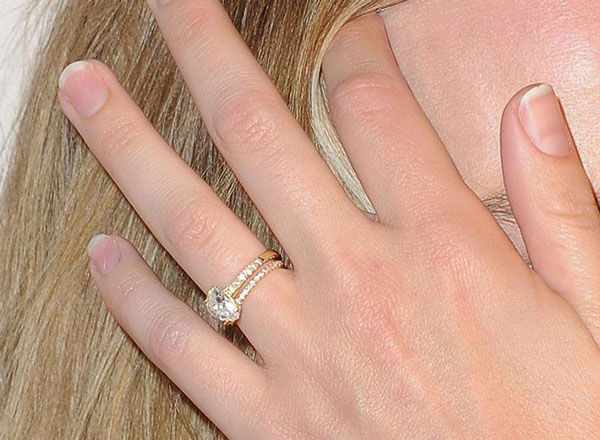 What style setting is Margot Robbie's engagement ring?
Margot's ring is a solitaire setting with a glittering yellow gold pavé band. As the ring has slid to the side in the close-up image about, we can see that Margot Robbie's engagement ring features a half pavé, with the melee diamonds running down the sides, but not extending all the way around the ring.
Interestingly the prongs of the ring that serve to hold and secure the center stone are yellow gold as well. This is an uncommon choice as white gold is typically used for prongs of yellow gold rings, to ensure that the diamond doesn't appear more yellow than it actually is due to the yellow gold reflecting through the stone.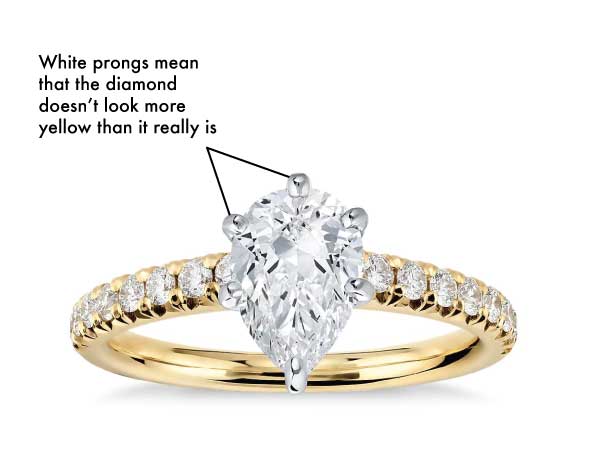 The chief reason for selecting a pavé setting is the huge bump in sparkle and beauty you get by adding pavé to the ring. Each of the melee diamonds set into the band catch the light at different angles, making the band and the overall ring shimmer brilliantly, especially as the wearer moves. Pavé settings with unusually, or 'fancy' shaped center stones have been growing in popularity in recent years, so Margot Robbie's ring is right on trend!
What shape is Margot Robbie's engagement ring?
The center stone of Margot's ring is an elegant pear cut diamond. This shape is an excellent choice for those looking for an alternative to the traditional round brilliant cut, while not sacrificing sparkle. Pear cut diamonds are actually a combination of the sparkle-fest round brilliant at one end, and the sleek marquise at the other!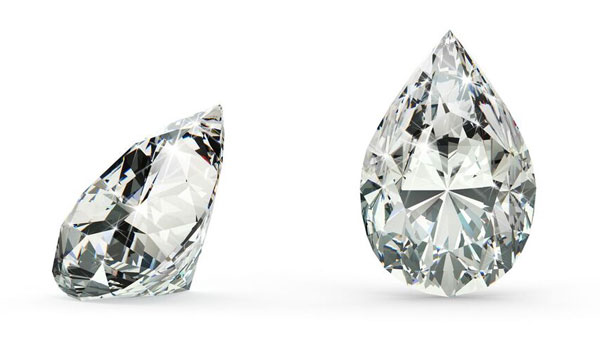 Pear cut engagement rings are quite rarely seen, and choosing this shape will definitely make you stand out from the crowd.
A big advantage of choosing a cut other than a standard round brilliant, is the savings that can be made due to lower levels of demand, and because restrictions on what makes a 'good shape' are not so stringent. Pear cut diamonds can also appear larger than other cuts because at the same carat weight they will have a greater 'spread'. This means that more of the diamond's weight is distributed in its width and height, rather than its depth.
Pear cut diamonds are very flattering for those with petite hands or shorter fingers, as the shape gives an elongating effect when worn with the point facing towards the tip of the finger. Interestingly, Margot Robbie wears her ring in an uncommon way, with the point of her pear cut diamond facing down.
How many carats is Margot Robbie's engagement ring?
While no figures have been determined about the total carat weight of Margot Robbie's engagement ring including the pavé, we do know that her center stone is approximately 1.5 carats.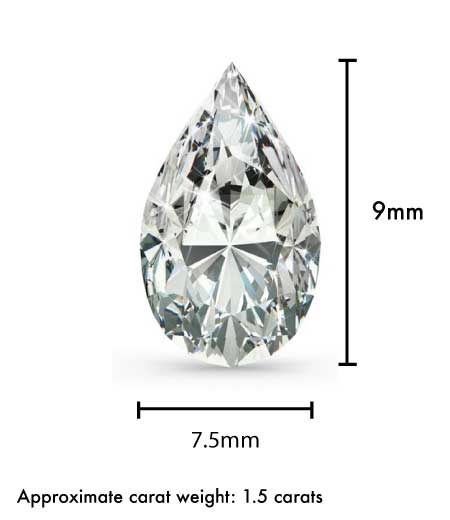 TheWe can estimate the total carat weight of Margot's ring based on the minimum carat total weight of a very similar pavé setting, which measures in at 0.25. This gives us 1.75 as Margot Robbie's engagement ring's approximate total carat weight.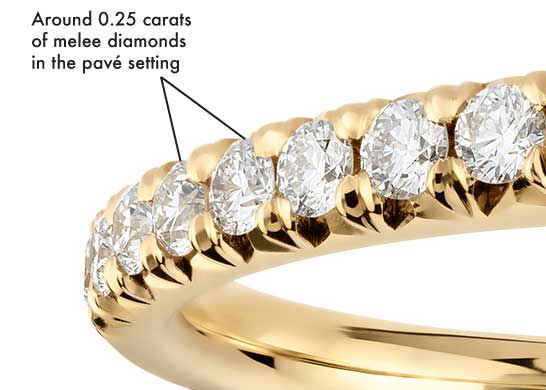 How much did Margot Robbie's engagement ring cost? And what's it really worth?!
As we do not know where the ring was purchased, and neither Margot Robbie nor Tom Ackerley has spoken about its value, it is impossible to know its exact cost. However, if we are looking to price a similar ring, then we can get a rough estimate of the value of the ring by looking at typical costs for diamonds of similar quality.
Starting with the setting, an 18K yellow gold pave setting for a pear-shaped diamond is around $1,500: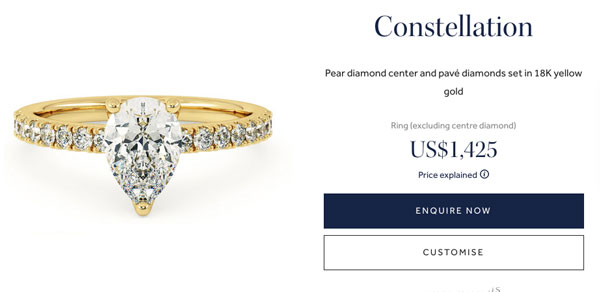 Emerald cut diamond engagement rings make a slightly unusual (just like K-Bell herself),
For most engagement rings, the major cost is the center stone. To understand how much this could cost, we'll look at two different options to give us a price range:
top quality diamonds, with the highest grades for color and clarity
'regular' quality diamonds, which have been graded as lower quality, but which will actually look identical to most people
Margot Robbie's ring cost with top quality diamonds
As the pear cut is a less common choice, there are definitely savings to be made in comparison to a round brilliant. A 1.5 carat pear cut diamond with the top color grade (D) and top clarity grade (Internally flawless) costs around $17,000.
For comparison a round brilliant with the same stats can be had for approximately $25,000.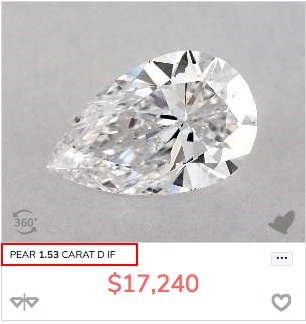 The total cost for the combined setting and center stone in Margot Robbie's engagement ring could be around $18,500.
Margot Robbie's ring with 'regular' quality diamonds
Choosing the highest grades for color and quality isn't strictly necessary to create a stunning diamond ring. In fact, reducing the color and clarity by just a few grades means that a diamond will be virtually indistinguishable to the naked eye, but will cost a whole lot less.
If the color of the center stone is reduced to G and the clarity to VS2, the cost would be roughly $11,900: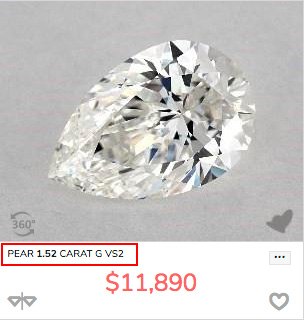 This would bring the price of Margot Robbie's engagement ring down to approximately $13,400, a difference of a little over $5,000.
So all things said and done, the total value of Margot Robbie's engagement ring is somewhere between $14,500 to $18,500.
Margo Robbie's Engagement Ring Copy
The classic style of Margo Robbie's engagement ring can easily be yours, and I've got two options to consider.
The first is a very close match – an 18K yellow gold half-pavé setting with yellow gold prongs and 16 melee diamonds with a combined carat weight of 0.24 carats: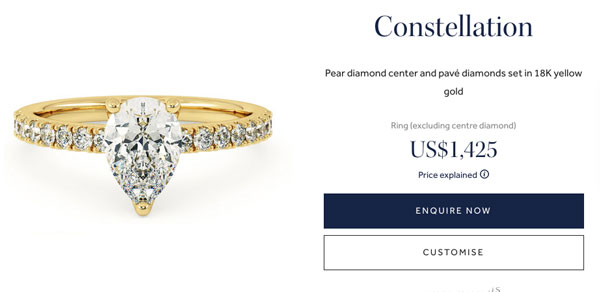 Click here to find out more information about this Constellation engagement ring available at my recommended retailer Taylor & Hart.
The second option is again 18K yellow gold setting, with 18 melee diamond set into the half-pavé setting. However, unlike the ring above, this option has white-colored platinum prongs, which allow the diamond to shine as brightly and whitely as possible.

Click here to find out more about this French Pavé engagement ring available at my recommended retailer Blue Nile.