Jennifer Lopez's engagement ring
The ultimate guide to J.Lo's diamond ring
Ringspo is reader-supported, which means we may receive a commission if you click a link to a retailer & subsequently make a purchase.
We feature links to several retailers to help readers find the one that is the best fit for them. Find out more about how Ringspo works here.
It's happened! J.Lo and A-Rod are N-gaged!
After officially celebrating their two-year anniversary on Feb. 4, the former Yankees slugger popped the question at Bakers Bay, Bahamas (also where Justin Bieber and Hailey Baldwin got engaged, btw).
While their engagement announcements may have been simple, both had recently posted heartfelt messages on their anniversary: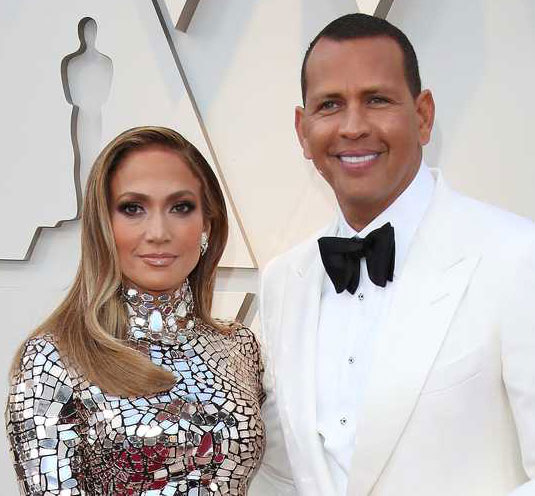 From A-Rod:
A soulmate isn't someone who completes you. No, a soulmate is someone who inspires you to complete yourself. A soulmate is someone who loves you with so much conviction, and so much heart, that it is nearly impossible to doubt just how capable you are of becoming exactly who you have always wanted to be
From J-Lo:
Two years of laughter, two years of fun, two years of adventures, of excitement, of growing and learning, of true friendship, and so much love!!" she wrote. "You make my world a more beautiful safe and stable place… in the midst of our ever-changing, ever-moving life… you make me feel like a teenager starting out all over again… Every time I think I have you pegged, you surprise me in the most wonderful ways reminding me how blessed I am to have found you now in this moment at this time… our time… Te Amo Macho…
Read on to find out:
What style Jennifer Lopez's engagement ring is
What size the diamond on J.Lo's engagement ring is
How much J.Lo's engagement ring is worth
Jennifer Lopez's engagement ring pictures
Both Jennifer Lopez and Alex Rodriguez posted the same image on their respective Instagram accounts to announce the engagement on March 9th:
What style setting is J.Lo's engagement ring?
J.Lo's engagement ring is a classic and timeless solitaire setting, with a single small prong at each corner to hold the diamond in place. While not her actual ring, it's likely that her ring looks a little something like this: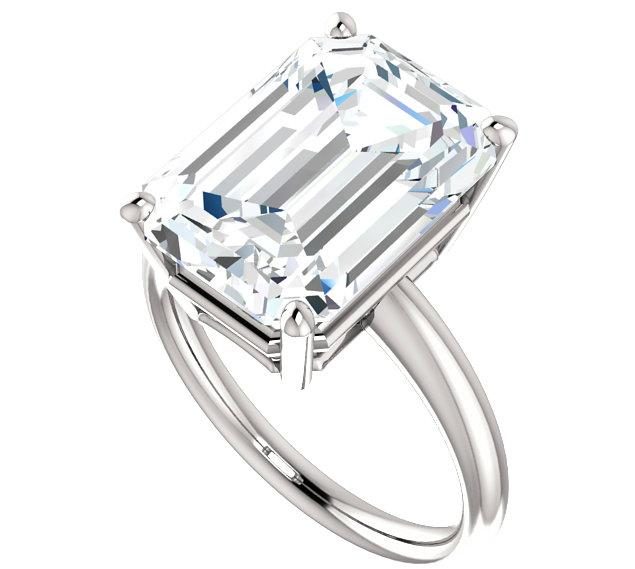 A solitaire setting is a fantastic choice for such a significant center stone, as it lets the big rock do all the talking it needs to on its own!
What shape is J.Lo's engagement ring diamond?
The center stone of J.Lo's ring is a stylish emerald cut diamond.

Emerald cut diamond engagement rings make a slightly unusual, but very elegant and classy alternative. With a look that complements vintage-style ring settings, the emerald cut diamond is perfect for someone who values old-school glamour, rather than flashy bling.
How many carats is Jennifer Lopez's engagement ring?
Because of the variety of shapes that are possible with an emerald cut diamond, it can be difficult to estimate an exact carat weight.
However, looking at the image that we have, the dimensions of the ring appears to be about 18mm x 14mm: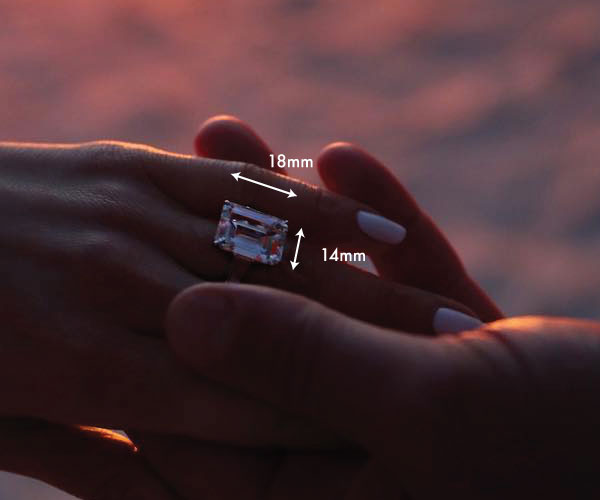 This would put the carat weight at approximately 15 carats.
How much did J.Lo's engagement ring cost? And what's it really worth?!
While J.Lo memorably sang "Love Don't Cost a Thing", the same definitely can't be said for her massive new rock.
Significantly sized emerald diamonds such as this are rare, especially high quality stones.
As a point of comparison, this 13 carat emerald diamond with excellent color (E) and clarity (Flawless) retails for $817,314: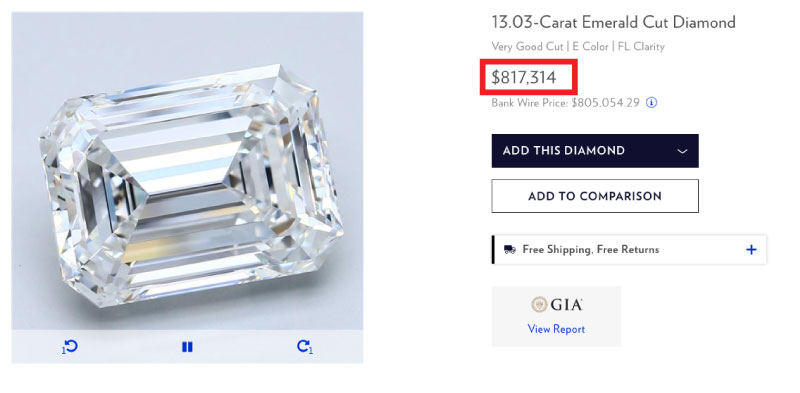 While it's impossible to see from the picture, we'd expect A-Rod to have splashed out on a diamond with excellent cut, color and clarity. It's likely that the center stone along was at least $1 million.
How does this ring compare to J.Lo's other engagement rings?
Jennifer Lopez is undoubtedly a catch. So much so, that at least five men have proposed to her!
Interestingly, while the ring that she has received from A.Rod is the largest by carat weight, it's not the most expensive that she has received.
The ring Ben Affleck's presented to J. Lo was a $2.5 million, 6.1-carat pink diamond sparkler from Harry Winston. Despite it being lighter in carat weight, it's likely that this ring was more expensive because it used a rarer pink diamond.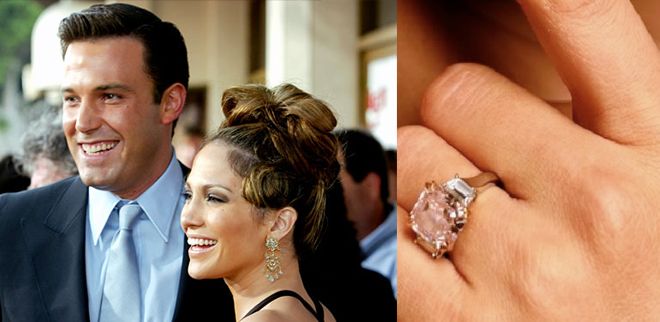 Top spot for the most expensive ring that J. Lo has received is the 8.5 carat cushion cut diamond from Marc Anthony, which was estimated to cost $4 million.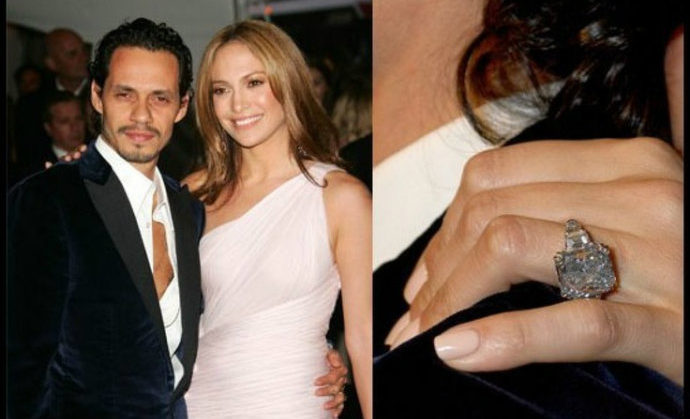 J.Lo's new emerald cut diamond ring is undoubtedly stunning though, and we wish the newly engaged couple all of the best at this happy time.