Katy Perry's engagement ring
The ultimate guide to Katy's floral engagement ring
Ringspo is reader-supported, which means we may receive a commission if you click a link to a retailer & subsequently make a purchase.
We feature links to several retailers to help readers find the one that is the best fit for them. Find out more about how Ringspo works here.
The public first got a glimpse of pop- princess Katy Perry's engagement ring when she posted a sweet shot featuring it with fiancé Orlando Bloom on Instagram.
The couple announced their goals-worthy engagement on Valentine's Day, February 14, 2019.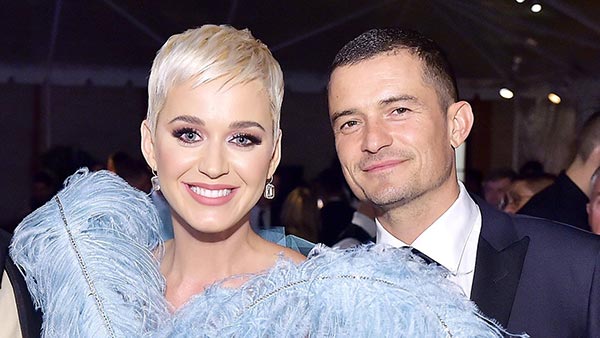 Of course they first sparked romance rumors back in January 2016, when they were spotted getting their flirt on at a Golden Globes after-party. By February they had gushed to PEOPLE magazine that they were in fact an item. After a brief break in 2017, Katy and Orlando reunited a year later, and have been going strong ever since.
If you are looking for all the details about Katy Perry's engagement ring, you've come to the right place!
You'll find out:
What style Katy Perry's engagement ring is
What size the stones on Katy Perry's engagement ring are
How much Katy Perry's engagement ring is worth
Katy Perry's engagement ring pictures
The 'Teenage Dream' starlet posted this love-filled photo with Bloom on Instagram, showcasing a purplish-red center stone, set in a yellow gold, floral inspired halo setting.
Thanks for the crystal-clear details, Katy!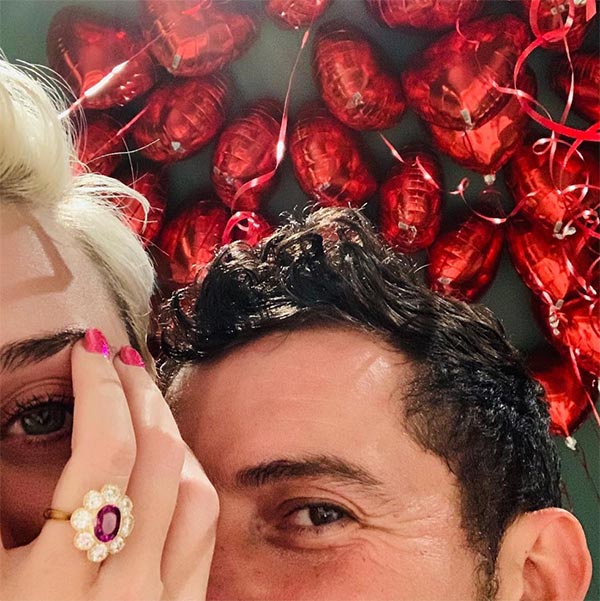 Here we have a candid snap of Katy Perry's engagement ring in darker lighting. Sure the photo isn't as pretty, but seeing the center stone in different lighting conditions is crucial for color matching.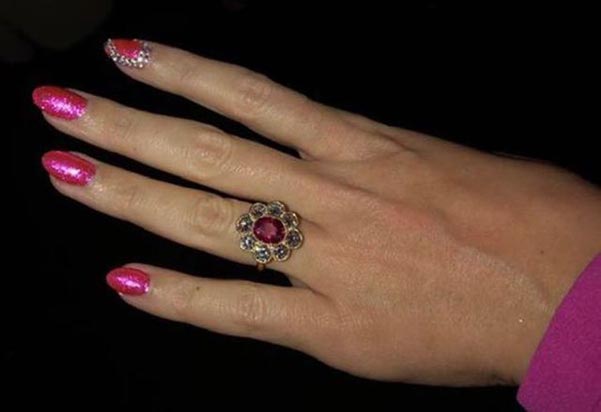 What style setting is Katy Perry's engagement ring?
Katy Perry's engagement ring is a vivid purplish-red oval cut ruby, arranged with eight white diamonds surrounding it in a yellow gold halo resembling a flower.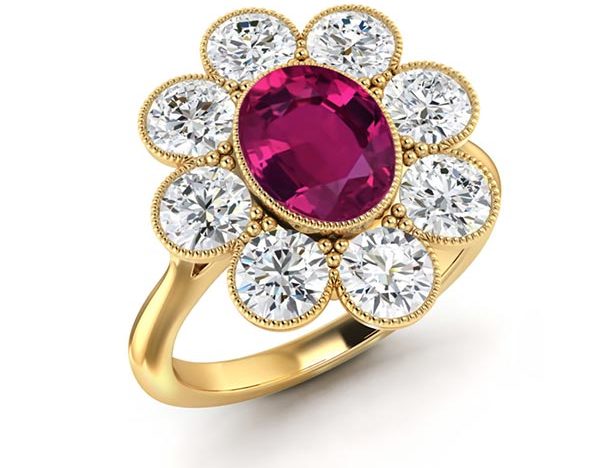 Ruby engagement rings can be a great alternative to diamonds and are growing in popularity as people look for a more unique ring. As well as being a beautiful stone, they are also durable enough to stand up to the day to day use and abuse that engagement rings find themselves subject to.
Rubies are actually the same stone as sapphires – a mineral called 'corundum' which is found in all over the world. All red corundum is classified as ruby while the other colors (blue yellow, purple, green, orange and more) are called sapphires.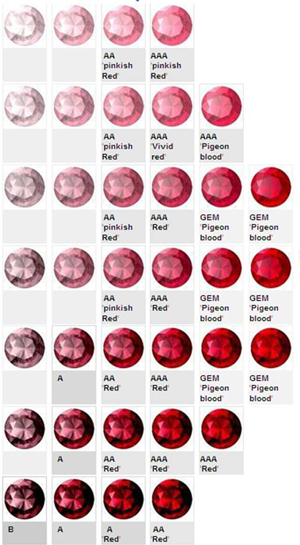 As you can see, Katy's ruby isn't a traditional bright red color, but definitely skews towards the violet hues. Towards the top left of the chart you can see some very light rubies, and these lighter stones are sometimes called 'pink sapphires' as the line between the a light ruby and a pink sapphire is unclear. In fact there's an old jeweller's joke: "Whether it's a ruby or a pink sapphire depends on whether you're the buyer or the seller."
What shape is Katy Perry's engagement ring center stone?
Katy Perry's center stone is an oval-cut ruby.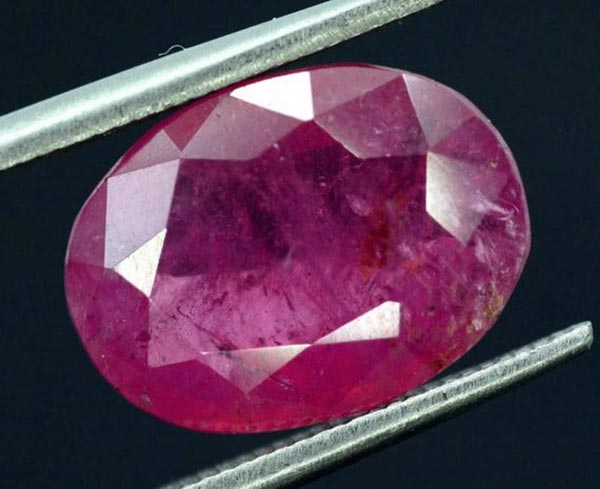 Oval cuts present with an elliptical shape that can be described as a hybrid between a round and marquise shape. Its elongated shape even creates the illusion of a larger stone, and makes the finger look longer and slimmer as well.
How many carats is Katy Perry's engagement ring?
Katy Perry's ruby is widely reported to be between 2-2.5 carats, and the eight diamonds in the halo surrounding it have a total carat weight of 2.5 carats.
How much did Katy Perry's engagement ring cost? And what's it really worth?!
There have been reports in the media that Katy Perry's engagement ring cost Orlando Bloom approximately $5 million.
However, these were originally based on the fact that a jeweler thought that the center stone was an exceedingly rare red diamond.
High quality rubies can go for up to $225,000 per carat, which would mean that the center stone of Katy's ring could have cost up to $500,000. With the significant sides stones and a custom setting, our estimate is that ring cost $550,000 in total.
Don't panic though! Although perhaps not an equal for the premium quality of Katy's ruby, there are definitely more affordable oval cut rubies to be had online.

I personally recommend browsing around on my recommended retailer Gemvara.
Katy Perry's Engagement Ring Copy
If you're looking to imitate the always outrageous Katy Perry's unique style, don't worry, you can do it for much less. Here are three stellar options that will have you shining like a 'firework', without having to raid a pirate's treasure.
First up is a close replica, handily available set with either a natural ruby, or more affordable lab created ruby. The setting is available in 14k, or 18k yellow gold, and features a total diamond halo carat weight of .40. Click here to learn more about this Penelope Ring from my recommended retailer Gemvara.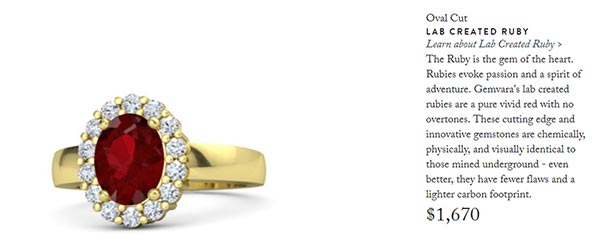 Next is this luxurious take on the spirit of Katy Perry's engagement ring. Truly stunning, a round ruby is set in either 14k or 18k yellow gold, surrounded by a floral, art deco inspired halo of round brilliants, and paired with a gorgeous vintage style, split-shank band. Click here for more information about this Cordelia Ring, also from