Brilliant Earth Resizing
---
Getting an engagement ring size spot on can be a tricky business.
In an ideal world, the size would be perfect, but it's very common to need to have the size slightly tweaked to fit the wearer perfectly.
The good news is that Brilliant Earth offer their customers a free resize within 60 days for most rings. If you want to read their full resizing policy, click here. Or. we'll take you through the ins and outs of the Brilliant Earth resizing policy below.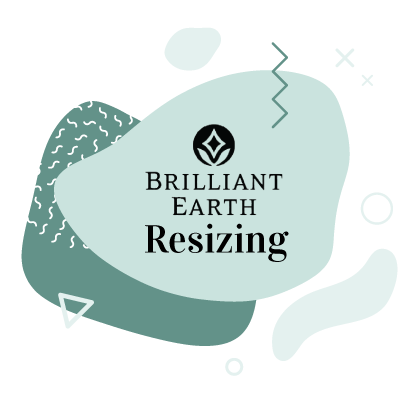 On this page you'll learn everything you need to know about:
Brilliant Earth resize policy
If the ring doesn't fit, the Brilliant Earth resize policy gives you 1 free resize within 60 days of purchasing the ring.
The requested resize has to be within their recommended sizing range, which is typically 2 sizes bigger or smaller. If it's a bigger variance than that, there tends to be too much stress on the ring, which can result in damage.
Brilliant Earth will pay for the shipping and insurance via FedEx both ways, which is extremely generous and much better than a lot of other retailers. You can read more about Brilliant Earth shipping here.
There are a few things to note about the Brilliant Earth resizing policy:
Due to the design, eternity rings cannot be resized – this means that if you're considering an eternity ring, you need to be more certain about the size before clicking the 'buy' button. Full eternity rings are rings that have diamonds or a design all the way around. We've included an example for you below: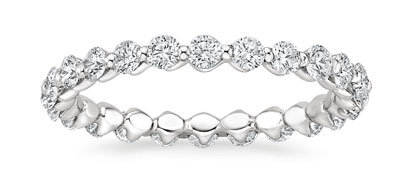 Custom, modified and engraved rings will incur a resize fee.
Certain Extraordinary Collection rings are 'final sale' and cannot be resized because of the design – this is clearly indicated at time of purchase.
If you resize your ring when you purchase it, any resizes you request after that will be subject to a fee.
If you purchase an Extend Protection Plan, you are eligible for free resizes for longer than the 60-day period.
The 60 day period starts from when the item is ready to be shipped or picked up, not the day you received it.
If you would like to have your ring resized after the 60 day period, Brilliant Earth can still do this for you, but there will be a fee of $135 for gold and $150 for platinum rings.
Read related article: Brilliant Earth's return policy
How Brilliant Earth resizing works
Call the Brilliant Earth customer service team on 1800 691 0952 or contact them via live chat on their website.
They'll give you a Return Shipping Authorization Code and a complimentary FedEx shipping label. This code is valid for 7 days, and if you haven't sent it within this period, you can request a new one.
Write the Return Shipping Authorization Code on the outside of the package. Be sure not to write 'jewelry or ring' anywhere on the packaging, so potential thieves won't be tempted.
When comes to sending the package, make sure you put the original box inside another box and label the outside box. If you don't have the original packaging you can get 2 new boxes from FedEx.
Once you've packaged it all nicely, drop it off at a FedEx office, you can find the nearest location to you in the link. Make sure you get a receipt as proof of drop off, and for insurance purposes in case anything goes awry. Brilliant Earth do not take any responsibility for packages dropped off at unstaffed FedEx drop boxes or non-FedEx staffed locations.
You can use other carriers if you wish, but this is not covered by Brilliant Earth. Just please make sure that's all insured, and you request a signature and a return receipt at the other end.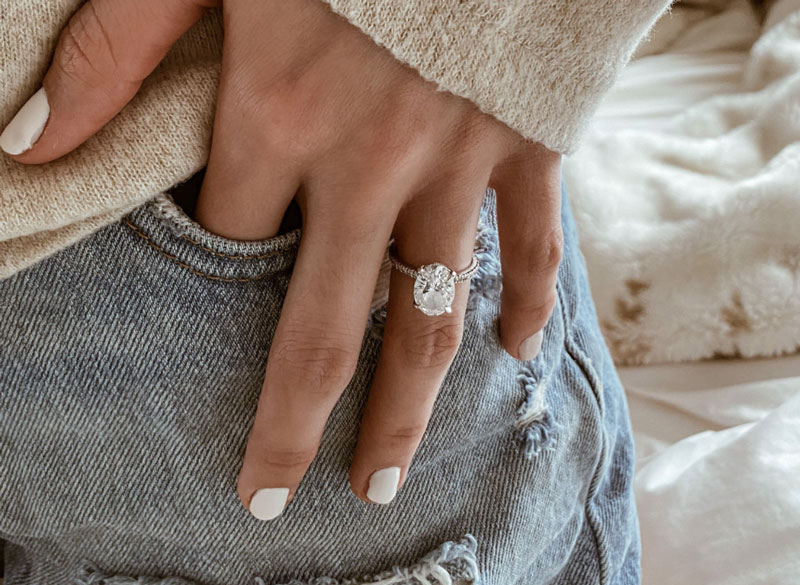 Read related article: Brilliant Earth's warranty and guarantees
Top Ethical Choice Why we recommend Brilliant Earth:
Brilliant Earth are an excellent choice for the conscious consumer.
If you care about where about where products come from and the effect that they have on the earth, it should be an easy decision to choose Brilliant Earth for your diamond ring.
Blockchain-tracked diamonds are a great innovation that allows you to understand the provenance of your stone
Impressive sourcing policies.
Excellent selection of beautiful and on-trend settings
Very well priced, even compared to larger online jewelers
Excellent service guarantees
How to get the ring size right the first time
There are many ways to ensure that you get the ring size correct the first time so you won't have to get it resized.
Brilliant Earth offer a free ring sizer, you can request it from their website it will take about 5-7 days to get to you.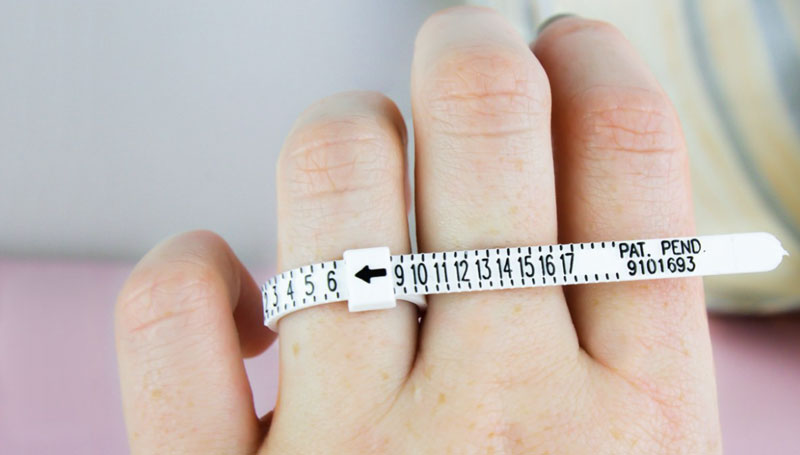 Brilliant Earth also offer a comprehensive sizing guide that you can download.
It details many methods of finding your ring size, including comparing an existing ring to the ring sizes on the ring size guide. Simply place the ring down and the closest size will be your winner.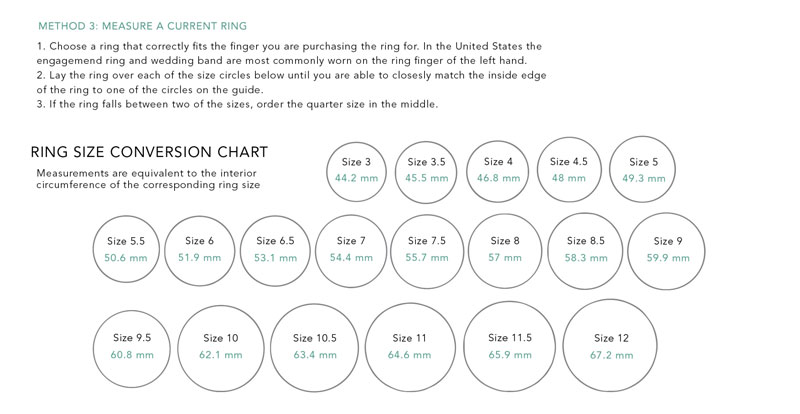 Of course, if you are planning a surprise proposal, you might not have the luxury of getting your partner to measure her finger. Here are some ideas to measure her finger without giving up the game.
Ask one of her friends to ask your partner and report back, maybe even taking her on a fun ring shopping trip so she can get her finger professionally sized
Borrow one of her rings that she won't notice is missing, make sure it's for the correct finger!
Trace the inside and outside of one of her rings – Brilliant Earth jewelery specialists can figure it out from your sketch
Get an engaged friend to make her try on her ring, this might give you an approximate gauge of her ring size and you might also get some tips on the style she likes if you ask what she thought of the friend's ring
Compare your hand to hers, see if there's any fingers that are a similar size eg. Her ring finger might be similar to your pinky, this isn't a completely accurate method, but better than not having an idea at all.
Brilliant Earth have plenty more tips and tricks for getting the ring size right for a surprise proposal.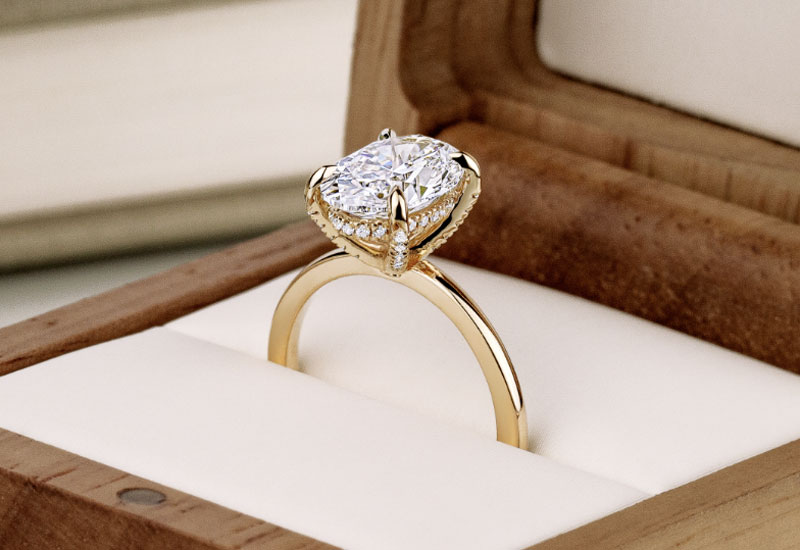 Ring sizing can be tricky to get right, but if in case you don't, the Brilliant Earth resize policy makes it easy to amend your ring – it's just one of the key benefits that resulted in a great score in our review of Brilliant Earth.