Brilliant Earth Military Discount
---
We'll keep this short:
Brilliant Earth DO offer a military discount, despite this information not being on their website anywhere. You'll have to get in touch with their customer service team to get the discount, click here or read on to find out more.
On this page you'll learn everything you need to know about: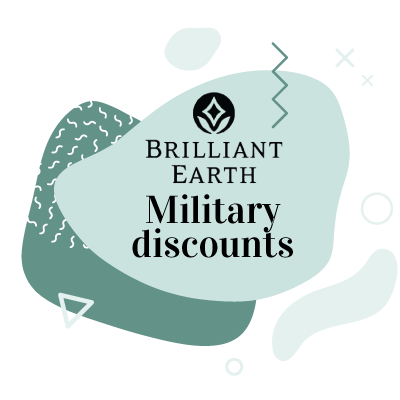 We've also written a detailed Brilliant Earth review here if you want some further reading.
Brilliant Earth Military Discount
Although you won't find it on their website, we found out that Brilliant Earth do offer a military discount by asking them via email.
To activate the discount, you just have to show a valid military ID and you have to buy 2 rings and you get $150 in total off both rings. So that's a $75 discount per ring.
To organise the discount, you'll need to contact Brilliant Earth's customer service team. There are a few things to know, like the fact that the military discount can't be applied if Affirm Financing is being used.
If you'd like to talk to their customer service team to confirm your eligibility or ask any questions, you can do so here.
If you're interested in Brilliant Earth financing, we have a whole article about it.


Why would I want two rings? You may ask.
You could buy an engagement ring and the wedding ring, this is actually pretty genius, as then you have one less thing to do on your wedding planning list! A
nd if you buy the rings at the same time, you can make sure they complement each other.
Or another idea is to get someone else to buy the 2nd ring. We found this reddit post asking for volunteers to get the discount.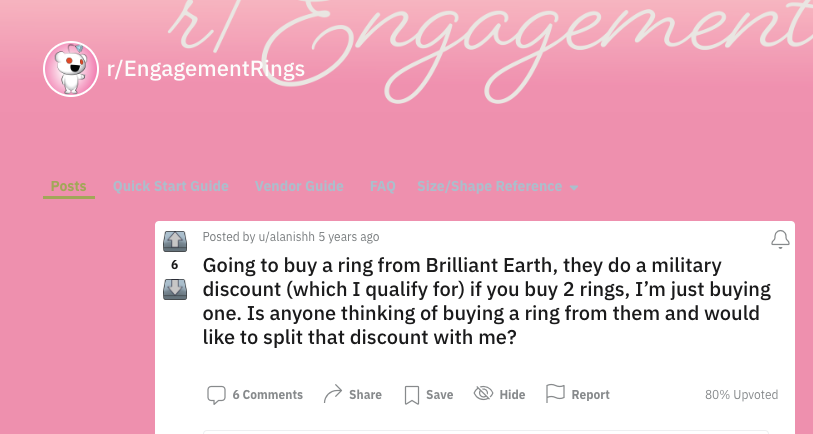 Confusingly Brilliant Earth state on their website that they do not offer any sort of discount (despite what you might see on multiple discount coupon code websites around the internet).
They also do not have any sales. However, they do offer promotions and added bonuses.

Top Ethical Choice Why we recommend Brilliant Earth:
Brilliant Earth are an excellent choice for the conscious consumer.
If you care about where about where products come from and the effect that they have on the earth, it should be an easy decision to choose Brilliant Earth for your diamond ring.
Blockchain-tracked diamonds are a great innovation that allows you to understand the provenance of your stone
Impressive sourcing policies.
Excellent selection of beautiful and on-trend settings
Very well priced, even compared to larger online jewelers
Excellent service guarantees
Other Brilliant Earth promotions
Brilliant Earth do offer a range of other promotions, which you can read about here.
Gift with purchase
Brilliant Earth sometimes offer a gift with purchase, for any purchases over $1,000. At the time of writing this was a pair of diamond earrings. This promotion changes from month to month, last month it was a pair of pearl earrings, sometimes it's a diamond necklace, etc. It – it's worth clicking through to take a look to see what the current offer is.
One thing to note with this is there's a very limited window of opportunity to qualify for the offer, so make sure you read the T's and C's.
Read the terms and conditions on the Brilliant Earth offers page.

Brilliant Earth Giveaways
At the time of writing Brilliant Earth were running a competition to win a $2,000 gift card on Instagram. This is only on for a limited time, but check on their socials to see if they've got a promotion running.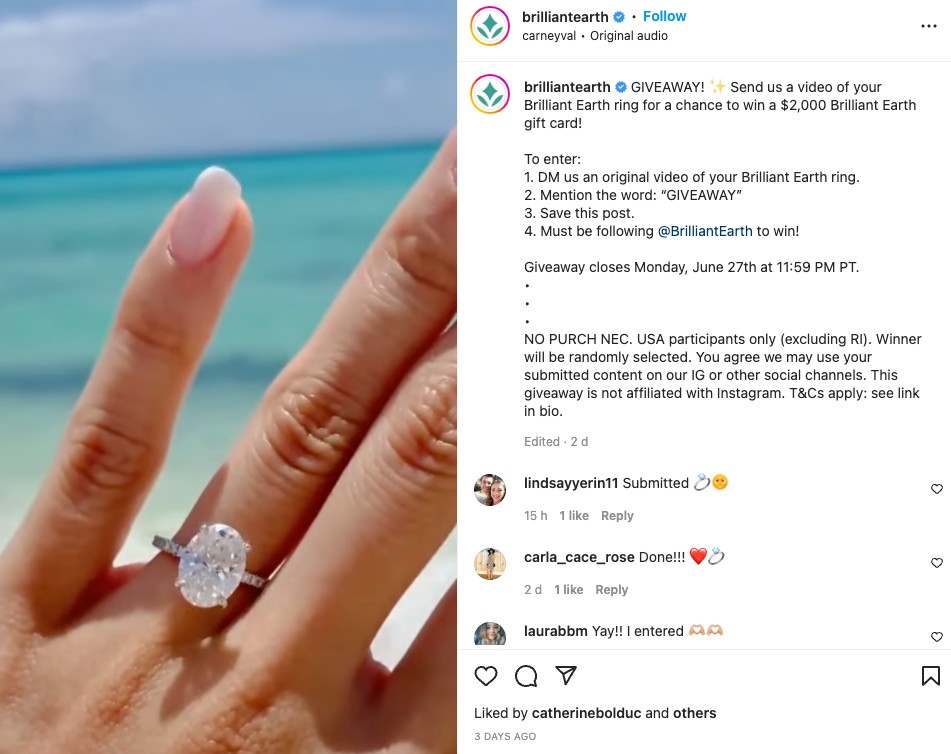 Brilliant Earth bonuses
Free Shipping both ways
Brilliant Earth offer free shipping via FedEx (both ways in case you need return the item).
This is much more generous than most online retailers, as only free shipping to get you the item seems to be the industry standard.
Read related article: Brilliant Earth Shipping
Free 30-day returns
Brilliant Earth also offer free 30-day returns. If for any reason you change your mind about your purchase, you have 30 days (from when the item is ready to be shipped) to return for a refund or exchange. There are some exceptions to the rule though, for more information read our article on the returns policy.
Read related article: Brilliant Earth Return Policy
Visit Brilliant Earth now