Best Place To Sell Your Diamond Ring? Find Out Here
Get a properly-researched answer to the question: 'where can I sell my diamond ring for the most money?'
---
Where you sell your diamond ring can make a huge difference to how much money you receive for it.
Make the wrong choice and you could halve the amount you get. Scary but true.
We're going to talk you through each of the different options available to make sure that you have a clear understanding of where the best place to sell your sparkler is and how to get the most for it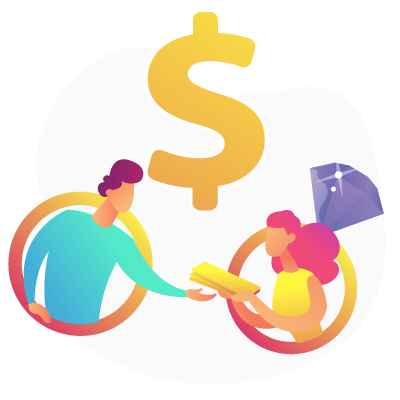 On this page you'll learn everything you need to know about:
Where to sell your diamond ring
We've assessed 8 different options for where you could sell your ring, from young start-ups who are solely focused on buying and reselling diamonds to traditional jewelers that have been in the industry for generations.
Our recommendations are below to make sure you get the most for your money.
Best place to sell your diamond ring
| Recommendation | Organisation | Reason | Visit |
| --- | --- | --- | --- |
| Best for designer jewelry | The Diamond Oak | Consistently offers the highest prices for designer brands like Tiffany & Co, Bvlgari, Cartier, etc | Visit now |
| Best for 0.5 - 1.2 carats | Worthy.com | Offers access to the highest number of buyers which can result in higher price achieved. | Visit now |
| Best for below 0.5 carats | Express Gold Cash | Pays the highest percentage of the daily raw raw material spot price | Visit now |
| Best for 1.5 carats+ | The Diamond Oak | Consistently offers the highest prices for larger carat weight diamonds | Visit now |
| Not recommended | IdonowIdon't | Recent poor reviews indicate that engagement ring sellers take a long time to get paid by the company | Visit now |
| Not recommended | haveyouseenthering.com | Limited reach means your ring can take a long time to receive offers, if it receives any at all | Visit now |
| Not recommended | eBay | High number of low quality rings means your ring is likely to get lost | Visit now |
While there are of course many other places you could sell your diamond ring, the buyers above are those that we view to offer the best prices and the best selling experience.
Looking at each of the options for where to sell your diamond ring in detail
---
Selling a diamond ring is a big commitment, both financially and emotionally.
The amount of money tied up in your ring can be significant, which means that it's worth taking your time to find the right partner, rather than just
You want to make sure that you're comfortable with the person you're dealing with,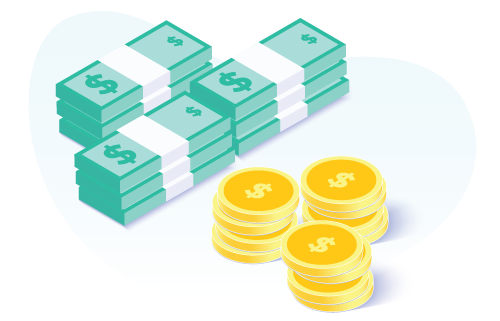 The Diamond Oak
The Diamond Oak' is a diamond dealer based in New York's diamond district, where founder Alon's family has been trading diamonds since the 1950s.
Alon and his company buy and sell larger diamonds and consistently pay higher than other diamond buyers.
Over the past four years (writing this in May 2022) I have conducted several mystery shops, offering the same diamond ring to several retailers.
The Diamond Oak's price has consistently been the highest.
As well as offering the highest prices, The Diamond Oak also offer super attentive service and fast turnaround on the whole transaction – the average time from a ring seller shipping their ring to receiving payment is 3 – 5 business days.
If you're still not sure, I recommend that you click through to read The Diamond Oak's reviews here.
If you do decide Alon is a great fit for you, the process is quick and easy:
Receive a guaranteed quoted range (1-2 business days)
Receive an Insured Shipping label
Receive a final offer once the jewelry has been inspected. This will always be within the original quoted range (1-2 business days)
Receive payment ( 1-2 business days)
Click below to learn more and start the process of getting the most possible for your ring.
---
Worthy.com
Worthy is an online marketplace, which connects jewelry sellers with a network of professional buyers.
The advantage here is that your ring can be put out in front of many people, who will then bid against each other to win it.
The benefit of this is that if several people want your ring, they'll drive the price up.
The disadvantage is that as a marketplace, Worthy charge a commission for their service:

Worthy has a great feature on their site where you can see past auctions, to get an idea of how much items have sold for.
By using the filters, you can see how rings with similar size and quality of diamonds to your have achieved at auction: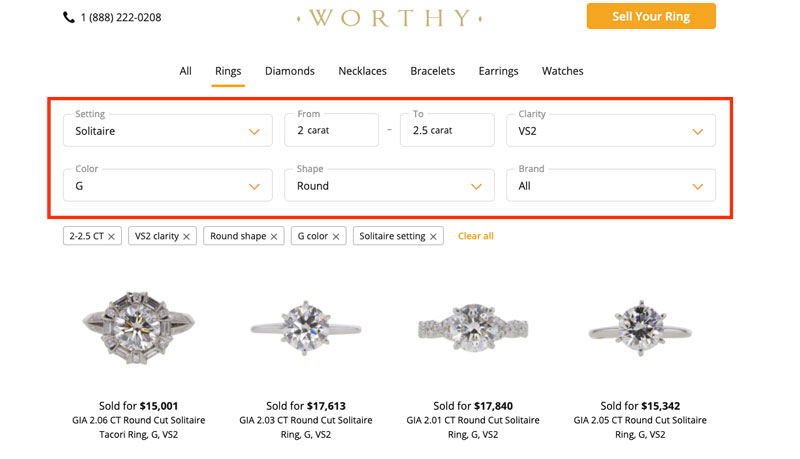 Of course, these prices don't include Worthy's fee, which does need to be included in calculating how much you would receive from a sale.
It's worth reading some reviews of Worthy to see what people think and could be worth considering if you have a higher carat weight stone.
If you have a ring with a center stone between 0.5 – 1.5 carat, Worthy is often your best bet due to the number of diamond buyers that your ring will be put in front of.
Looking at a recent auction, we can see that a ring with fairly common specs recently sold for $1,930: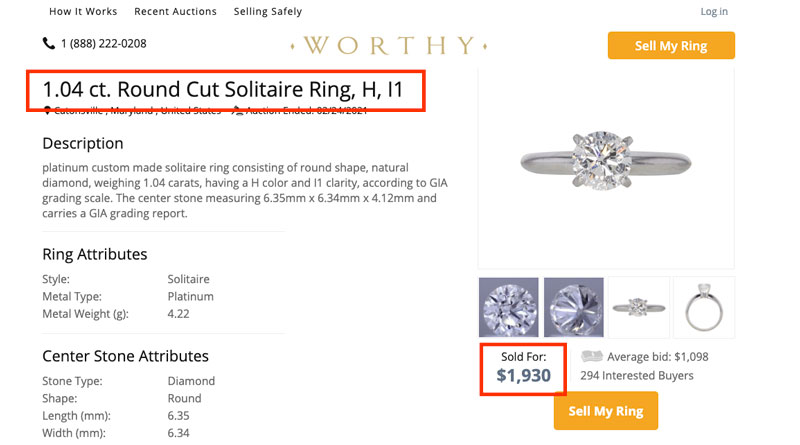 This price was achieved because the way Worthy works.
We can see that there were 294 buyers interested in this ring and bidding the price up:

As a result of this competition, the final sale price of $1,930 was nearly double the 'average' bid of $1,098.

If the seller had gone straight to some of those bidders instead of Worthy, they would have received significantly less for their ring.
For most diamond rings, Worthy is a great choice to maximise what you will receive for your ring.
---
Express Gold cash
If you have a ring that is likely to sell for less than $1,000, then it is likely more valuable due to the cost of the precious metals, rather than as a piece of jewelry.
Specialist precious metal buyers will offer a price dependant on the 'spot price' of gold or platinum and are set up to make process as easy as possible.
We have a separate article on how to sell gold, but after testing, our recommended precious metals dealer is 'Express Gold Cash' who offer fair prices and excellent service.
The process for submitting your ring and receiving payment is simple and straightforward:

While you may not want to think of your diamond ring as being melted down for use in another item, it is the reality for most jewelry that doesn't include a large diamond or carries a brand name.
If this is the case with your ring, Express Gold Cash is your best bet to get a good price for your ring.
---
Selling your diamond ring to a pawnbrokers
Pawnbrokers' business model is to offer people who need money fast lower than market value for whatever goods they have available.
They are taking advantage of people's need for money quickly and offer lower than fair market value because they know that some people will accept this trade.
If you have a little bit of extra time (even a week!) then there are certainly better options that will deliver more money.
Selling your diamond ring to 'I do now I don't'
I do now I don't is a marketplace that allows people to list their diamond rings for sale.
Sellers are charged a commission, depending on the value of the item they're selling.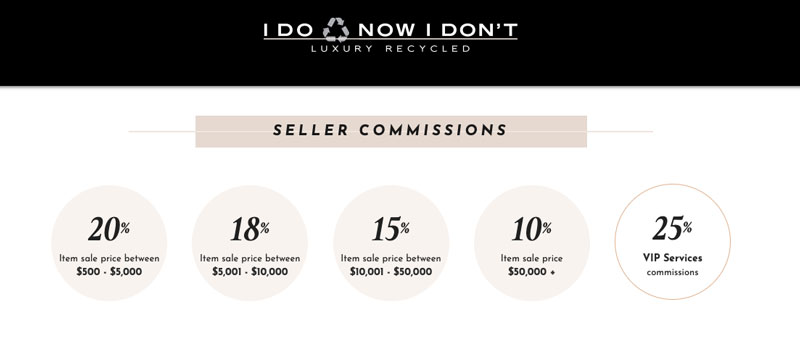 Unlike Worthy, where the people buying the rings are jewelry professionals, buyers on idonowidont.com are regular consumers.
While the idea is a good one and they do appear to have happy customers, there is an extremely high % of people who have graded I do now I don't as 1 star – nearly a third of all people who have left reviews: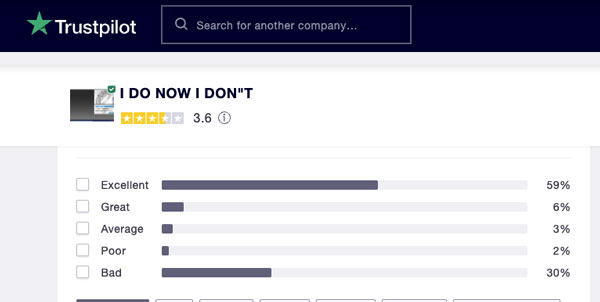 While it's always a good idea to take online reviews with a pinch of salt, this is higher than I would be comfortable with for such a significant transaction as selling a diamond ring.
While there are also a number of good reviews, common complaints are of poor communication from the team there,
---
Selling your diamond ring to a local jewelry store
Many local jewelry stores don't buy second hand jewelry because they would rather focus on selling new jewelry – the profit margins are better and it's less work for them.
If you can find a local jeweler who will buy your ring, they will normally sell it to a dealer who then will sell it to a wholesaler.
Each of these people will be looking to make some profit on their sale, which means that the initial offer that the jeweler will make you is likely to be low.
When we conducted test enquiries, only 2 out of 10 jewelers were interested in buying our ring, and the price that was offered was lower than the online options. Overally, selling to a local jeweler is likely to be more work and get you less money than going with one of our recommended options.
---
Selling your diamond ring to 'Have you seen the ring?'
Have You Seen The Ring is another marketplace which matches diamond ring sellers with potential customers.
For some reason, HYSTR don't seem to show the fees that they charge sellers anywhere on their website. However, we found it tucked away on a PDF: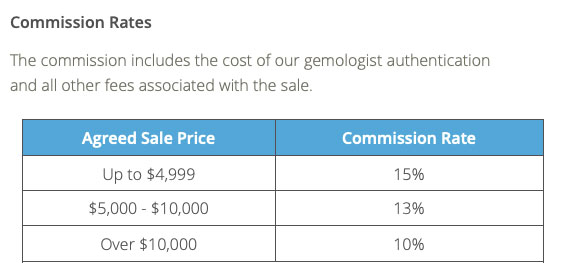 Have You Seen The Ring have good reviews and appear to offer a good service.
The downside is that as a smaller platform with less traffic coming to the website, you may be waiting a while for the right buyer to come through and buy your ring.
---
Selling your diamond ring on eBay
Ebay can be a great place to sell many things. But it's not a good place to sell a diamond ring, especially if you have a diamond with a good certificate ie. GIA or AGS.
Searching eBay 'completed auctions', most rings that have a decent starting bid or 'buy it now' price seem to pass in unsold: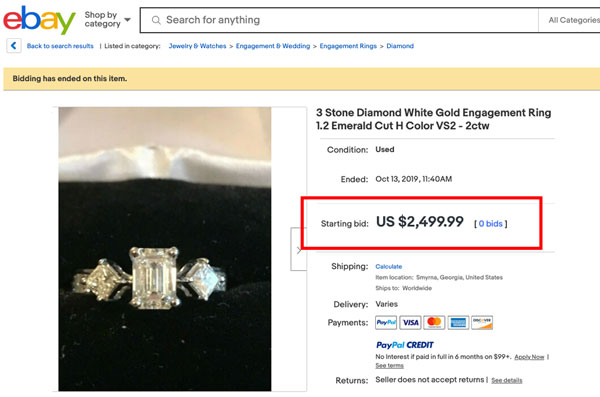 In fact, not many second hand rings sell on eBay, because it is cluttered with diamond ring listings from actual stores, rather than individuals looking to sell their diamonds.
And many of these diamonds have low quality certificates which means they are listed at extremely low prices., which are difficlt to compete with, even if your diamond ring has a better certificate and is better quality.
If you would like to try listing your ring on eBay then the initial listing fees are minimal, but you will need to pay a final value fee of between 6 – 9.5% and a PayPal transaction fee of 2.6% after the auction has finished.
Our test to determine the best place to sell your diamond ring
---
We conducted a test where we offered the same type of diamond to six different types of jewelry buyer to find the best place to sell a diamond ring:
A pawnbroker
A 'we buy gold' jewelry buyer
A local jeweler
eBay
Worthy.com
A specialist diamond buyer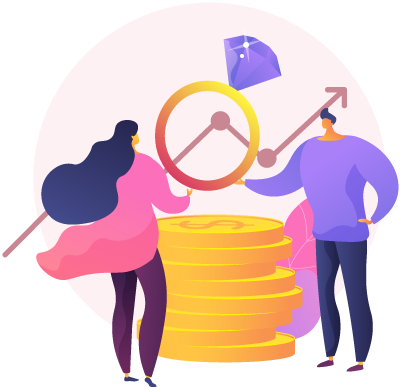 To test which jewelry buyer was the best, we offered each of the six types of jeweler exactly the same ring, and provided exactly the same information. The ring we offered was an emerald cut diamond ring with a platinum solitaire setting:

The prices that we were offered for the diamond and ring ranged from $1,200 to $2,300.
The diamond had the following specifications:
Shape: Emerald cut
Carat: 1.21
Color: I
Clarity: VS2
Polish: Excellent
Symmetry: VG
Fluorescence: None
Grading report: GIA
So how much could we get for our ring at each of the different types of jewelry buyer, and where is the best place to sell it for you?
Result from a pawn shop
When we asked for a price for our 1.21 carat emerald cut diamond from a NY-based pawnbroker, the price we were offered was the lowest out of any of the buyers: $1,200 – $1,400.
Even if you feel that you need to sell your engagement ring quickly, if you can wait just a few days then there is a much better way to make sure you get real value.
Result from a'we buy gold' store
'We buy gold' shines the neon sign and yes, these businesses do indeed buy gold, as well as platinum, diamonds and many other precious metals.
They are essentially a middleman who take the items that they buy and resell them on. Like a pawnbroker, they will give you an assessment of the value straight away and will offer cash.
We contacted two NY-based 'We buy gold' organisations and the offers that we received back were: $1,300 and $1,500.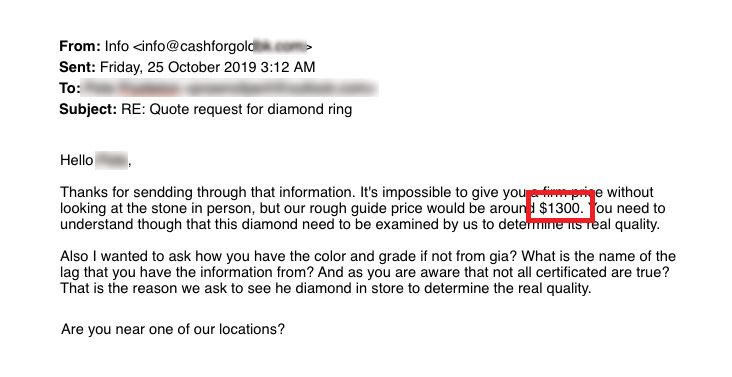 If you are looking to just sell a piece of gold jewelry with no center stone then they can be a good option, but they aren't the best option for a precious gem.
Result from local jewelry store
We offered our ring to 10 local jewelers across the US, and two were interested. The highest price we were offered was: $1,500 – $2,000: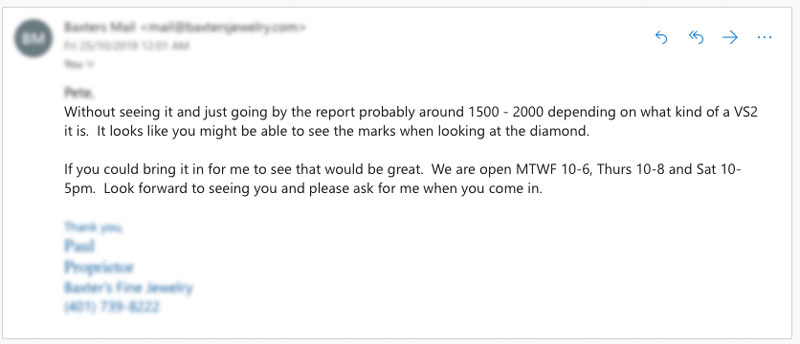 Result from worthy.com
We've already discussed Worthy.com and how it can be a great option to get your ring in front of more potential buyers.
In fact, the ring that we were using in this test was actually originally sold on Worthy: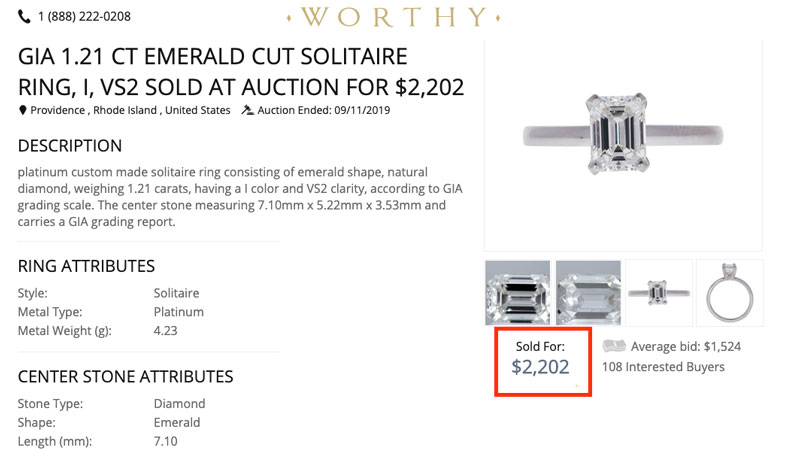 108 bidders were interested in it and it sold for $2,202, and after In this case, the commission would be $440, leaving $1,540 for the person selling the diamond or engagement ring.
This final price was nearly $700 higher than the average bid through Worthy, which shows again how getting it in front of the right person through Worthy can help increase the sale price.
This time, however, Worthy wouldn't have resulted in the largest amount in the seller's pocket.
Result from The Diamond Oak
The final person that we tested this ring with was the diamond dealers that we've already mentioned – Alon at the Diamond Oak.
By going direct, there is no middleman to take a commission, so the seller gets to keep the entirety of the selling price.
Alon quoted $2300 – $2500 for the stone on its own – significantly higher than the other options:

The reason he is able to offer more is because he knows the true value of the stone and what it will be worth in its next life when it is used in another piece of jewelry. Plus, as he isn't acting as a middle-man, he doesn't need to bid low in order to ensure it make business sense for him.
Results from our test to find the best place to sell a diamond ring
When we tally up the different offers, there's a significant range and we had a clear winner from this test.
| Rank | Name | Offer |
| --- | --- | --- |
| 1 | The Diamond Oak 🏅 | $2,300 – $2,500 |
| 2 | Local jeweler | $1,500 – $2,000 |
| 3 | Worthy.com | $1,540 |
| 4 | 'We buy gold' store | $1,300 – $1,400 |
| 5 | Pawnbroker | $1,200 – $1,400 |
| 6 | eBay | Unsold |