Whiteflash Warranty & Guarantee
---
An engagement ring is a significant investment, so it's natural that you want to ensure that the jeweler you buy from stands behind its quality. Nothing would be worse than your ring breaking, ruining what should be a magical time of your life.
Thankfully, Whiteflash offer a raft of guarantees including a one year service plan (read more about it on their site on the links), but what does this really mean? Reading their site it can be quite confusing what is and isn't covered.
We've deciphered this, so you don't have to.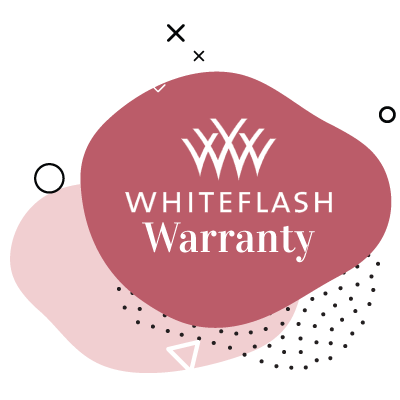 On this page you'll learn everything you need to know about:
We've also written an in-depth Whiteflash review if you're interested in further reading.
What is Whiteflash's warranty policy?
Whiteflash offers a one year service policy on all of their products. This means that they will repair your item regardless of the reason – wear and tear or a manufacturing fault. The year period starts from the shipping date.
This is a generous offer as a lot of other jewellers warranties don't cover wear and tear, however it's only for a year and you'll have your jewellery for a lot longer than that.
Apparently according to Whiteflash most manufacturing defects should show themselves by the first year so being covered for longer than this isn't really necessary.
You have to pay for postage and insurance to get the item back to Whiteflash, but they'll cover the postage and insurance to get the jewelry back to you.
If you have any issues with the jewelry contact their customer service team, and they'll request you to send the piece back for inspection.
Once it's back at Whiteflash, they'll let you know if there's any additional charges, in case the type of work you need done isn't a wear and tear issue or a manufacturing defect. They'll advise you of this before doing any work.
Read related article: Whiteflash return policy
What's covered by the Whiteflash one year service policy?
Wear and tear is the most common enemy of jewelry, especially engagement rings, which are on your hands every day and can get knocked or caught on things.
Below are the types of things that are covered by the Whiteflash one year service policy;
Ring resizing (first year only)
Refinishing and polishing
Inspection and cleaning
Prong tightening
Repairs to the metals and accent diamonds
Any manufacturing defects
Read related article: Whiteflash ring resizing
Best for Diamond Quality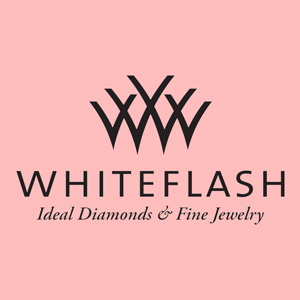 Why we recommend Whiteflash:
Whiteflash is an excellent choice if you're looking for the very highest quality round brilliant or Princess cut diamond.
There are very few jewelers on- or offline who can match them for their range of top quality stones, and the excellent information they provide ensures you can make a truly informed decision and get the very best stone available.
Recent additions of 'A Cut Above' lab-grown diamonds cements them as focusing on only offering the highest quality diamonds possible.
Highest quality diamonds with the A Cut Above range
Good selection of designer ring settings - you don't just need to buy their own brand
Offers a personal touch to their service - they're not just another online retailer
What does the Whiteflash one year service policy not cover?
The one year service policy is pretty good, but there are a few things that aren't covered by the policy, these are listed below:
Lost or stolen items
They won't repair jewelry that has already been worked on by another jeweller
Whiteflash offer a comprehensive insurance plan through Jewellers Mutual that will cover you for loss and theft and also repairs after the year period. Click through to find out about the Whiteflash insurance here.
How long is the Whiteflash one year service policy?
As the name suggests the service policy is for a year. If your jewelry needs fixing outside of this year, Whiteflash is happy to do your repairs for you for a fee. You will have to cover postage and insurance to get it there and back.
How does the Whiteflash warranty compare to competitors?
The best way to know if the warranty offered by a jewelry retailer is good or bad, is to compare it to other jewelers.
Many jewelry stores offer lifetime warranties, but most of them only cover manufacturer defects. The Whiteflash policy is only for a year, but it covers for wear and tear issues, which is a lot more generous than more than a lot of the jewellers.
Read more about the Whiteflash one year service policy here.
Pros and cons of Whiteflash's warranty
Pros
Automatic one year service warranty for all jewelry once purchased
Offers repairs on wear and tear issues
One free resize in the first year
Cons
Customer must pay to ship item when sending the item back
Additional charges for repair issues not covered by the warranty
Only covered for a year