Whiteflash Ring Box
---
When you present your engagement ring, you want to make sure that your ring is presented in the best possible light, and the box that it is sitting in will undoubtedly contribute to that.
In this article, we'll take a look at the Whiteflash ring box, as well as the box that it will actually arrive in when it's posted to you.
On this page you'll learn everything you need to know about: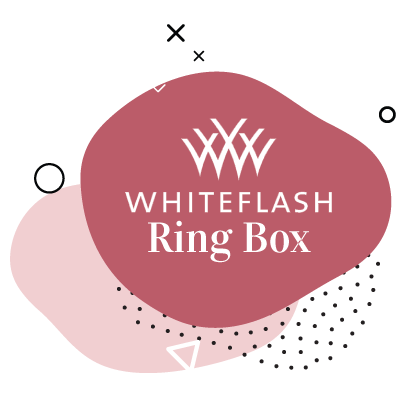 If you want to read an in-depth review about Whiteflash click here.
On this page you'll see the packaging we received when buying some diamond jewelry from Whiteflash. You can see Whiteflash's official page on packaging here.
The Whiteflash Ring Box
The ring box itself is a nicely weighted red and black box that opens with an extremely satisfying feeling.
It's made out of really weighty laminate, and feels very solid.
Once you open the box, your diamond will be sitting in some soft white velvet, showing it in its best possible light.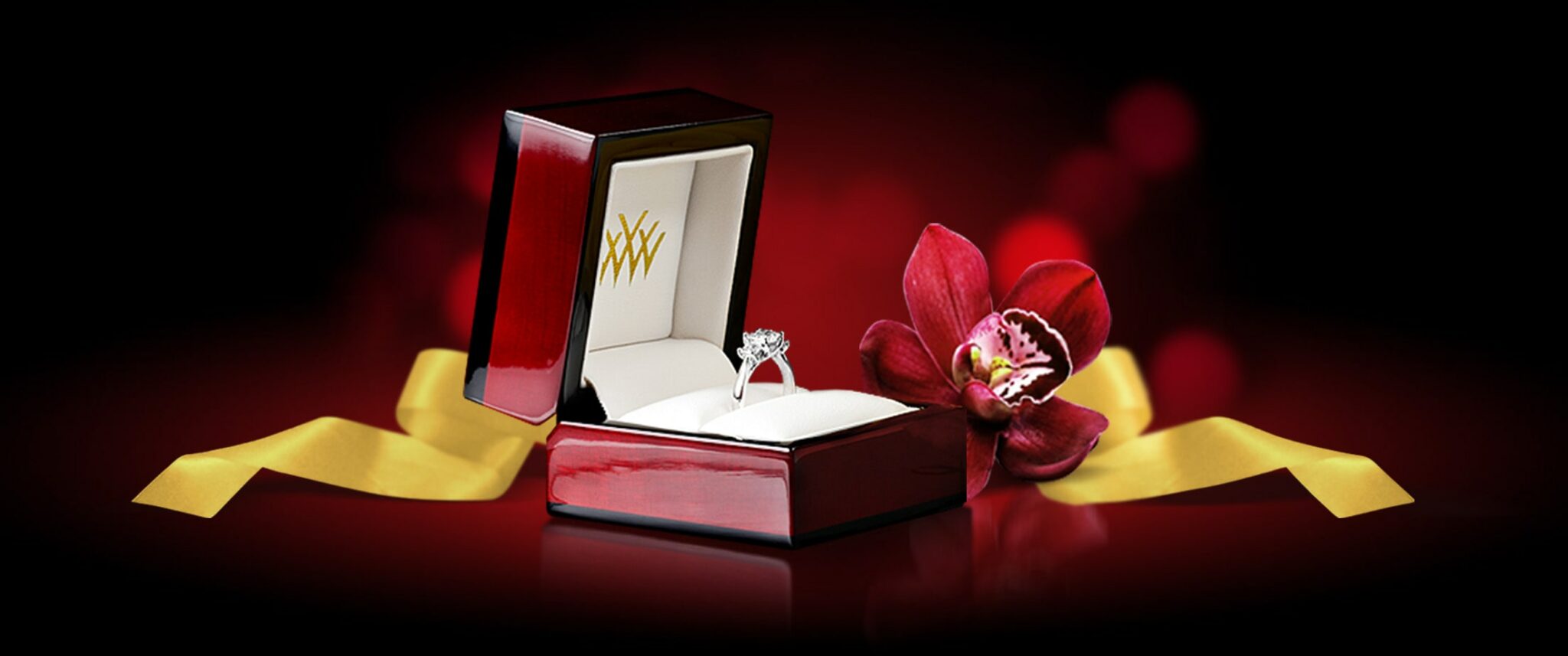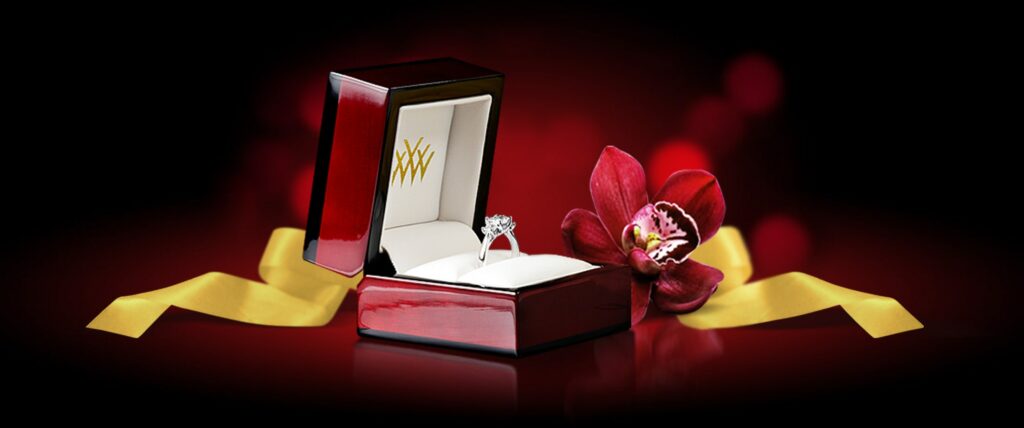 This material is white which works really well to ensure that your diamond itself will look as white as possible, and reflect as much light as possible.
The Whiteflash Loose Diamond Box
If you order a loose diamond, you'll get a very cool looking clear box that 'suspends' the diamond which shows it off in all it's glory.
The loose diamond also comes with a jeweller's loupe to closely inspect the diamond, and also a pronged implement to pick up the diamond.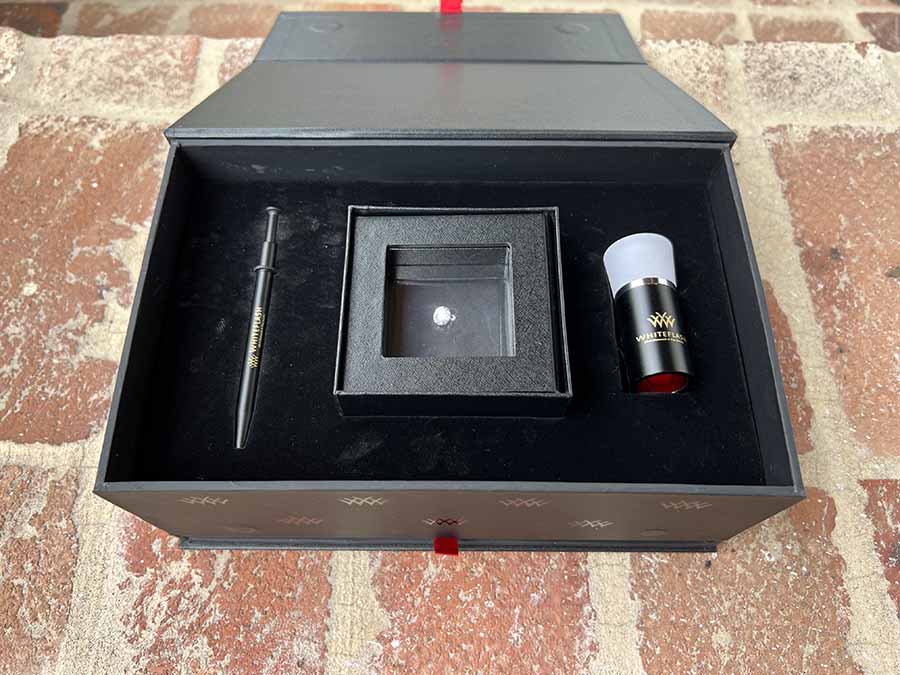 You also get a little diamond holder to further support the diamond.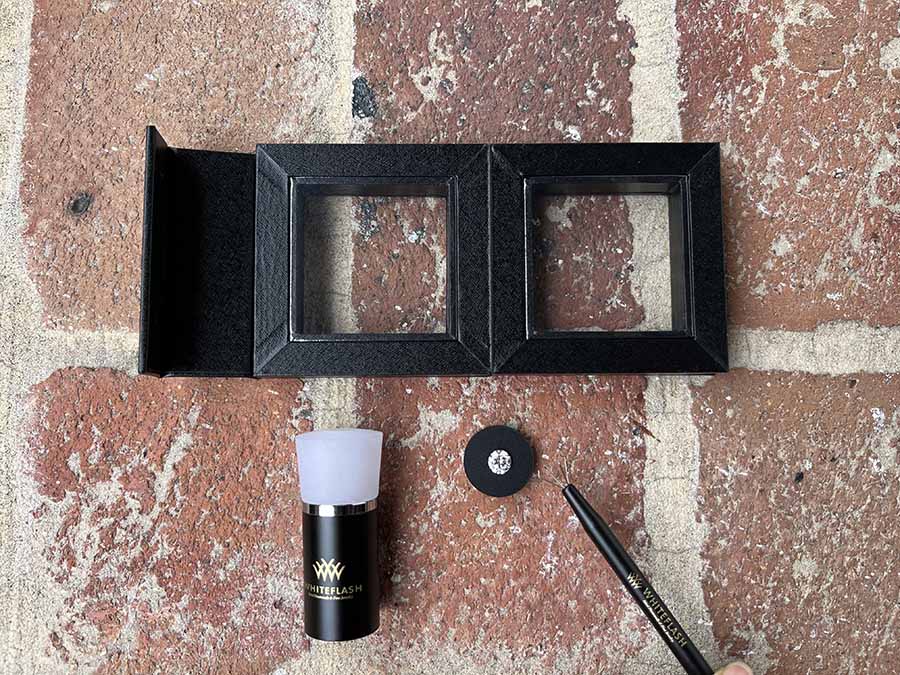 Whiteflash's packaging
When you receive your ring from Whiteflash, the ring box arrives inside a really nicely designed black box, which also holds the diamond's grading report and a few other nice touches.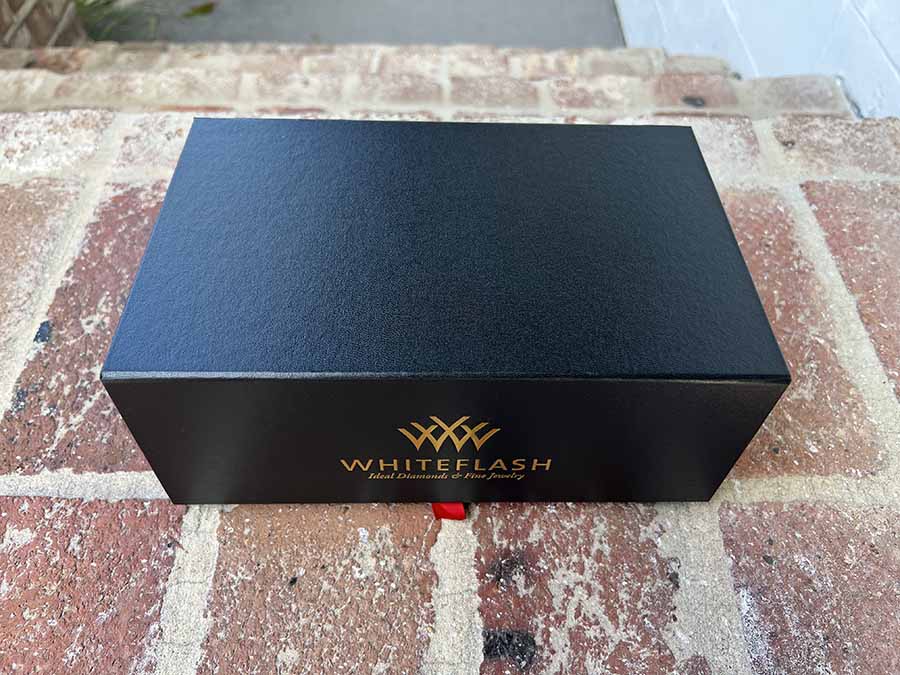 The box is opened with the tab on the front to show the ring box nestled inside.
Underneath is a sliding drawer which includes documentation about your jewelry and a microfibre cleaning cloth and a ring sizer.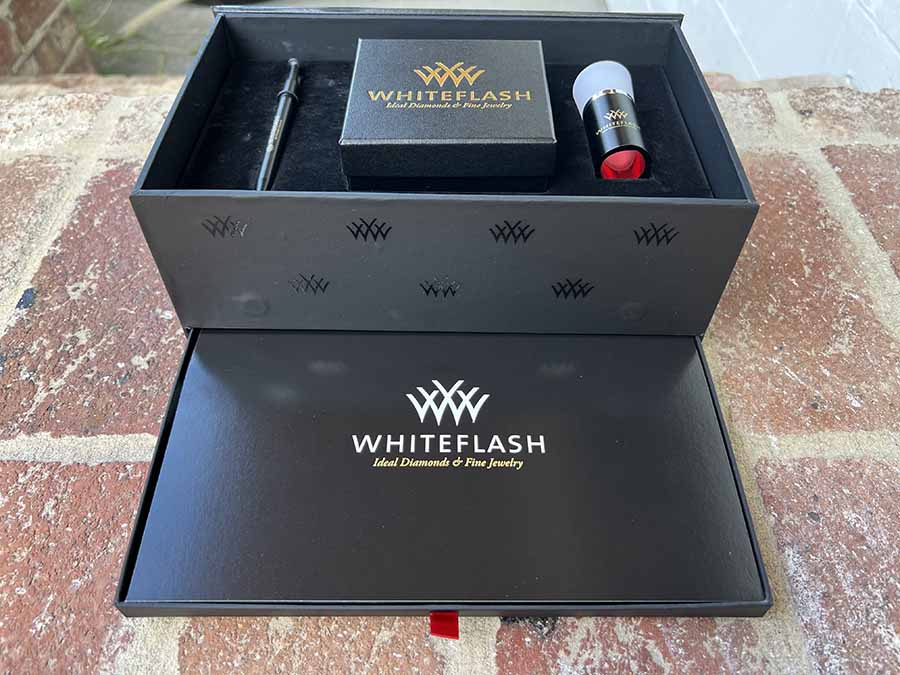 The documents that are supplied in the box are:
The diamond's certificate or grading report
An invoice
Insurance/promotional flyer
A guide to caring for your new jewelry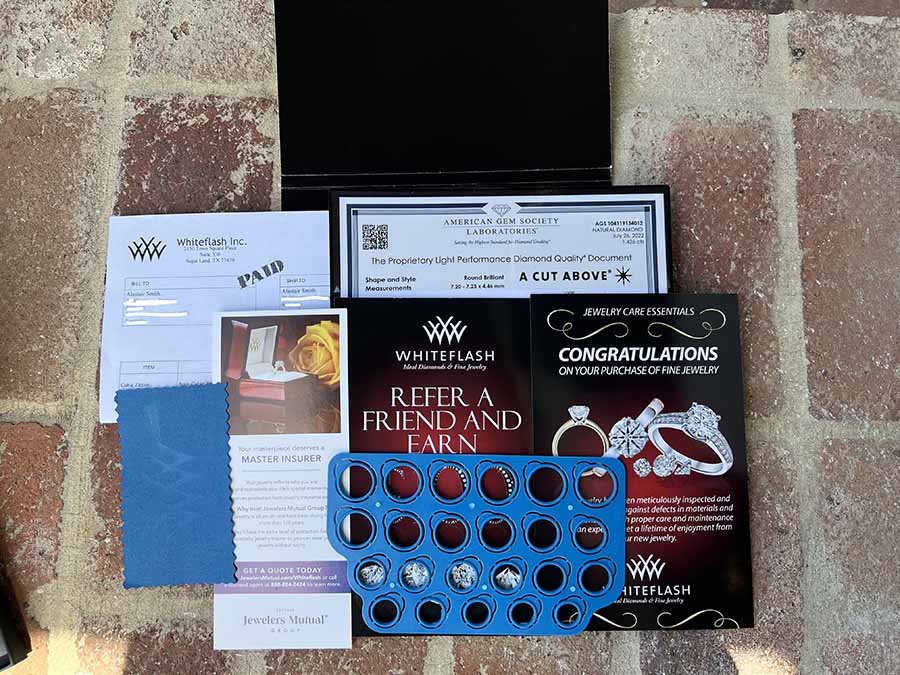 Best for Diamond Quality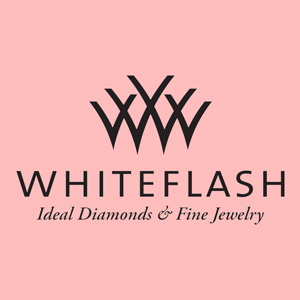 Why we recommend Whiteflash:
Whiteflash is an excellent choice if you're looking for the very highest quality round brilliant or Princess cut diamond.
There are very few jewelers on- or offline who can match them for their range of top quality stones, and the excellent information they provide ensures you can make a truly informed decision and get the very best stone available.
Recent additions of 'A Cut Above' lab-grown diamonds cements them as focusing on only offering the highest quality diamonds possible.
Highest quality diamonds with the A Cut Above range
Good selection of designer ring settings - you don't just need to buy their own brand
Offers a personal touch to their service - they're not just another online retailer
What box does Whiteflash jewelry actually show up in?
Nothing would give the game away more than an engagement ring arriving in shipping box with a retailer's name obviously displayed on it. This is something to be aware of, as the shipment was an international shipment – the customs paperwork with Whiteflash branding was on the paperwork on one side of the box.
Read related article: Whiteflash shipping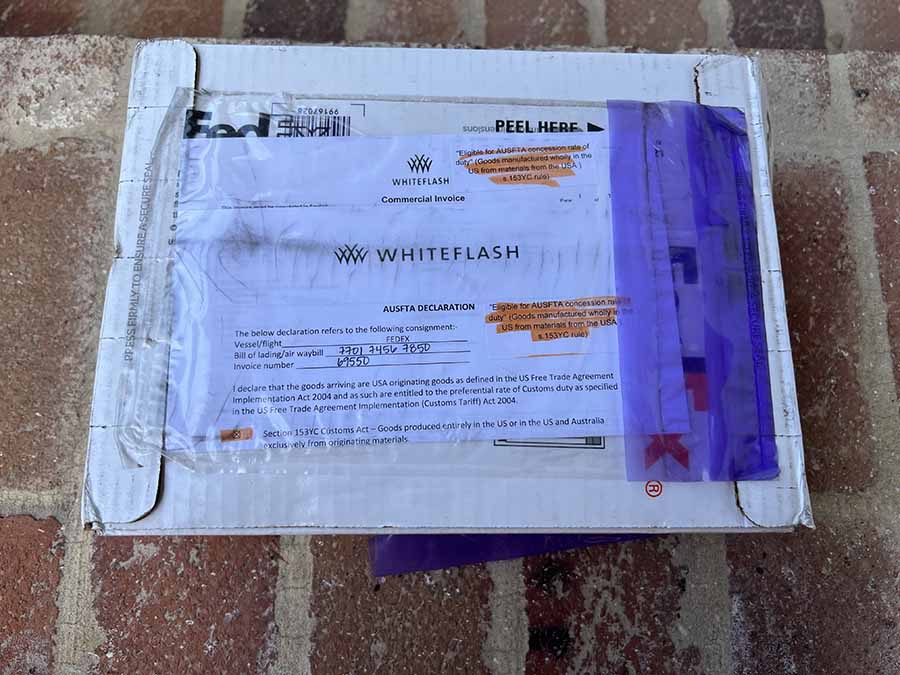 This probably wouldn't be the case if you're in the United States, as there wouldn't be a need for importing documentation.
Your diamond jewelry will arrive in a box with nothing to indicate that it is from Whiteflash. The shipping box will look something like this: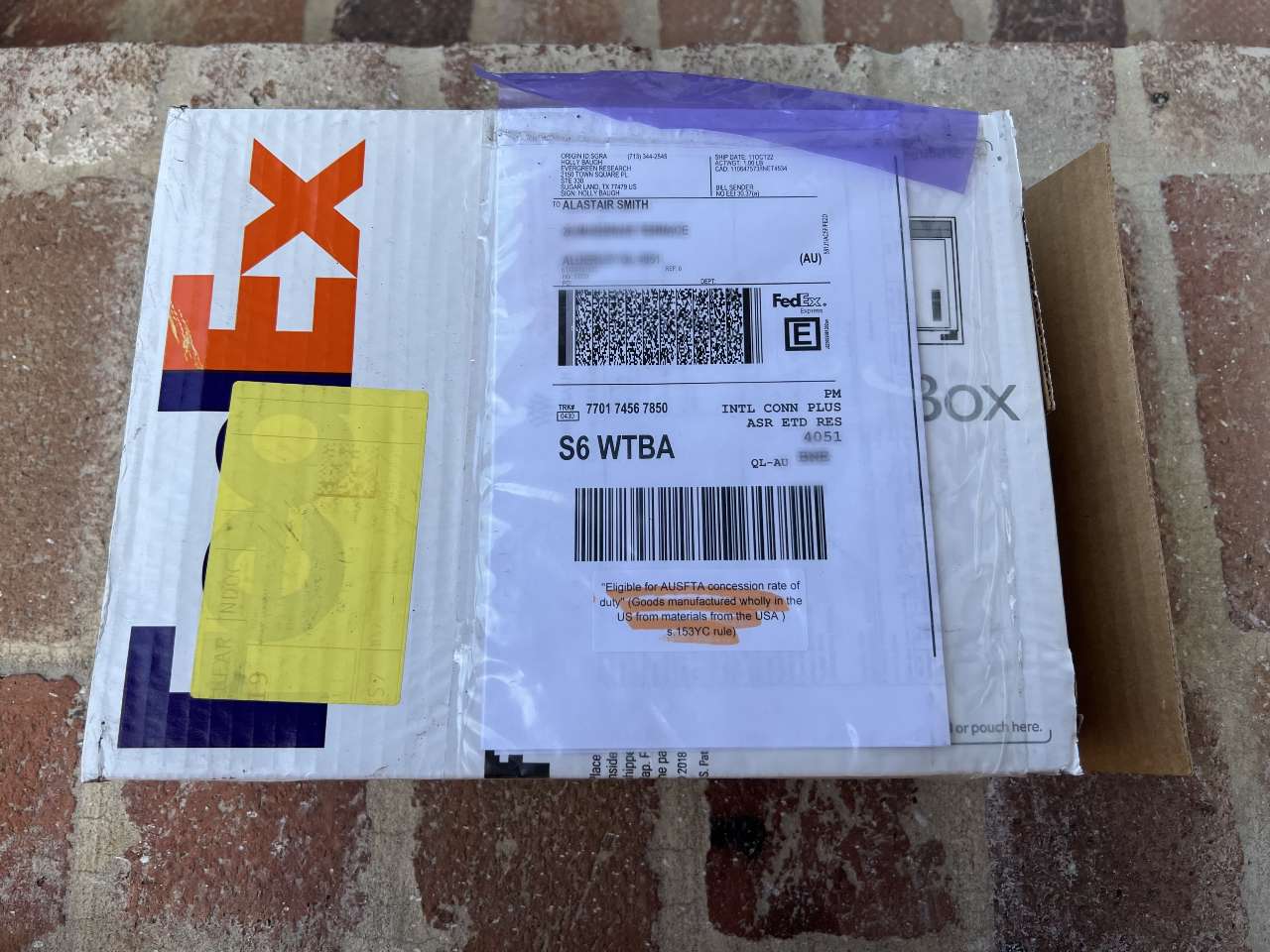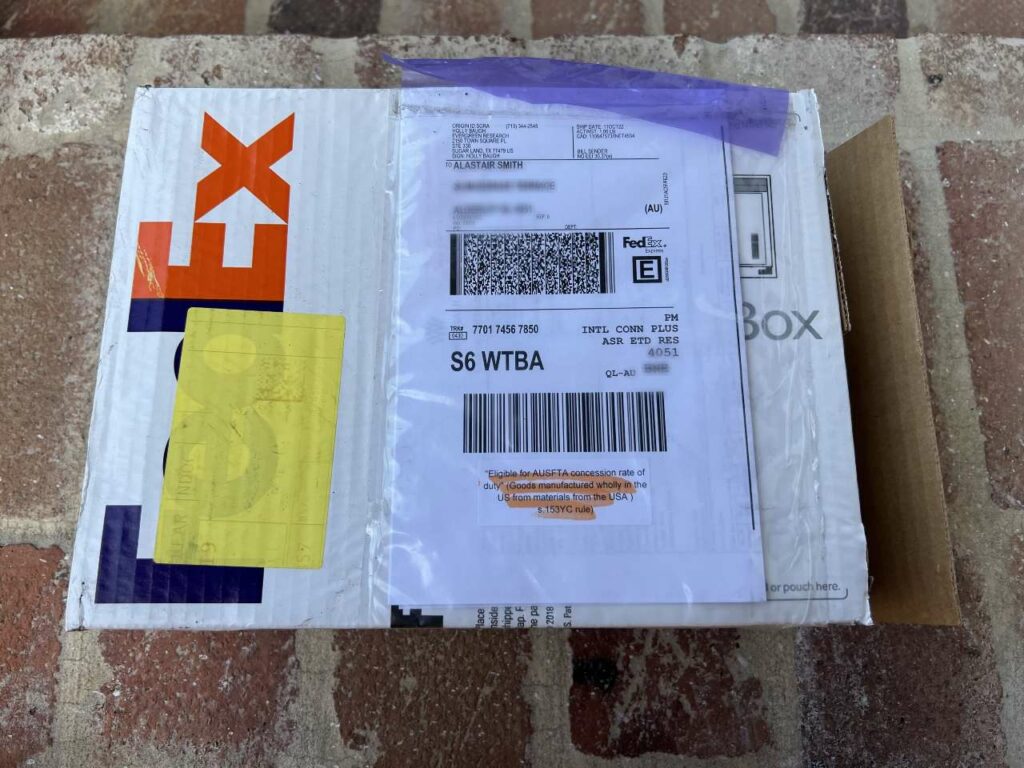 Instead of having Whiteflash listed on the box anywhere, the sender is listed as Evergreen Research: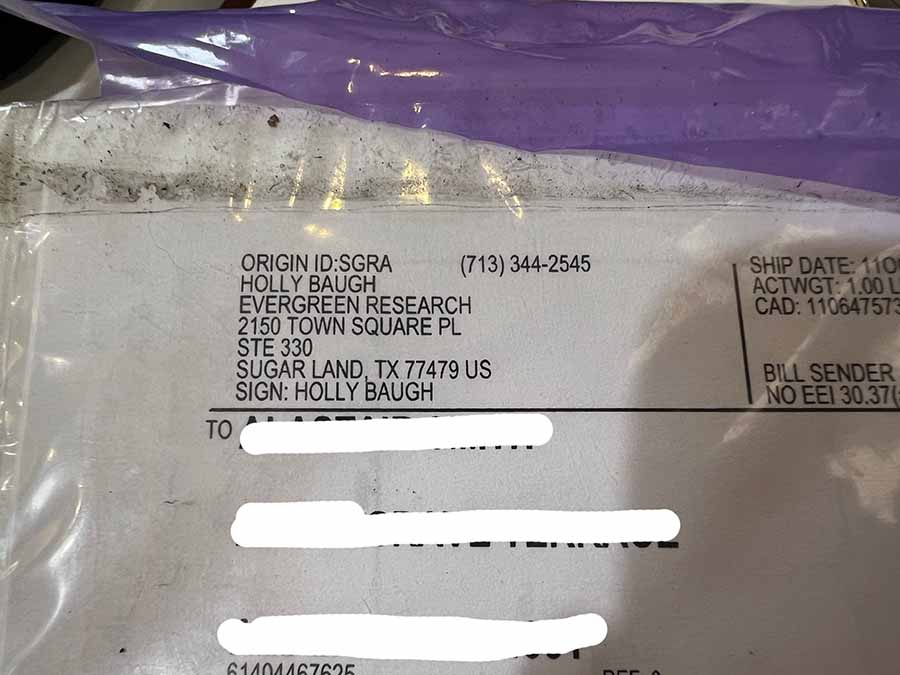 As you can see, there's very little danger that anyone would know that this box contained an engagement ring or other diamond jewelry.
Learn more about Whiteflash's ring box here.