How to buy a used Tiffany Engagement Ring
What you need to know when buying a pre-owned Tiffany & Co. diamond ring
---
Tiffany and Co is one of the most desirable luxury brands in the world, and a Tiffany engagement ring is a huge symbol of commitment to signify the next step in your journey together.
As with many luxury brands though, along with the prestige of the brand name comes a significant price.
Tiffany and Co is one of the most desirable luxury brands in the world, and a Tiffany engagement ring is a huge symbol of commitment to signify the next step in your journey together.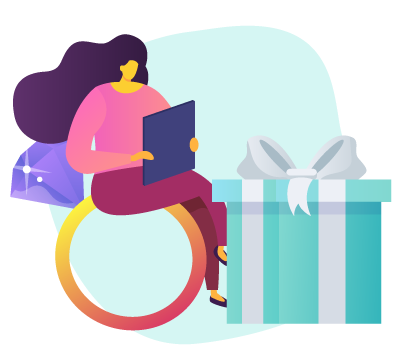 Bottom line when buying a used Tiffany diamond ring:
The key to getting buying safely and paying a fair price with used Tiffany jewelry is to work with a specialist.
Buying direct from an individual who is selling their ring could leave you open to buying a non-authentic item with little recourse if it is not as advertised
Our recommendation is Alon at The Diamond Oak – a Tiffany & Co. specialist who has a wide selection of authentic Tiffany rings and fair prices. Check out the current selection here.
Price of a used Tiffany Engagement Ring vs. New
We'll start by looking at how the price of a pre-owned Tiffany diamond ring will compare to a brand new one. These prices are for a Tiffany ring produced in the last 20 years, rather than a vintage Tiffany ring.
These examples are from The Diamond Oak, a Tiffany specialist based in NYC.
Their stock is constantly changing, but the examples below are a good indication of the savings that are available.
Used 1 carat Tiffany engagement ring
Tiffany offers different clarity and color grades, but all Tiffany diamonds are 'Excellent' cut, which is the most important factor when determining the amount the diamond sparkles.
The example below is:
Carat: 1.08
Color: F
Clarity: VVS2
Cut: Excellent
On the Tiffany & Co website, this ring would cost $27,600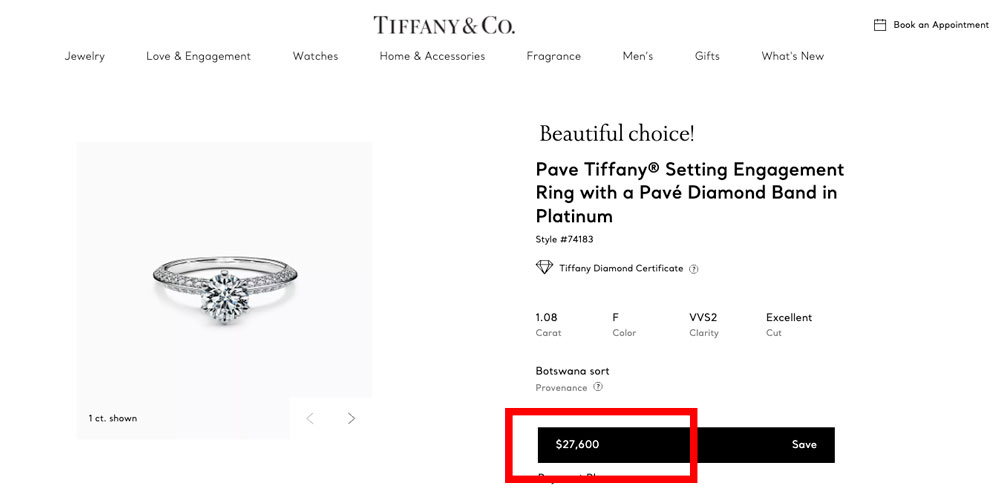 The price of a pre-owned ring with comparable specifications at The Diamond Oak would be $7,500.
This ring would have been cleaned and polished and be indistinguishable from a brand new ring.
Used 2 carat Tiffany engagement ring
While 2 carat diamonds are twice the carat weight of a 1 carat diamond, their rarity and desirability means that they are significantly more than twice the price.
A new 2 carat Tiffany ring retails for $56,000: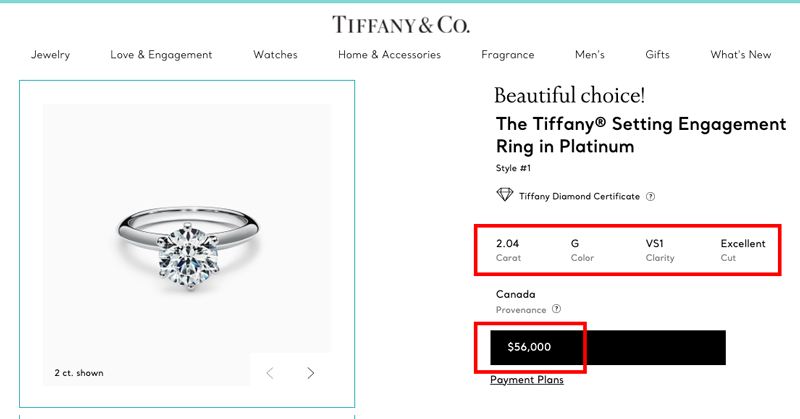 A comparable ring from The Diamond Oak would cost around $28,000 – while this may not necessarily be a 'cheap' Tiffany ring, it's certainly a considerable saving.
Things to consider when buying a used Tiffany & Co. diamond ring
So buying a pre-owned ring can significantly reduce your purchase cost, but there are some considerations before making your decision.
There are three main things to think about when buying a pre-owned ring
Ensuring it's real
The condition
The recipients reaction
We'll take a look at each of these in the sections below:
Ensuring a used Tiffany engagement ring is real
There are many articles online that give guidance on how to determine whether Tiffany & Co. jewelry is real or not.
Factors such as the stamping inside the ring (as pictured below), the quality or workmanship and verifying that the documentation are as expected can all help determine whether Tiffany is authentic or not.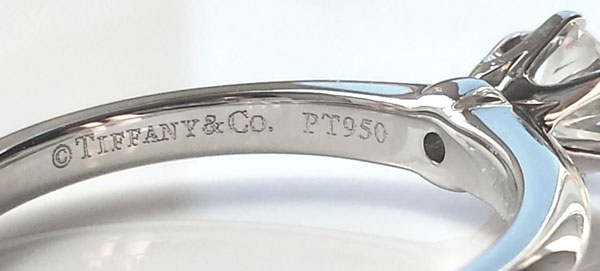 However, when it comes to a purchase as significant as a diamond ring, our recommendation is to leave the verification of authenticity to the experts.
For this reason, it's significantly safer to buy from a Tiffany & Co specialist, rather than an individual who is looking to sell their ring.
Diamond and Tiffany specialists know exactly what to look for to ensure it's authentic, how to match the actual ring to documentation and check its provenance to ensure you are buying what you think you are buying.
A business's most important asset is their reputation, so no reputable business would risk the remotest possibility of selling a non-authentic Tiffany ring.
The other advantage of buying directly from a business rather than an individual is that you will easily be able to find them again if you need to. Hopefully you won't need to, but if for any reason you do then it can add to your sense of reassurance.
Used Tiffany diamond ring condition
Engagement rings are usually worn everyday, which means that even the most careful person can put their ring through some wear and tear.
Luckily, diamonds are the hardest natural material known to man, which means they should still be in great condition.
One thing to know is that when we talk about diamonds being hard, this means they're extremely resistant to being scratched, but doesn't mean that they can't be cracked or chipped. So ensuring that the diamond is still perfect is important.
Next up is considering the condition of the metal used in the ring setting. All white-colored Tiffany engagement rings are platinum, although yellow gold and rose gold are also available.
Platinum is a tough metal, which doesn't scratch easily. However, over time, it will pick up small signs of wear than will reduce the amount it shines – known as 'patina'.
Some people like patina as it is a physical reminder of the experiences that an object has been through. Others want their items to look 100% perfect all the time. One thing to know about platinum is that patina can easily be polished out so that the ring looks like new again:
Platinum ring showing patina: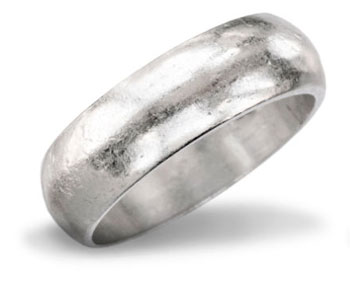 Platinum ring with patina polished out: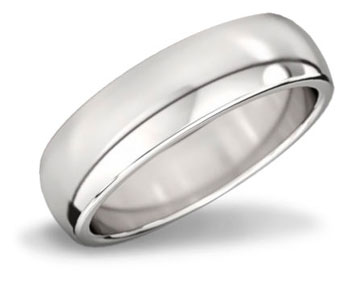 The final piece of the 'condition' puzzle is not the ring itself, but rather the box and other accoutrements. Thankfully, these are usually in excellent condition as most people value their Tiffany boxes and often keep them together with all documentation in the original sale bag.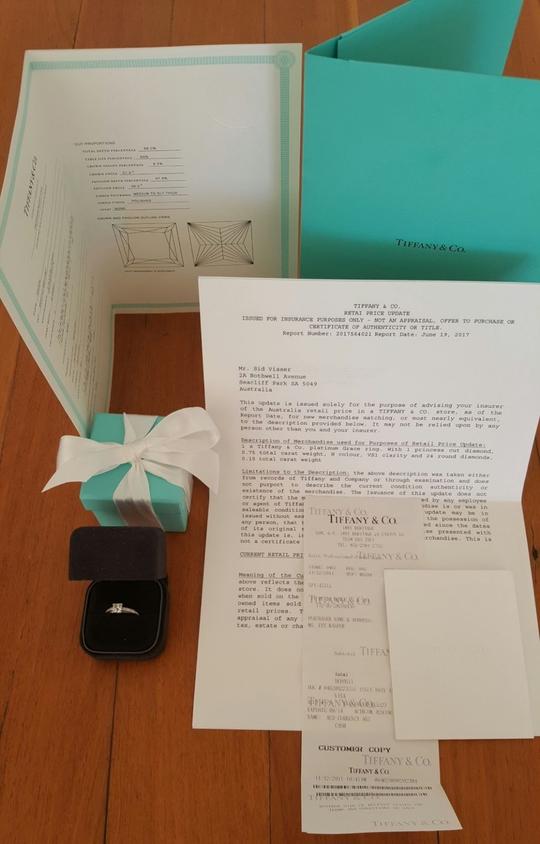 The recipient's reaction to a used ring must be considered
Buying a pre-owned piece of jewelry is beneficial for a variety of reasons. The first is obviously the lower cost compared to buying it new.
The second is the lower environmental cost. By buying a pre-owned diamond, rather than buying one that has been recently mined, you are reducing.
However, some recipients may value a pre-owned Tiffany & Co ring less than a ring purchased new.
If this is the case, a good way to overcome any objection is to reposition the purchase as a 'vintage' Tiffany ring, rather than a 'used' Tiffany ring.
As you can see from the advert below – Tiffany's classic ring style has changed very little over the last 140 years.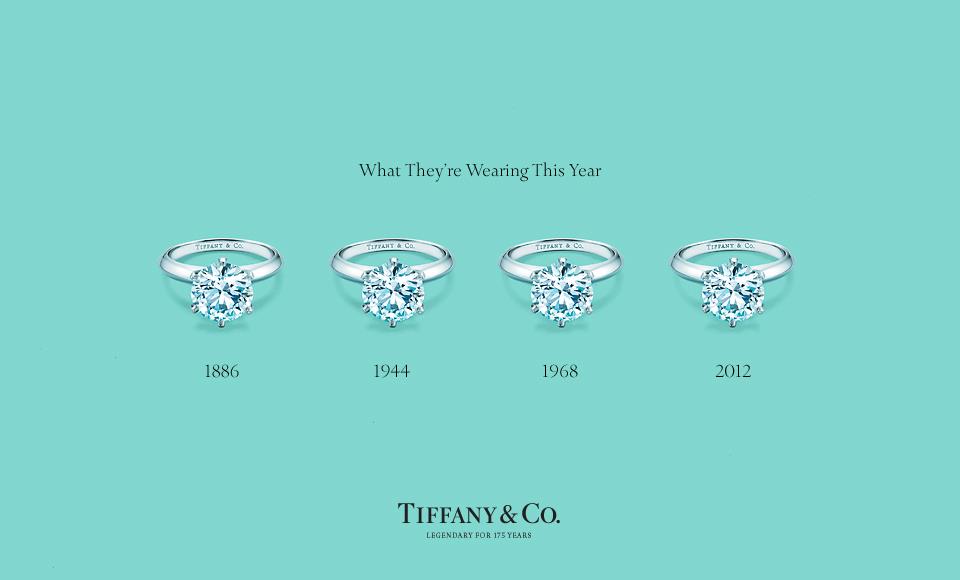 It's a classic and timeless design which means that a used Tiffany diamond ring is drawing on over a hundred years of vintage heritage.
'Vintage' has very different connotations to 'used' and brings to mind evocative imagery of 60s glamor and Audrey Hepburn.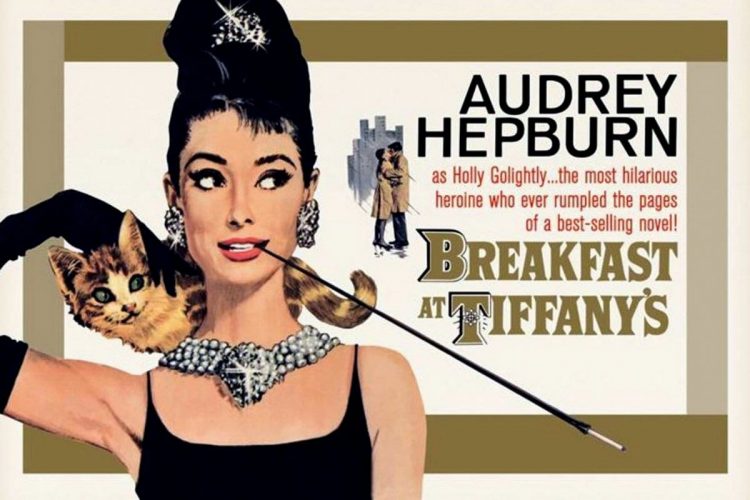 By being smart with how you position your purchase, you can avoid any potentially negative connotations that buying a ring 'used' would have:
Vintage style
Lower environmental impact
Ability to buy a more beautiful ring for your budget
Why buying a used Tiffany ring is unlike buying a new diamond ring
When buying a new ring, there are nearly an infinite number of rings available – the retailer can always make more.
However, when you are buying a used ring is that each piece is effectively a one-off. Once it is gone, it is gone.
Most specialists will have a resaonable selection of used Tiffany rings to choose from: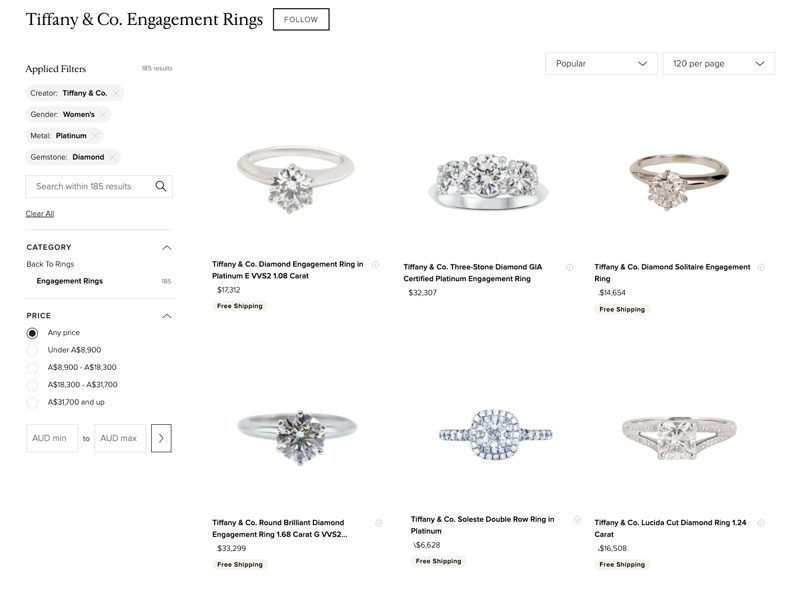 While there may be a good selection available, our recommendation is that you make a fairly fast decision if you find a ring that you love at the right price.
Our experience has been that delaying on a particularly good deal means that it is likely to be snapped up by someone else.
Where to buy a used Tiffany engagement ring
As discussed earlier, our recommendation is to source your used Tiffany engagement ring from a specialist, who will be able to vouch for its provenance and also understand a fair market price.
Our recommendation is Alon at The Diamond Oak.
Alon is a The Diamond Oak is a family run business with multiple generations in the diamond industry, based out of the Diamond District in New York. Click here to see his selection of pre-owned Tiffany engagement rings.