Serena Williams's engagement ring
The ultimate guide to Serena's diamond ring
Ringspo is reader-supported, which means we may receive a commission if you click a link to a retailer & subsequently make a purchase.
We feature links to several retailers to help readers find the one that is the best fit for them. Find out more about how Ringspo works here.
Serena Williams' engagement ring made its world debut in a rather unusual way. Serena decided to announce her engagement to Reddit Co-Creator Alexis Ohanian in a fittingly digitally savvy way, through Reddit of course!
The two have been very private in the past so not many details of their relationship are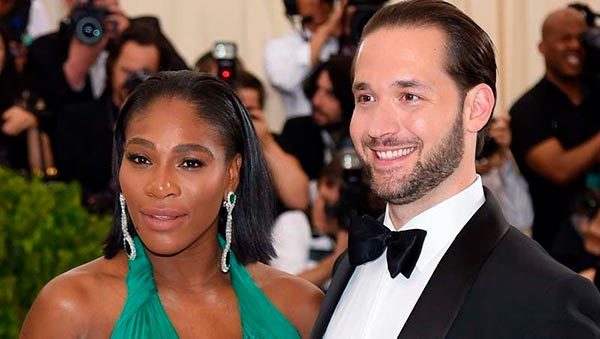 known. It is confirmed that the two began dating in October 2015, and that they met at a lunch. Ohanian soon started showing up at Serena's tournaments, and the rest is history. He popped the big question and the two were wed in a fairytale New Orleans ceremony in 2017, and now have a beautiful baby girl.
If you're looking for all of the details about Serena Williams' engagement ring, you've come to the right place!
You'll find out:
What style Serena Williams' engagement ring is
What size the diamonds on Serena Williams' engagement ring are
How much Serena Williams' engagement ring is worth
Serena Williams' engagement ring pictures
Serena William's engagement ring first appeared on Reddit on January 5th, in this adorable shot of the couple. Although the ring itself is barely visible in the photo, we can make out that the center stone is definitely huge!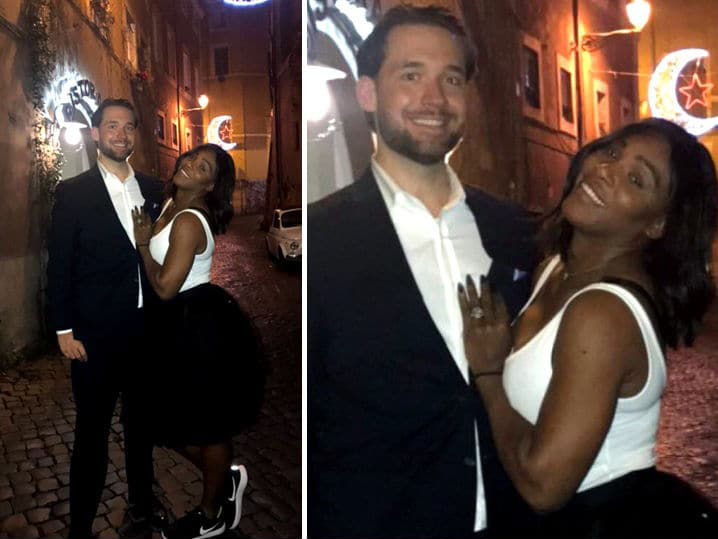 I scoured the internet and the best close-up image of the ring that I found was this one, featured below: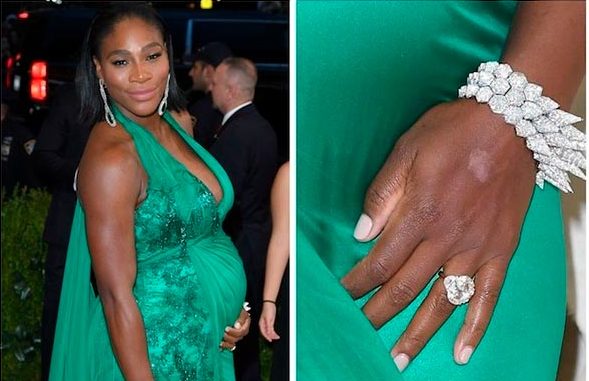 While this still isn't the clearest view of the stunning sparkler, we can determine two key features: that the center stone is a large oval cut, and that Serena Williams' engagement ring has two side stones.
What style setting is Serena Williams' engagement ring?
Serena's engagement ring is a three stone setting with an elegant platinum band.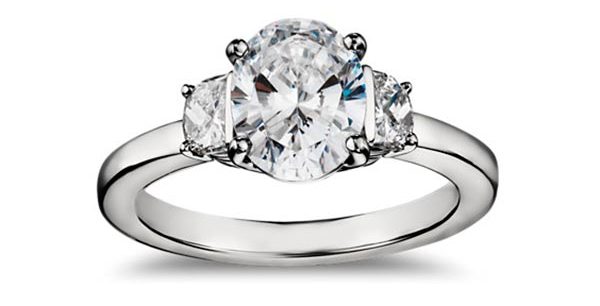 Three stone settings radiate luxury while still maintaining an air of elegance. They are sometimes referred to as 'Past, Present, and Future' rings, with each stone representing a stage in a relationship. This setting is a popular and sentimental choice for both engagement rings, and anniversary gifts alike.
Nothing but platinum would suffice for Serena Williams, with her very active lifestyle, and reputation as being the very best. Platinum is the rarest of the metals commonly used to craft engagement rings. Its mix of beauty and durability is a perfect metaphor for marriage, and its strength greatly surpasses gold. With a center stone as large as Serena's the added security of platinum prongs is definitely the way to go.
What shape is Serena Williams' engagement ring diamond?
The center stone of Serena Williams' engagement ring is a generously cut oval shaped diamond.

Oval cut diamond engagement rings make a slightly unusual, but very unique and classy alternative. Serena's oval center stone is a very practical choice for someone with such an athletic lifestyle, as it has no sharp corners, which means that there are no sharp points to snag on anything.
Oval diamonds are cut shallower than other shapes, and this lack of depth means that less of the oval is hidden below the bezel of the ring, creating a larger visible size.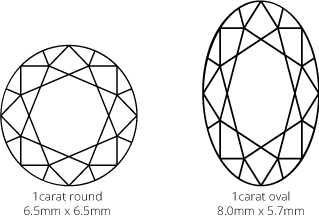 Adding side stones to oval rings originally because popular in the art deco period. Smaller side stones add more carat weight, without the associated cost of increasing the center stone. With the side stones placed at a different angle to the center stone, they will also catch the light and flash and sparkle at different times to the main stone – increasing the ring's impressiveness.
How many carats is Serena Williams' engagement ring?
Serena Williams' center stone is an impressive 12 carats, and each side stone appears to be 1 carat, for the astounding total diamond weight of 14 carats.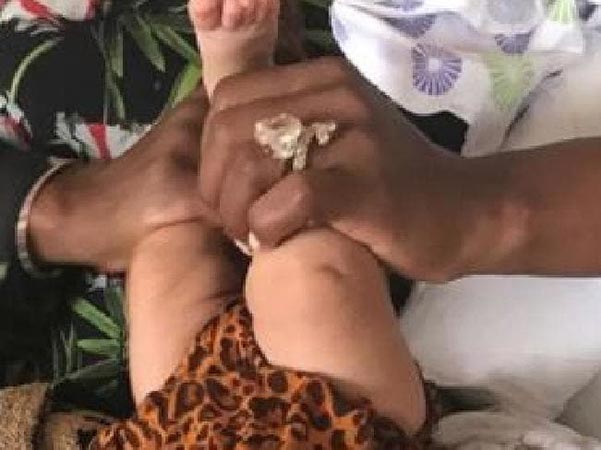 Just for visual comparison the average size of an engagement ring center stone is right around one carat, pictured below. Quite a difference!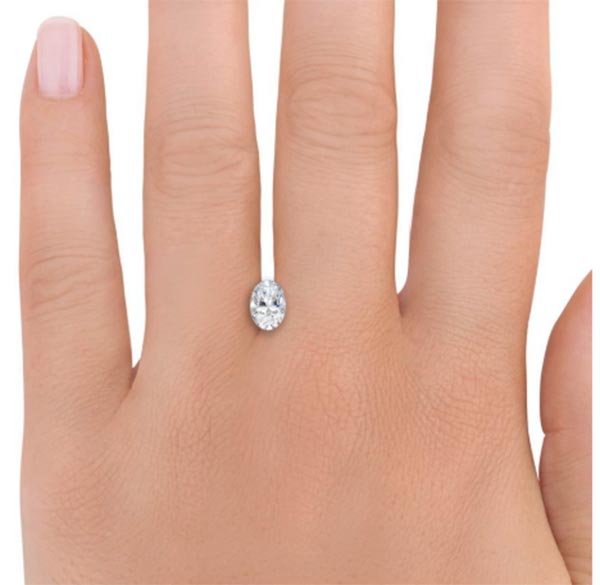 How much did Serena Williams' engagement ring cost? And what's it really worth?!
Serena Williams' engagement ring cost Alexis Ohanian a cool $2 million, and the center diamond is rumored to be an F in color and VVS1 in clarity.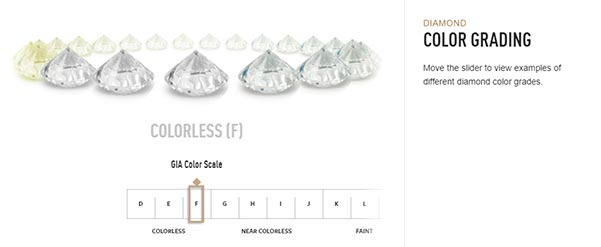 D-E-F: Colorless
The rarest and most expensive colors, only around 1% of stones will be graded D or E. Although they are rare, most stores and websites will have a selection of colorless D or E graded stones.
All diamonds in the 'colorless' range will look completely white to anyone who isn't a gemologist. In fact, even a trained gemologist with years of experience examining diamonds under bright jewelers' lights may have trouble distinguishing between and D and an E graded stone.
Stones graded F will show a tiny hint of color to a gemologist, but to the average person they would still appear absolutely colorless, and absolutely beautiful!
Serena Williams' Engagement Ring Copy
Despite the sky-high prices that accompany most celebrity engagement rings, rest assured it is entirely possible to get a three stone masterpiece engagement ring of your own without breaking the bank! Steal Serena's style! Here are two options to consider.
The first option is a close match- a platinum plain shank, three stone setting, with a minimum carat total weight of 0.50 for the side stones. Click here to find out more information about this Half Moon Diamond Engagement Ring available at my recommended retailer Blue Nile.

The next option still provides a three stone setting in platinum, as well as mimicking Serena's plain shank. The total carat weight of all side diamonds is a minimum of 0.20. Click here for further information about this Affinity engagement ring from my recommended retailer Taylor & Hart.