Scarlett Johannson's engagement ring
The ultimate guide to Scarlett Johannson's diamond ring
Ringspo is reader-supported, which means we may receive a commission if you click a link to a retailer & subsequently make a purchase.
We feature links to several retailers to help readers find the one that is the best fit for them. Find out more about how Ringspo works here.
What better place for Scarlet Johansson's engagement ring to make its world debut than Comic-Con. The Beloved Black Widow actress showed off her one-of-a-kind sparkler and announced her intentions to marry Saturday Night Co-head Writer Colin Jost during Comic-Con 2019, all while revealing she was soon to star in her own superhero flick.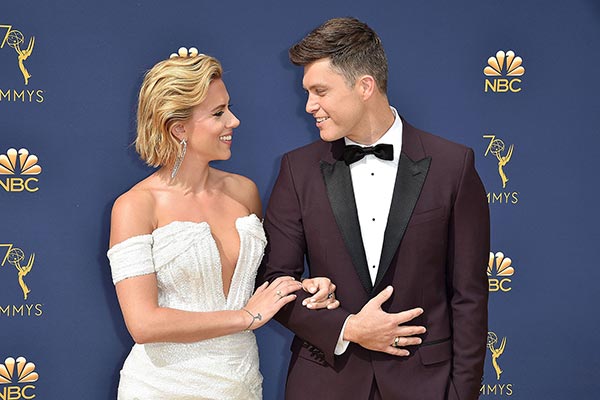 Scarlett and Colin didn't reveal they were dating until May 2018, but the two hit it off when she hosted SNL in 2017. The couple got engaged this past May, but purposefully kept things under wraps until the big Marvel movie tease.
If you're looking for all of the details about Scarlett Johansson's engagement ring, you've come to the right place!
You'll find out:
What style Scarlett Johansson's engagement ring is
What size the diamond on Scarlett Johansson's engagement ring is
How much Scarlett Johansson's engagement ring is worth
Scarlett Johansson's engagement ring pictures
While not the best view of Scarlett's engagement ring, this official image from Comic-Con shows off some of its key features. Firstly, that center stone is huge! It also appears to have a light brownish tint. Another unique feature of this engagement ring is its dark band.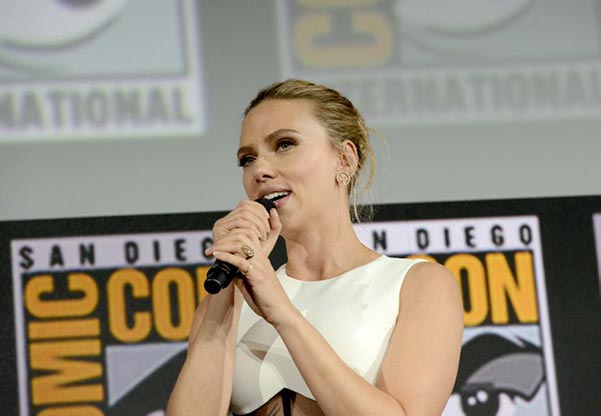 Now here is the money shot! From this spectacular close-up we now know that Scarlett Johansson's engagement ring is a light brown, uniquely rounded pear shaped center stone, anchored with a black band curved around the bottom of the stone.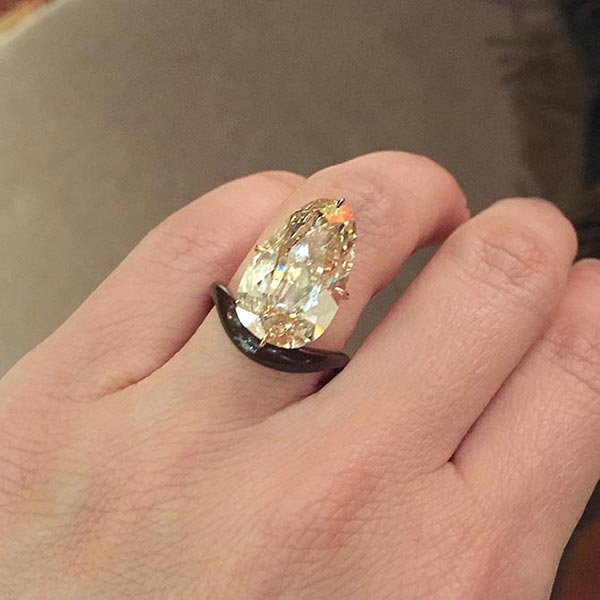 What style setting is Scarlett Johansson's engagement ring?
Okay, let's dissect what exactly is going on with this ring. The setting is far from typical; in fact this is a singularly designed piece inspired by Art Deco, and created using innovative new technology. The center stone hovers atop a curved black ceramic band, which is strengthened by a coating of yellow gold underneath. It is held in place by large yellow gold prongs.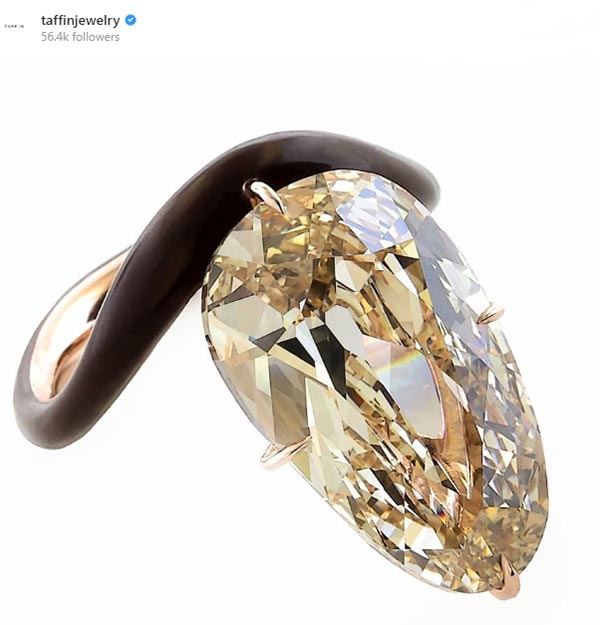 Scarlett Johansson's engagement ring is essentially a solitaire setting, although a very innovative one. A huge benefit of a solitaire engagement ring is a result of its simplicity: solitaire settings are comfortably the least expensive settings style.
While other setting styles use more precious metal or feature additional diamonds to support the main center stone, the elegant and simple design of the solitaire means that a relatively small amount of valuable raw materials are required
Another advantage of solitaire settings is that the prongs cover only a very small amount of the stone. This means that as much light as possible can enter the diamond, maximising its brilliance and sparkle.
Some ring settings completely enclose the sides of the stone, preventing light entering, which reduces the amount of light which can then be reflected by the stone into your eyes – reducing the sparkle.
What shape is Scarlett Johansson's engagement ring diamond?
Well, the diamond isn't a conventional shape; it most resembles a pear cut, but with a rounded tip. The jeweler seems to have mixed an oval cut with a pear cut to create a unique and elegant egg shape.
Any diamonds that aren't a round diamond are known as a 'fancy cut'. And the pear is just about the fanciest of them all.
There are no official 'meanings' of diamond shapes, but there are some traits that are commonly ascribed to those who choose diamond shapes.
Women who choose or wear pear shaped diamonds are said to be strong individuals, due to pears being an uncommon shape. But ultimately, pear diamonds are a beautiful and elegant stone, and a great choice for those who like Scarlett, are looking for something a little different.

The most unique and striking aspect of Scarlett Johansson's engagement ring is the center light brown diamond. As a general rule, if you're looking for a gorgeous colored diamond, but aren't interested in breaking the bank, brown diamonds are an excellent option to consider.
Brown diamonds range in color from light 'champagne' to darker 'cognac'. These stones can be rich and beautiful, but aren't the most popular, and are the most readily available and least scarce of all colored diamonds. They are priced competitively and provide exquisite contrast to traditional white diamonds.
How many carats is Scarlett Johansson's engagement ring?
Scarlett Johansson's engagement ring is a massive 11 carats.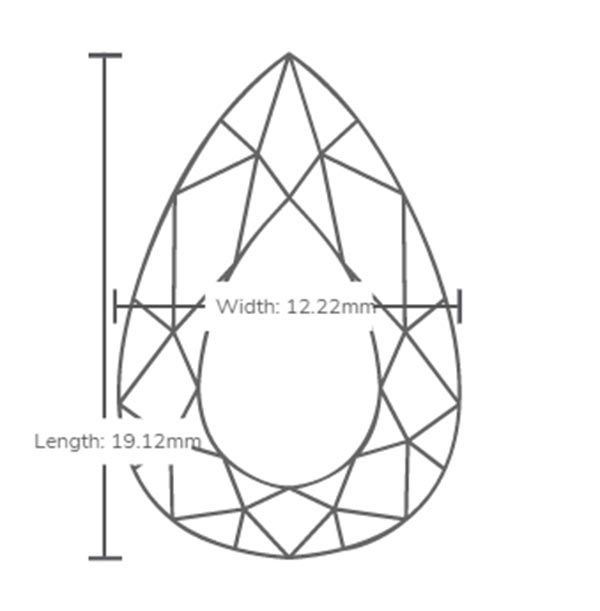 The stretched out shape of the diamond perfectly suits Scarlett's slender fingers, and makes the stone appear larger as well!
Where is Scarlett Johansson's engagement ring from?
Scarlett's engagement ring has a very impressive pedigree. The ring has been revealed to be the work of master jeweler James de Givenchy (yes, he's related to THAT Givenchy) of Taffin.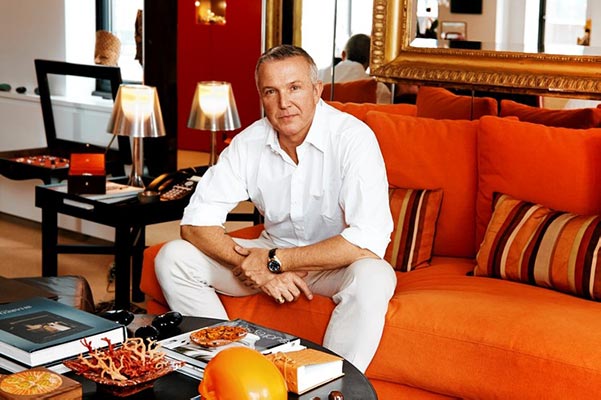 Givenchy works in super rare stones with extensive provenance, and is famed for experimenting with bold proportions, and unorthodox ceramic settings.
How much did Scarlett Johanson's engagement ring cost? And what's it really worth?!
Scarlett Johansson's one-of-a-kind engagement ring reportedly cost Jost around the heavy sum of $400,000.
Not only is the ring a unique piece of art, it features an extremely rare Type IIA diamond. Type IIA diamonds have the rarest chemical structure for a diamond; they contain no nitrogen or boron impurities, making them the most pure.

Diamond type is a simple way of classifying diamonds based on their color and physical properties. It is important because it helps to form the basis of the identification of natural, synthetic and treated diamonds. Diamonds are composed of essentially pure carbon. However, many diamonds also contain trace elements, such as nitrogen or boron, acquired naturally during the course of formation.
Scarlett Johansson's Engagement Ring Copy
Scarlett's engagement ring may be one-of-a-kind, but don't worry, as you can definitely imitate her chic style for much less. Here are two options that'll leave you feeling supercharged, without having to raid the vaults of S.H.I.E.L.D.
First up is an elegant and minimal 14k gold solitaire setting that mimics the swoosh of Scarlet's setting, but has the added bonus of protecting the tip of your center stone. It can be paired with a selection of brown pear cut center stones in various sizes and hues, so you'll be sure to find one you absolutely love. Click here for more information about creating your perfect custom combo from my recommended retailer for all things colored diamond, Leibish.

Next is an excellent and very affordable option for those looking to imitate the feel of Scarlett's brown and black color scheme. This setting features a 14k yellow gold band covered in black diamond pave. You'll get the look of Scarlett Johansson's chic black ceramic band, but with some added sparkle! The pear cut center stone is a sophisticated smoky quartz, bringing lovely cognac color, without the steep price tag of a large brown diamond. Click here to learn more about this Candace Ring from my recommended retailer Gemvara.