Sarah Hyland's engagement ring
The ultimate guide to Sarah Hyland's diamond ring
Ringspo is reader-supported, which means we may receive a commission if you click a link to a retailer & subsequently make a purchase.
We feature links to several retailers to help readers find the one that is the best fit for them. Find out more about how Ringspo works here.
Sarah Hyland's engagement ring is as dazzling as her fashion sense on Modern Family. Sarah took to Instagram to jubilantly announce her engagement to former Bachelorette heartthrob Wells Adams, and the pictures are simply stunning!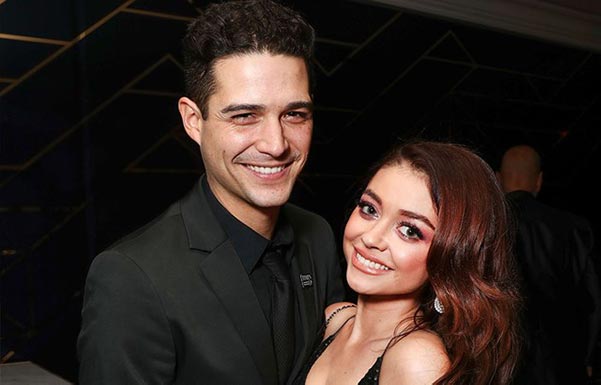 Adams and Hyland first got their flirt on over Twitter in 2016, and officially announced their couple status when they debuted matching Stranger Things costumes in the fall of 2017. On a recent romantic island vacation Adams scenically got down on one knee by the ocean, for an intimate proposal.
If you are looking for all the details about Sarah Hyland's engagement ring, you've come to the right place!
You'll find out:
What style Sarah Hyland's engagement ring is
What size the diamond on Sarah Hyland's engagement ring is
How much Sarah Hyland's engagement ring is worth
Sarah Hyland's engagement ring pictures
Thank goodness for celebrities who utilize professional engagement ring photographers! This adorable image was posted by both Sarah and Wells on Instagram on July 16th, 2019 to announce their new status. We could make out that dazzling oval center stone from a mile away!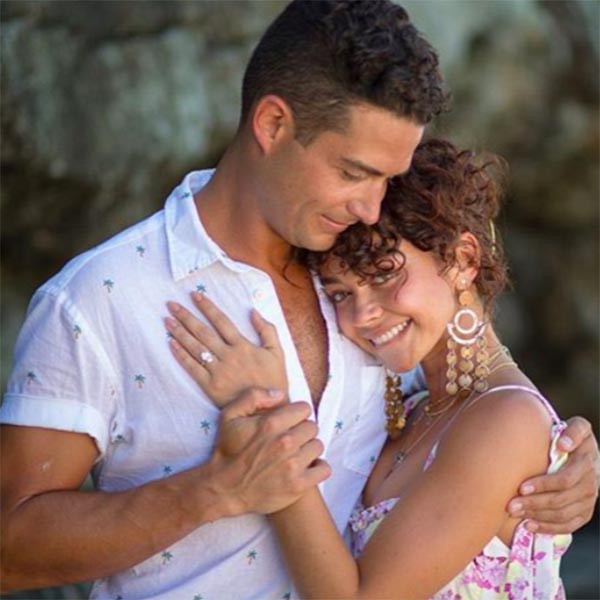 Sarah and Wells even do us the favor of posing for a shot where the engagement ring is smack dab in the center, in clear focus! That is definitely a simple platinum solitaire setting.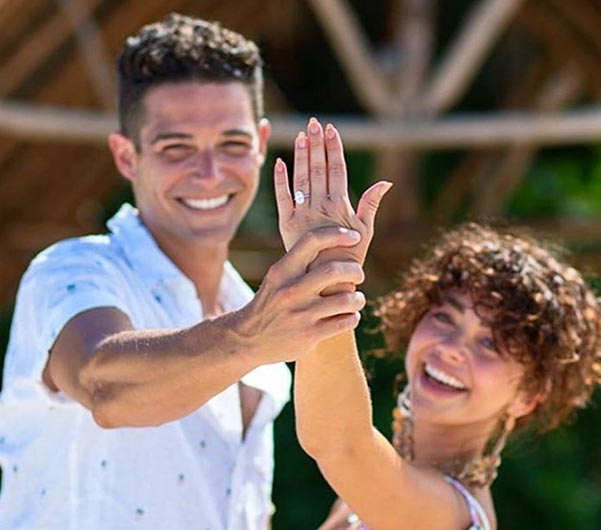 What style setting is Sarah Hyland's engagement ring?
Sarah's engagement ring is a solitaire setting with a delicate platinum band.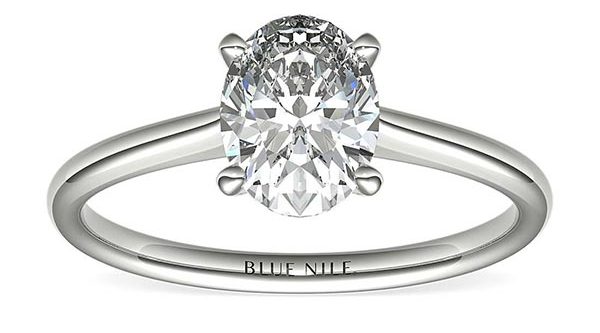 Solitaire engagement rings are undoubtedly the most popular style of ring out there. A huge benefit of a solitaire engagement ring is a result of its simplicity: solitaire settings are comfortably the least expensive setting style.
While other setting styles use more precious metal or feature additional diamonds to support the main center stone, the elegant and simple design of the solitaire means that a relatively small amount of valuable raw materials are required.
Another advantage of solitaire settings is that the prongs cover only a very small amount of the stone. This means that as much light as possible can enter the diamond, maximizing its brilliance and sparkle.
What shape is Sarah Hyland's engagement ring diamond?
The center stone of Sarah Hyland's engagement ring is a large oval shaped diamond.

Oval diamond engagement rings are an increasingly popular option for people who want all the benefits of a round brilliant engagement ring (amazing sparkle) but want something a little bit different.
A huge plus with an oval diamond engagement ring is that it has nearly all the best bits of a round engagement ring, but is priced much lower. It's basically an elongated round brilliant, so does an excellent job of reflecting light back to your eyes, making the diamond sparkle brilliantly.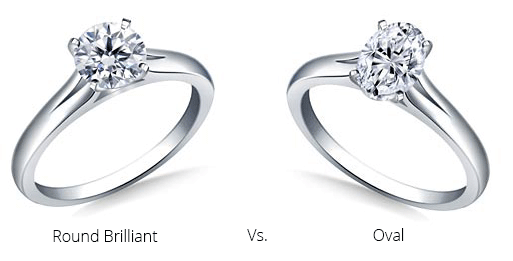 How many carats is Sarah Hyland's engagement ring?
Sarah Hyland's center stone is a weighty 5 carats.
Just for visual comparison the average size of an engagement ring center stone is right around one carat, pictured below. Quite a difference!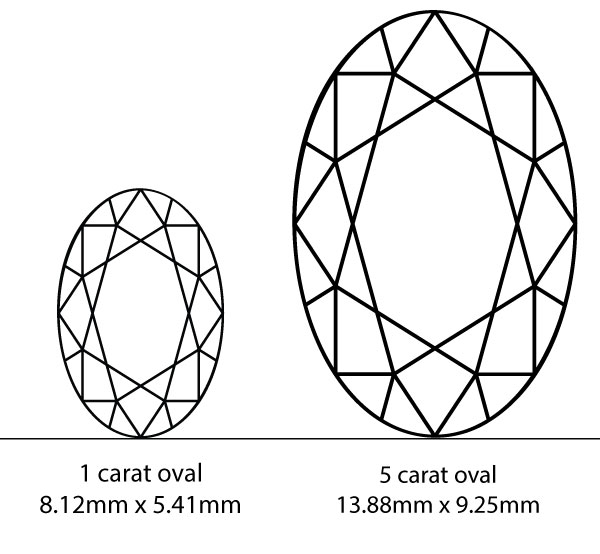 Where is Sarah Hyland's engagement ring from?
Sarah's engagement ring was crafted by celebrity favorite designer, Lorraine Schwartz.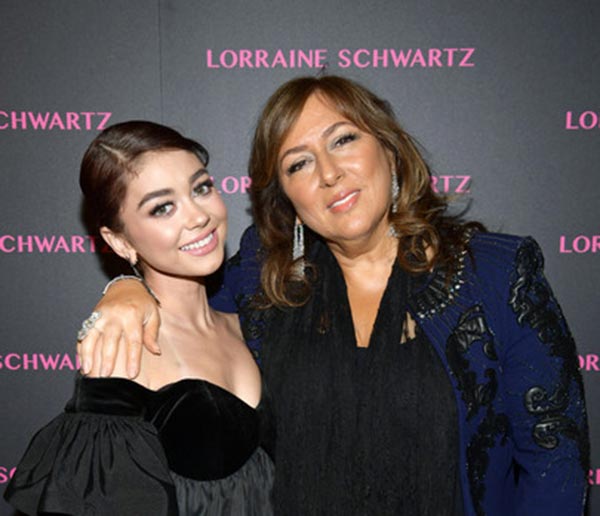 How much did Sarah Hyland's engagement ring cost? And what's it really worth?!
Sarah's 5 carat oval diamond ring cost approximately $200,000, and Adams shut down rumors that Hyland would have to pay for the ring herself. Earlier this year the Bachelorette alum stated on his podcast, "I will pay for this ring, I promise you. It will come out of my bank account."
The center diamond is rumored to be an F in color and VS in clarity.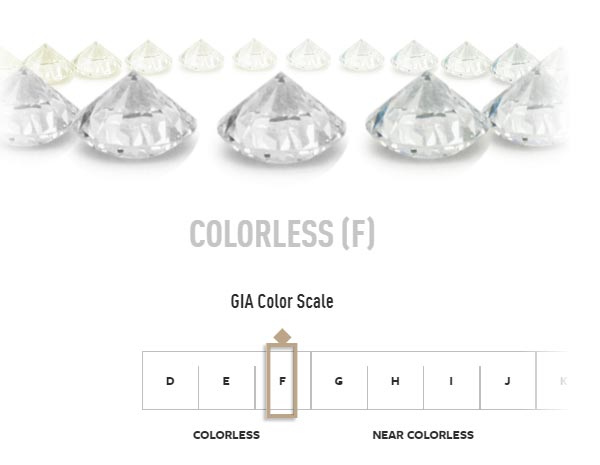 D-E-F: Colorless
The rarest and most expensive colors, only around 1% of stones will be graded D or E. Although they are rare, most stores and websites will have a selection of colorless D or E graded stones.
All diamonds in the 'colorless' range will look completely white to anyone who isn't a gemologist. In fact, even a trained gemologist with years of experience examining diamonds under bright jewelers' lights may have trouble distinguishing between and D and an E graded stone.
Stones graded F will show a tiny hint of color to a gemologist, but to the average person they would still appear absolutely colorless, and absolutely beautiful!
Sarah Hyland's Engagement Ring Copy
Don't worry if $200,000 is a little outside of your budget, as it is entirely possible to get an engagement ring just as similarly stylish as Sarah's, without going into the red!
Here are two solid options to consider:
First we have a near identical match, a platinum solitaire setting with a delicate band. The oval center stone is held in place by four sturdy prongs. Click here to find out more information about this Platinum 1.5MM Comfort Fit engagement ring available at my recommended retailer James Allen: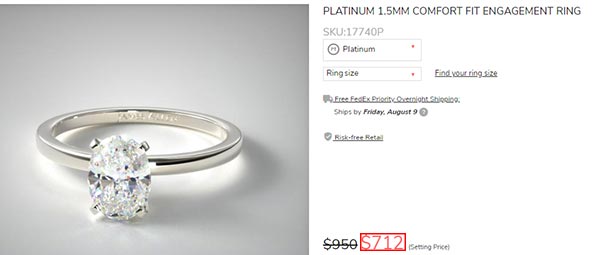 Next up we have a similar platinum solitaire setting, except this style features a dazzling pavé band for that extra sparkle. The added bling creates a dazzling effect every time you move your hand, and also serves to make your center stone stand out. Click here to learn more about this French Pavé engagement ring from my recommended retailer Blue Nile: