Can You Return an Engagement Ring?
---
Occasionally, engagements end before a wedding can take place.
Not only can broken relationships take an emotional toll on a couple, but it could potentially bring financial hardship as they move apart and start new lives.
What should you do with the engagement ring after a breakup?
This post will explore returning a ring, selling it, or keeping it for a future relationship to help you find the option best for you.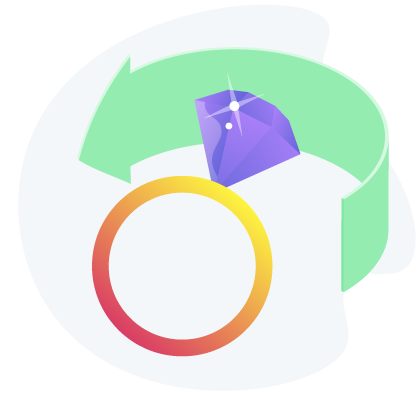 Ringspo is reader-supported, which means we may receive a commission if you click a link to a retailer & subsequently make a purchase.
We feature links to several retailers to help readers find the one that is the best fit for them. Find out more about how Ringspo works here.
Is the Engagement Ring Legally Yours?
If the proposal already took place but the engagement has ended, it is a good idea to check your state law to ensure the ring legally belongs to you. If the ring isn't yours, selling it without permission could potentially result in a legal battle and financial hardship.
While many states view engagement rings as conditional gifts that are returned to the giver if the relationship ends before marriage, other states disagree or have clauses that could allow the recipient to keep it. If you aren't positive about your area, is a good idea to contact an attorney for advice.
Can You Return an Engagement Ring to the Store?
Check with the retailer who sold you the engagement ring about their return policies. If you can return the ring, you'll often make back what you paid for it, whereas those who try selling rings will most often have a financial loss. Policies will vary between stores on the following:
When was the ring purchased?
Was the ring repaired or resized, and where?
Was the ring custom designed or engraved?
Do you still have the original paperwork and packaging for the ring?
Engagement Ring Return Period
An engagement ring is a large, important purchase and some customers will ask if the ring had been used previously, even if there is minimum wear. Even those who are not normally superstitious may look over a ring from a failed proposal or engagement. For that reason, most small, local jewelers may not exchange or refund your ring, though some will. Check with them to see what their policies are and if they have any suggestions for you.
Many major retailers (both in-person and online) will refund your ring if it is returned within a certain amount of time. You will typically find a 30-60 day return policy depending on where you purchased the ring.
Here are the policies of some major US jewelers:
There are a few companies that will allow you to exchange the ring for store credit or toward another engagement ring purchase in the future. You are not always given the original retail value for these exchanges.
Repaired and Resized Engagement Rings
Returning resized or repaired rings will depend on the company, but many will allow it as long as there is no other signs of wear and it is returned within the specified return period. Always approach the relator about any repairs necessary before looking elsewhere. Some companies, such as Shane Co, specify that rings cannot be returned if they have been resized or repaired by a different jeweler.
Return Custom Designed or Engraved Rings
Jewelers will rarely process full refunds for custom pieces. These are often impossible to resell as-is. Some retailers, such as Kay Jewelers, state this clearly in their return policies. Policies vary on engraved rings. Some companies won't accept them as returns, whereas others will refund the ring but not the engraving fee.
Original Ring Paperwork and Packaging
Most of the jewelers mentioned above specify that you need the ring's documentation in order to return it. This paperwork should include the following:
Original receipt of purchase
Original ring box
Any authentication certificates
Appraisal forms
Maintenance records
The more paperwork you have, the smoother your exchange will go. Do not assume that the jeweler will keep track of your ring's information. Keep your documentation safe.
Should You Save an Engagement Ring for a Future Engagement?
While it may seem logical and thrifty to save the ring for the person you will someday be engaged to again, this is generally not a good idea. Engagement rings are a symbol of a new life together and if your new fiance finds out that the ring was originally meant for someone else, it could hurt her.
Don't assume that she will never know, as she may need the documentation to fix the ring in the future or one of your friends or family members may recognize it and tell her. While you could save a little money by keeping the ring, it could cause some potential problems in your future relationship.
Best Places to Sell an Engagement Ring
If you are unable to return your ring, you can look into the best way to sell your engagement ring. We conducted our own experiment on the best places to sell and after looking at detailed offers from six venues, we found that you can get the most value from working with a diamond broker. Here is a general breakdown:
Diamond broker – specialists who purchase diamond rings to reuse the stone in other pieces. They will also melt down the metals to be formed into new settings.
eBay – it can be difficult to sell a used engagement ring on eBay as you will also be competing with companies who are selling brand new rings on the same platform. Even if your ring has better certification than most of your competition, it will be difficult to be competitive.
Gold-buyers – these businesses will take the ring and give you cash based on their assessment of a ring. Generally, you won't get anywhere the retail value.
Pawnbroker – typically work with people who need money quickly and won't offer the best prices for the value. Selling to a pawn shop should be your last resort.