Meghan Markle's engagement ring
The ultimate guide to Meghan's diamond ring
Ringspo is reader-supported, which means we may receive a commission if you click a link to a retailer & subsequently make a purchase.
We feature links to several retailers to help readers find the one that is the best fit for them. Find out more about how Ringspo works here.
On November 27, 2017, the Prince of Wales announced that Prince Harry was engaged to marry Meghan Markle.
While it's not completely clear how or when Harry and Meghan first met back in 2016, it's thought the couple may have first been introduced at the Invictus Games – the event for disabled serviceman that Harry founded.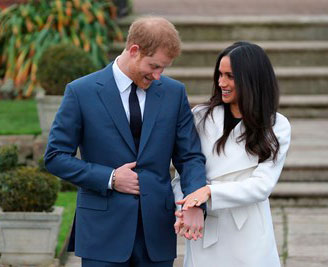 If you're looking for all of the details about Meghan Markle's engagement ring, you've come to the right place.
You'll find out:
What style Meghan Markle's engagement ring is
What size the diamonds on Meghan Markle's engagement ring are
How much Meghan Markle's engagement ring is worth
Meghan Markle engagement ring pictures
Since Meghan Markle closed down her social media accounts, we were unfortunately denied the classic 'He asked, I said yes' selfie. However, from photocalls to announce the engagement and other events, we can do a bit of CSI-style 'enhance' zooming in to get a closer look at Meghan's ring:
What style setting is Meghan Markle's engagement ring?
Meghan's ring is a three stone ring with a yellow gold band. Three stone settings are sometimes called 'trilogy' settings, or 'trinity' settings.
The three stones are said to represent one of two things:
The past, present, and future of your relationship
Friendship, love, and fidelity
While it is difficult to see in the images that are available so far, it looks like the prongs of the ring that hold the diamonds may be white gold.
White gold is commonly for the prongs of yellow gold rings so that the diamond doesn't look yellow as a result of the yellow gold.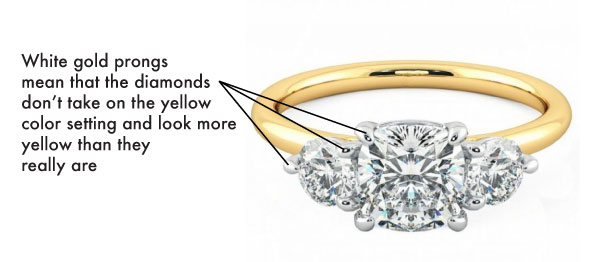 What shape is Meghan Markle's engagement ring?
The center stone of Meghan Markle's ring is cushion cut, while the two sides stones are round brilliant stones. Cushion cut stones are a less common choice, but are a modern interpretation of the antique 'old mine cut', with a square or rectangular shape, and rounded corners.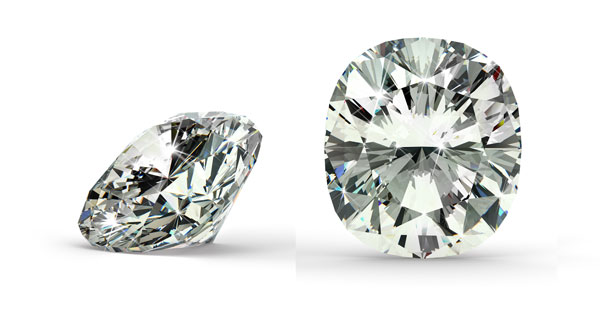 The original old mine cut was cut to deliver look beautiful in flickering candle-light. Now that candles are less common, the modern cushion cut uses the knowledge that we have gained of 'brilliance' to ensure that it delivers incredible sparkle in the lighting that we're more likely to encounter today.
While they don't sparkle quite as much as a round brilliant or a princess cut (how did you not go for a princess cut, Harry?!), they are a considered and classy choice.
How many carats is Meghan Markle's engagement ring?
While no figures have been released about the carat weight of Meghan Markle's engagement ring, we can estimate the approximate carat weight from the size of the stone.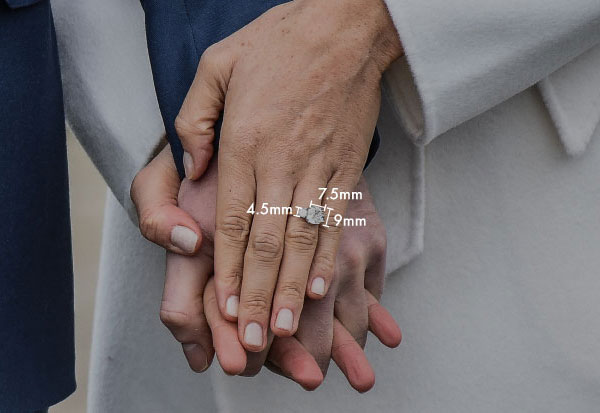 If we apply these sizes to a cushion cut center stone and round brilliant sides stones, we can get a good idea of the carat weight of the ring.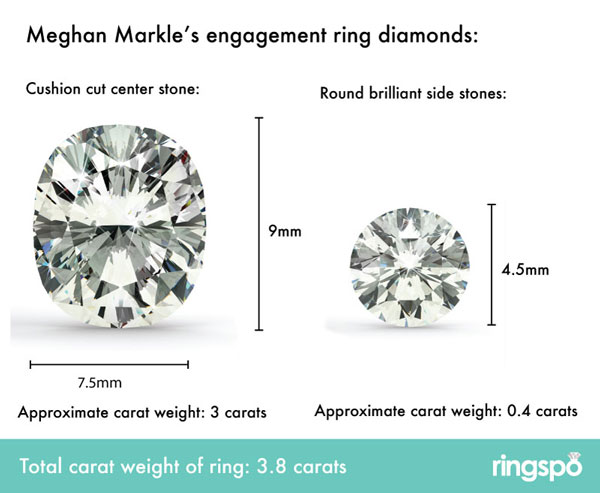 So, the carat weight of Meghan Markle's engagement ring is approximately 3.8 carats in total, with a 3 carat cushion cut center diamond.
Where is Meghan Markle's engagement ring from?
Designed by Prince Harry, Meghan Markle's engagement ring was custom-made by court Cleave and Company, an organization that more commonly creates military medals or items of state regalia.
Harry said: "the main stone itself I sourced from Botswana and the little diamonds either side are from my mother's jewelry collection, to make sure that she's with us on this crazy journey together".
See Harry and Meghan discuss her ring:
How much did Meghan Markle's engagement ring cost? And what's it worth?!
It's arguable that by incorporating heirloom diamonds of his mother's, Harry has made this engagement ring priceless.
But, if we are looking to price a similar ring, then we can get a rough estimate of the value of the ring by looking at typical costs for diamonds of similar quality.
Meghan's Markle's ring setting price.
Three stone settings in 18k yellow gold can cost from around $640. As Harry's ring was hand made by a bespoke jeweller, it's like that the cost was around double this.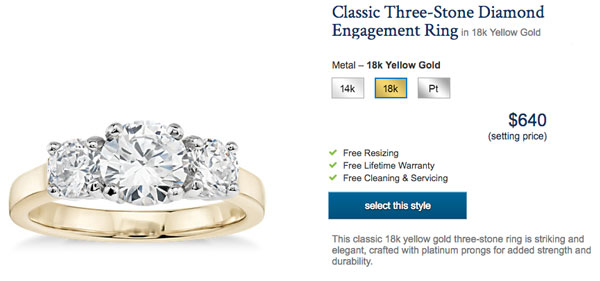 Meghan's Markle's ring cost with top quality diamonds
As the cushion cut is a less common choice, large, very high quality cushion shaped diamonds are difficult to source. If a diamond has excellent color and clarity, then it is more likely to be cut into a more popular shape e.g. a round brilliant.
However, if a top quality 3 carat diamond with the top color grade (D) and a top clarity grade (Internally Flawless), it's likely to cost around $130,000.
The two side stones are much more common, so much less expensive. Even allowing for the top color grade, clarity grade and cut score, the two side stones would cost around $2,500 for the pair. However, we know that Harry didn't pay for the side stones used in Meghan's ring as they were came from his mother's collection.

The total cost for the diamonds in Meghan Markle's ring could be around $135,000 if top quality stones were used.
Meghan Markle's ring with 'regular' quality diamonds
Choosing the highest grades for color and quality isn't strictly necessary to produce a beautiful diamond ring. Reducing the color and clarity by a few grades a means that a diamond will be virtually impossible to distinguish using the naked eye, but will cost much less.
If the color of the center stone is reduced to G and the clarity to VS2, the cost would be just over $40,000. Reducing the color and clarity of the side stones could reduce the price to around $1,700.

Harry could have therefore spent around $45,000 on the diamonds for Meghan's ring and they would still have looked absolutely beautiful.
The total value of Meghan Markle's engagement ring is somewhere between $45,000 to $135,000, or £33,000 to £100,000.