Kourtney Kardashian's engagement ring
The ultimate guide to Kourtney Kardashian's diamond ring
Ringspo is reader-supported, which means we may receive a commission if you click a link to a retailer & subsequently make a purchase.
We feature links to several retailers to help readers find the one that is the best fit for them. Find out more about how Ringspo works here.
Kourtney Kardashian's engagement ring has the mother-of-three head-over-heels. News of her engagement to Blink-182 drummer Travis Barker first broke in October 2021, and the two have been publicly lovey-dovey ever since.
The two have actually been friends for 15 years. In fact, they met back in 2006, but rumors started swirling when the pair became neighbors and started to be seen hanging out together more and more.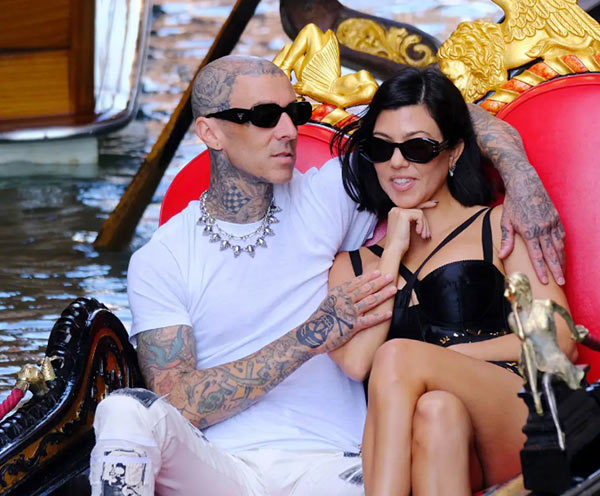 The couple became "Instagram Official" on February 17th, 2021, when Kourtney shared a subtle photo of her holding hands with a man with very distinctive hand tattoos. Kourtney's lifestyle brand Poosh commented "We're feeling this" in reference to Blink-182's song Feeling This.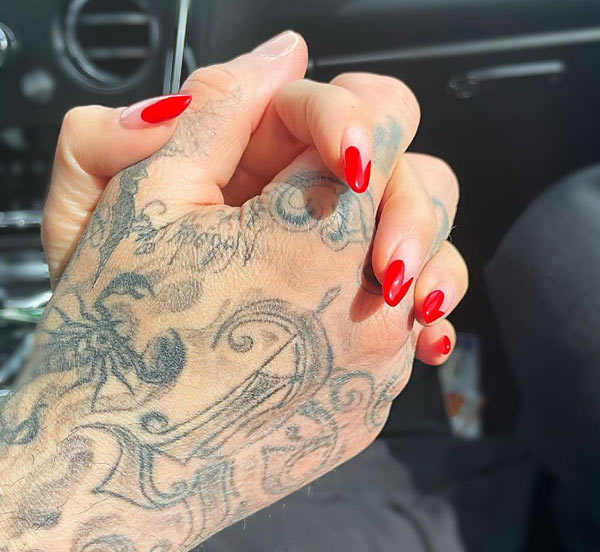 Barker popped the question while the two were on a seaside vacation, setting the scene on the beach with a heart-shaped floral arrangement surrounded by candles.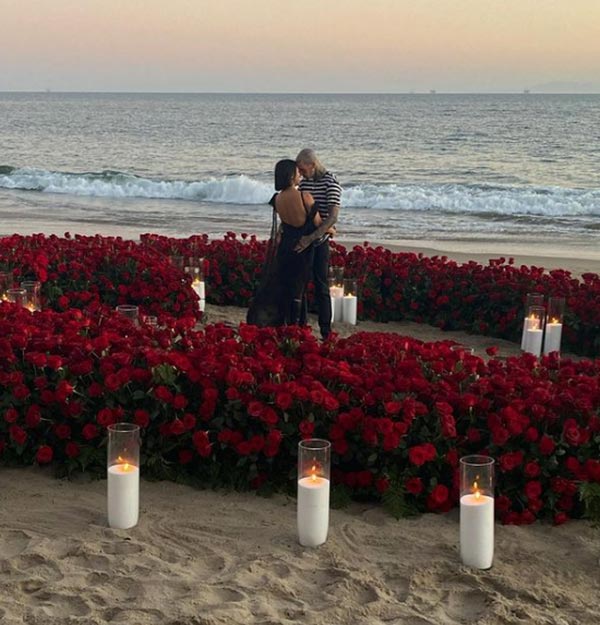 The couple have since tied the knot not one but three times – they had a 'practice' Las Vegas wedding at 2am directly after the Grammys in April. Then they had an 'official wedding' at a courthouse in Santa Barbara and finished it off with a lavish 3 day affair in Italy a week after.
Kourtney Kardashian's engagement ring pictures
On October 21st, 2021, we got our first look at the ring when Kourtney posted even more photos of the romantic proposal and vacay getaway!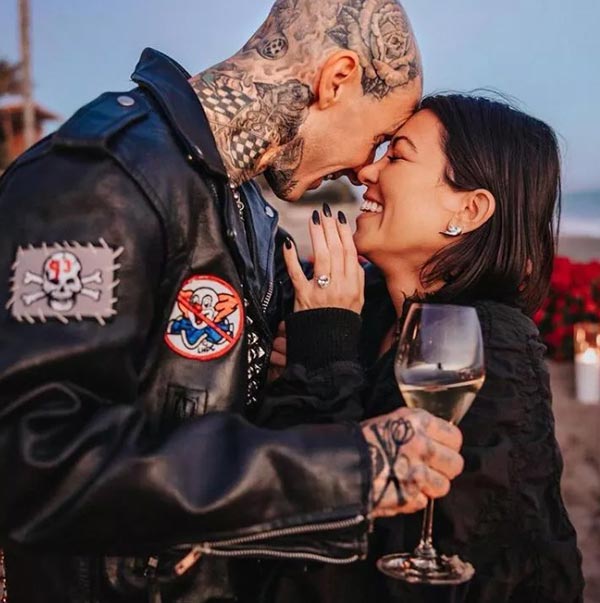 In this sweet photo we can make out that Kourtney's engagement ring is an oval shaped diamond set on what looks like a platinum or white gold band.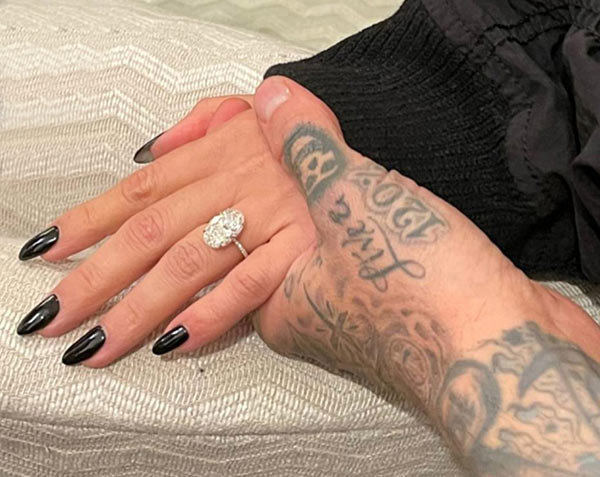 In this photo two things become crystal clear, the ring has a diamond pave band, and that center stone is huge!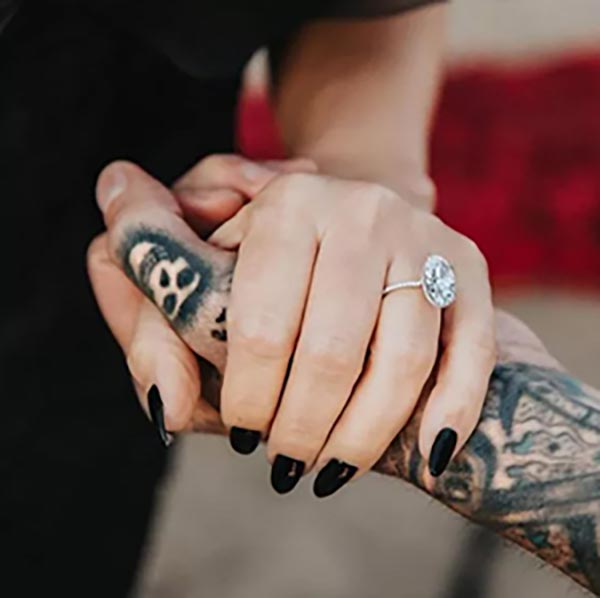 Here we get a great side view of the ring, showing off that pave sparkle
What style setting is Kourtney Kardashian's engagement ring?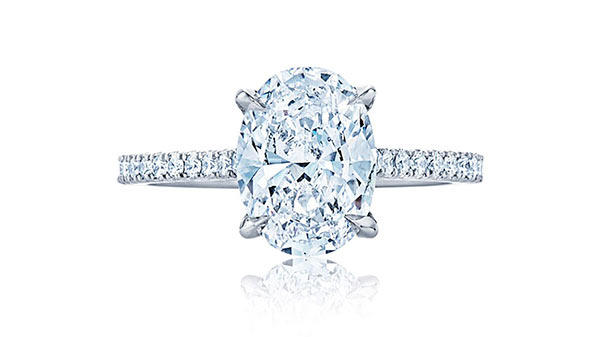 Barker worked with Lorraine Schwartz, the longtime go-to jeweler of the Kardashian-Jenner family, to craft the ring. Kourtney's engagement ring is an oval shaped diamond set on a platinum solitaire pave band. All that sparkle is absolutely dazzling.
What shape is Kourtney Kardashian's engagement ring?
The center stone of Kourtney Kardashian's engagement ring is a trendy flawless, oval shaped diamond.

Oval diamond engagement rings are an increasingly popular option for people who want all the benefits of a round brilliant engagement ring (amazing sparkle) but want something a little bit different.
A huge plus with an oval diamond engagement ring is that it has nearly all the best bits of a round engagement ring, but is priced much lower. It's basically an elongated round brilliant, so does an excellent job of reflecting light back to your eyes, making the diamond sparkle brilliantly.
How many carats is Kourtney Kardashian's engagement ring?
Kourtney Kardashian's center stone is a staggering 10 carat oval cut diamond, definitely a showstopper.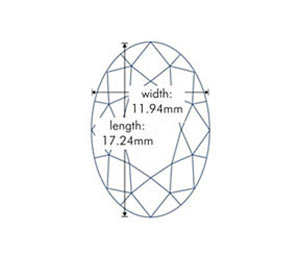 How much did Kourtney Kardashian's engagement ring cost? And what's it really worth?!
While we don't know the official price, we can definitely speculate as to what a similar ring might cost.
The vast majority of the cost of the ring would be comprised of the diamond, with the setting making up a much smaller part of the total cost.
A top quality, flawless, 10-carat oval diamond with exceptional cut quality, color, and clarity costs around $1,000,000.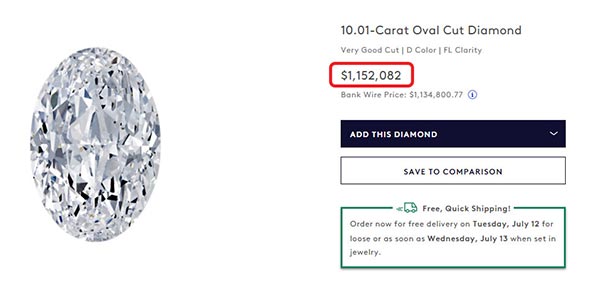 But Barker didn't necessarily need to spend that much to get a beautiful center stone. By choosing a lower clarity and color grades, the ring could be just as impressive for significantly less money!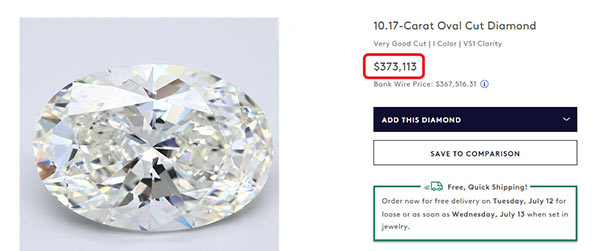 Kourtney Kardashian's Engagement Ring Copy
For once, it is actually easy to "Keep Up With" a Kardashian! Because of its trendy but simplistic style, emulating Kourtney's ring is completely in reach of the average person!
The first is a very close match- a white gold solitaire setting covered in diamond pave.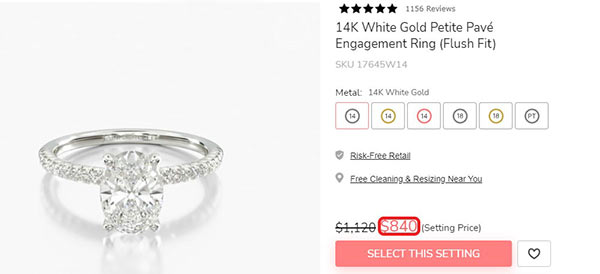 Click here to find out more information about this 14K White Gold Petite Pave Engagement Ring from my recommended retailer James Allen.
Next up we have a very similar option, minus the pave band, for those looking for a little more simplicity in style.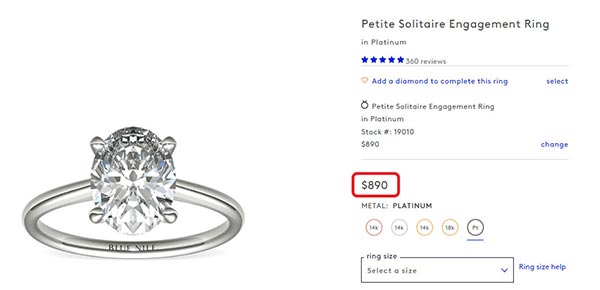 Click here to learn more about this Petite Solitaire Engagement Ring from my recommended retailer Blue Nile.