Hillary Duff's engagement ring
The ultimate guide to Hillary Duff's diamond ring
Ringspo is reader-supported, which means we may receive a commission if you click a link to a retailer & subsequently make a purchase.
We feature links to several retailers to help readers find the one that is the best fit for them. Find out more about how Ringspo works here.
Hilary Duff's engagement ring made its Instagram debut on May 9th, 2019, and fans went wild. It looks like the third time is the charm for Duff and on-again-off-again beau, singer-songwriter Matthew Koma.
The couple initially met back in 2017 when they collaborated songs including "Breathe In. Breathe Out" from Duff's fifth studio album. The two welcomed their new daughter Banks Violet in late October of 2018. While there's no official date for the wedding, chances are the notoriously private duo will keep things pretty under wraps.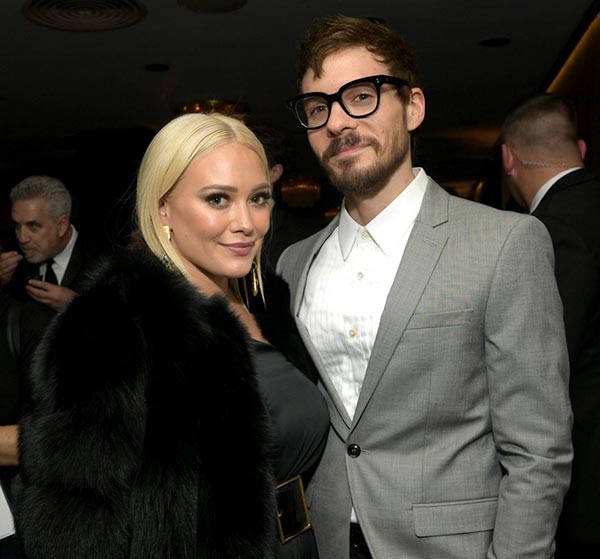 If you are looking for all the juicy details about Hillary Duff's ring, you've come to the right place!
You'll find out:
What style Hilary Duff's engagement ring is
What size the diamond on Hilary Duff's engagement ring is
How much Hilary Duff's engagement ring is worth
Hilary Duff's engagement ring pictures
In her Instagram photo, which was taken in New York City, Duff is smiling from ear-to-ear, showing off what appears to be a cushion cut engagement ring, set on a split shank band of either white gold or platinum.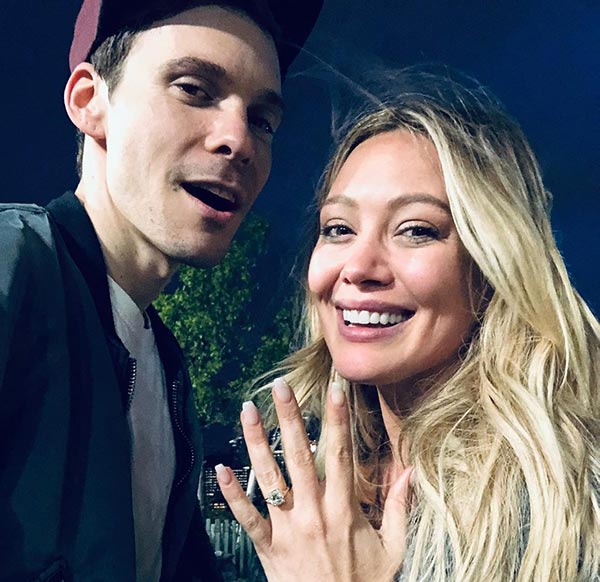 What style setting is Hilary Duff's engagement ring?
Hilary's ring is a cushion cut solitaire setting of either white gold or platinum, with a split shank.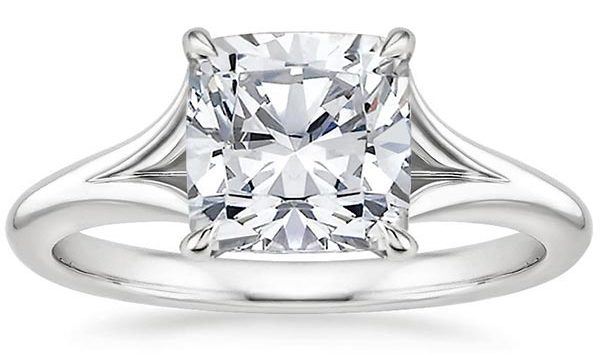 Solitaire engagement rings are undoubtedly the most popular style of ring out there. In fact, in a recent survey by theknot.com, over 25% of the respondents had received a solitaire ring.
Solitaire rings are popular for a couple of good reasons. The first is that it's classic, classy and elegant design, which lets the center stone take pride of place with no distractions. The second is that they're extremely well-priced, which means that there is more budget left for an incredible center stone.
What shape is Hilary Duff's engagement ring?
The center stone of Hilary Duff's engagement ring is a classic cushion cut diamond.
Cushion cut engagement rings are a classic shape that are making a comeback, as more people realize that they offer a great combo of elegant style, incredible sparkle and great value.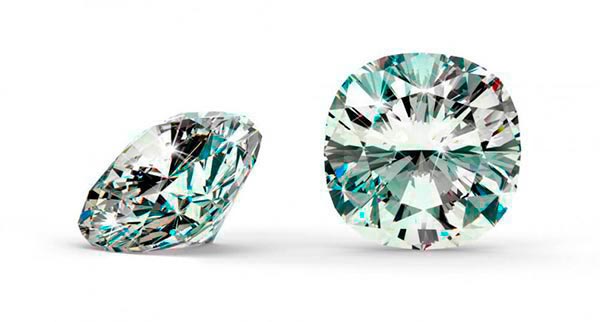 They fell out of favor when the round brilliant shape was created and people chose it for its superior sparkle.
But today's cushion cut diamonds have learnt from their newer, flashier brothers. Modern cushion cuts have taken the learnings of the past century on how light is reflected through 'brilliant' cut diamonds to increase its sparkle way beyond what you would find in a ring from 100 years ago.
A classic 4 prong setting is great for a cushion cut because it allows as much light as possible to enter the stone, giving the diamond the best chance possible of sparkling.
How many carats is Hilary Duff's engagement ring?
Koma did a great job selecting an elegant setting to compliment an attention-grabbing 4 carat cushion cut diamond center stone.
While the dimensions of a cushion cut diamond change depending on how it has been shaped, and Hilary's cushion does appear to be elongated, which is common in higher carat weight cushion cuts.
How much did Hilary Duff's engagement ring cost? And what's it really worth?!
It has been widely circulated that Hilary's engagement ring cost around $50,000.
Looking at a cushion cut with excellent specifications (D color and VS2 Clarity) from one of my recommended retailers, this estimate seems pretty on the mark: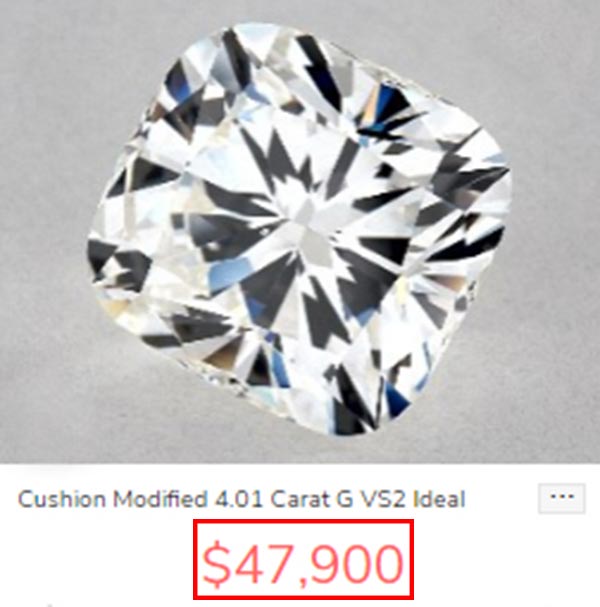 Hilary Duff's Engagement Ring Copy
Due to its classic simplicity Hilary Duff's engagement ring is actually quite easy to copy for yourself! Here are two great options to make all of your cushion-cut worries "so yesterday!"
The first is a very close match- a platinum solitaire setting with a plain split shank. Click here to find out more information about thus Platinum Twisted Shank Contemporary Solitaire engagement ring from my recommended retailer James Allen.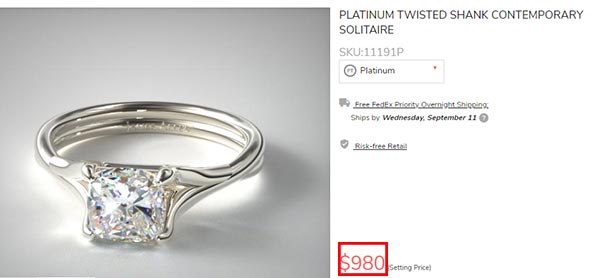 Next up we have an added touch of elegance and visual interest on Hilary's simplistic style. This setting features a delicate milgrain design on either side of the center cushion, mimicking the vibe of a split shank. Click here to learn more about this Heirloom Petite Milgrain engagement ring from my recommended retailer Blue Nile.