Bindi Irwin's engagement ring
The ultimate guide to Bindi Irwin's diamond ring
Ringspo is reader-supported, which means we may receive a commission if you click a link to a retailer & subsequently make a purchase.
We feature links to several retailers to help readers find the one that is the best fit for them. Find out more about how Ringspo works here.
Bindi Irwin's engagement ring is the perfect embodiment of her dedication to conservationism and the natural world.
Bindi and her new fiancé – wakeboarder Chandler Powell – released some stunning images from a professional photo shoot to announce their fairytale engagement.
The adorable couple first met six years ago in November of 2013, when Powell, a Florida native, was visiting Australia for a pro-wakeboarding competition and decided to first swing by the Australia Zoo.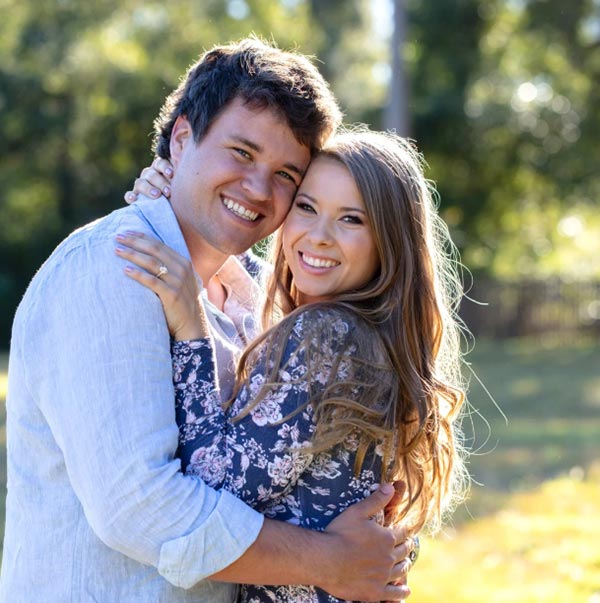 It just so happened that Bindi Irwin was giving a tour that day and Powell was immediately smitten with the beauty. The two hit it off right away and the rest is history!
Powell proposed on Bindi's 21st birthday, July 23rd, 2019, in a special private part of the Australia zoo.
If you're looking for all of the details about Bindi Irwin's engagement ring, you've come to the right place!
You'll find out:
What style Bindi Irwin's engagement ring is
What size the diamond on Bindi Irwin's engagement ring is
How much Bindi Irwin's engagement ring is worth
Bindi Irwin's engagement ring pictures
In typical Irwin fashion, Bindi debuted her new engagement ring with the help of a friendly reptile! Thanks for being so open Bindi! From this photo we can see that Bindi is sporting a rose gold engagement ring, with an oval diamond center stone, and a twist pave band.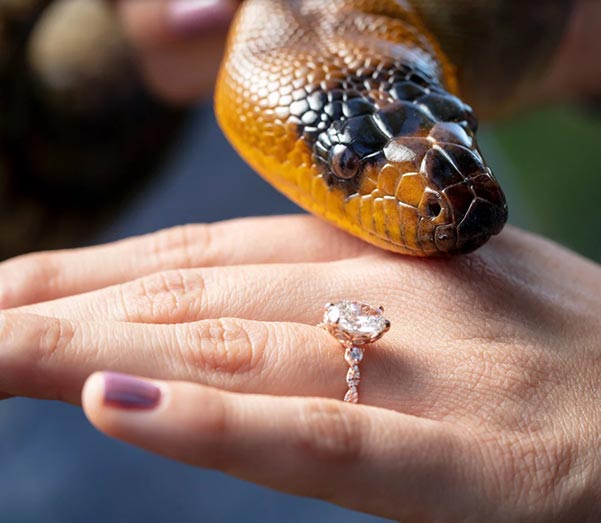 This second sweet pic gives us some size perspective on that dazzling center stone.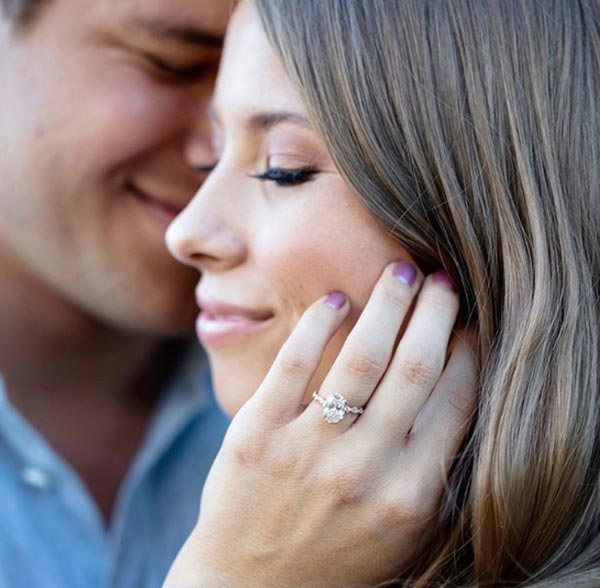 What style setting is Bindi Irwin's engagement ring?
Ever eco-friendly, Bindi's engagement ring is a solitaire setting made from recycled rose gold. The twisted pave band is of course nature inspired and scattered with diamonds. Bindi stated to reporters that she always dreamed of a vintage style ring, and considers herself quite traditional.
The main reason for choosing a setting with pavé is the huge bump in sparkle and beauty you get by adding petite diamonds to the ring. Round brilliant diamonds are usually used for pave settings as they are the sparkliest of all the diamond shapes. By placing a large number of them very close together, you make sure that your ring will catch the light from any angle and sparkle brilliantly.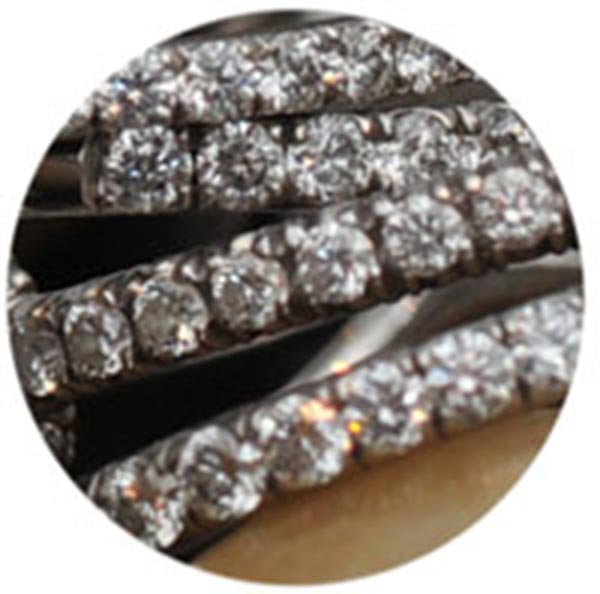 Pavé engagement rings can require that a little more care is taken over them than simpler styles due to the sheer number of small stones that are used in the ring setting and the delicate nature of the prongs that hold them in place.
The diamonds used in a pavé setting are usually less than 1mm across, and the prongs that are holding them in place even smaller still – they're the tiny dots on the corners of the diamonds in the picture on the right. It doesn't take much force for one of these tiny prongs to get bent out of place, which means that the diamonds could become loose or even fall out.
It's recommended that pavé rings are taken into a jewelers to be checked at least once a year, if not more.
What shape is Bindi Irwin's engagement ring diamond?
The center stone of Bindi Irwin's engagement ring is a trendy but classic oval shaped diamond.

Oval diamond engagement rings are an increasingly popular option for people who want all the benefits of a round brilliant engagement ring (amazing sparkle) but want something a little bit different.
A huge plus with an oval diamond engagement ring is that it has nearly all the best bits of a round engagement ring, but is priced much lower. It's basically an elongated round brilliant, so does an excellent job of reflecting light back to your eyes, making the diamond sparkle brilliantly.
How many carats is Bindi Irwin's engagement ring?
Bindi Irwin's center stone is an understated 2 carats, perfect for her down-to-earth personality.
Here's an oval diamond size chart just for visual comparison. The average size of an engagement ring center stone is typically around one carat.
How much did Bindi Irwin's engagement ring cost? And what's it really worth?!
Bindi's ring cost approximately $25,000, and this is largely due to the fact that Powell opted for a lab created diamond as a center stone. Lab grown diamonds on average are about 40-50% cheaper than their natural counterparts.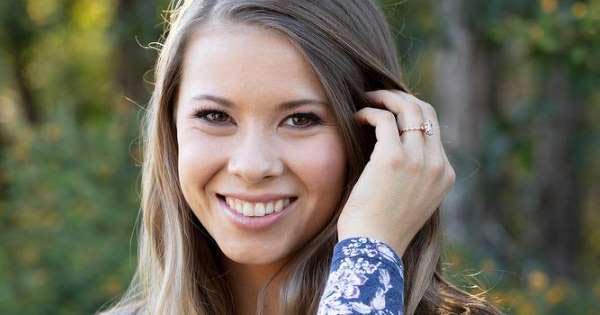 This is a great option when you're searching for the perfect engagement ring on a budget. It means you can often afford a much larger and higher quality lab grown diamond than you could a natural diamond.
A lot of misinformation floats around about lab grown diamonds but the most important thing to remember is this: lab created diamonds are real diamonds; they have the exact same chemical structure as a diamond plucked out of the Earth.
It makes perfect sense that Bindi and her fiancé would go for a lab created diamond as they are created in safe environments with fair wages, and remove any possible social or ethical dilemmas sometimes associated with diamonds that may have come from conflict areas.
Bindi Irwin's Engagement Ring Copy
The wonderful thing about Bindi's engagement ring is that emulating its style is completely within reach for the average person!
Here are two choices to consider:
First up we have a close match, a14k rose gold solitaire setting with a twisted diamond pavé band. The oval center stone is held in place by four sturdy white gold prongs that won't cast any colored shadows on the diamond. The total carat weight of the setting is 0.33. Click here to find out more information about this 14k Rose Gold Pave Twist engagement ring available from my recommended retailer James Allen: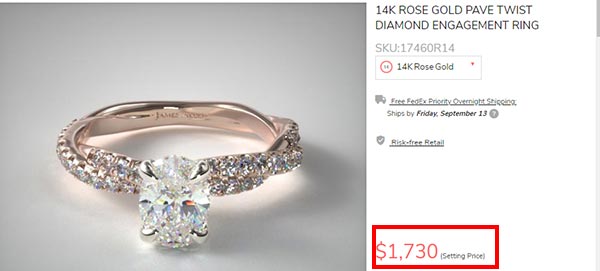 Next we have a similar 18k solitaire twist setting, except this style features a more understated distribution of pavé, for all of the elegance of Bindi's engagement ring, but a little less flash. This setting's total carat weight is approximately 0.12. Click here to learn more about this Enamour engagement ring from my recommended retailer Taylor & Hart.