Cardi B's engagement ring
Cardi B's engagement ring
Ringspo is reader-supported, which means we may receive a commission if you click a link to a retailer & subsequently make a purchase.
We feature links to several retailers to help readers find the one that is the best fit for them. Find out more about how Ringspo works here.
Just look at Cardi B's engagement ring; she is definitely making "money moves"!
American rapper Belcalis Marlenis Almanzar, known professionally as Cardi B, has been flaunting her stunning engagement ring since fellow rapper Offset (Kiari Kendrell Cephus) proposed to her with it in front of hundreds of adoring fans at Power 99's Powerhouse concert on October 28th, 2017.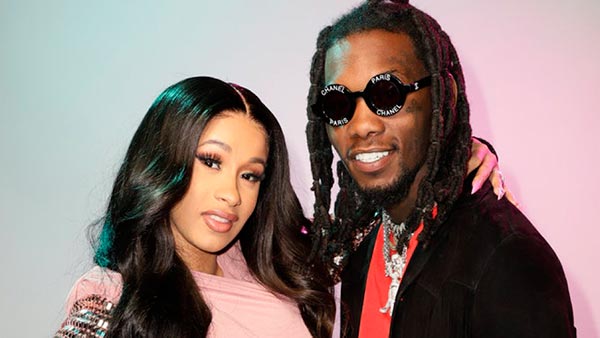 Offset's live proposal was so touching, but here's the twist, the couple had been secretly married since September 20th, 2017. The music power couple was married privately by an officiant at their home, with Cardi B's cousin serving as the only witness.
I said I do, with no dress no makeup and no ring. I appreciate and love my husband so much for still wanting for me [to] have that special moment that every girl dreams of when he got down on his knee and put a ring on my finger and he did that for me!!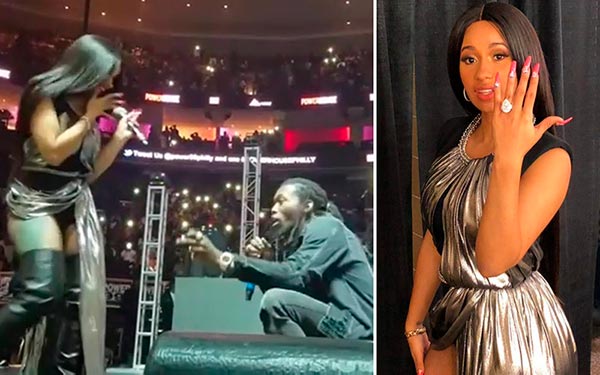 Cardi has explained that she and Offset first met sometime during 2016 at an "industry event." They chatted a bit, collaborated on her hit song 'Lick', and then magically bumped into each other again in February of 2016 while both were in New York just following the team-up. They weren't deemed "officially" together until they stepped out to Met Gala after-party together, shortly after. Since then the two have enjoyed a whirlwind romance and are now happily wed and expecting their first child.
If you are looking for all the details about Cardi B's engagement ring, you've come to the right place!
You'll find out:
What style Cardi B's engagement ring is
What size the diamonds on Cardi B's engagement ring are
How much Cardi B's engagement ring is worth
Cardi B's engagement ring pictures
Cardi B first flashed her stunning engagement ring on Offset's Instagram story on October 28th, 2018, and it nearly broke the internet.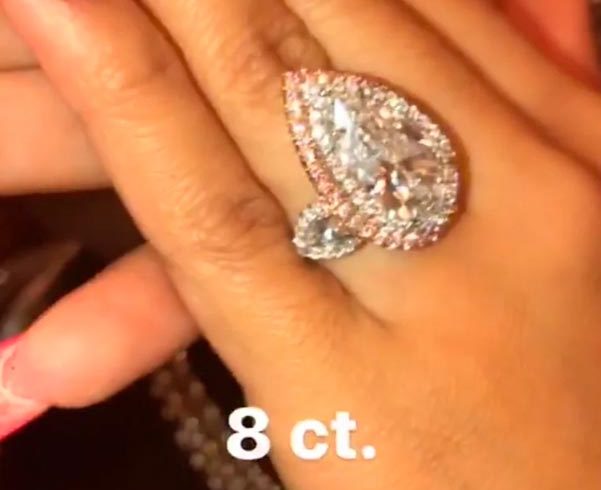 Here's a close-up of Cardi's perfect pear where we can clearly make out all the key details. So let's get to them!
What style setting is Cardi B's engagement ring?
Cardi B's engagement ring is a blinding double halo setting in what appears to be white gold or platinum.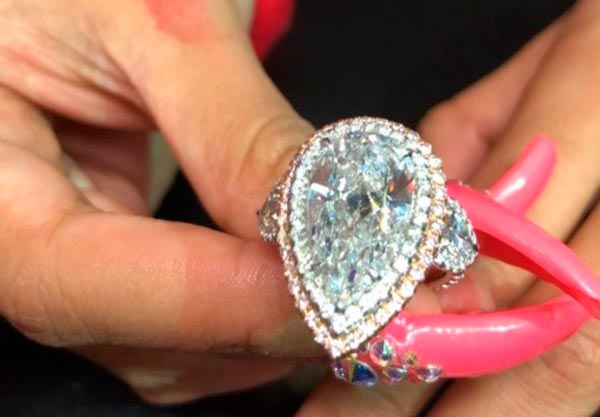 Halo engagement rings feature a circle of smaller stones in a, er, halo-style circle around the center stone of a ring. Although diamonds are often used for the halo, other precious gems like emerald, rubies or sapphires can be used too, to provide an interesting and unusual contrast effect.
Halo settings are among the most popular styles at the moment, with a range of different looks available, depending on the design of the ring – everything from classic art deco style retro styles to blinged-up double-halo rings like Cardi's, which could probably be seen from space.
Choosing a halo diamond engagement ring is a great way to make a center stone look larger than it really is without the costs involved in actually splashing out on a larger stone.
Uniquely, Cardi B's engagement ring's outer halo is comprised completely out of feminine pink diamonds.

Pink diamonds are among the rarest colored diamonds in the world, along with natural violet, red, and blue. Less than 0.01% of all diamond carats mined are quality pink diamonds. Due to their rarity and their beautiful color they are priced fairly high; significantly higher than say, more common brown or yellow diamonds.
What shape is Cardi B's engagement ring diamond?
The center stone of Cardi B's ring is an elegant pear cut diamond. This shape is an excellent choice for those looking for an alternative to the traditional round brilliant cut, while not sacrificing the sparkle! Pear cut diamonds are actually a combination of the sparkle-fest round brilliant at one end, and the sleek marquise at the other.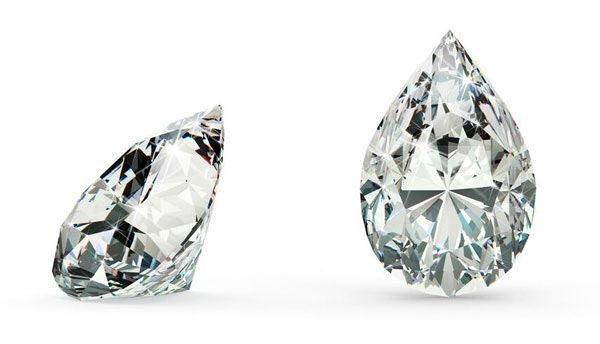 Pear cut engagement rings are quite rarely seen, and choosing this shape will definitely make you stand out from the crowd.
A big advantage of choosing a cut other than a standard round brilliant, is the savings that can be made due to lower levels of demand, and because restrictions on what makes a 'good shape' are not so stringent. Pear cut diamonds can also appear larger than other cuts because at the same carat weight they will have a greater 'spread'. This means that more of the diamond's weight is distributed in its width and height, rather than its depth.
Pear cut diamonds are very flattering for those with petite hands or shorter fingers, as the shape gives an elongating effect when worn with the point facing towards the tip of the finger. It pairs perfectly with Cardi B's signature long nails.
How many carats is Cardi B's engagement ring?
Cardi B's engagement ring consists of:
an 8 carat pear cut diamond center stone,
2 x 1 carat pear cut side stones,
and an additional 2 carats worth of pink and white diamond melee stones
That all adds up to a grand total carat weight of 12 carats.
Not bad Offset!
Where is Cardi B's engagement ring from?
Cardi B's ring was custom made by Pristine Jewelers NYC, located in the Diamond District in Manhattan. The engagement ring was made to Offset's specifications, and was finished just in the nick of time! He picked it up himself just hours before he proposed onstage.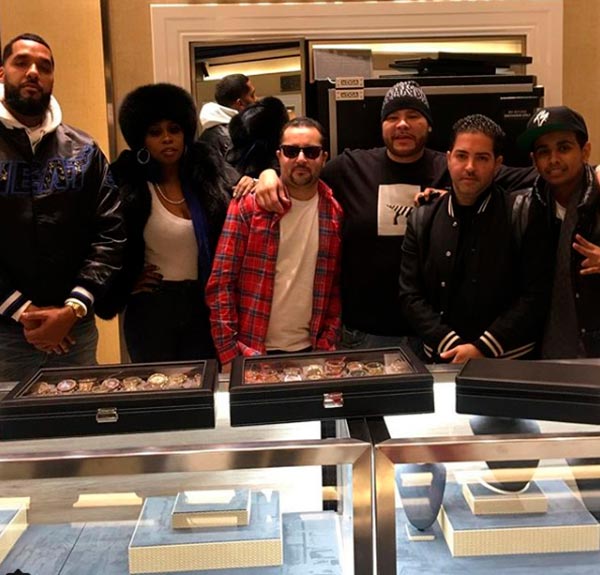 How much did Cardi B's engagement ring cost? And what's it really worth?!
Cardi B's engagement ring cost reportedly Offspring a staggering $500,000. Not only is her center diamond 8 carats, it also includes a halo of rare pink diamonds.
So did Offset get good value?
Such a sizeable diamond is hard to compare to others, and a lot depends on the quality of the stone. But, we can find a similar carat weight pear shaped diamond at one of my recommended retailers for $272k. It looks like Cardi B's stone is both higher in color and clarity grades than this stone, so with the side-stones and the halo setting, $500k is a very realistic valuation.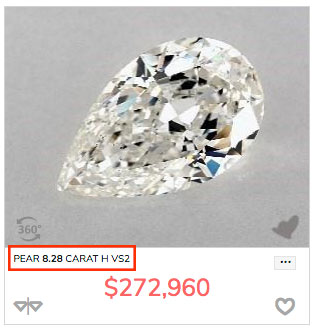 Cardi B's Engagement Ring Copy
Despite the sky-high prices that accompany most celebrity engagement rings, rest assured it is entirely possible to get an engagement ring inspired by the queen of rap without breaking the bank! Here are three options to consider if you want to rock a Cardi inspired…well…rock.
Get the shape and shine of Cardi B's engagement wing with this 14k white gold pear halo setting. The setting consists of 62 round brilliant melee diamonds to really catch the light. Click here to learn more about this 14k White Gold Double Shank Pear Halo Engagement Ring from my recommended retailer James Allen: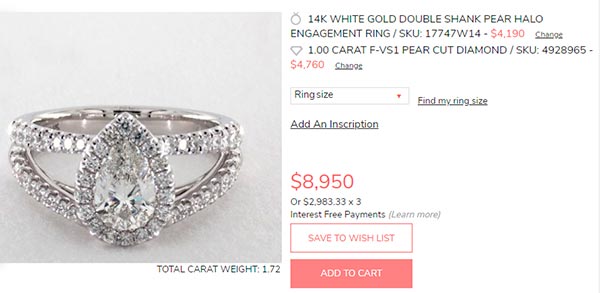 If you're looking for a more classic take on the pear halo ring, this pear halo setting from Wove might be just the ticket. This setting features a shimmering halo of diamonds surrounding a pear-shaped center diamond, it's also complemented by multi-row pave diamonds on the band. Click here to find out more about this Pear 'Elena' Ring from my recommended retailer Wove.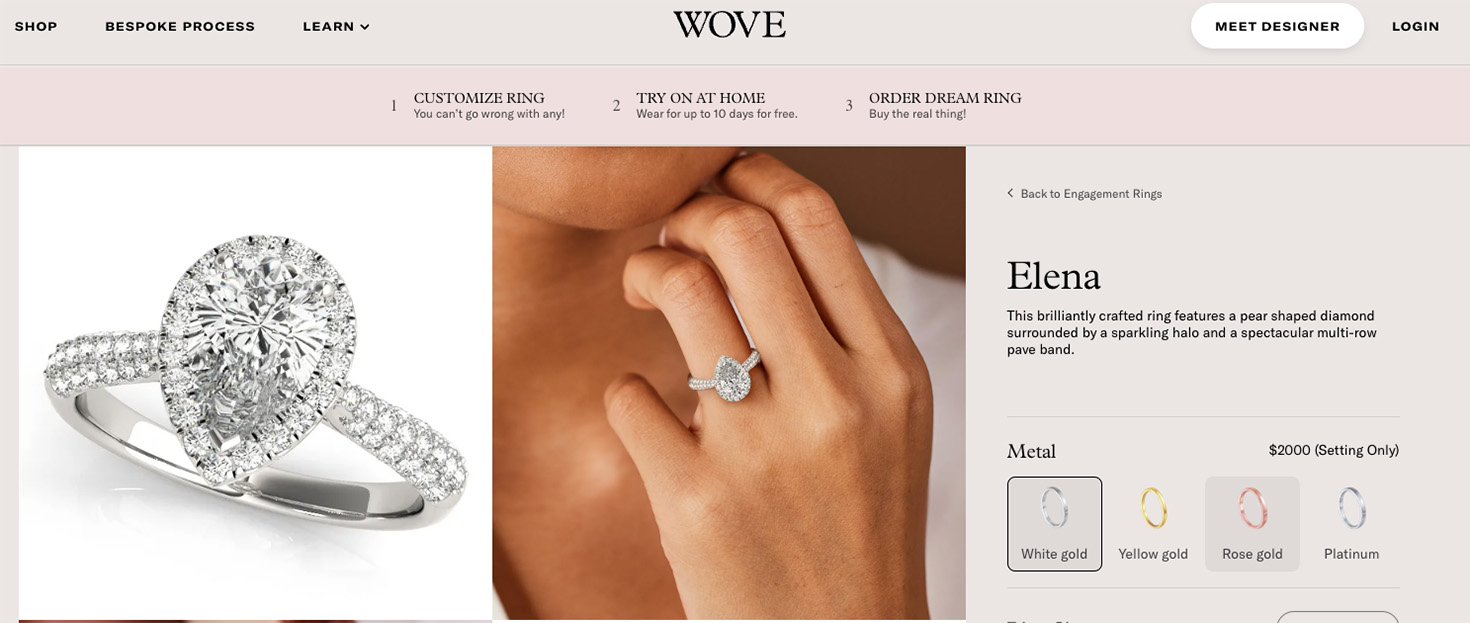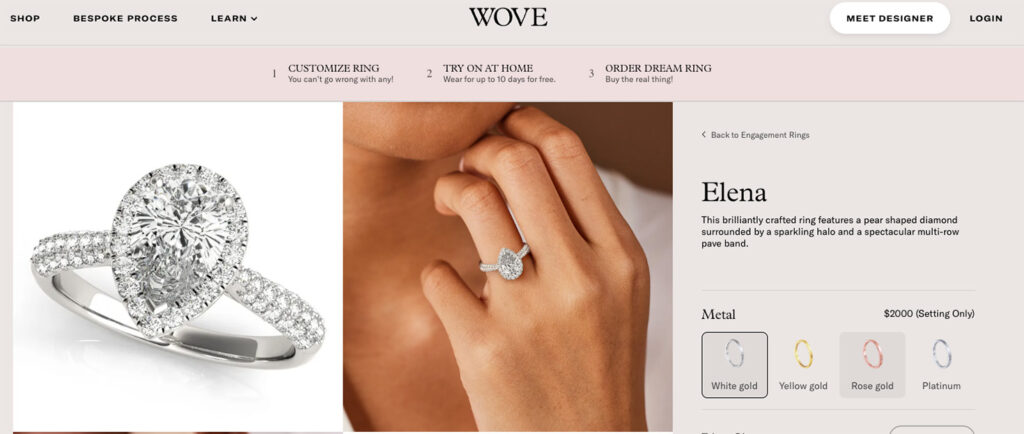 Option number three is for someone really after that full Cardi B over-the-top glam experience. Not only does it feature 2 halos of pink diamonds, the center pear is a gorgeous .44 carat pear cut diamond as well! Mounted in platinum and 18k rose gold, this ring definitely makes money moves.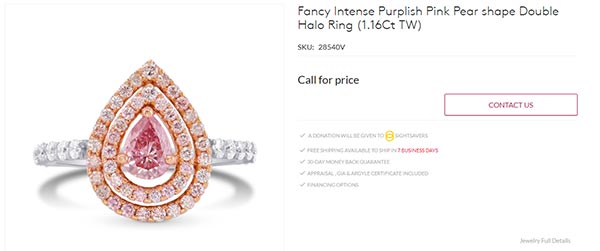 Click here to learn more about this Fancy Intense Purplish Pink Pear Shape Double Halo Ring from my recommended retailer Leibish.