2018 Engagement Ring Trends
The hottest engagement ring styles in 2018
Ringspo is reader-supported, which means we may receive a commission if you click a link to a retailer & subsequently make a purchase.
We feature links to several retailers to help readers find the one that is the best fit for them. Find out more about how Ringspo works here.
While classic engagement ring styles never go out of fashion, each year we're asked about what this year's trending styles are. 2018's list of engagement ring trends showcases everything from innovative modifications to timeless classics to new designs hot off the jeweler's bench
2018 Engagement Ring Trends #1: Oval Shapes
The oval shaped diamond ring is the hot ticket this year for brides-to-be. This elegant shape offers a sparkling alternative to the traditional round diamond while also making the fingers look long and slender. Perched on the fingers of Hollywood star Blake Lively and Grand Slam Olympian Serena Williams they are on point to continue to gain in popularity through 2018.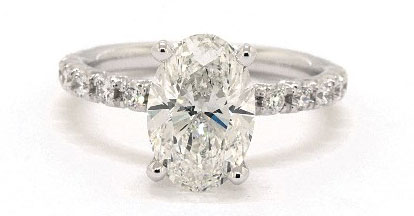 We love this oval shaped diamond ring from James Allen which features an oval shaped diamond set in a mounting with pave set diamonds through the shank. We also love oval shaped diamonds in solitaire style settings and in the ever-popular halo setting.
2018 Engagement Ring Trends #2: Pear Shapes
A shape that's been almost forgotten in the last decade, the pear shape became 2017's choice for brides wanting to show a more modern flair and this trend is continuing throughout 2018. When the ever-chic, Victoria Beckham swapped her out-dated marquise shaped diamond for the unique pear shape in a vintage setting, the world took note and followed suit.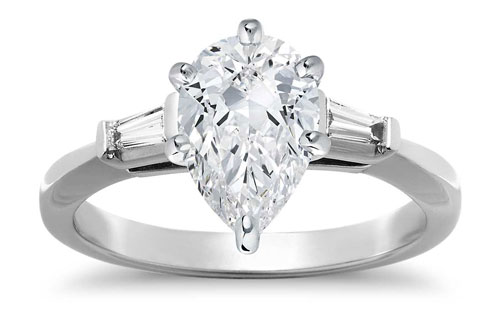 This blingy ring from blue nile features a pear shaped diamond set in a vintage platinum mounting with baguette cut diamonds on each side.
2018 Engagement Ring Trends #3: Rose Gold Mountings with Pave Set Diamonds
A metal that first became a popular choice for jewelry in the 1800s, rose gold has seen a resurgence in the last few years and 2018 could be its biggest year yet as THE metal for engagement rings. The warm pinkish tone of rose gold highlights the blush in the wearer's skin, complementing the hand unlike any other metal. Gossip Girl Leighton Meester said yes to a round diamond in a rose gold mounting set with pave set diamonds through the shank.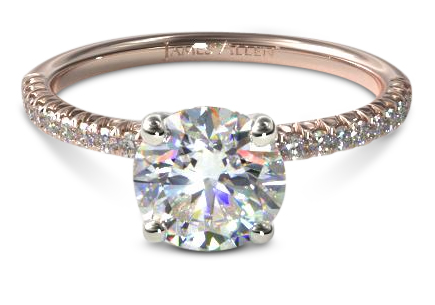 While a plain, rose gold solitaire mounting makes any white diamond pop, we love this jazzier rose gold mounting with pave set side diamonds from James Allen.
2018 Engagement Ring Trends #4: Colored gemstones
Who says you need a diamond to get engaged? The brides of 2018 are snubbing the traditional diamond and saying yes to colored gemstones. When Kate Middleton was presented with the world's most famous engagement ring, she reacquainted all of us with the allure of the non-traditional colored gemstone engagement ring. In 2018, Gwyneth Paltrow is fueling this gemstone fire with her new, velvety blue sapphire engagement ring.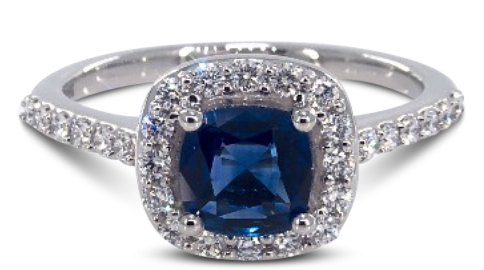 We love this vintage style mounting from James Allen which features a vibrant blue cushion cut sapphire.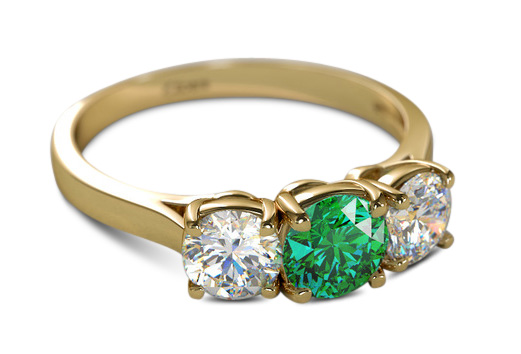 This sweet ring from Zoara features a round emerald gemstone nestled between two round diamonds in a warm yellow gold mounting.
2018 Engagement Ring Trends #5: Split Shanks and Criss-Cross Shanks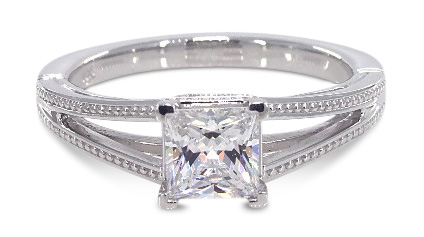 Hip and avant guard, the split shanks and the criss cross shanks are gaining momentum as the go-to choice for brides who think outside of the engagement ring box. This white gold mounting from James Allen features a princess cut diamond in a split shank mounting with milgrain accents. Blue Nile features a criss cross shank with pave set diamonds throughout.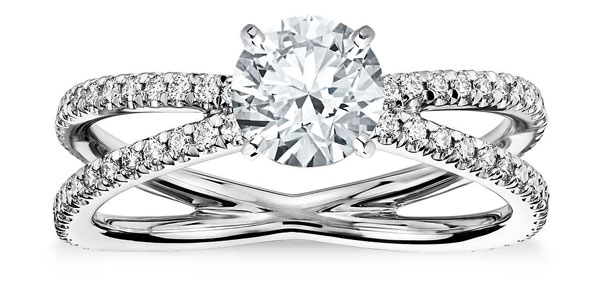 Nashville's Hayden Panettiere sports a classic emerald cut diamond in an on-trend split shank mounting in rose gold.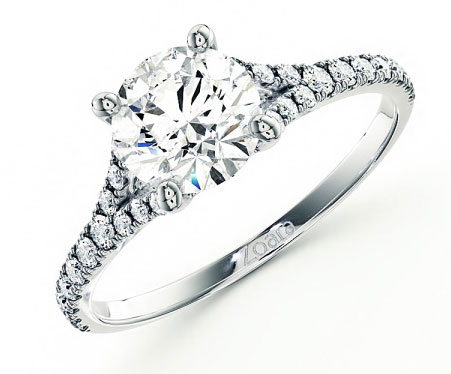 Like this look but you are a bit more traditional? Try this dainty ring from Zoara which features a round brilliant cut diamond in a less severe split shank mounting with pave diamonds throughout.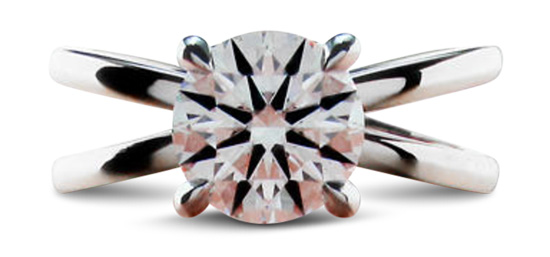 We love this trendy, crisscross spin on a traditional solitaire mounting from Brian Gavin.
2018 Engagement Ring Trends #6: Updated Halos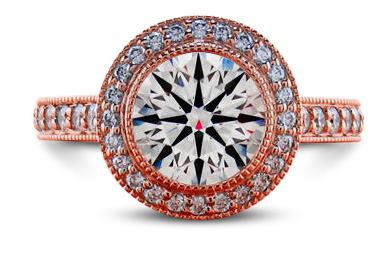 The halo style engagement ring is a design that's been popular for the last decade and it keeps getting better. For 2018, the latest upgrade to this old favorite is mixing metals or adding interesting accents. This halo mounting from Brian Gavin is in this year's hottest metal, rose gold. Also, the milgrain accents around the diamond, the halo, and the shank add a nuance of texture. Brilliant in so many ways!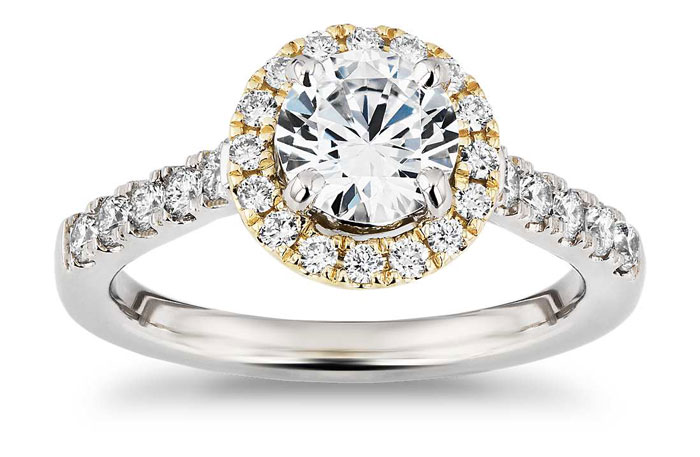 We are also big fans of this Colin Cowie design halo mounting from Blue Nile which features a yellow gold halo on a white gold mounting. The halo and the diamond absolutely pop in this metal contrast.
2018 Engagement Ring Trends #7: East/West Designs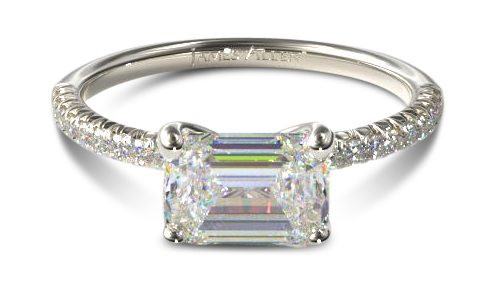 The new trend for 2018 is to literally put a spin on the traditional engagement ring. This year's fiancees are taking the classic solitaire setting and spinning it on its side creating an east/west design. This style works best with an elongated diamond like the emerald cut diamond featured in this ring by James Allen, but ovals, marquises, and even pears would work well in this style. Solitaire styles or halos are both options to spin and most jewelers are happy to accommodate this tweak to their traditional designs. If you want something customized, Taylor & Hart can accommodate your special request.
2018 Engagement Ring Trends #8: Twisted Mountings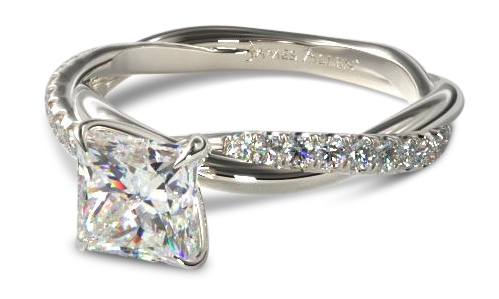 A dainty twist on the classic solitaire design, the twisted mounting is a subtle accent highlighting a beautiful solitaire diamond. This ring from James Allen features a princess cut diamond in a white gold mounting twisted with one row of polished metal and one row of pave set diamonds.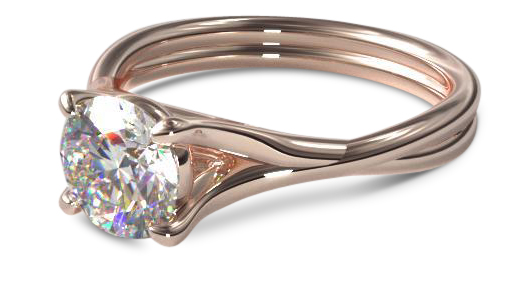 We also love their polished, rose gold twisted band offering up a round brilliant cut diamond. The mounting is also available in white gold.
2018 Engagement Ring Trends #9: Stacked Bands
Many of this year's future brides are stacking on the bling by wearing multiple diamond wedding bands with their engagement ring or without. Traditionally called an eternity or anniversary band, these diamond bands are no longer relegated to an anniversary present and are now being also being used as the wedding band on the big day when they don their wedding dress. In fact, brides still receive them as an anniversary gift and are now wearing them stacked with their other wedding rings.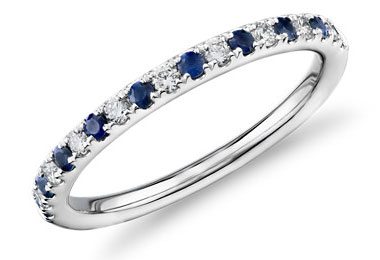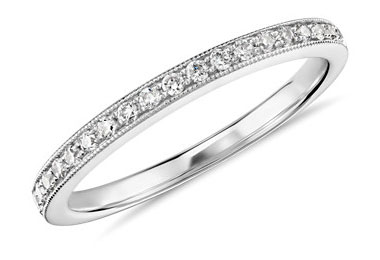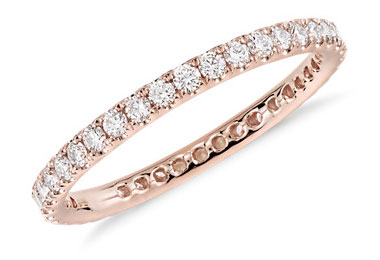 We love this white gold diamond and sapphire band stacked with this diamond and platinum milgrain band and this rose gold band with pave set diamond. The idea is to mix and match different designs and gemstones and gemstone styles. Blue Nile offers an extensive selection of diamond wedding bands.
2018 Engagement Ring Trends #10: Modern Solitaire Designs
The most enduring style throughout the years is the classic solitaire style engagement ring. Displaying one, lone diamond, this traditional setting is getting some new updates for 2018. Brides who like this simplistic style are adding their own unique flourishes by mixing metals and choosing different settings for the center diamond. This mounting from Brian Gavin features a round brilliant cut diamond set in a white gold bezel setting on a rose gold shank.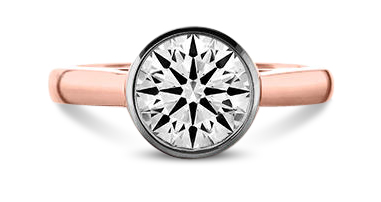 Another option is to use only 3 wide prongs to anchor the center diamond in this trendy, Martini design solitaire ring.