Beyoncé's engagement ring
The ultimate guide to Queen B's diamond ring
Ringspo is reader-supported, which means we may receive a commission if you click a link to a retailer & subsequently make a purchase.
We feature links to several retailers to help readers find the one that is the best fit for them. Find out more about how Ringspo works here.
Beyoncé's engagement ring first made its stunning debut on September 6th, 2008 on the red carpet for Fashion Rocks at Radio City Music Hall in NYC.
On April 4th, 2008 Beyoncé Knowles and Jay Z (Shawn Carter) exchanged top secret vows and celebrated their nuptials with a close circle of 40 at the groom's extravagant penthouse. Though the couple had been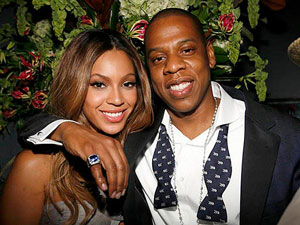 dating for six years and rumors of an engagement abounded, nothing was ever confirmed and the couple have been notoriously low-key about their relationship ever since
It's suspected that Jay Z popped the question on Beyoncé's birthday, on September 4th, 2007. If you are looking for all the details about Beyoncé's engagement ring, you've come to the right place!
You'll find out:
What style Beyoncé's engagement ring is
What size the diamonds on Beyoncé's engagement ring are
How much Beyoncé's engagement ring is worth
Beyoncé engagement ring pictures
Beyoncé took the world by storm a decade ago when she attended Fashion Rocks proudly displaying her eye catching engagement ring. While not the best quality image, we can clearly identify two important aspects of the ring: Beyoncé's center stone is the uncommon emerald cut, and she is sporting a split-shank band.
Jay Z certainly knows how to "put a ring on it." While Beyoncé's engagemnt ring has proven to be very elusive, we get our closest and sharpest look in the image below.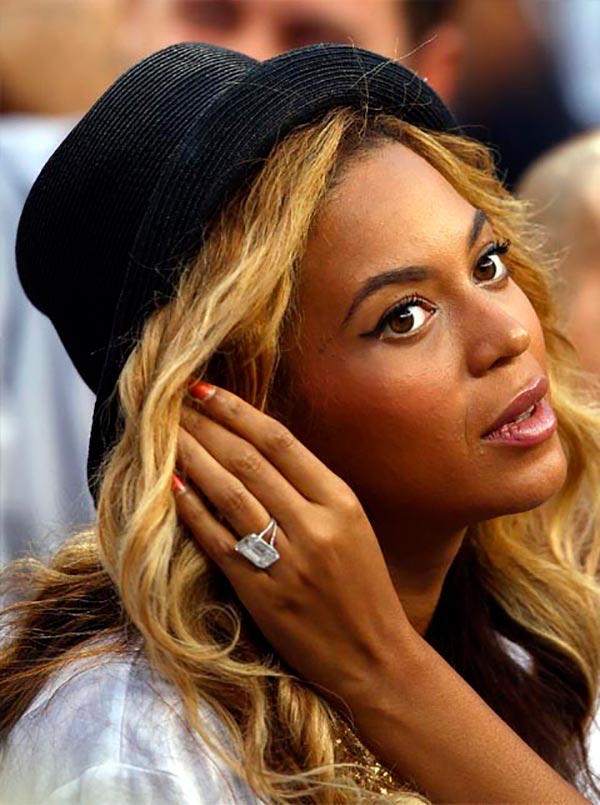 What style setting is Beyoncé's engagement ring?
Beyoncé's engagement ring is a solitaire setting with an elegant platinum split-shank setting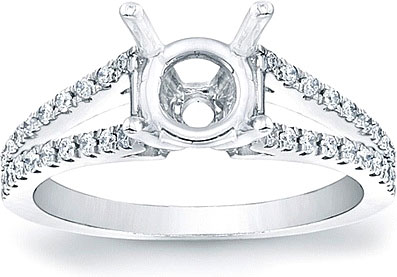 A split-shank setting features a band that parts as it reaches the center stone. Typically these designs will have a visible gap between the band and the center diamond or halo, providing an effect that makes the ring appear larger and more ornate. Many vintage-inspired engagement rings will feature split-shanks, harkening back to the elegance and class of Art Deco and old Hollywood.
Oftentimes a split-shank band will be pavé set with melee diamonds, as the partition provides more surface area to the smaller diamonds, which increases the amount of light reaching them and adding greater overall sparkle to the ring.
Nothing but platinum would suffice for Beyoncé, holder of six platinum selling albums to date. Platinum is the rarest of the metals commonly used to craft engagement rings. Its mix of beauty and durability is a perfect metaphor for marriage, and its strength greatly surpasses gold. With a center stone as large as Beyoncé's the added security of platinum prongs is definitely the way to go.
What shape is Beyoncé's engagement ring diamond?
The center stone of Beyoncé's ring is a stylish emerald cut diamond.

Emerald cut diamond engagement rings make a slightly unusual, but very elegant and classy alternative. With a look that complements vintage-style ring settings, the emerald cut diamond is perfect for someone who values old-school glamour, rather than flashy bling.
The defining feature of the emerald cut is the 'stepped' nature of the pavilion – the bottom half of the stone, marked P on the diagram below.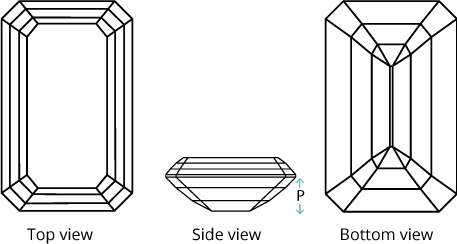 The stepped facets give the emerald cut a much more regular and geometric look than other diamond shapes which have facets angled in many different directions.
For a couple of reasons, emerald cut engagement rings are considerably less expensive than the more popular cuts. The first reason is just that – because there is lower demand for them, jewelers know that they need to price emerald cuts lower.
But emerald cuts are also easier to make than brilliant cuts like the round or the princess cut. This means that a less skilful gem-cutter is needed to create them, and they take less time to cut and shape. These savings can then be passed on to the end consumer…You!
How many carats is Beyoncé's engagement ring?
Beyoncé's center diamond weighs a whopping 18 carats, and is an exceptional flawless stone.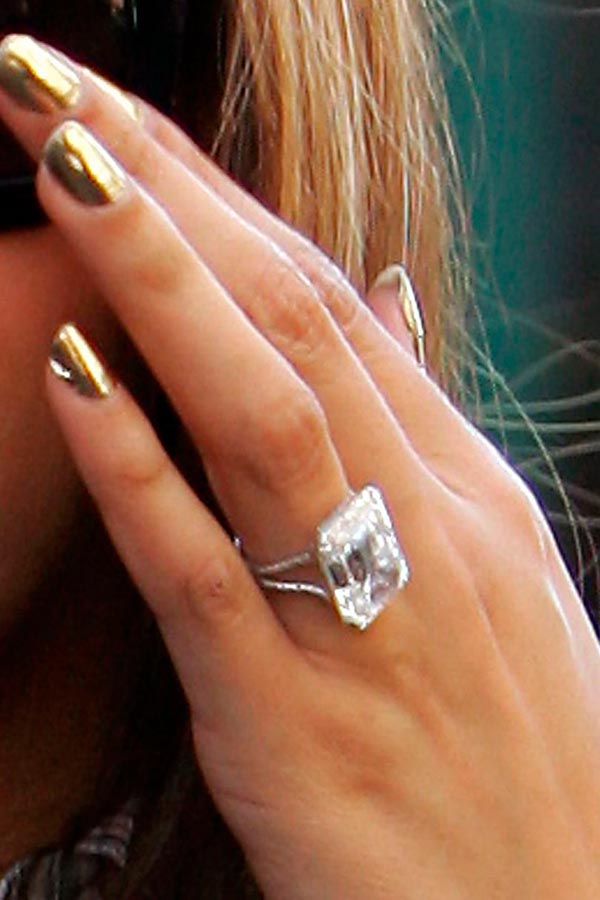 Just for visual comparison, the average size of an engagement ring center stone is right around one carat, pictured below. Quite a difference!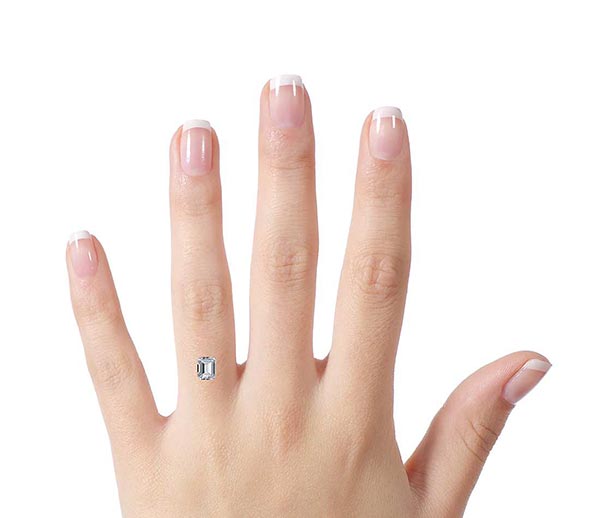 Where is Beyoncé's engagement ring from?
Beyoncé's engagement ring was designed by red carpet favorite Lorraine Schwartz. Jay Z worked closely with the Cincinnati based designer to bring the couple's dream engagement ring to life.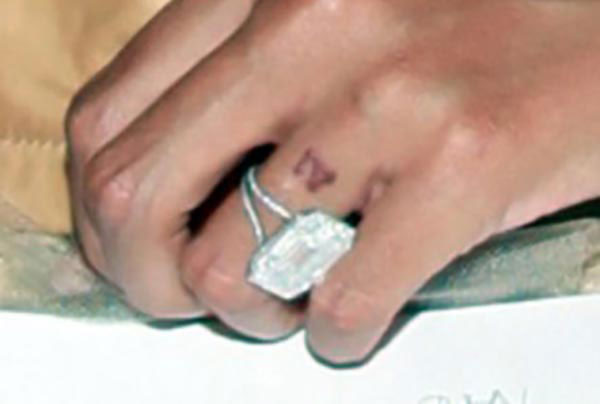 Interestingly the superstar couple opted not to have Lorraine Schwartz design their wedding bands, but instead chose to get matching IV tattoos on their ring fingers. Their marriage is on 4/4, and both Beyoncé and Jay Z were born on the fourth day of their respective birth months, so the number IV is clearly symbolically significant for them.
How much did Beyoncé's engagement ring cost? And what's it really worth?!
Beyoncé's engagement ring cost Jay Z a staggering $5 million. Not only is her center diamond 18 carats, but it is also a flawless stone. Flawless diamonds are exceedingly rare, especially larger sized ones. Such diamonds are so rare in fact, that it is possible for someone to spend a lifetime in the jewelry industry without ever seeing one, and of course they command top prices.

Flawless is the top clarity grade for a diamond. To be graded as flawless a diamond must have absolutely no blemishes or inclusions whatsoever- as perfect as a natural diamond can be.
Beyoncé's Engagement Ring Copy
Despite the sky-high prices that accompany most celebrity engagement rings, rest assured it is entirely possible to get a Hollywood-inspired engagement ring of your own without breaking the bank! Here are two options to consider.
The first is a close match- a platinum split-shank solitaire setting, with 68 pavé set melee diamonds and a carat total weight of 0.24: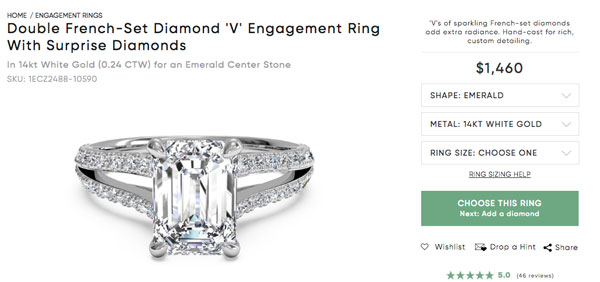 Click here to find out more information about this Double French-set engagement ring available at my recommended retailer Ritani.
The next option provides a split-shank setting with 86 pavé set melee diamonds, while also featuring a halo to provide added sparkle, and increase the visual size of your center diamond: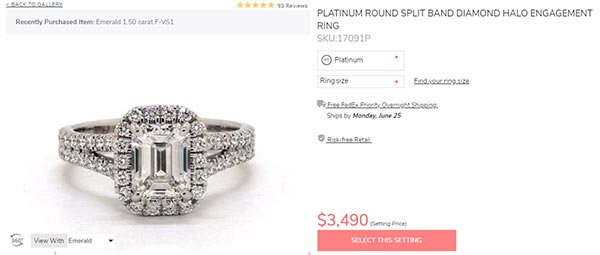 Click here to find out more about this Platinum Round Split Band Halo engagement ring available at my recommended retailer James Allen.