Vintage Tiffany Rings
What you need to know when choosing a vintage Tiffany engagement ring
---
Tiffany and Co is one of the most evocative jewelry brands in the world.
And diving into the brand's heritage means that you could be entering the world of Art Deco, Audrey Hepburn or the glamour of 5th Avenue in the 60s.
With such a rich heritage, it can be difficult to know where to start if you are looking for a vintage Tiffany ring.
In this article, you'll learn everything you need to know to source a beautiful vintage Tiffany & Co. diamond ring and ensure you pay a fair price for it.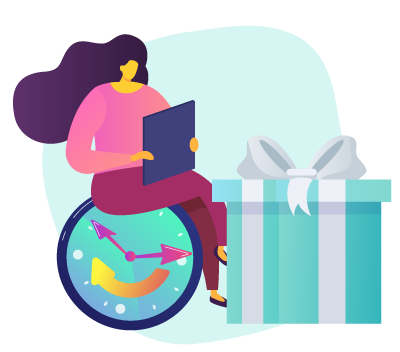 Bottom line when buying a vintage Tiffany diamond ring:
The key to getting buying safely and paying a fair price with vintage Tiffany jewelry is to work with a specialist.
Buying direct from an individual who is sellig their ring could leave you open to buying a non-authentic item with little recourse if it is not as advertised
Our recommendation is Alon at The Diamond Oak – a Tiffany & Co. specialist who has a wide selection of authentic vintage Tiffany rings and fair prices. Check out the current selection here.
The classic Tiffany ring design
While there are many designs of rings that Tiffany have made over the years, there is only on 'Tiffany ring':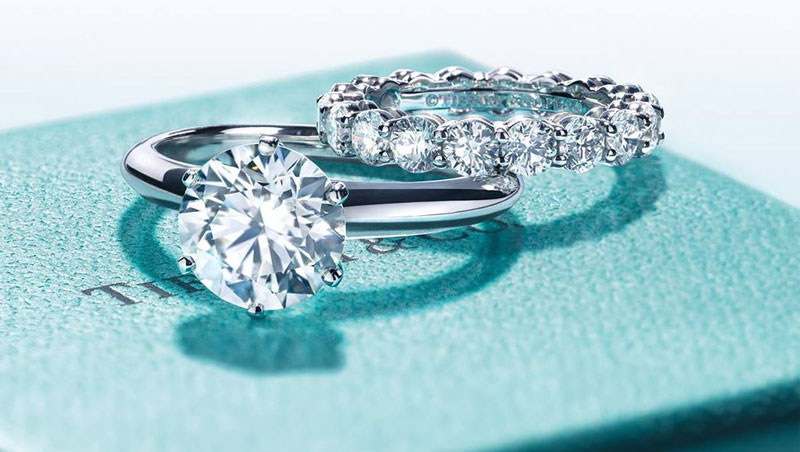 The ingredients are simple:
Platinum 6 prong setting
Slim, elegant band
High quality diamond that sparkles brilliantly
As we can see in the advert below, it's a recipe that hasn't changed since founder Charles Lewis Tiffany first introduced it in 1886: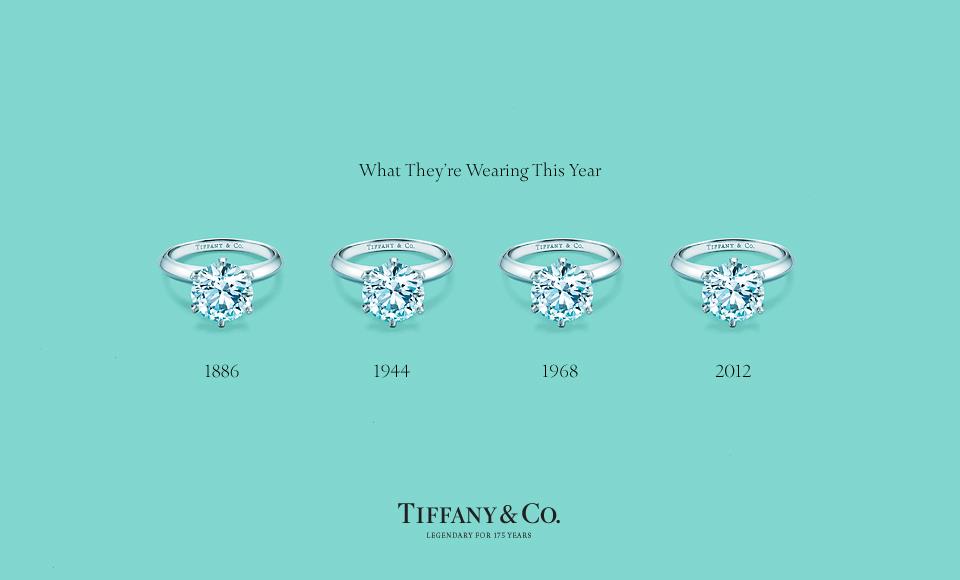 The Tiffany design was revolutionary at the time as it was the first ring design to lift the diamond off the band, allowing the diamond to sparkle more brilliantly.
Before this, diamond rings were set in bezels, which could reduce the amount the diamond sparkled, so the Tiffany setting contributed hugely to .
Older vintage rings will likely be the classic Tiffany style, while newer rings may have more variety in the setting style and the shape of the center stone.
What 'vintage' really means
While vintage is a commonly used term, it is one that has an agreed definition – it relates to jewelry that is over 20 years old. This means that it can be applied to any jewelry created in 2001 or before.
Less commonly used when it comes to Tiffany jewelry is 'antique', which relates to jewelry that is over 100 years old. Tiffany was originally founded in 1837 and the Tiffany setting was creating in 1886, so there are definitely some antique pieces out there, although most non-new Tiffany engagement rings are likely to fall in the 'vintage' camp.
What you will find though is that there are far fewer old Tiffany rings available to be purchased on the secondary market than newer ones. The majority that are readily available were made in the last 20 years, where they would more accurately be labelled used Tiffany rings.
Vintage Tiffany ring prices
The exact price of a vintage Tiffany ring will depend on its age, the quality of the center stone and its condition. As a general rule, the price of a vintage ring will be around half of the cost of a brand new ring with similar quality. This doesn't mean that they are cheap Tiffany rings, but it does mean that their prices are more in line with diamond rings from less prestigious retailers.
If we look at classic platinum Tiffany setting rings on the Tiffany website, a 0.99 carat round diamond with G color and VVS2 clarity is priced at $14,200: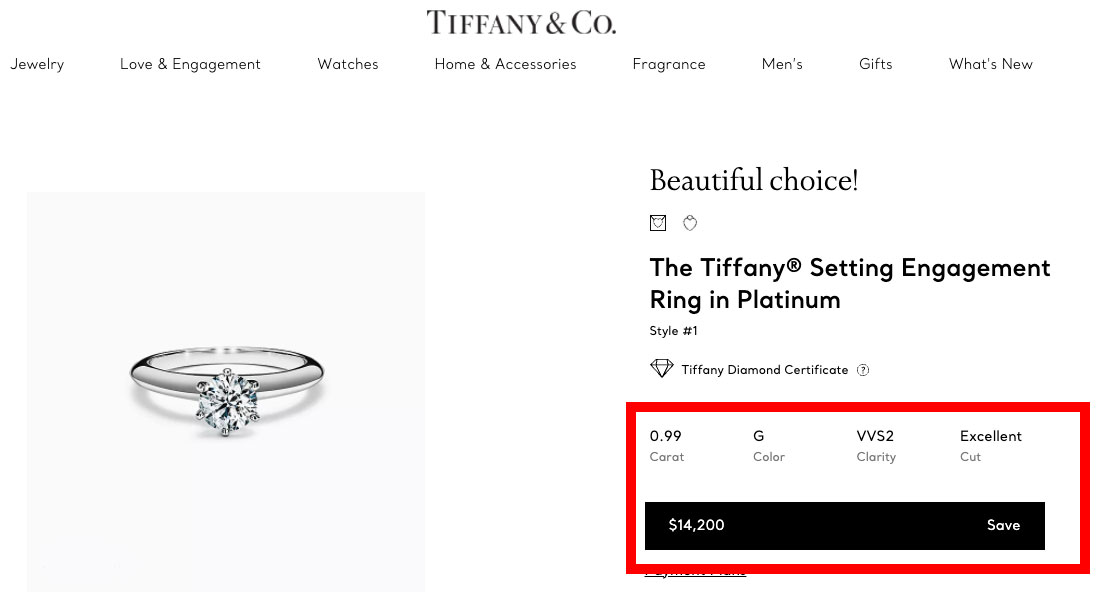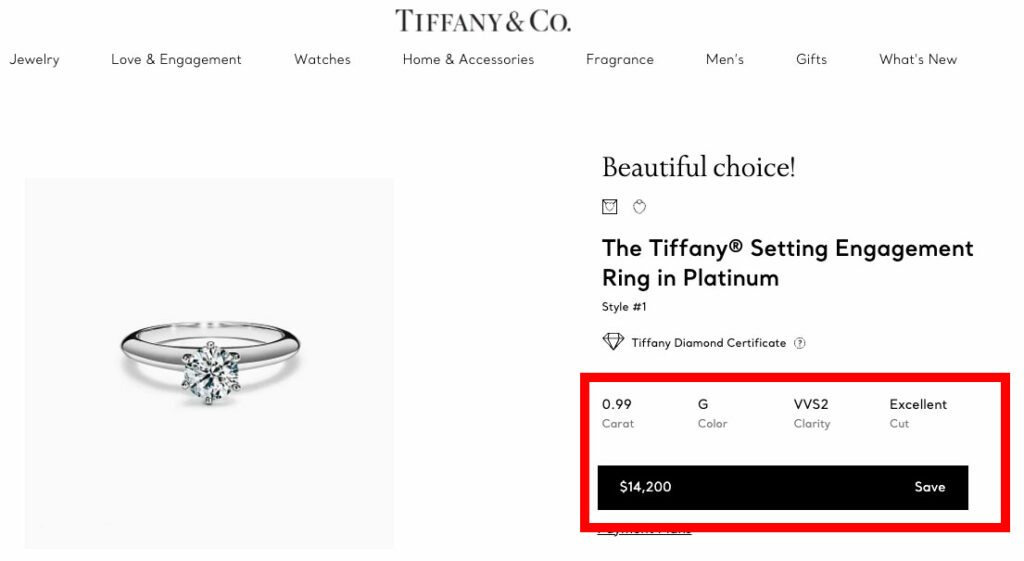 If we compare these prices to the exact same style of ring on our recommended vintage Tiffany retailer's website, the ring is price at $14,500: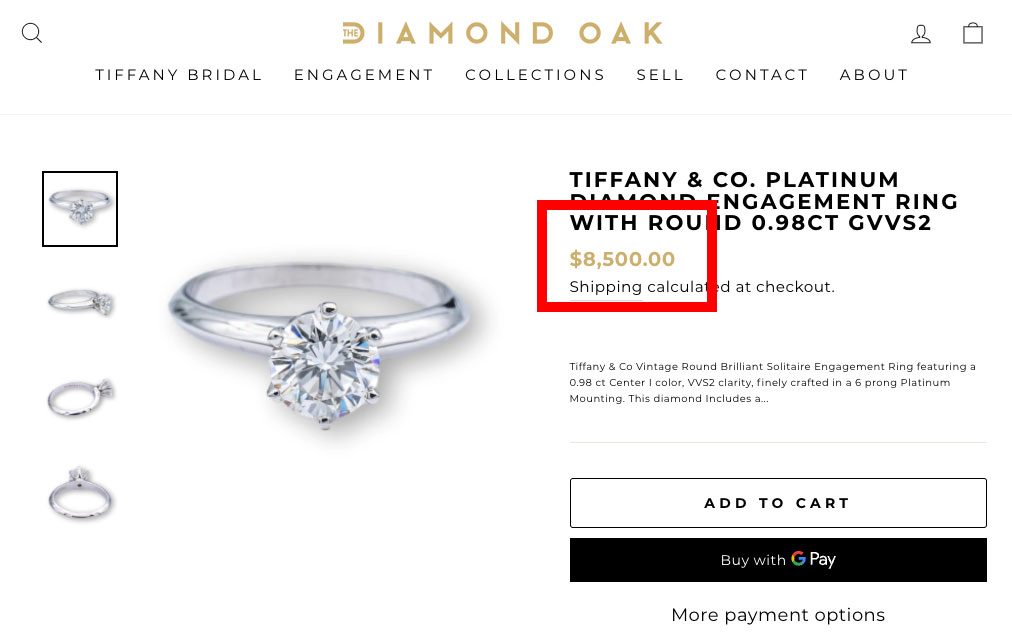 This vintage Tiffany ring is around half the price of a new one, and has been polished and restored to look absolutely perfect. Click here to view this ring and see all of the other vintage Tiffany diamond rings currently available.
How age affects the price of vintage Tiffany engagement rings
There's a short answer to this: unless it is very old, age doesn't play a significant role in determining the price of a vintage Tiffany ring.
A 6 prong solitaire setting from the '60s won't necessarily be any more or less expensive than one that was bought new last year.
What may be different is the condition of the ring and the quality of the diamond.
Vintage Tiffany engagement rings and patina
Most vintage Tiffany rings are made out of platinum. It's a metal that became popular in the 1920s, just as the classic Tiffany design was created, and has remained popular ever since.
While platinum is resistant to scratches, it will show signs of wear over time in the form of tiny dents and scratches known as 'patina':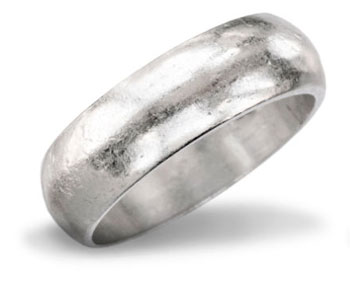 Some people like the patina effect as it's a physical reminder of the stories that the ring has lived through. In fact, some new jewelry is even purposely aged in this way to make it look vintage, similar to how jeans can be bought pre-faded.
One of the big advantages of platinum as a material for a ring setting is that it is very easy to polish it to eradicate the patina and bring it back to looking like new: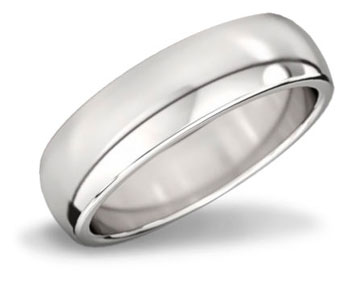 Our recommended Tiffany specialist applies their 'Perfectly renewed' process to every vintage Tiffany ring to ensure that it is indistinguishable from a new ring.
Vintage Tiffany engagement rings and diamond certificates
'The 4Cs' (cut, color, clarity and carat) are the universally accepted way of judging a diamond, and they are used by almost all jewelers worldwide.
When a new Tiffany ring is purchased, it is accompanied by a certificate which uses the 4Cs: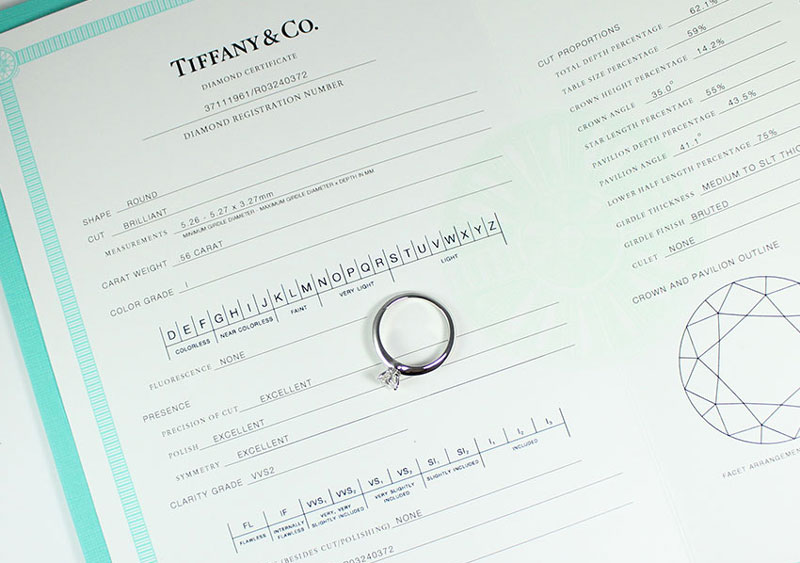 However, the 4Cs weren't created until the middle of the 20th century, with the GIA not grading every diamond for 'cut' until 2006.
As a result, if you are looking at an older vintage Tiffany ring, it may not be accompanied by a Tiffany diamond certificate that uses the same terminology to describe it as a modern one would. Plus, Tiffany certificates still do not include a cut grade on them – they just include the shape. However, Tiffany diamonds are cut exceptionally well, so there is no danger of receiving a poorly cut stone.
If a vintage Tiffany ring isn't accompanied by a certificate, many professional jewelry sellers will have an older diamond graded by an independent lab like GIA, IGI or AGS so that the buyer knows what they are looking at.
One thing to know about Tiffany and diamond certificates is that they will only ever issue on per diamond – if the Tiffany & Co. Diamond Certificate is lost or damaged, they will not replace it.
Vintage Tiffany ring provenance
As one of the most desirable luxury brands in the world, Tiffany is unfortunately subject to imitations.
When buying a vintage ring, ideally it would be accompanied by:
The Tiffany & Co. Diamond Certificate
The Tiffany & Co. Letter of Valuation, and
The Tiffany & Co. Ring Boxes
However, by their very nature, vintage rings are older and the seller may not have all of these items still. In such cases, buyers need to rely on other methods to confirm a ring's authenticity.
There are many guides available on the internet which can help you understand whether an item is real or not. However, due to the man factors to consider, it can be difficult for a layperson to make a valid judgement.
For example, every platinum ring should be stamped Tiffany & Co. Pt950 (Pt950 indicates that it is platinum and records the purity of the platinum). However, a very old ring may be stamped Tiffany & Co Pt900 IRID, or just T & Co.
Or, the signature might be worn and, depending on the age, the stamp may look different to expected. For example, the two rings below are both genuine Tiffany, but the ring on the left uses the old stamp, while the ring on the right uses a newer stamp:
Old vintage Tiffany ring stamp: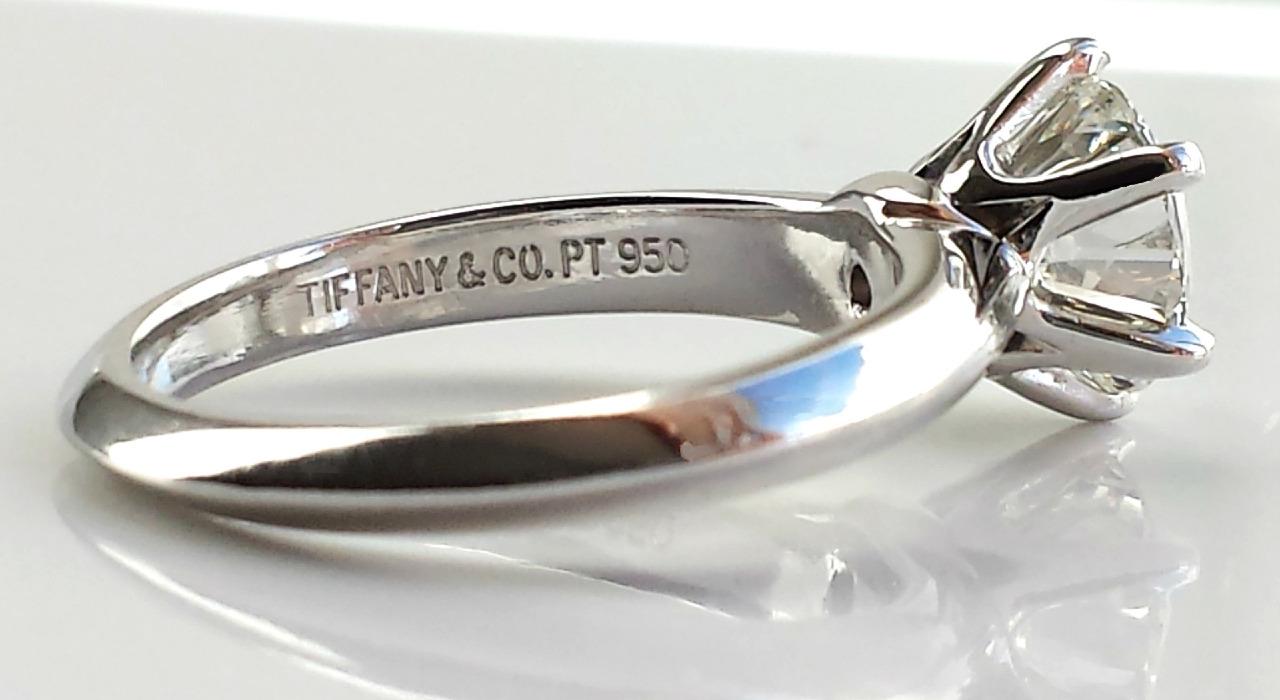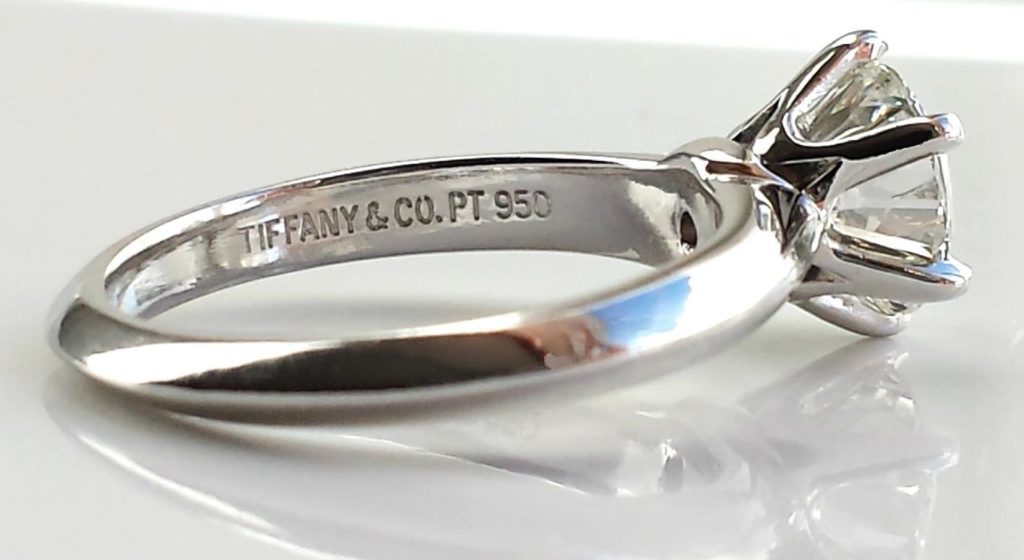 New vintage Tiffany ring stamp: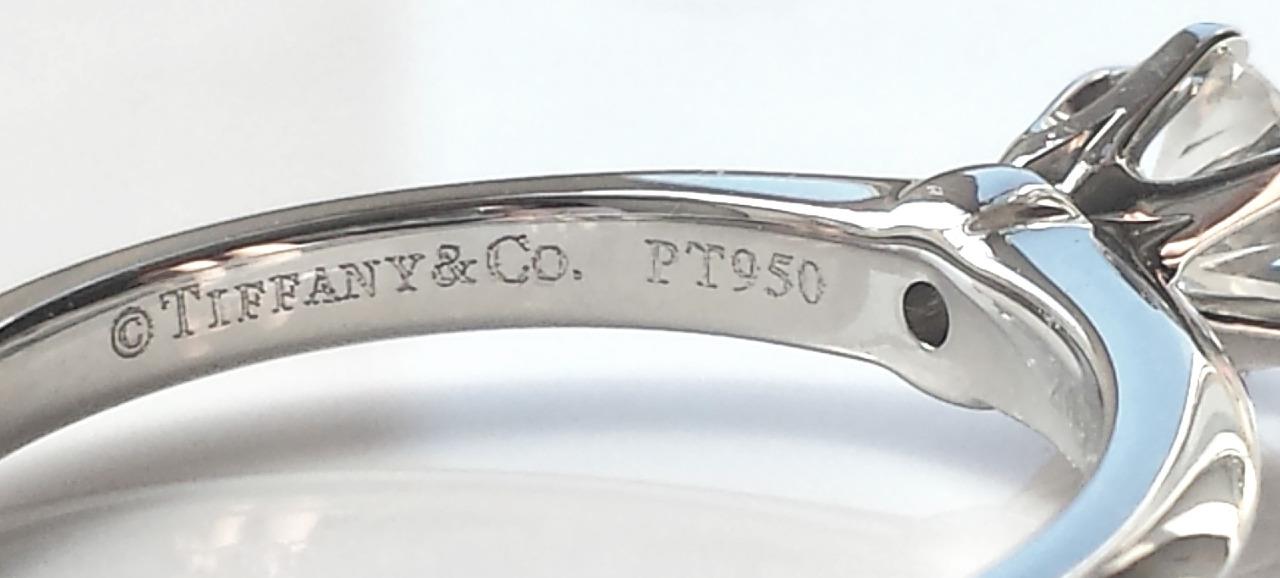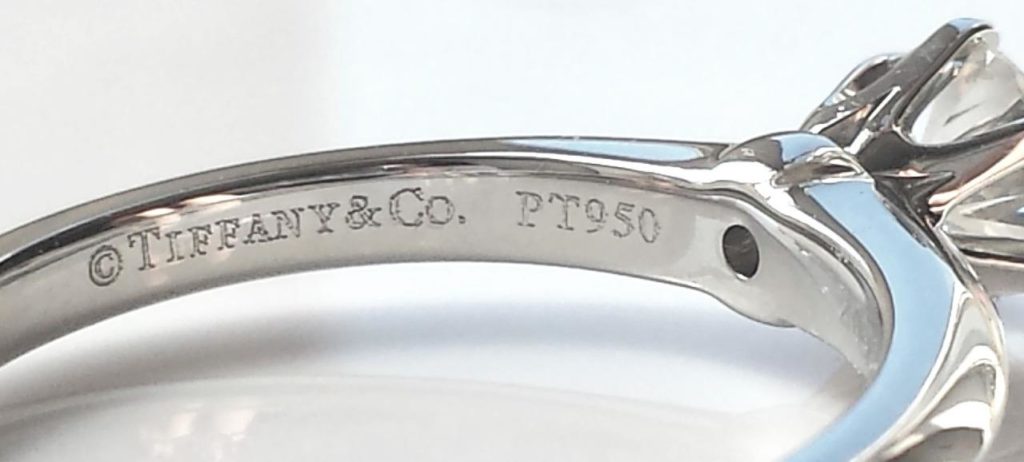 Without specific knowledge on the intricacies of Tiffany stamps and hallmarks etc, it can be difficult to make an accurate judgement of whether an item is authentic or not. With a significant purchase like a diamond ring, this is potentially risky.
For this reason, we recommend that it is safest to rely on an expert to make the judgement on the authenticity of any Tiffany items you are considering. The easiest way to do this is to purchase from a Tiffany specialist who has already done the work of verifying authenticity for you.
Where to buy vintage Tiffany rings
A diamond ring is a significant purchase, both financially and emotionally. As such, it's important to work with someone trustworthy.
When buying a Tiffany ring, we recommend working with a specialist, who will be able to vouch for its provenance and also understand a fair market price.
Our recommendation is Alon at The Diamond Oak.
The Diamond Oak is a family run business with multiple generations in the diamond industry, based out of the Diamond District in New York. Alon specialises in vintage Tiffany rings and at any time has a wide range of vintage Tiffany rings in stock to suit a range of budgets.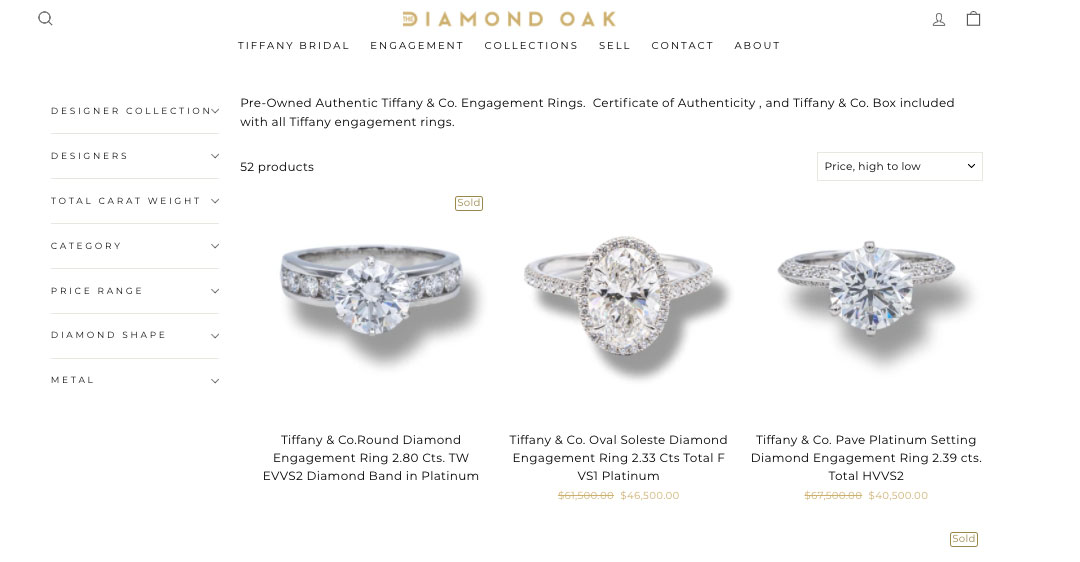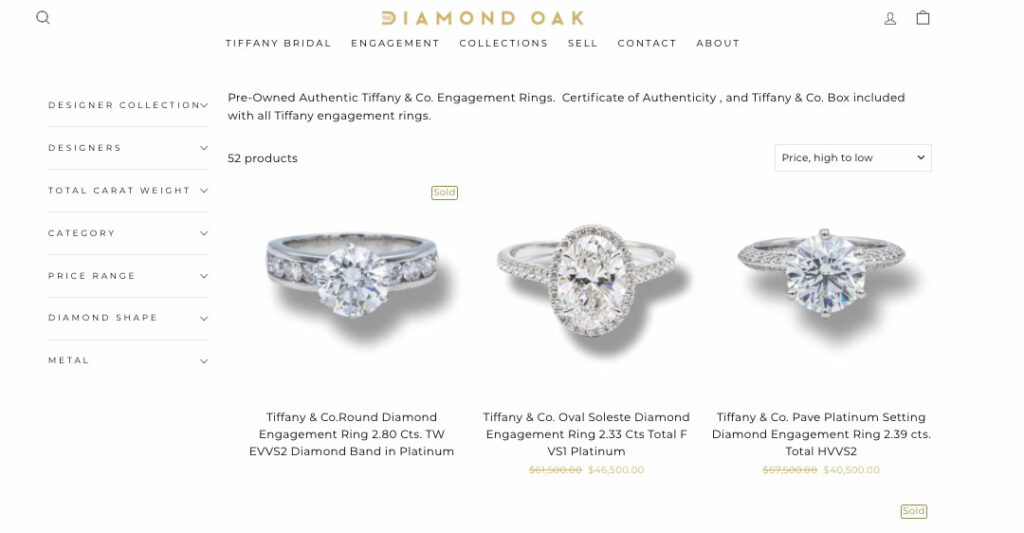 To see the current selection available to purchase, click here.