Ritani Resizing
---
Buying a diamond ring online can is tricky – you may not know yours or your partner's ring size and getting it wrong could potentially be a big hassle.
The good news is that Ritani offer their US and Canadian cutomers a free resize in the first year of purchase. If you want to read their full resizing policy, click here. Or. we'll take you through the ins and outs of the Ritani ring resizing policy below.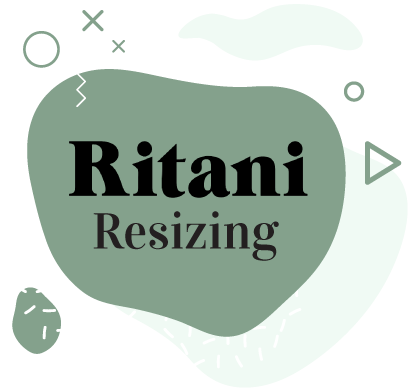 On this page you'll learn everything you need to know about:
Ritani ring resizing policy
Ritani offers complimentary ring resizing on all rings during the first year of your purchase for US and Canadian customers, or if for any reason you would like to exchange in different ring – Ritani offer a 30-day exchange policy.
Unfortunately, Ritani don't offer complimentary resizing for international customers.
Read related article: Ritani Return Policy.
Can any ring be resized by Ritani?
Even though Ritani offers free resizing for rings, unfortunately there are limits to which rings can be resized.
There are a variety of reasons why some rings can't be resized which can include, but is not limited to:
Diamond and gemstone eternity rings with precious stones all around the band
Milgrain or ornate bands rings can't be resized as it would ruin the pattern
Alternative metals – cobalt, titanium and palladium
If you are unsure about whether a ring you currently own or are considering can be resize, it's a good idea to contact Ritani customer service first.
Read related article: Ritani warranty
Excellent value for diamonds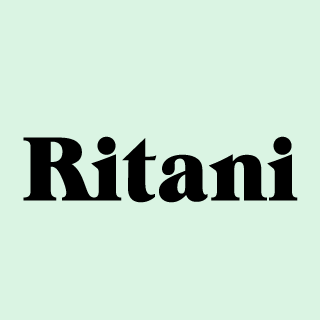 Why we recommend Ritani:
Ritani have always offered beautifully ornate ring settings, but over the last few years have repositioned themselves offer some of the best value of any online jeweler for diamonds, both natural and lab-grown.
Beautiful settings
Very competitive prices for diamonds
Excellent service guarantees
Ritani ring resizing process
If you live near a Ritani approved location, you can use a Ritani authorized retailer for their complimentary sizing only in cases where the ring needs to be sized within ¼ size up or down.
If you would like to do this, it's important that you contact the Ritani Customer Service team to book in the appointment with the store. If you don't do this, you may be charged a fee by the location.
If you don't live near an bricks and mortar Ritani retailer and need to send your ring in by mail, it's very straightforward:
Contact Ritani customer service and inform them that you will return for resize.
Ritani customer service team will email you a free, insured shipping label.
Put clearly the Return Merchandise Authorization (RMA) number on the outside of the shipping box
Take note not to write Ritani anywhere outside the box to avoid possible theft.
Read related article: Ritani shipping
How to get the ring size right the first time
To make it as easy as possible to avoid resizing Ritani provide some great tips on how to measure your ring finger accurately, as well as a printable Ritani ring size chart: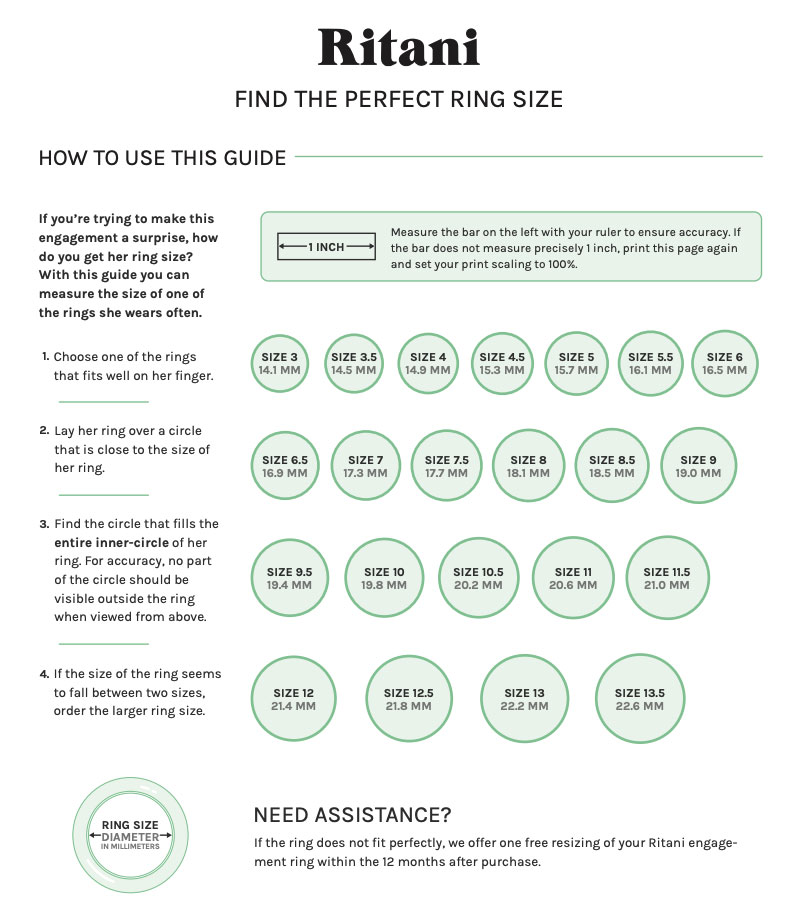 Using this is is super easy, if you have access to an existing ring:
Print the Ritani ring size chart with page scaling and set to 100%
Choose one of the rings that fits well on her finger.
Lay her ring over a circle that is close to the size of her ring
Find the circle that fills the entire inner-circle of her ring. For accuracy, no part of the circle should be visible outside the ring when viewed from above.
If the size of the ring seems to fall between two sizes, order the larger ring size.
Finally if you are unsure about your ring size, go slightly larger as it easier to resize down than up.