James Allen vs Blue Nile
Helping you decide which online giant is best for you – Blue Nile or James Allen
---
James Allen and Blue Nile are the two biggest names in online diamonds – each offer incredible choice and value. You can click through to their websites on the links above.
But which is best?
The answer will depend on what you are looking for. This article will help you decide.
On this page you'll learn everything you need to know about: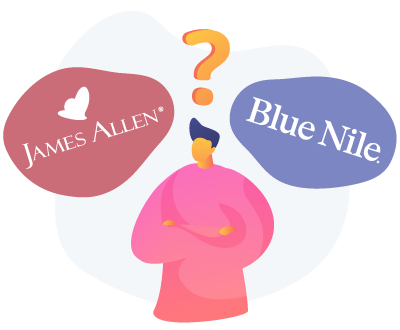 Key takeaway:
James Allen's higher quality imagery makes it easier to buy borderline diamonds e.g. it is easier to judge whether an SI1 clarity diamond is going to be eye clean. James Allen also has a wider selection of lab grown diamonds and colored diamonds.
Blue Nile has a wider selection of non-engagement jewelry and also has more innovative online experiences e.g. their virtual appointments feel like an in-person consultation that you can do from your own home.
Choosing either will mean that you can source a high quality diamond at a fair price.
Here's how James Allen and Blue Nile compare by the numbers: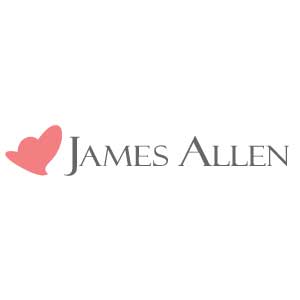 Founded: 2006
Physical locations: 2
Natural diamonds: 557,938
Lab-grown diamonds: 64,568
Diamond imagery: Best quality images of every single diamond
Diamond labs: natural: Mainly GIA, some IGI
Diamond lab: mined: IGI
Diamond quality: 4.5/5
Super ideal diamond quality: 4.5/5
Number of settings: 658
Value for money: 4.5/5
Service Policies: 4.5/5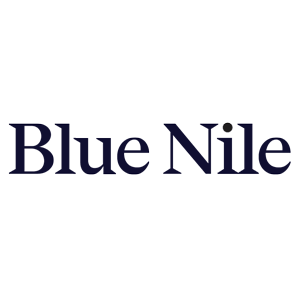 Founded: 1999
Physical locations: 25
Natural diamonds: 568,907
Lab-grown diamonds: 14,743
Diamond imagery: High quality images of around 60% of diamonds
Diamond labs: natural: GIA
Diamond lab: mined: IGI
Diamond quality: 4.5/5
Super ideal diamond quality: 4/5
Number of settings: 1,169
Value for money: 4.5/5
Service Policies: 5/5
As you can see, both James Allen and Blue Nile perform extremely well across all of our criteria.
Both have been in business for over 15 years and as a result they have both optimised almost every aspect of their business, to ensure that they can offer the largest selection of high quality diamonds at excellent prices.
One thing to know is that since August 2022, both businesses are actually owned by the same parent company – the Signet Group.
However, they are definitely not identical, so let's take a look at each section of the review to see how they compare.
Diamond Selection and Quality
---
Ringspo is all about making sure you get the most beautiful ring for the best possible price, and a big factor in that is the ability to find the perfect diamond for you.
In this section we'll look at several factors:
Diamond choice
Diamond quality
Diamond imagery
Winning in these categories means that the retailer is more likely to have the right diamond for you and make it as easy as possible for you to find it.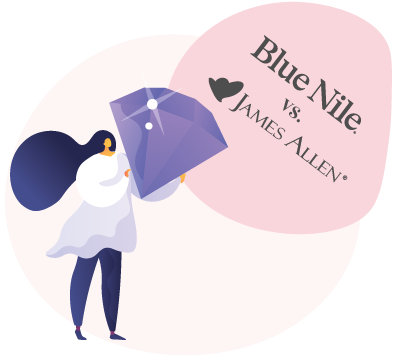 James Allen vs. Blue Nile: Diamond choice
Both James Allen and Blue Nile have an incredible number of diamonds available to choose from – each has over half a million.
This means that even if you have something really specific that you are looking for, it's likely that you will be able to find it on either site.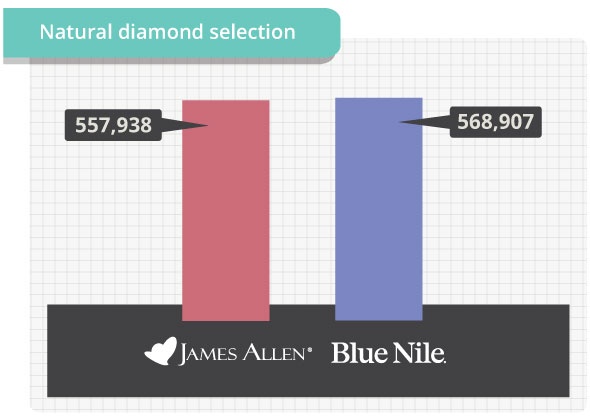 The exact number will change depending on the day you are looking at it and you can see who has more today
There is, however, a difference between the number of lab-grown diamonds available.
James Allen has offered lab grown for around 3 years, and as a result has a really good selection of lab-grown diamonds available – nearly 65,000.
Blue Nile has only just started offering lab grown diamonds and as a result currently offers far fewer – just under 15,000: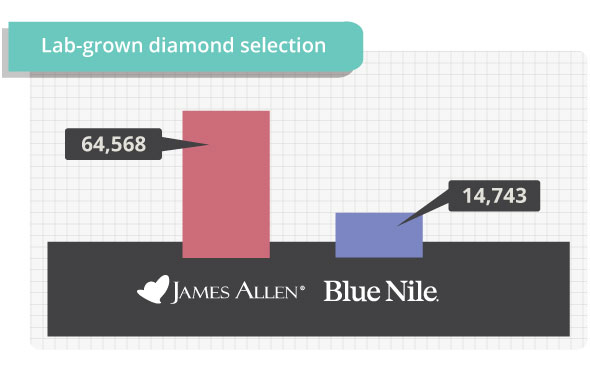 This means that if you are looking for a lab-grown diamond, you are more likely to find what you are looking for with James Allen, rather than Blue Nile.
Another advantage that James Allen has over Blue Nile is the quality of the imagery of each diamond.
James Allen vs. Blue Nile: Diamond Quality
We'll get this out of the way straight away – both James Allen and Blue Nile have extremely high quality diamonds available to buy on their site.
The vast majority of James Allen's natural diamonds are graded by GIA, which has an excellent reputation for thoroughness, while all of Blue Nile's natural diamonds are.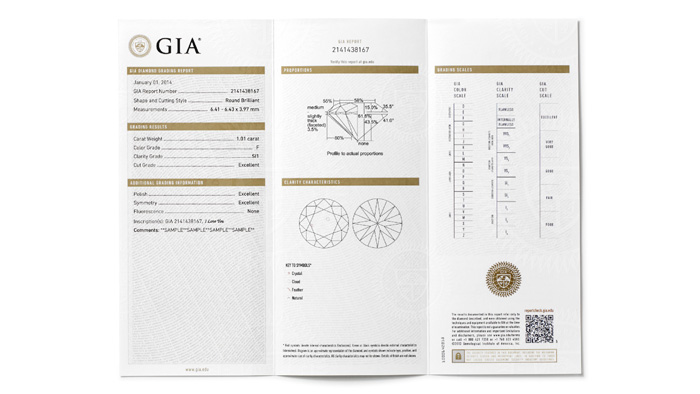 When it comes to lab-grown diamonds, both retailers primarily offer stones that have been graded by IGI, which is common across the industry.
Both retailers only sell lab grown diamonds that were produced using High Pressure High Temperature (HPHT) growth process. HPHT diamonds usually result in higher color grades than the alternative CVD lab grown diamonds, but sometimes do retain a slightly blue undertone, which is something to look out for when reviewing your options.
One thing to be cautious about is the sheer number of diamonds available means that there are also some lower quality diamonds on each platform too. Ensuring you know what you are looking for and prioritising cut quality will ensure that you get a beautiful stone.
James Allen True Hearts vs. Blue Nile Astor
Both James Allen and Blue Nile offer a 'super ideal' diamond cut.
These have been cut to very tight tolerances around proportions and symmetry and as a result should sparkle more brilliantly than a regular excellent cut diamond.
With a higher quality product comes a higher price, with James Allen True Hearts being around 35% more expensive than a normal ideal cut, while Astor diamonds can be priced up to 80% more than a standard excellent cut.
Each James Allen True Hearts diamond shows the 'hearts and arrows' images which allow you to see the incredible symmetry that the diamond has been cut to.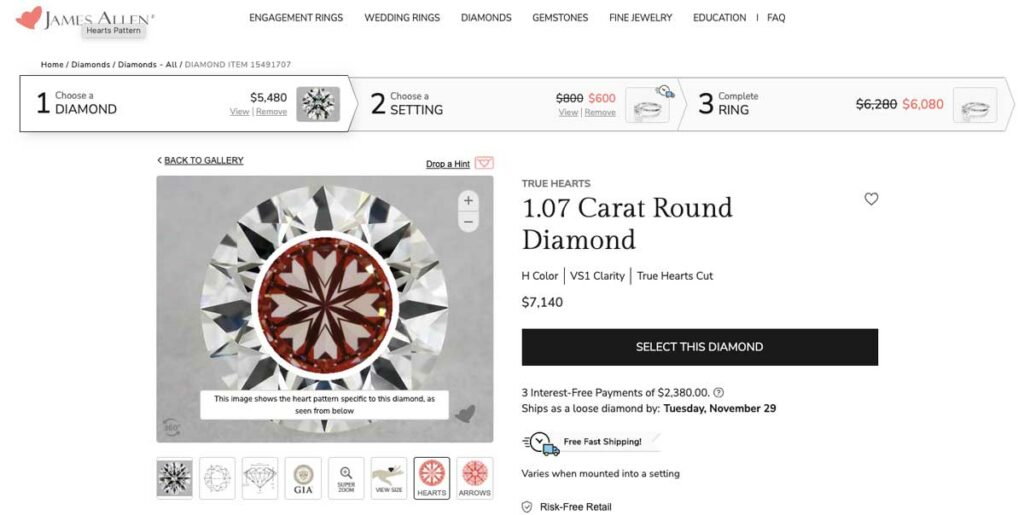 It should be noted that not every True Hearts diamond is absolutely perfect hearts and arrows, but there are enough of a selection to choose from that if you want to ensure that your stone is perfect, you can.
As well as GIA, Blue Nile's Astor diamonds have all been graded by a secondary lab – Gemex.
They are each accompanied by an additional report which shows the result of diamond's light performance (ie. how much it sparkles), and you can also log into the Gemex site to see interactive results of the tests.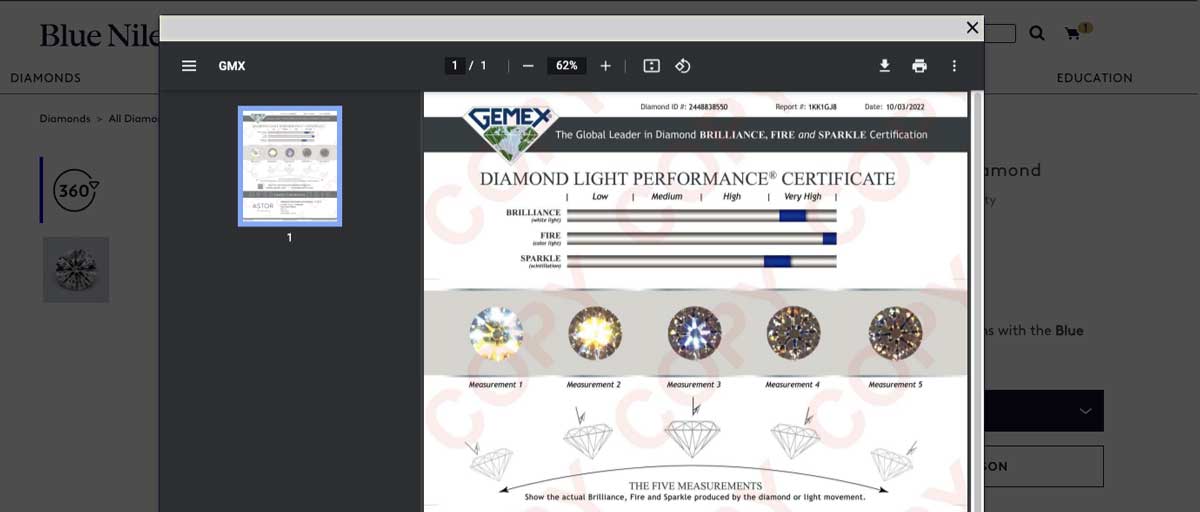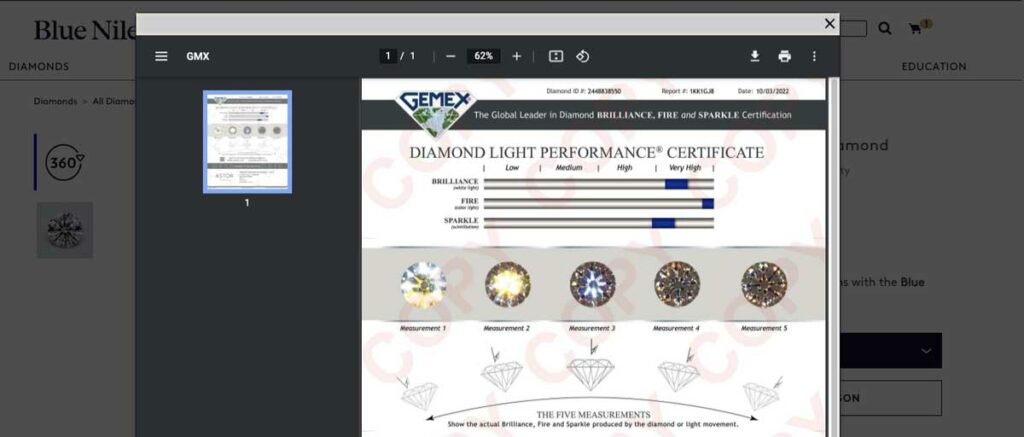 These diamonds are undoubtedly high quality, but the Gemex tests are difficult to compare against each other and other brands' super ideal cut offerings.
Overall, while Blue Nile Astor have been certified as a secondary lab and are very transparent with the results, I don't feel that Astor diamonds warrant the extra expense when compared to James Allen's True Hearts, which have themselves been cut to incredibly high precision.
James Allen vs. Blue Nile: Diamond imagery
Seeing the actual diamond you are considering buying is essential to start to understand what it will look like in real life.
James Allen has incredibly high quality images of every single diamond, which can be rotated round 360 degrees and zoomed in up to 40x magnification: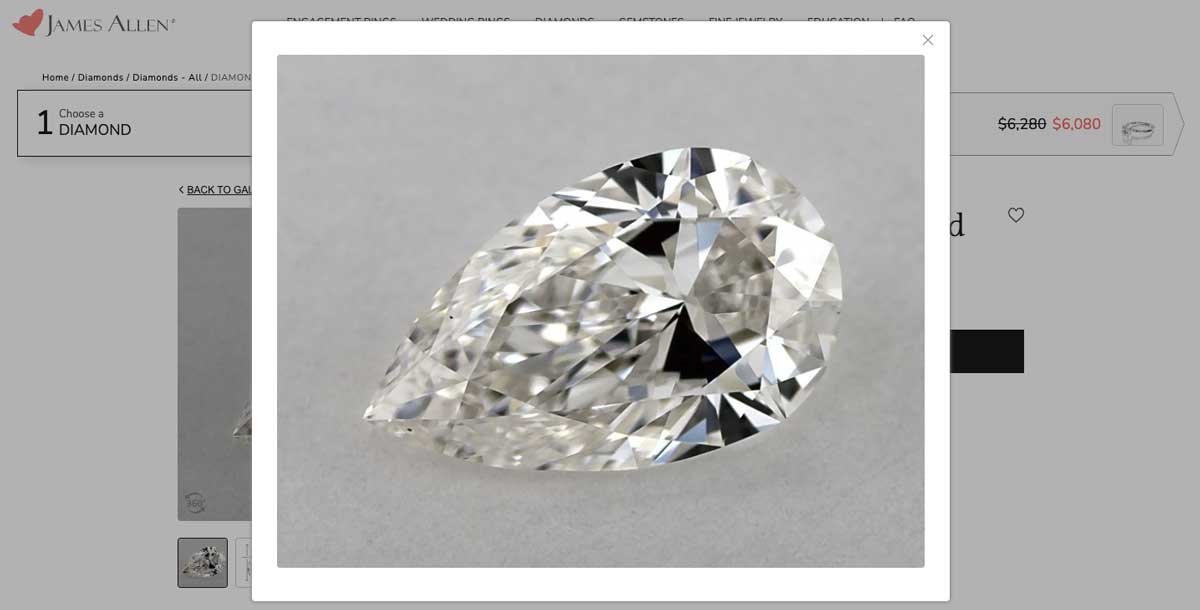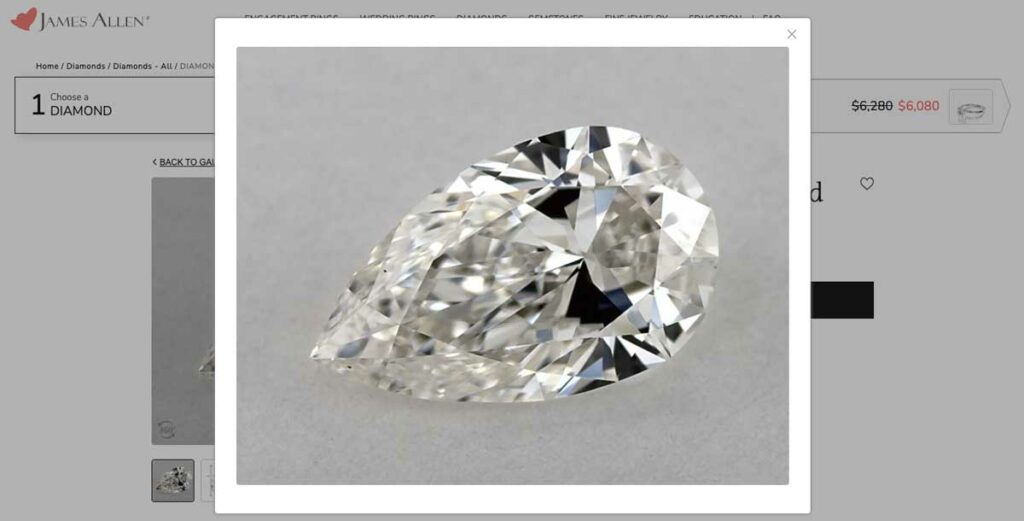 This is incredibly useful when choosing diamonds that are in the sweet spot of value for money ie. VS2 and SI1 clarity diamonds it allows you to judge whether an inclusion is going to be a deal breaker, or whether it's no big deal.
For non-round shapes, like the pear cut above, it's also extremely useful as it allows you to judge judge whether the diamond has been cut into a beautiful shape and also whether bow-ties, or other undesirable features, are present.
Blue Nile does have imagery for the majority of their diamonds, but some stones just have a stock image, which makes it impossible to see whether inclusions are going to be an issue, or whether the diamond has been cut into a pleasing shape: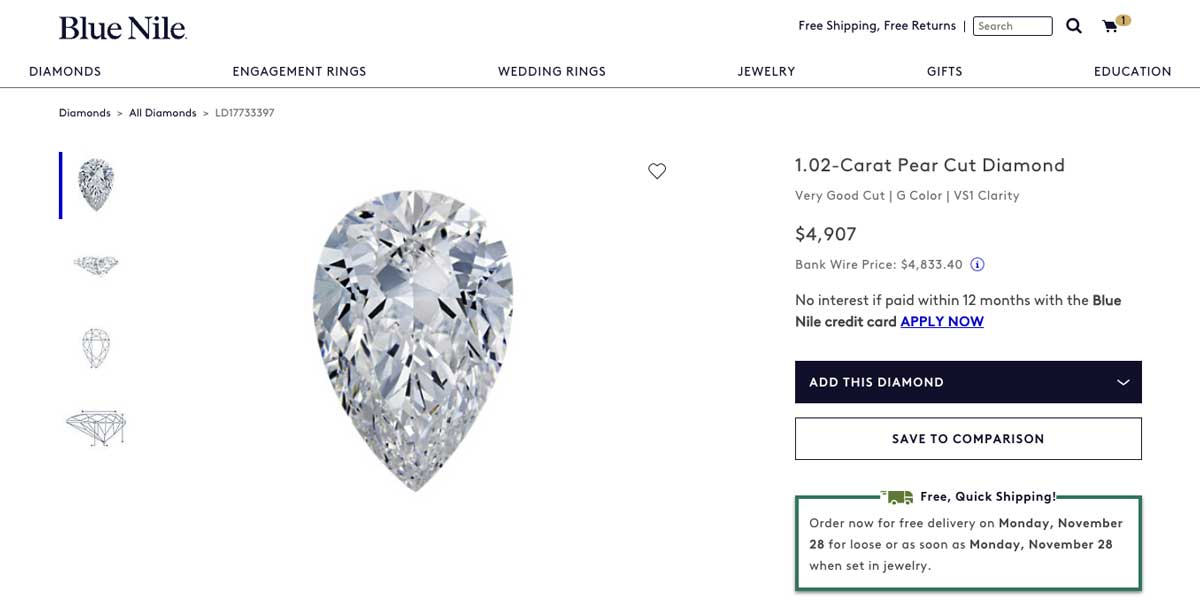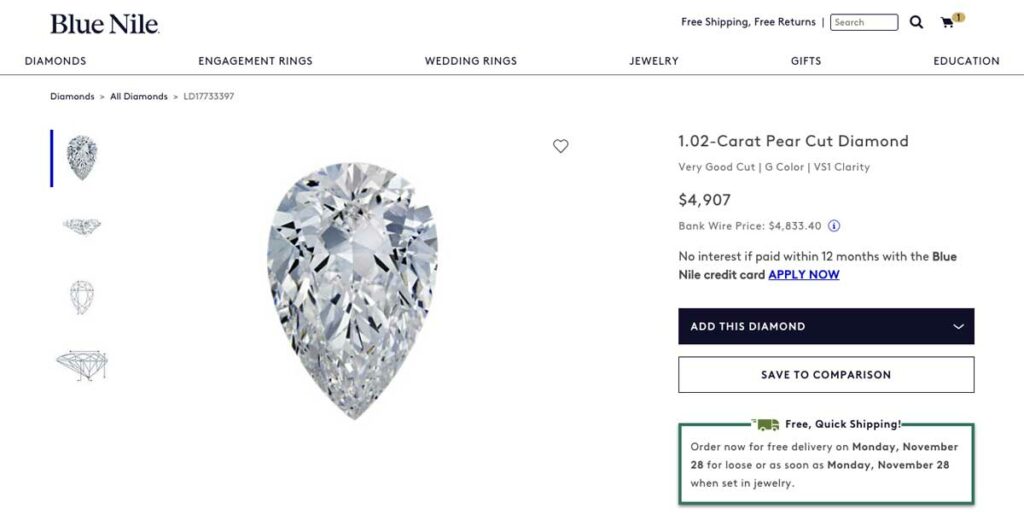 When it comes to diamond choice, quality and imagery, James Allen currently beats Blue Nile.
Cost and value for money
---
When buying a diamond ring, there are two things to think about: the cost of the diamond and then the cost of the setting itself.
Some retailers price their diamonds low and their settings higher, while others do the opposite.
The best way to compare two retailers is to compare as close-to-identical a ring as possible. Thankfully, as both James Allen and Blue Nile both offer GIA-graded diamonds, this is easy to do.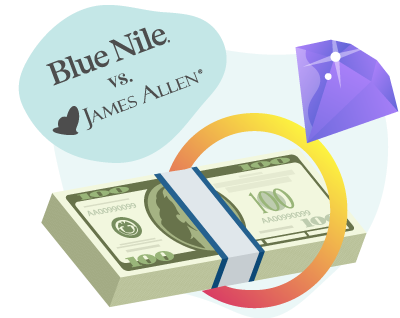 To compare James Allen and Blue Nile's prices, we'll look at a fairly standard diamond with a 4 prong solitaire setting.
The diamond's settings we'll look at are:
1 carat
Excellent cut, symmetry and polish
VS1 clarity
G color
GIA grading report
Blue Nile's cost for a ring with these specifications is $6,463: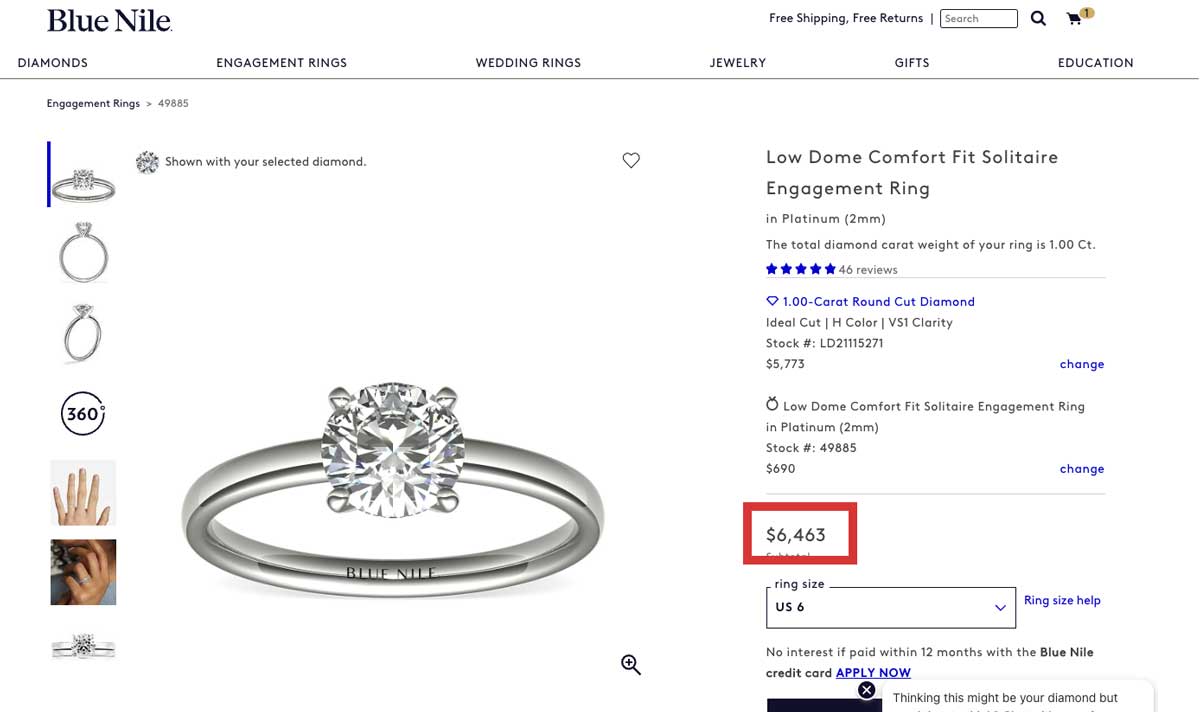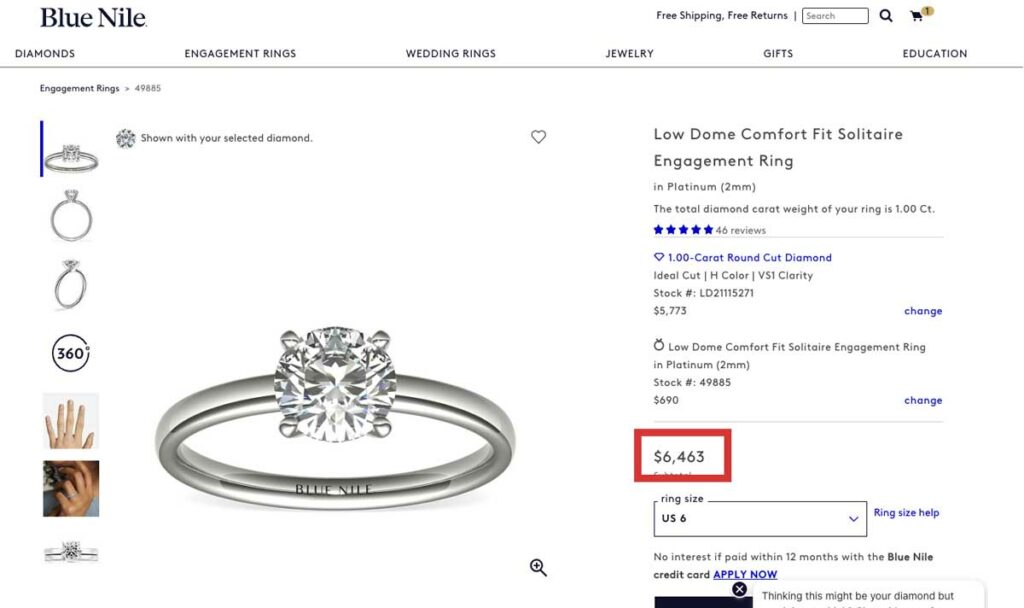 This breaks down as $5,773 for the diamond and $690 for the platinum ring setting.
At the time of conducting this comparison, James Allen were offering 25% off ring settings, which reduces their price to $6,150: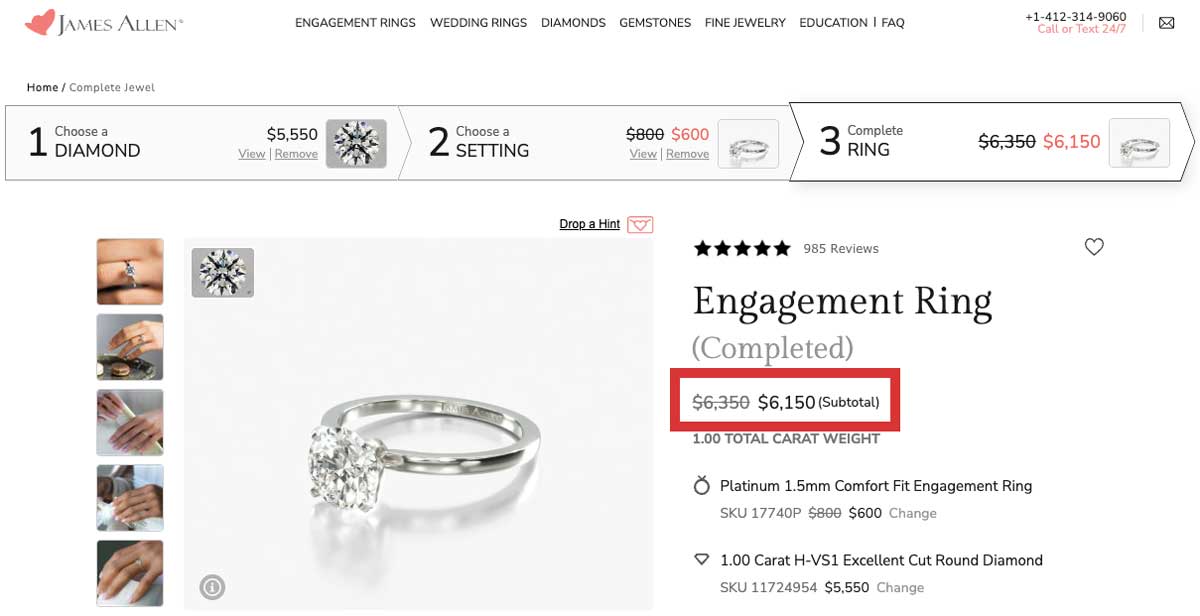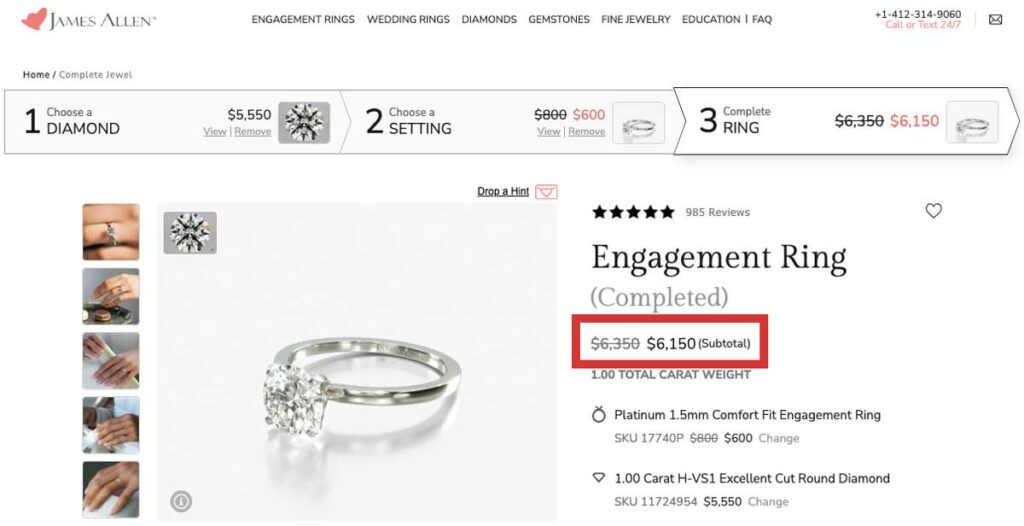 Without the sale, the price would have been $6,350, which would have been $5,550 for the diamond and $600 for the ring setting.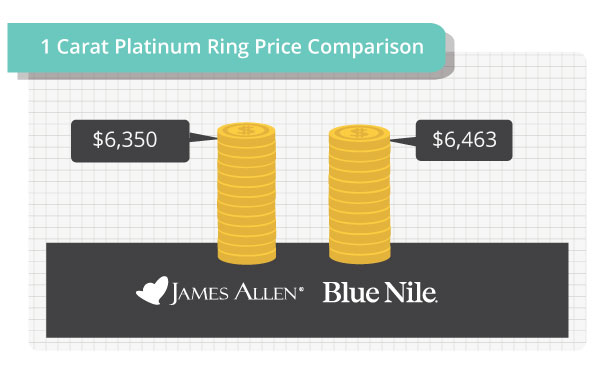 These two prices are so close that this can be judged a tie – the $100 difference in the non-sale price between James Allen and Blue Nile could easily have gone the other way if I had chosen different diamonds from the selection.
Overall, James Allen and Blue Nile both offer excellent value when it comes to both diamonds and settings.
Click through to James Allen here.
Click through to Blue Nile here.
Service: Both Before & After Purchase
---
Buying an engagement ring is a special purchase.
You want to have confidence that the retailer will not only treat you well while buying your ring, but also that they will stand behind their product after the purchase too.
This attitude can be boiled down to one term: customer experience – essentially how hard a business is trying to make sure that your interactions with them are smooth, friction-free and, ideally, delightful.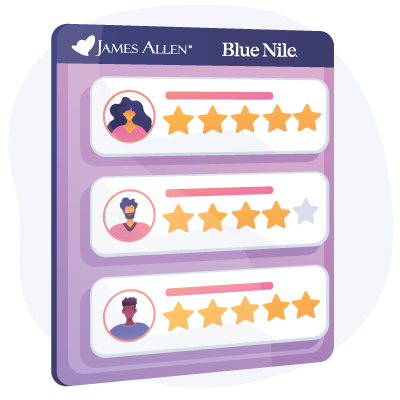 Both James Allen and Blue Nile offer excellent service and support, both before and after a purchase.
Before purchase
I have spent a lot of time on both websites, finding diamonds for people who request my help and can say that Blue Nile and James Allen offer the best online experiences.
Both have excellent diamond search functions to narrow the selection to exactly what you're looking for and make it easy to compare individual diamonds.


Both have intuitive ring building functions that allow you to match your chosen diamond to your setting.
James Allen has a couple of features that Blue Nile doesn't. The first is the live chat, where a James Allen team member will examine a stone with you and talk you through why it is / isn't suitable. From experience, they are very honest in telling you if a diamond
The other innovative features James Allen have is their ring studio, which allows you to build your own setting by selecting:
the ring head (ie. the part that holds the center stone)
the shank (the band)
the metal for each (these can be different)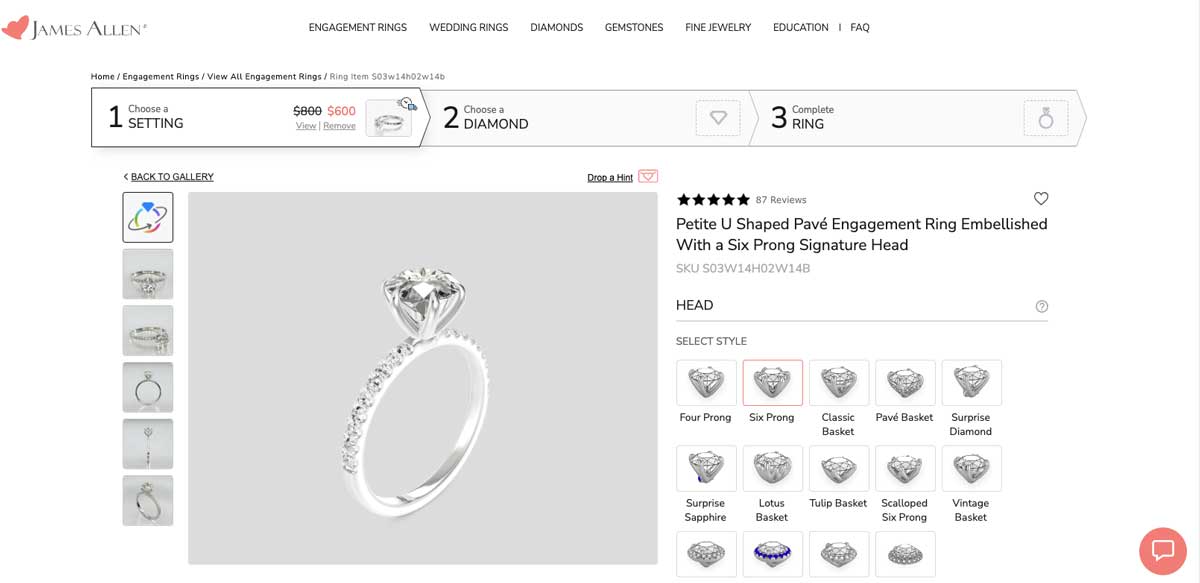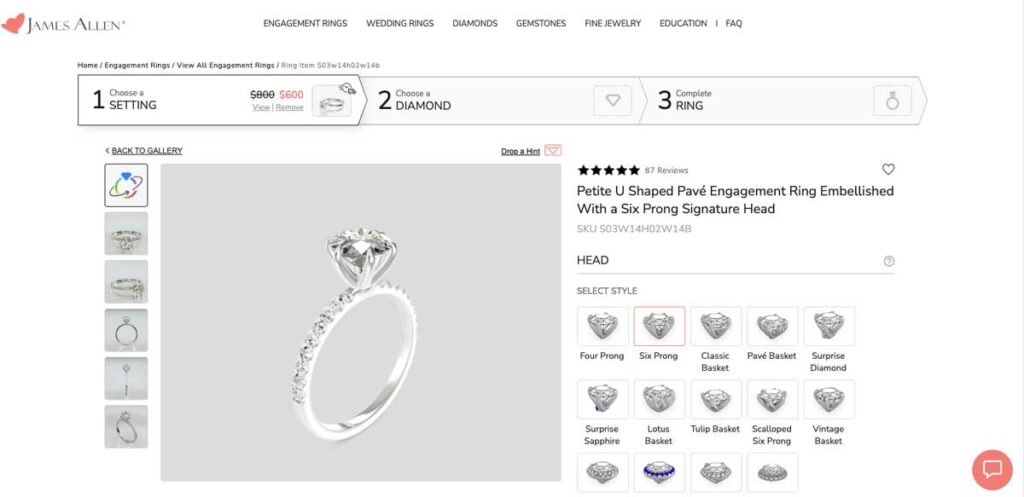 This offers a huge number of combinations so that you really can design your own ring, if none of the standard settings are exactly what you are looking for.
Blue Nile do offer good live chat support, but don't currently offer a live review online of diamonds. However, what they have recently started offering is a live consultation over Zoom, where a Blue Nile team member will guide you through the entire process.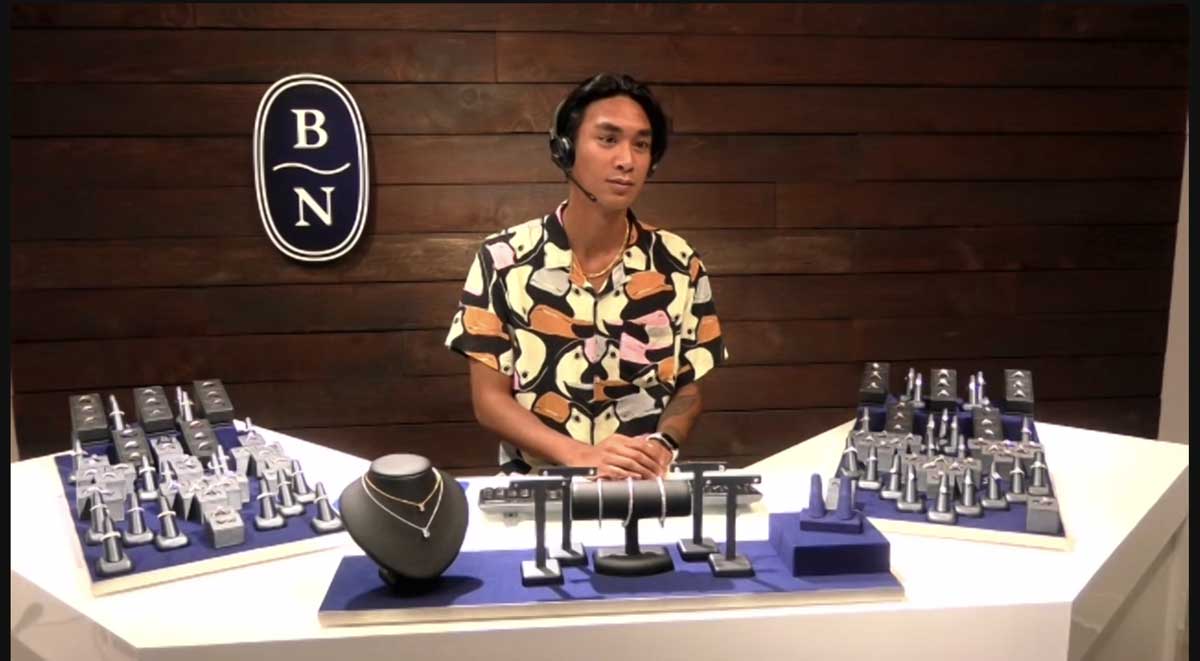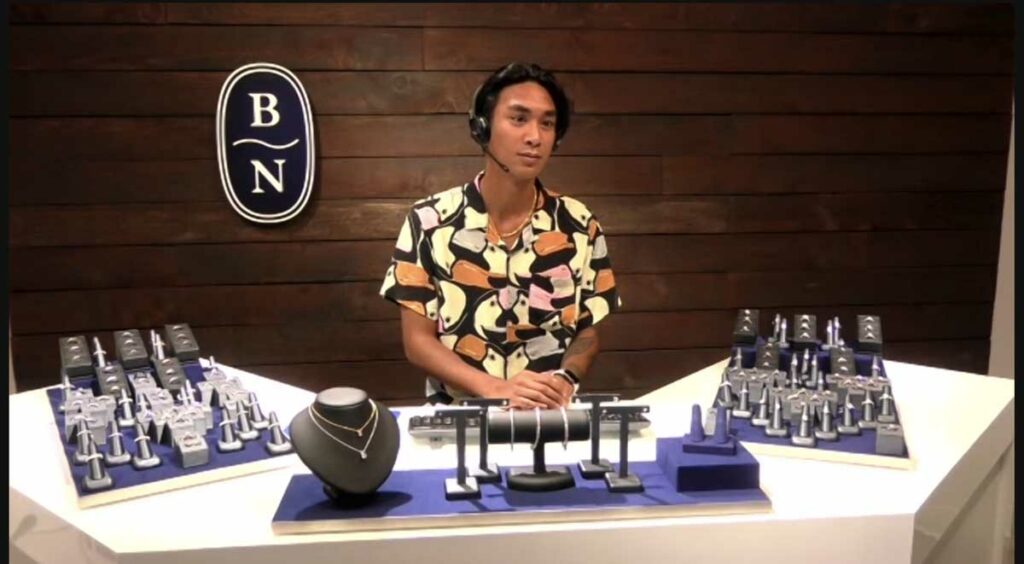 This included reviewing several different diamond options, comparing them and then an impressively honest discussion on whether it was worth spending more on factors that would make little difference to what the diamond would actually look like. While this is a service that is still being trialled, it was a really effective way to be guided through the process of choosing a ring and there was no pressure to buy.
Lastly, despite being primarily online retailers, both James Allen and Blue Nile do have some bricks and mortar locations.
James Allen has just two locations, while Blue Nile has 25. If you feel that you would like to see a ring in person, Blue Nile therefore makes it a little easier to do so.
Overall though, the experience of selecting your diamond and building your ring is equally good.
The Ring box and presentation
When you present your engagement ring, you want to make sure that your ring is presented in the best possible light, and the box that it is sitting in will undoubtedly contribute to that.
James Allen and Blue Nile both supply their jewelry in high quality, branded ring boxes which are supplied inside a beautiful presentation box.
Here's what the James Allen presentation box looks like, for a recent purchase I made as part of my testing process: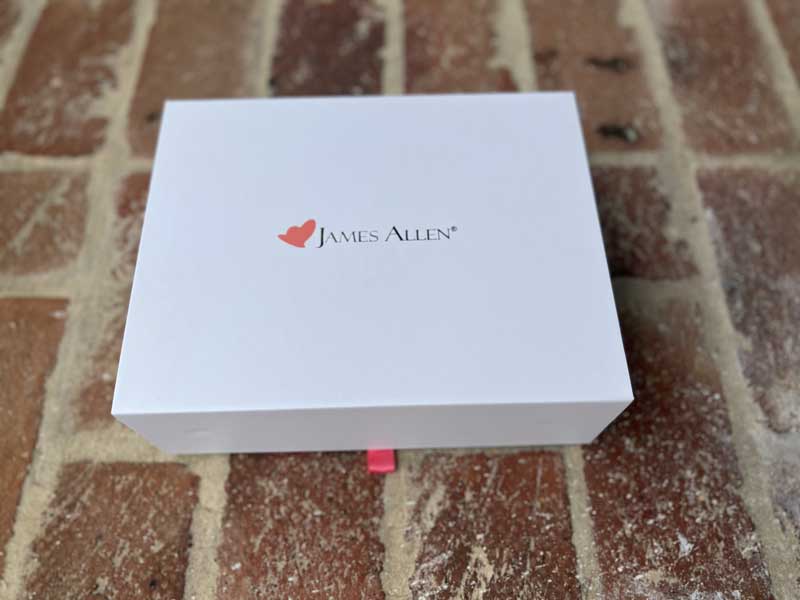 When you open the presentation box using the red tab, the actual ring is nestled inside, with documentation tucked away in a drawer that pulls out from the base: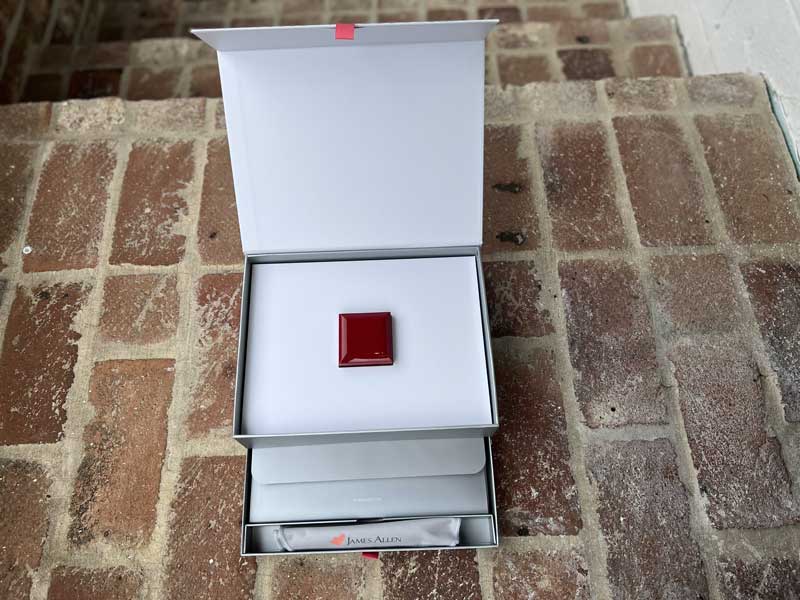 The Blue Nile ring box is equally as premium: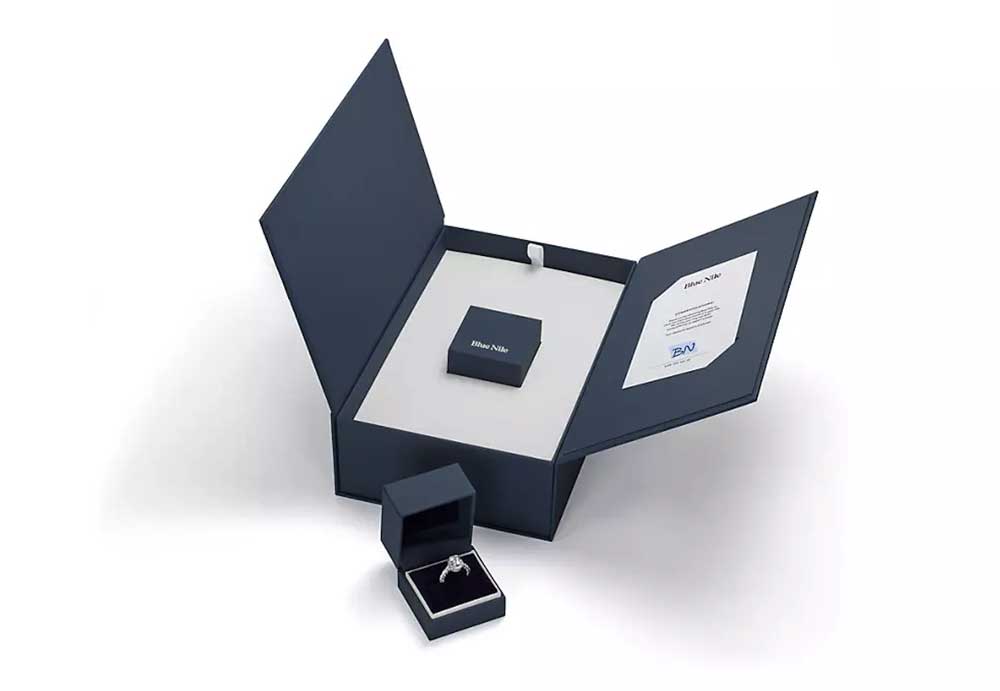 Post Purchase
Diamond rings are a big investment, both financially and emotionally, so knowing that a retailer will stand behind their product after purchase is extremey important for your peave of mind.
Thankfully, both James Allen and Blue Nile offer excellent after-sales policies.
Both offer 30 days, no questions asked returns on the vast majority of their jewellery. Depending on where you live, engraved settings may not be able to be returned.
Both offer a lifetime guarantee on their workmanship. If your ring becomes damaged through everyday wear and tear, this may not be covered, but if there is an issue due to a manufacturing defect, both will repair or replace the item free of charge.
Both also offer free resizing within one year of purchase, as long as it is possible for the ring. Some rings – like full-eternity bands can't be resized
Overall, James Allen and Blue Nile offer after-sales service that beats most only jewelers and almost all bricks-and-mortar stores. If you want to know more about their policies, it's worth checking out their services directly – here's James Allen's, and here's Blue Nile's.
James Allen vs Blue Nile Service Comparison
| | James Allen | Blue Nile |
| --- | --- | --- |
| Customer service | 24/7 | 24/7 |
| Price Match | Yes | Yes |
| Engraving | Free | Free, on selected rings |
| Finance available | Yes | Yes |
| Shipping | Free to you, but you will have to pay to return | Free and insured both ways |
| Resizing | 1 year, free | 1 year, free |
| Returns period | 30 days | 30 days, extended over holiday periods |
| Warranty | Lifetime, with some exclusions | Lifetime, with some exclusions |
| Upgrade | Credit 100% of original price, if new diamond 2x price | Credit 100% of original price, if new diamond 2x price |
| | See all service policies | See all service policies |
The verdict: James Allen vs. Blue Nile
I have a lot of experience of working with James Allen and Blue Nile as I have sourced countless diamonds from both sites. I am happy to recommend both and will continue to do so.
For me though, James Allen does take the prize as the better retailer of the two.. just.
The deciding factor here is the higher quality diamond imagery, which means that I can be more confident that the diamond I recommend is going to look incredible.
However, both retailers have a huge selection of diamonds at very fair prices, so it is definitely worth checking both to ensure that you are getting the best deal at the particular time you are looking.

Highest quality imagery allows you to choose borderline diamonds easily
Greater selection of lab grown diamonds
Regular sales on settings

Greater selection of ring settings
Innovative buying experience, including virtual appointments
Better option for Europe