Diamond and pearl drop earrings
---
Diamond and pearl drop earrings are a timeless and elegant accessory that can add a touch of sophistication and glamour to any outfit.
They are a popular choice for special occasions such as weddings, formal events, or romantic evenings out.
Whether you prefer classic, vintage, or modern designs, diamond and pearl drop earrings can elevate your style and give you a touch of old world allure.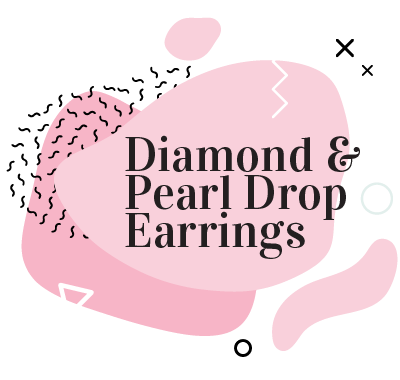 On this page you'll learn everything you need to know about:
If you'd like to read our round up of all the types of diamond drop earrings click here.
The best Diamond and Pearl drop earrings
We've scoured the internet to bring you the best selection of diamond and pearl drop earrings.
If you don't fancy any of these earrings, you can see the rest of the range at our top two recommended retailers.
Understanding the 4Cs of Diamonds and Pearls: What to Look For
Diamonds
When shopping for diamond and pearl drop earrings, it's important to understand the 4Cs of diamonds and pearls: carat weight, color, clarity, and cut.
Carat weight refers to the size of the diamond or pearl, with larger stones generally being more valuable. The color of a diamond can range from colorless to light yellow or brown, with colorless stones being the most valuable. If you'd like to read more about the 4Cs, we've written comprehensive guides on carat and color here.
Clarity refers to the presence or absence of inclusions or blemishes in the stone, with higher clarity stones being more valuable. Cut refers to the angles and proportions of the stone, affecting its ability to reflect light and create sparkle. If you'd like to read more about these topics, click through to our guides on clarity and cut here.
Pearls
Pearls are harvested from oysters, and can either be natural or cultured, freshwater or saltwater. Natural pearls are much rarer than cultured pearls and therefore more expensive. Pearls come in many colours, shapes and sizes, due to the variance in growing conditions.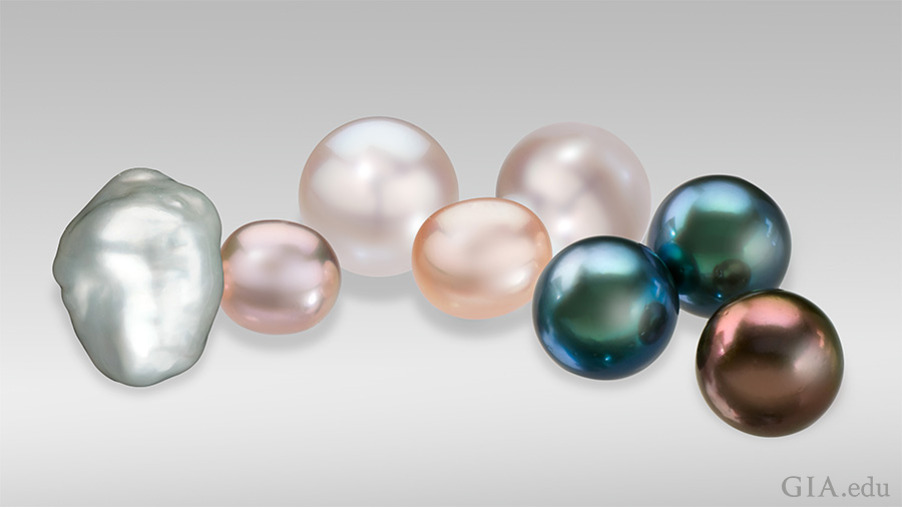 Other things to think about with pearls are luster and surface quality.
Luster: This refers to the shine and reflection of light on the surface of a pearl. A pearl with high luster will have a bright, almost mirror-like surface that reflects light in a sharp and clear way. The more luster or brilliance/glow a pearl has, the more valuable it will be.
Surface quality: This refers to the appearance of the pearl's surface. Pearls can have blemishes or imperfections, such as spots, bumps, or scratches, on their surface. The fewer the blemishes, the higher the surface quality and the more valuable the pearl is likely to be.
Choosing the Right Size and Shape of Diamond and Pearl Drop Earrings
When choosing the size and shape of your diamond and pearl drop earrings, consider your personal style, the occasion, and your face shape.
Small, dainty earrings are perfect for everyday wear or if you prefer a more subtle look.
Larger, more elaborate earrings are better suited for special occasions or if you prefer a statement piece. Like these intricate art deco inspired beauties from James Allen.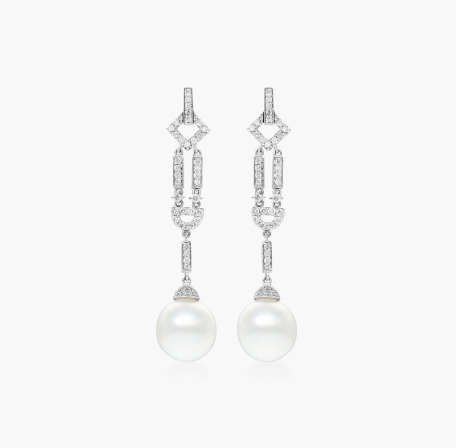 The shape of the earrings should also complement your face shape. For example, teardrop earrings can help elongate a round face, while stud drop earrings can add balance to a heart-shaped face.
Caring for Your Diamond and Pearl Drop Earrings: Maintenance Tips
To keep your diamond and pearl drop earrings looking their best, it's important to properly care for them. Avoid exposing your earrings to harsh chemicals or abrasive materials, as this can damage the stones or metal.
Store your earrings in a soft pouch or jewelry box when not in use to prevent scratches or damage. Regularly clean your earrings with a soft cloth or brush and mild soap and water to remove dirt and oils.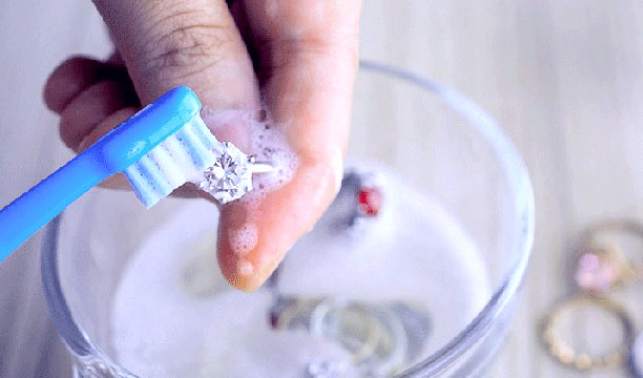 Have your earrings inspected by a jeweler at least once a year to ensure that the stones are secure and the metal is in good condition.
By following these maintenance tips, you can keep your diamond and pearl drop earrings looking beautiful for years to come.
Visit our top recommended retailers to see their large selection of diamond and pearl drop earrings below.