Chanel Iman's engagement ring
The ultimate guide to Chanel's diamond ring
Ringspo is reader-supported, which means we may receive a commission if you click a link to a retailer & subsequently make a purchase.
We feature links to several retailers to help readers find the one that is the best fit for them. Find out more about how Ringspo works here.
Model Chanel Iman's engagement ring certainly lives up to her fashionable namesake, and is just as classy.
NFL star Sterling Shepard, wide receiver for the New York Giants, popped the question on December 2, 2017 on a dreamy Manhattan rooftop under a canopy of stars. He had arranged to have the balcony decked out with dozens of candles, creating a picture-perfect moment.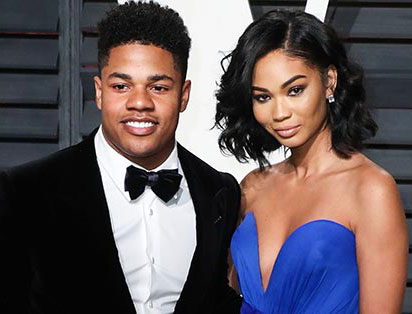 The 5' 10" couple had been dating since 2016 when they were first introduced at a mutual friend's birthday bash, and have been inseparable ever since. They tied the knot on March 3, 2013 at the luxurious Beverly Hills Hotel, and now have one child together named Cali Clay.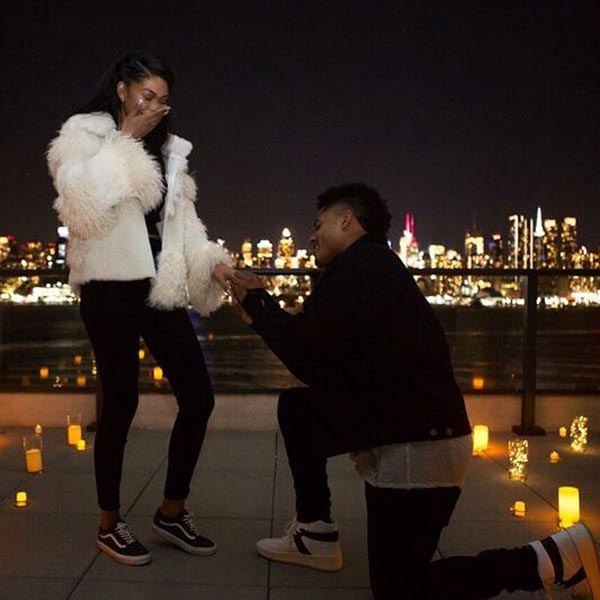 If you're looking for all the details about Chanel Iman's engagement ring, you've come to the right place!
You'll find out:
What style Chanel Iman's engagement ring is
What size the diamond on Chanel Iman's engagement ring is
How much Chanel Iman's engagement ring is worth
Chanel Iman's engagement ring pictures
While Chanel Iman's engagement ring has been remarkably absent from social media, official shots from her wedding give us the inside scoop.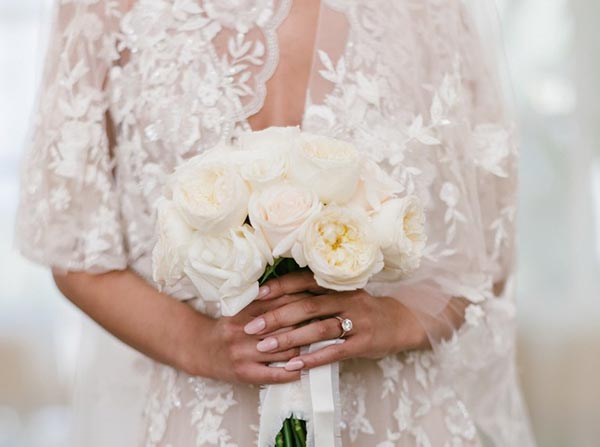 From this lovely image of the bride in her wedding gown we can clearly tell that Chanel's engagement ring is round cut, and appears to be a rose gold setting.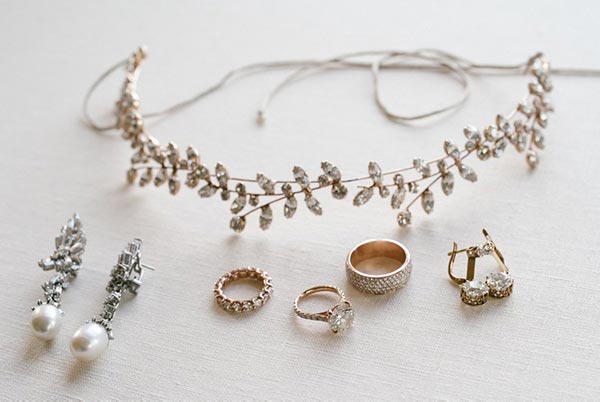 This is the real money shot though! Not only do we get a spectacular view of Chanel Iman's engagement ring, but the rest of her bridal jewelry as well. The engagement ring is a round cut solitaire, on a rose gold band with pave on each side.
What style setting is Chanel Iman's engagement ring?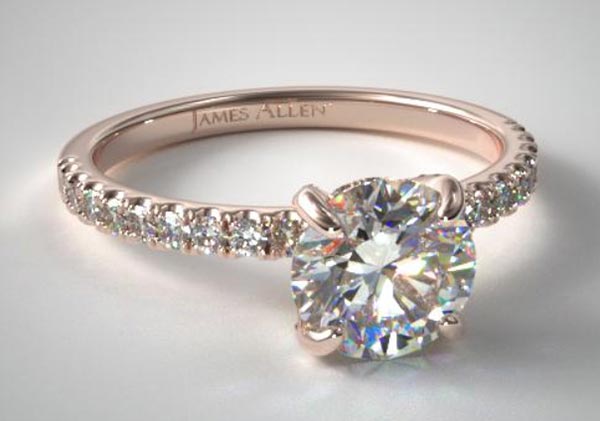 Chanel's ring is a solitaire setting with a dazzling rose gold pavé band. We can tell that that it features a half pavé, with the melee diamonds running down the sides of the ring, but not extending around its bottom section.
What shape is Chanel Iman's engagement ring?
Engagement rings with round diamonds are by far the most popular out of any type of ring – they make up around 75% of all diamond engagement rings sold.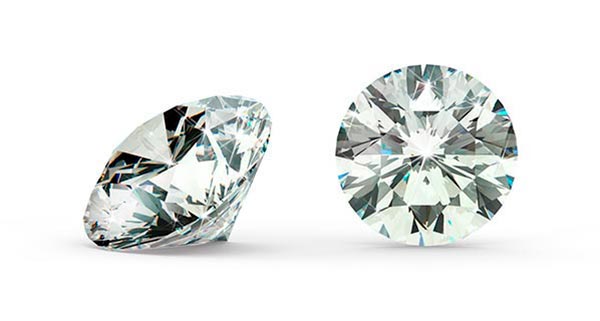 In fact, the round 'brilliant' diamond shape is often what we think of when we think of a diamond.
Round brilliant diamonds' whole reason for being is to be the sparkliest sons of guns out there, and if your diamond has been cut well then it will definitely deliver.
No other diamond shape can compete with the fire, brilliance and scintillation of a well cut round brilliant stone and the 'optical performance' of the light being reflected can make a stone look larger, improve the colour, hide flaws and imperfections and generally make a ring look much more impressive.
How many carats is Chanel Iman's engagement ring?

Chanel Iman's center stone is approximately 2.50 carats. The total diamond weight of the pavé stones on a similar setting equals 0.31, giving us a rough total of 2.81 carats. It's classy, and definitely noticeable.
How much did Chanel Iman's engagement ring cost? And what's it really worth?!
While we don't know the official price, we definitely can speculate.
A top quality 2.5 carat round brilliant diamond, with excellent cut, color and clarity costs around $55,000.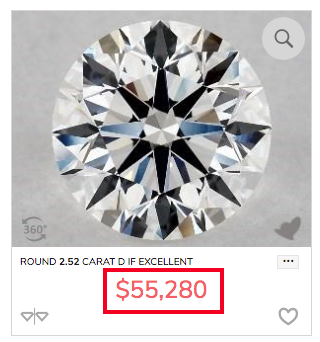 If Shepherd was a little savvier, he could have saved significantly by choosing a stone with lower clarity and color, but equally good cut – this would have been indistinguishable once set into a ring.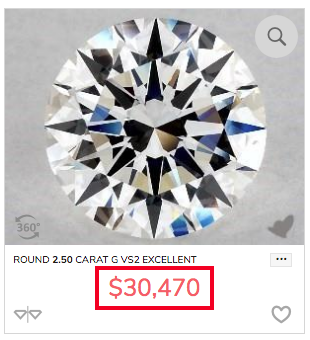 But, as an NFL player I think it's safe to assume he isn't a bargain shopper, and it's likely he went with the highest quality diamond possible.
Chanel Iman's Engagement Ring Copy
Chanel Iman's engagement ring is chic, understated, and fortunately, very easy to copy! Here are three options to consider while you search for the ring of your dreams that would make Coco proud.
Our first contender is a very close match. It features a 14k rose gold band, with pavé on the side, just like Chanel's setting. Of course, it has a round brilliant fit snugly in the center. Click here to learn more about this timeless 14k Rose Gold Petite Pave Crown Diamond Engagement Ring from my recommended retailer James Allen.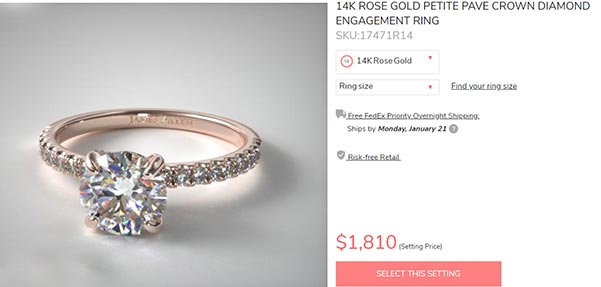 This next option is still very similar to the look and spirit of Chanel Iman's engagement ring, but with the added touch of white gold prongs.
Swapping out rose gold prongs for white will eliminate any warm hues being cast on your center stone which can make it look dingy. Click here to find out more about this Riviera Cathedral PavéDiamond Engagement Ring from my recommended retailer Blue Nile.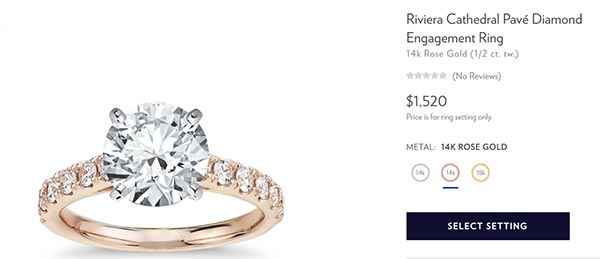 Last but certainly not least, is this fabulous option in 18k rose gold that changes the game just a little bit. It features wrap around pavé creating an added sense of grandeur and glamour. Click here to learn more about this gorgeous Halcyon engagement ring from my recommended retailer Taylor & Hart.