Blue Nile Resizing
---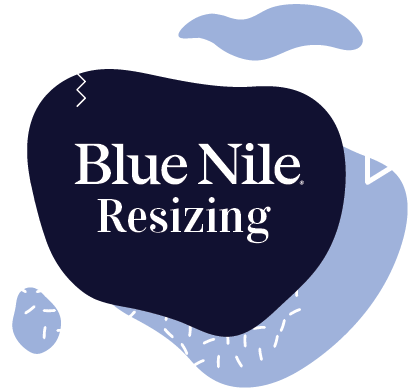 On this page you'll learn everything you need to know about:
If you'd like to read our detailed Blue Nile review, click here.
Blue Nile ring resizing policy
Blue Nile offers complimentary ring resizing on all rings during the first year of your purchased, or if for any reason you would like to exchange for a different ring – Blue Nile offer a 30-day exchange policy. Click here to read the Blue Nile resizing policy.
Read related article: Blue Nile Return Policy.
Can any ring be resized by Blue Nile?
Even though Blue Nile offers free resizing for rings, unfortunately there are limits to which rings can be resized.
There are a variety of reasons why some rings can't be resized which can include, but is not limited to:
Diamond and gemstone eternity rings with precious stones all around the band
Milgrain or ornate bands rings can't be resized as it would ruin the pattern
Some silver rings
Tungsten rings due to the difficulty of working with the metal.
Blue Nile make it easy to understand which rings can't be resized by showing this on the product page of each ring: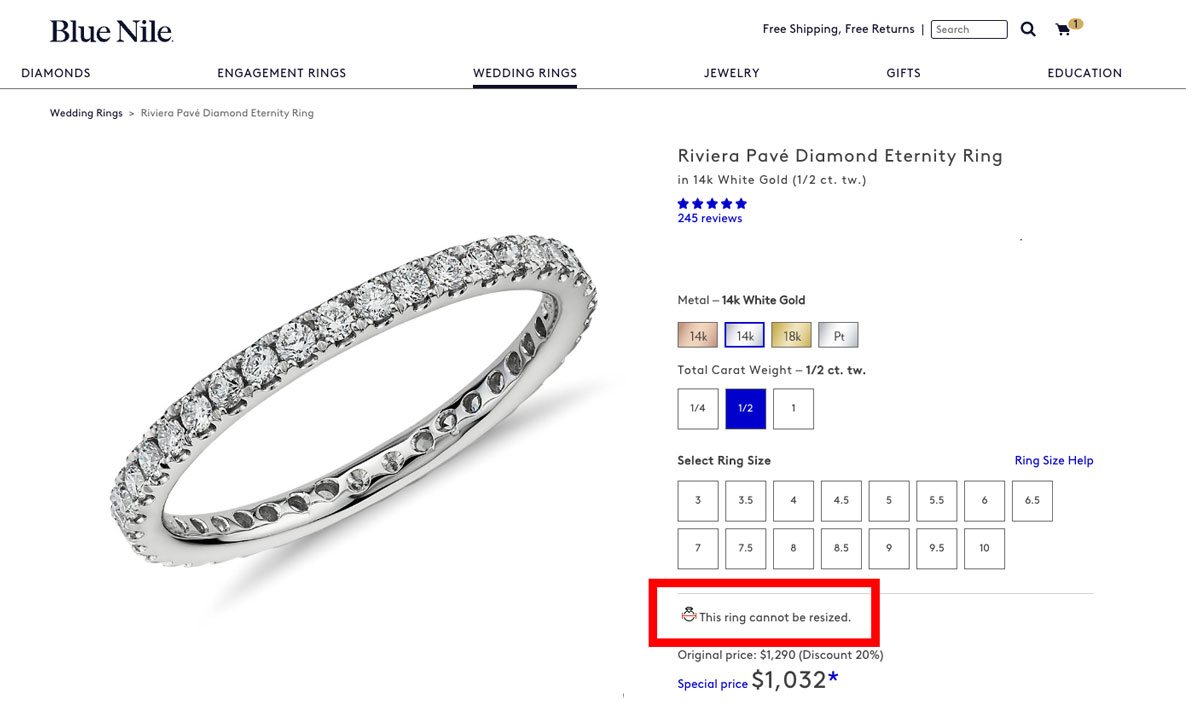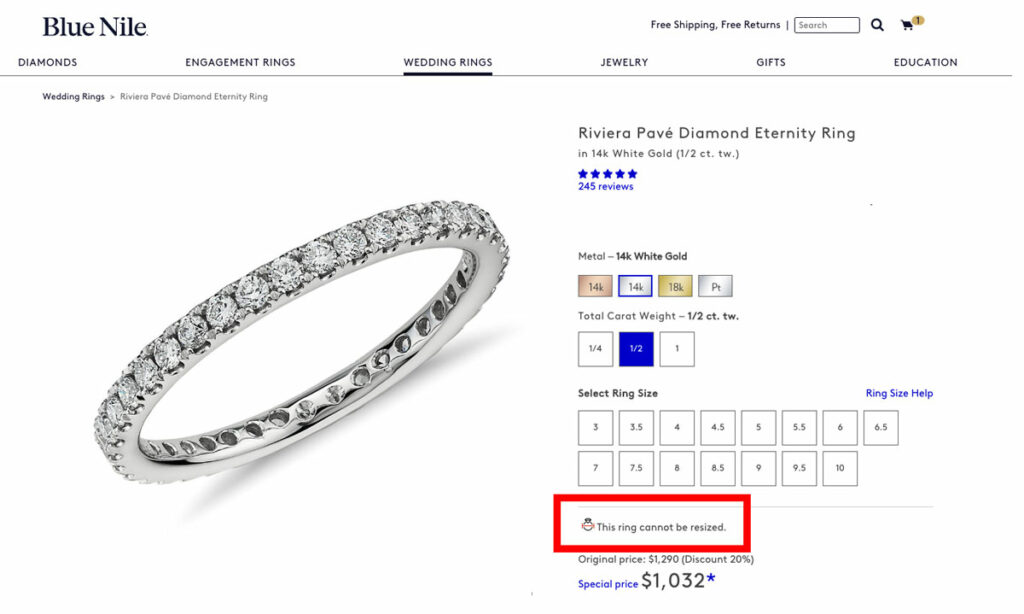 Read related article: Blue Nile Warranty
Blue Nile ring resizing process
The Blue Nile resizing process is extremely straightforward:
Contact Blue Nile customer service at 1-800-425-022 or contact them via live chat on their website and inform them that you will return for resize.
Blue Nile customer service team will email you a free, insured shipping label.
Put clearly the Return Merchandise Authorization (RMA) number on the outside of the shipping box
Take note not to write Blue Nile anywhere outside the box to avoid possible theft.
Read Related Article: Blue Nile Shipping
How to get the ring size right the first time
To make it as easy as possible to avoid resizing Blue Nile provide some great tips on how to measure your ring finger accurately, as well as two different options for ring sizers to help. Click here to see this information.
Free Blue Nile Plastic Ring Sizer
Blue Nile's plastic ring sizer is super easy to use – you just move your finger slowly into the sizer until you feel a comfortable fit where the plastic ring won't fall off, but it's still easy to remove over the knuckle.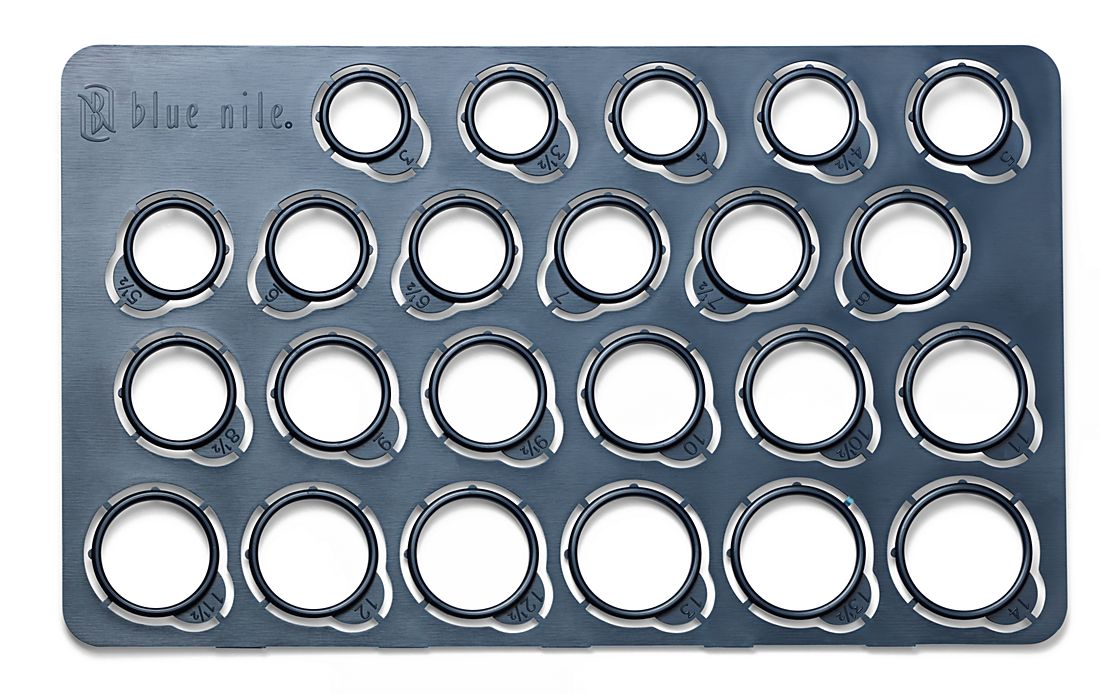 Best of all, Blue NIle are wiling to send it to you for free if you request it here.
Ring Size Chart & Printable Guide
If you don't want to wait for the plastic ring sizer to be delivered, you can print the Blue Nile ring size chart and printable guide for free on the Blue Nile website here.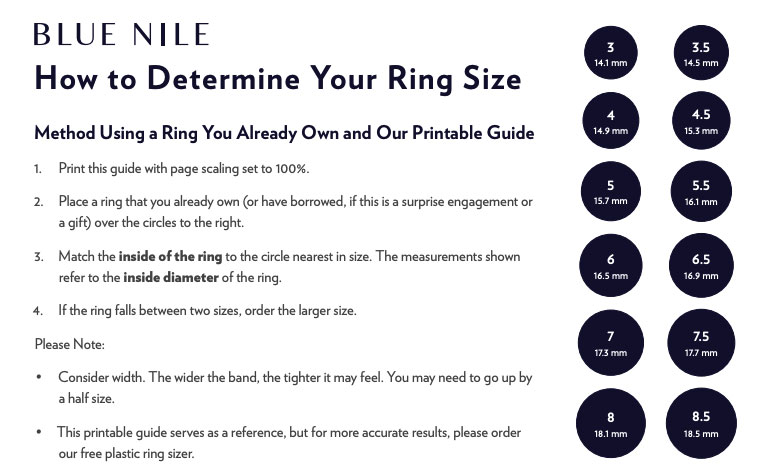 Using this is super easy, but possibly not quite as accurate as the plastic guide:
Print the Blue Nile ring size chart with page scaling and set to 100%
Use your fitted old ring and place it over the circles that you will see on the right side of the guide
Choose the circle that nearest the size of your old fitted ring and match the inside of it.
In any case, your ring matches between two sizes – always order the larger size
Finally if you are unsure about your ring size, go slightly larger as it easier to resize down than up.
To see more great tips and tricks about resizing your ring click here to read Blue Nile's blog.