Blue Nile Financing and Credit Card
---
Blue Nile have many options for buying the ring of her (or your) dreams, and it's very common to utilise a financing option for a significant purchase like an engagement ring.
Luckily, Blue Nile do offer financing through a credit card – you can learn more click here, or we've detailed the key info in this post.
On this page you'll learn everything you need to know about: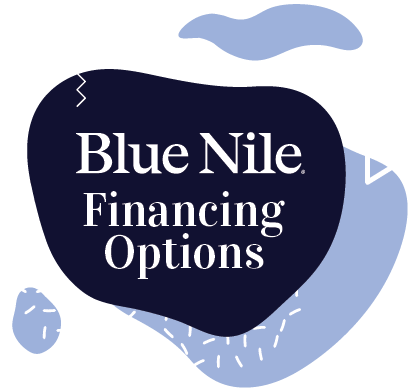 We've also written a detailed Blue Nile review, if you want some further reading.
Blue Nile Payment options
Before we look at Blue Nile's financing options, it's worth nothing that Blue Niles accepts payments by through the below methods. You can read more on the Blue Nile website click here.
All major credit cards

including Visa, MasterCard and American Express

Pay Pal (for orders under $15,000)
Wire transfer

If paying by bank wire, you'll get a 1.5% discount on your purchase over $750.
Once you select the bank wire option, contact your bank to wire the money, and once Blue Nile has received the payment, your order will be processed. This may take a few days to go through depending on your bank.
Something to note is that there might be a fee from your bank for the wire

Blue Nile's credit card financing
Read related article: Blue Nile sales tax
Blue Nile financing / credit line
Blue Nile's credit line works similarly to a credit card, but can only be used with Blue Nile.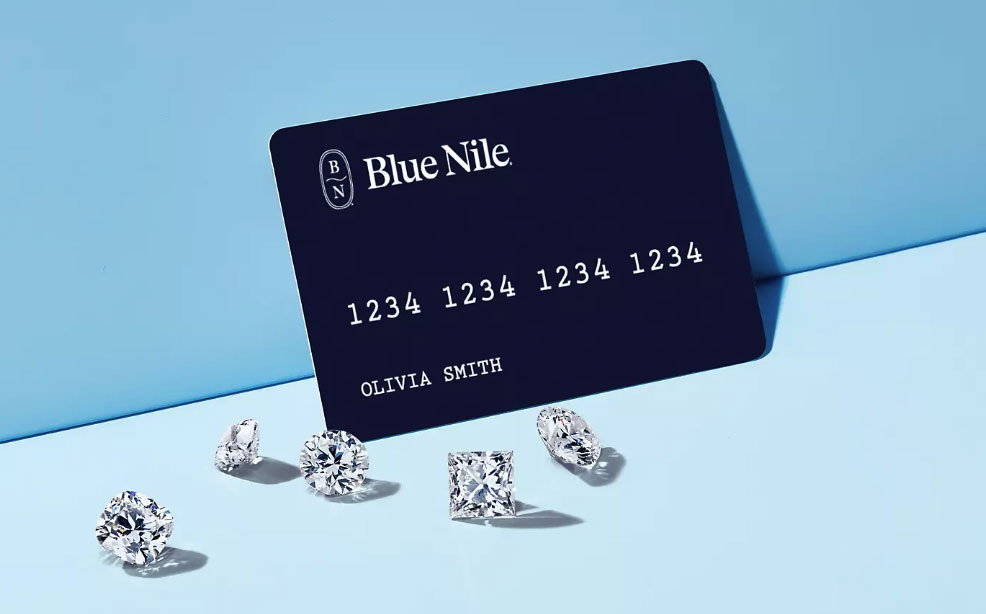 As it works like a credit card, it means that you have to jump through the same hoops as you would when applying for a credit card. Click here to read more on the Blue Nile website.
Advantages of the Blue Nile credit card are:
No interest if paid in full between 6 or 12 months (although interest will be charged in full is the balance is not paid by the end of the promotional period)
It's a revolving line of credit, which means that you can use it for future purchases
You can buy jewelry with 0% down
They offer an online portal to manage your account

What are the Blue Nile financing conditions?
To qualify for credit to purchase Blue Nile jewelry, you must be:
Resident of the US
Aged 18
Making a minimum purchase of $500 to $1499.99 for the 6 month plan and $1500 for the 12 month plan
Subject to credit approval
Click here to read more on the Blue Nile website.
Read related article: Blue Nile return policy
What are the rates for the Blue Nile credit card?
The headline rate for the Blue Nile credit card is 9.99% APR with 24 monthly payments.
However, this can depend on your personal circumstances and for some new accounts it may be as high as 29.99%.
If you have any questions on this, it's a good idea to contact Blue Nile directly, click here.
How you can avoid paying interest with Blue Nile credit card financing
Depending on what you are buying, Blue Nile financing offers either a 6 month or a 12 month promotional period, which means that if you pay off your balance within this period, you don't have to pay any interest on the purchase.
However, something to know is that interest will be charged to your account from the purchase date. If the purchase balance is not paid in full by the end of the promotional period, you will be charged interest payments from the original date of purchase.
Where to apply for the Blue Nile credit card
You can learn more and apply at the dedicated financing page on the Blue Nile website: